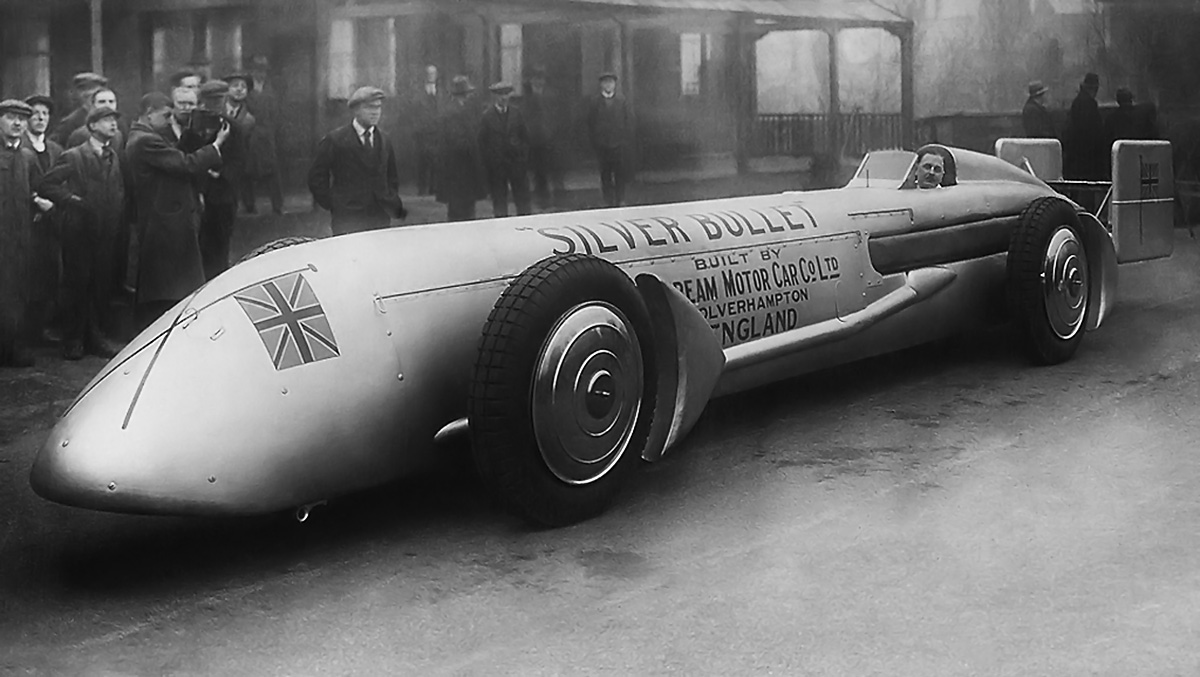 NICE COACHWORK - The Silver Bullet was 31 ft 1 in (9.47 m) long and 6 ft (1.83 m) across at its widest point. However, the body was under 3 ft (.91 m) wide. The car had a 4 ft 11 in (1.50 m) track, a 15 ft 5 in (4.70 m) wheel base, and 7.75 in (197 mm) of ground clearance. The top of the cowling over the engines was 44 in (1.12 m) tall, and the highest point of the car, just behind the cockpit, was around 53 in (1.35 m) above the ground.
The car's first public appearance was at the works during a reception given by Louis Coatalen and Kaye Don on 21st February, 1930. Those present included C. B. Kay, the Production Manager, Hugh Rose, the designer, and many of the men who built the car.
The Sunbeam Silver Bullet was the last attempt at the land speed record by the Sunbeam Motor Car Company of Wolverhampton, England. It was built in 1929 for Kaye Don. Powered by two supercharged engines of 24 litres each, the car looked very impressive, but failed to achieve any speed records.
During the 1920s, race cars built by Sunbeam captured the World Land Speed Record (LSR) five times. The last record for the company was set by the Sunbeam 1,000 hp Mystery Slug, a specially-built LSR car designed by John Irving that Henry Segrave used to achieve 203.793 mph (327.973 km/h) on 29 March 1927.
Segrave and Irving then parted ways with Sunbeam, and the record held by Sunbeam was broken in 1928. Segrave recovered the record on 11 March 1929, hitting 231.362 mph (372.341 km/h) in the Irving-Napier Golden Arrow.
Segrave's 1927 record had only lasted for 11 months, as it was beaten by his arch rival Malcolm Campbell in February 1928. Campbell's record soon fell to Ray Keech, an American. In March 1929 Segrave was back at Daytona with his very futuristic Irving-Napier Golden Arrow. He easily broke Keech's record at an amazing 231.446m.p.h. and was subsequently knighted for the achievement.
All of this must have been on Louis Coatalen's mind when he summoned Sunbeam's chief designer, Hugh Rose, to Paris to receive a set of drawings for a new land speed record contender. Kaye Don was engaged to drive the car which would be known as the "Silver Bullet", a counter to the "Golden Arrow", that maybe should have been "Platinum", though the performance was actually less than "Silver."
SUPERCHARGED ENGINE - The car was powered by two specially designed 12 cylinder, 24litre lightweight engines, each capable of developing 490b.hp. at 2,400r.p.m. Each V12 engine weighed less than 1,000lbs and had an angle of only 50 degrees for the V to keep the engine as compact as possible.
The engine had a 5.51 in (140 mm) bore and a 5.12 in (130 mm) stroke. It displaced 1,465 cu in (24.01 L) and produced 490 hp at 2,400 rpm normally-aspirated, but a supercharger was incorporated into the Silver Bullet's design. Initially, four Roots-type superchargers were to provide each engine with induction air, and this configuration was tested on one engine in November 1929. However, the final supercharging system was a single unit of the centrifugal type providing air to both engines. The supercharger was driven at up to 17,000 rpm by the rear engine and provided around 7 psi of boost. Separate induction pipes extended from the supercharger along both sides of the rear engine.
The front engine drove the water and oil pumps, and the rear engine drove the supercharger. The engines were started by compressed air like many aircraft.
The Sunbeam company decided that their new car should be capable of reaching 250 mph (400 km/h) so as to recover the record.
Only aero engines offered enough power to do this, and such a car would also provide a test bed for developing a new generation of Sunbeam aero-engines.

Sunbeam decided to develop a new aero engine of 2,000 hp (1,500 kW), and the car would be powered by two of them.

This new engine was a water-cooled V-12 with a 50° angle between the banks. Ideal balance usually favours an angle of 60°, but this choice made the engine narrower overall. Cylinder bore was 140 mm (5.5 in) and stroke was 130 mm (5.1 in), for a capacity of 24.02 litres. This over-square geometry was a first for Sunbeam, but encouraged a higher-revving and thus more powerful engine.

The engines were supercharged, using a large centrifugal blower, geared to 17,000 rpm. This was increasingly common aero engine practice of the time, in both the Napier Lion and the Rolls-Royce R-type, but again was a first for Sunbeam.

When installed in the record-attempt car the engines had an unusual cooling system using melting ice rather than a radiator. This avoided the drag of an open radiator, but obviously could only cool for as long as the ice lasted. It was a workable system for land speed records, used by the contemporary Golden Arrow and more recently by the JCB Dieselmax. Silver Bullet had an 11.5-cubic-foot (0.33 m3) ice tank, filled with 5.5 hundredweight (about 280 kilograms) of ice before each run, and a one-gallon mixing tank in the nose.
Pedal operated brakes were used and everything was housed in a light aluminium body with an overall length of 30 feet, a width of just 3 feet and a height of only 3 feet 8 inches.
The car weighed in at about 4½ tons. By mid November 1929 the engines and transmission had been fitted into the chassis and tested at the works.
The Silver Bullet first appeared in public on 21 February 1930.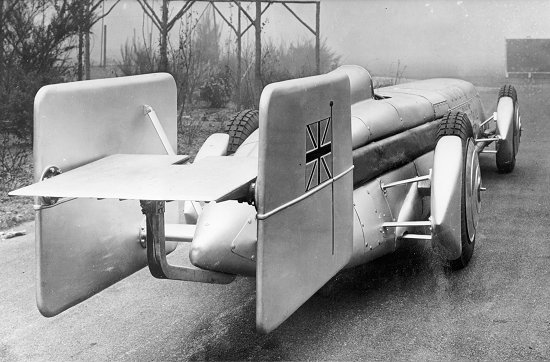 TAIL FINS & AIRBRAKE - The car's design was refined by model testing in the Vickers Aviation Department's wind tunnel. We wonder though at the drag of two chunky tail fins with a horizontal flap in the middle, right where the tail should be inducing laminar flow. They should perhaps have run the car without this contraption.
Following the other teams, the first record attempt was to be made on Daytona Beach, in Florida, with Kaye Don driving. The car arrived at Daytona on 8 March and Louis Coatalen himself on 16th. The record attempts went poorly though, with engine reliability problems and the car proving difficult to control. The fastest speed attained was 186 mph (299 km/h), well below Sunbeam's own record of three years earlier.

After the team returned home, further attempts were made to improve the car with testing on Pendine Sands.
After over 18 record attempts, the Silver Bullet's technical issues proved to be too much to overcome, and the timing crews could not stay on the beach indefinitely. Coatalen ordered a return to England on 13 April.

Sunbeam aircraft engines had never recovered from the financial effects of the end of the Great War. Coupled with the Depression of the 1930s, Sunbeam simply could not afford a competition program of this scale, even where it was their PR marketing vehicle. Although other UK car companies did well in this period, Sunbeam did not, and went into receivership in 1935.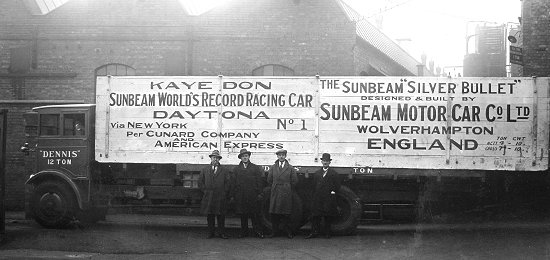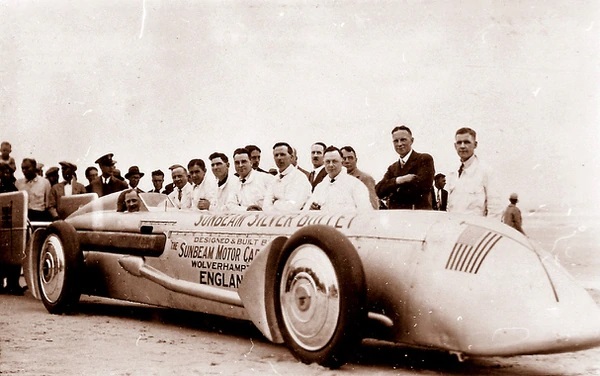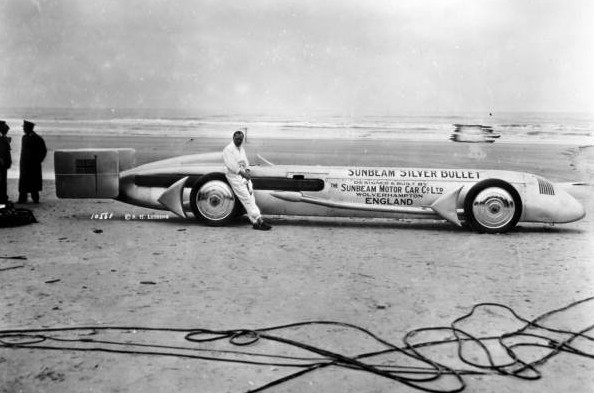 NOT MANY PHOTOGRAPHS - There is not many pictures to record this magnificent beast of a car, no matter that it did get the chance to run with all cylinders firing.
The car arrived at Daytona on March 8th and preparation work quickly got underway. Unfortunately there were too many teething troubles including a fire problem, and after 18 unsuccessful runs and much work on the car, the record attempt was abandoned. The team returned to the UK on 22nd April, but all had not been lost as the car set an American record for the flying 5 miles of 151.623m.p.h. on March 18th.
The Silver Bullet was sold to Jack Field, a Southport hotelier and garage owner. He tested the car on Southport beach, scene of Segrave's earlier success with the Sunbeam Tiger, but couldn't solve its problems.
On 21 March 1934, Field made an attempt to capture the British absolute speed record (top speed achieved on British Empire soil), which then stood at 218.54 mph / 351.71 km/h (set by Malcolm Campbell at Verneuk Pan, South Africa on 21 April 1929). Jack averaged 174.09 mph (280.17 km/h) in one direction on Southport beach, but the Silver Bullet caught fire, and further attempts were abandoned.
Field sold the damaged car to famed motorcycle racer Freddie Dixon for a reported £10, but Dixon also had problems and finally scrapped the car, deciding it was a parking and storage liability. That was a real pity, as it would have made a fine addition to the collection at Beaulieu.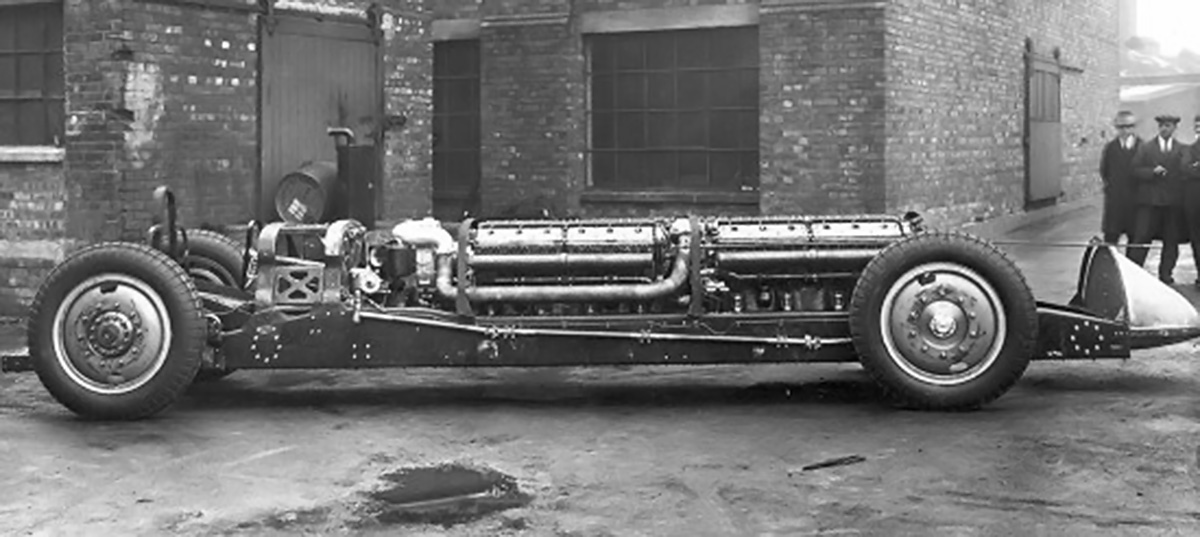 STURDY CONSTRUCTION - The Sunbeam Silver Bullet was composed of very stout steel chassis rails that were 13.5 in (343 mm) in height at their tallest point. The frame rails were joined by various cross-members and supports that arched from rail to rail. The body of the LSR car was made up of streamlined aluminum panels, and an underbody enclosed the bottom of the chassis. The wheels sat outside of the Silver Bullet's body and were trailed by aerodynamic fairings. The Dunlop tires were 37 in (940 mm) tall and 6 in (152 mm) wide. Steering was achieved by separate drag links that extended from the cockpit at the rear of the car to the front wheels. A long bulge on each side of the body covered the drag link. Twin fins at the rear of the car helped stabilize the racer at high speeds. A horizontal member between the fins rotated down to act as an air brake. The car used water-cooled hydraulic brakes at all four wheels.
SPECIFICATIONS:

Type: 12-cylinder liquid-cooled 50° Vee piston aircraft engine
Bore: 140 mm (5.512")
Stroke: 130 mm (5.118")
Displacement: 24.01 litre (1465.4 cubic inches)
Designer: Louis Coatalen
Supercharger: centrifugal single-impeller at 17,000 rpm
Cooling system: water from melting ice
Power output: 2,000 hp (claimed) 4,000 hp for the car

KAYE DON - The cockpit was sized specifically for Kaye Don (Kaye Ernest Donsky), who raced for Sunbeam and had shown exceptional talent on the Brooklands race track, setting numerous records.
At 2,600 rpm engine speed, the three-speed transmission had theoretical top speeds of 135 mph (217 km/h) in first gear, 180 mph (290 km/h) in second gear, and 266 mph (428 km/h) in third gear. While Sunbeam wanted to break the record of 231 mph (372 km/h) and planned to reach 250 mph (402 km/h), it was hoped that the car would ultimately hit 265 mph (426 km/h). Clearly, the claimed 4,000 horsepower was never reached, or even with gearing problems, they would have exceeded their earlier record.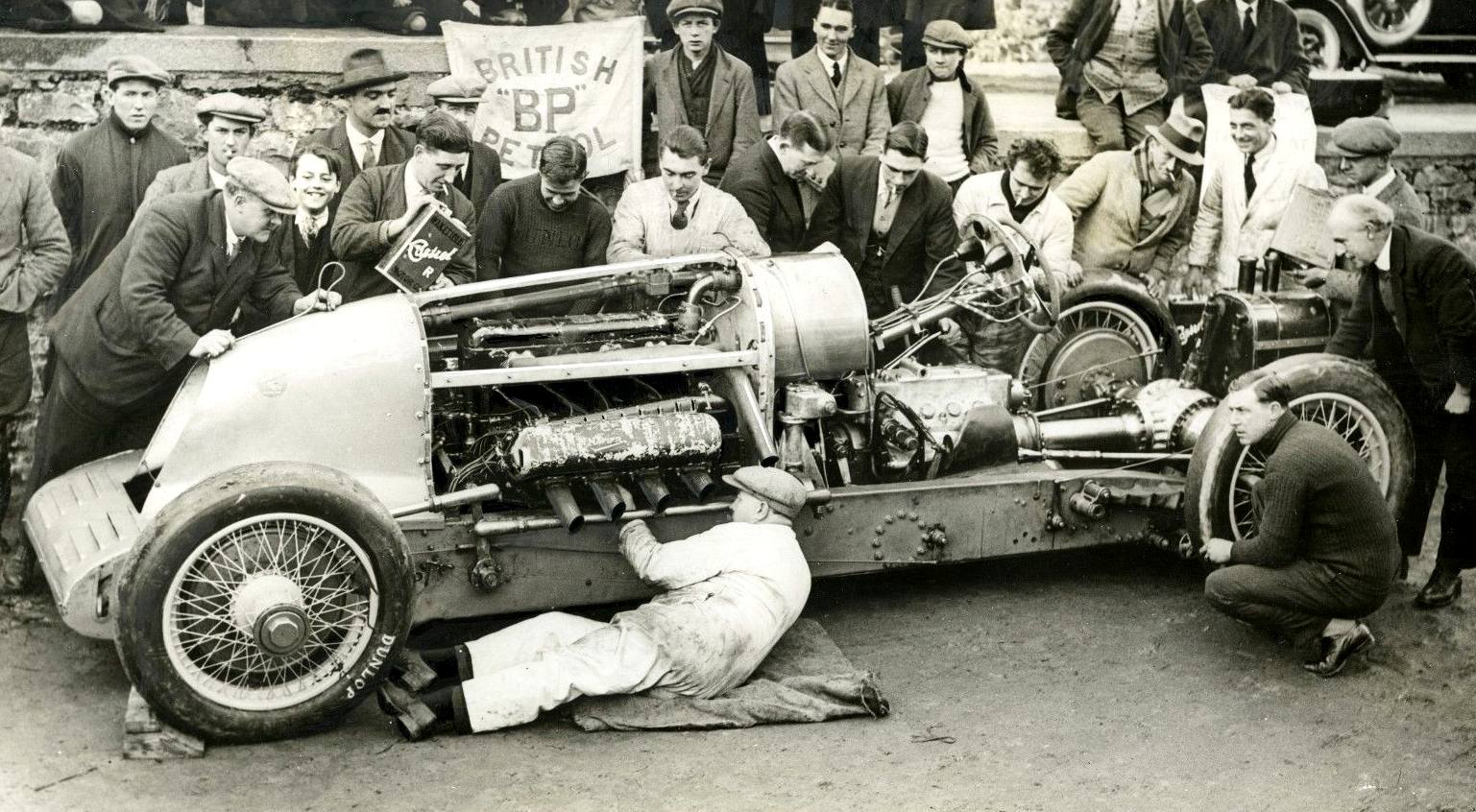 COMPETITION - Arch rival, one of Malcolm Campbell's Bluebird's at Pendine Sands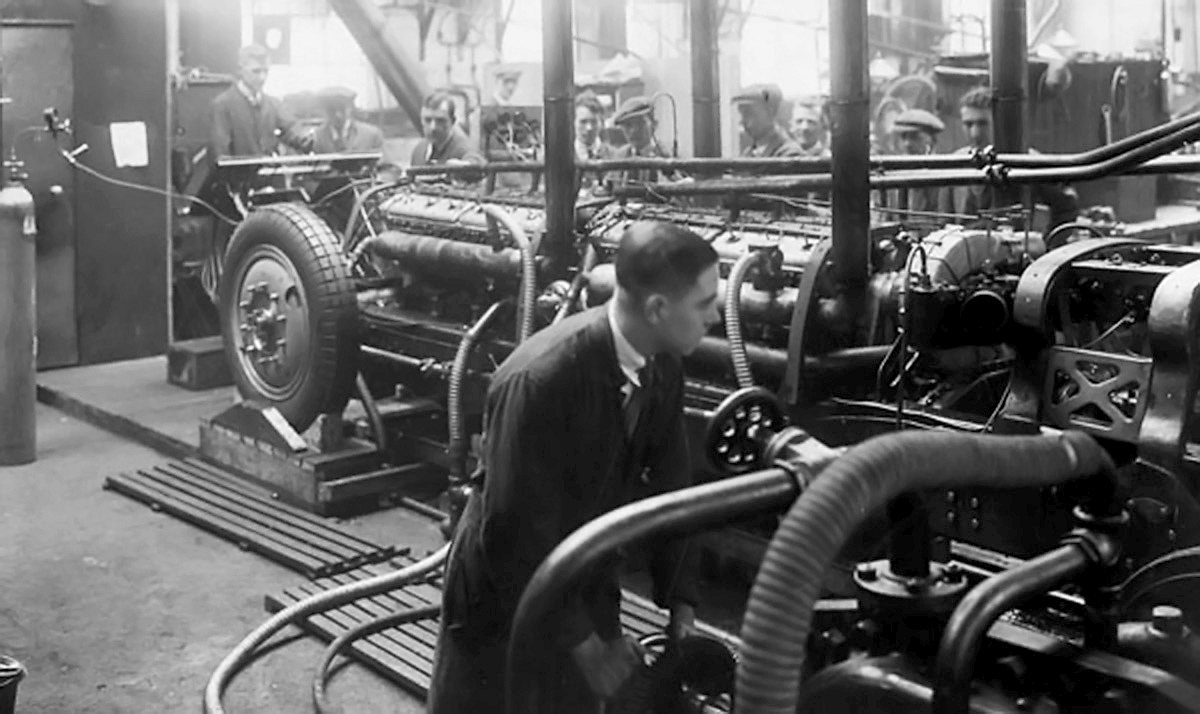 BENCH TESTING - The engine was made of aluminum and had four valves per cylinder. Two overhead camshafts actuated the valves for each cylinder bank. Each cylinder bank was composed of two three-cylinder blocks. The single spark plug per cylinder was positioned between the valves in the top of the combustion chamber. Two carburetors fed fuel into the air as it was drawn into the supercharger.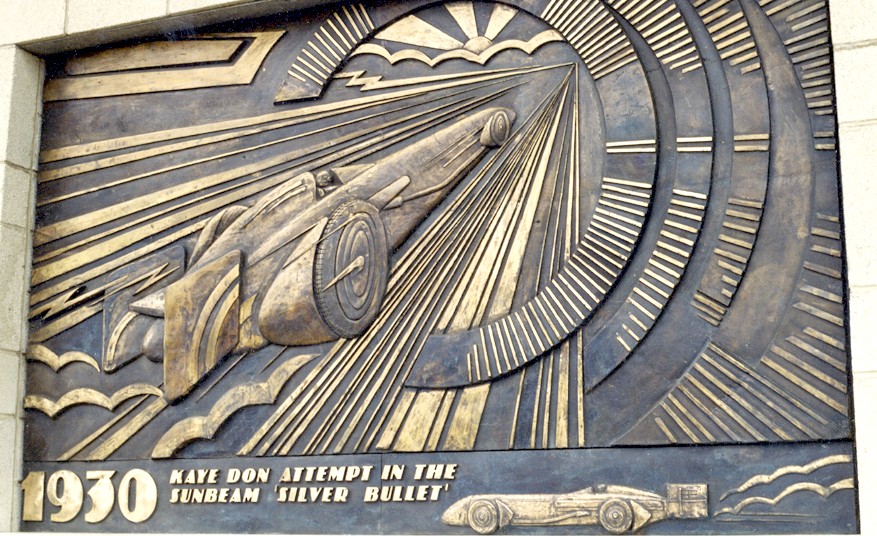 COMMEMORATIVE PLAQUE - Sunbeam Land Speed record attempts as cast bronze panel Artwork for St. John's Retail Park, at Wolverhampton.

Wolverhampton played a key part in the development of the British Motor industry. Many famous names were manufactured there:- Sunbeam, AJS, Briton, Clyno and Star. A series of panels commemorate the exploits of three racing heroes, Sir Malcolm Campbell, Sir Henry Segrave, and Kaye Don. Sculptor John McKenna created the sculpture working from design drawings by artist associate Steve Field of the Dudley Public Arts, to produce these dynamic bronze panels, cast using the lost wax bronze casting method.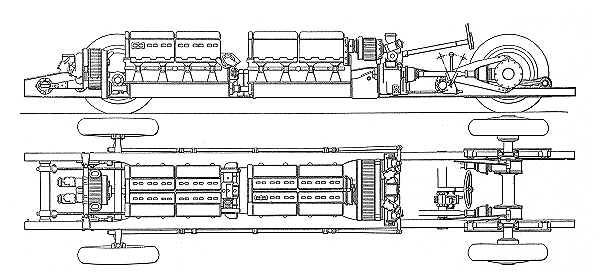 LINE DRAWING - The Silver Bullet's chassis and engine layout.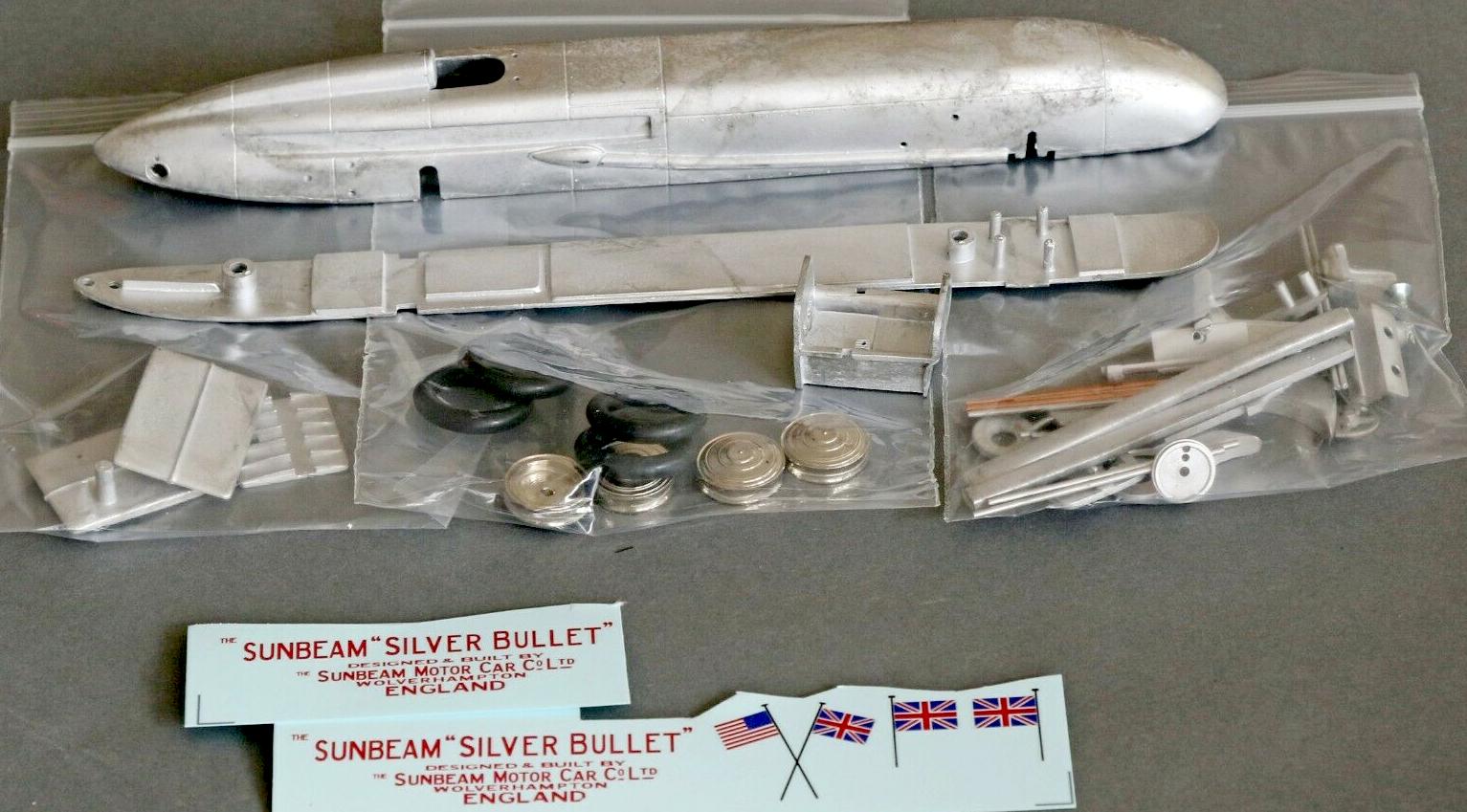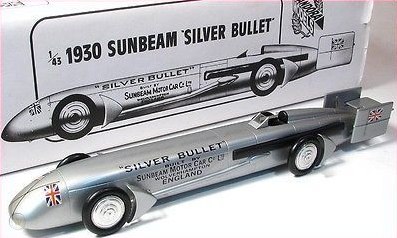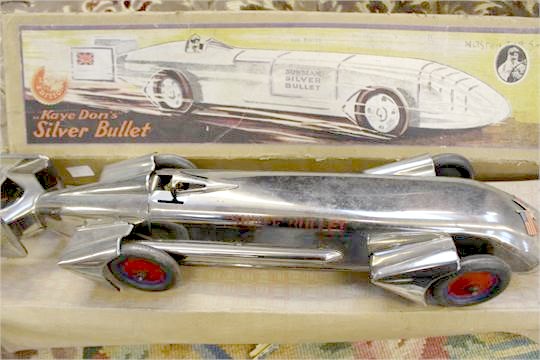 DIE CAST MODEL - Sunbeam's Silver Bullet as a 1:43 scale model kit and a very rare tinplate model.

SOUTHPORT BEACH - Jack Field campaigning the Silver Bullet on Southport beach in 1934. Note the individual exhaust stacks protruding from the engine cowling. Field did not have any better luck than Don, and the Silver Bullet soon caught fire. Ice cooling is all very well, but ordinary driving and idling is out of the question.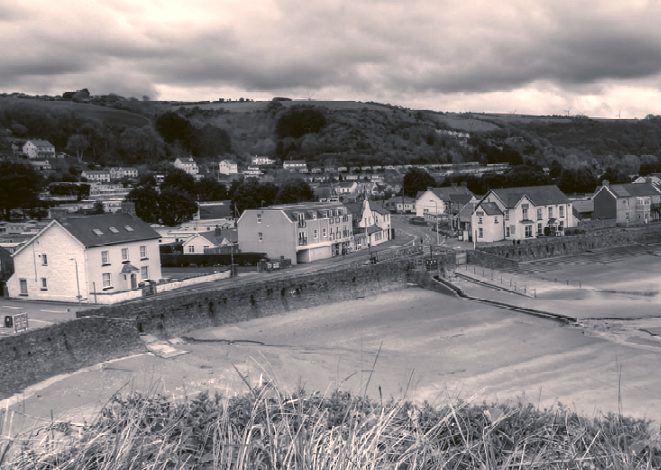 The Silver Bullet was run here at Pendine Sands
LINKS & REFERENCE
https://
A - Z OF WORLD FAMOUS RACING CIRCUITS

SMART-CHARGER - Potentially the world's fastest electric car

powered by hydrogen energy cartridges and fuel cells. This streamliner is theoretically capable of over 400mph using the latest production electric motors, but is designed to beat Ford's 207mph record set at Bonneville, to be attempted at Pendine Sands in the UK - and then 350mph at the Bonneville Salt Flats in the USA, if the project gets the go ahead. Featuring built in refuelling that will work on sand and salt, supporting the Automated and Electric Vehicle Act 2018 ideals, and charged using renewable energy. A project to celebrate the banning of petrol and diesel cars in Europe and the UK from 2030 - fingers crossed.