Reinventing the Automobile with Fuel Cell Technology
The hydrogen fuel cell has the potential to eliminate transport pollution. General Motors has established extensive hydrogen fuel cell research and development facilities both in the U.S. and Europe. It has produced a concept vehicle called AUTOnomy that captured the vision and potential of hydrogen fuel cell technology, and the revolutionary Hy-wire, a vehicle crammed with electronic technology.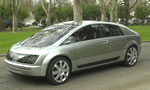 The GM Hy-wire has no internal combustion engine, it uses a hydrogen fuel cell
The Hy-wire's fuel cell propulsion system is housed entirely in an 11-inch thick skateboard-like chassis. By-wire controls attached to the chassis through a single docking port use electrical signals instead of mechanical links of hydraulics to control steering, acceleration and braking. Without an engine, steering column or other conventional vehicle components, this concept provides unprecedented design freedom.
Ace says: "As a lad, I admired most of the concept vehicles produced by General Motors at shows and in print. I'm pleased to say they are continuing to produce great designs and to push forward the frontiers of automotive technology."
- GM has made great strides in solving many of the challenges inherent in fuel cell technology, including the tendency to freeze and stop working in cold weather. The GM fuel cell's freeze start-up time has decreased to less than 15 seconds for 100% power at minus 20 degrees Celsius.
- With its historic expertise in manufacturing and engineering, GM has taken a leadership position in fuel cell technology, systems, controls and gasoline/natural gas hydrogen fuel reforming.
- GM's prototype stationary fuel cell unit already generates power for GM's New York fuel cell development facility.
- In only two years, the power density of GM's fuel cell stack technology has increased tenfold, while costs have decreased proportionately.
- In only eight months, GM developed and delivered the world's first and only hydrogen fuel cell vehicle with an on-board gasoline reformer. GM's revolutionary fuel cell vehicle, Hy-wire, has no internal combustion engine, instrument panel, brake or accelerator pedals — but it does have ample power supplied by a GM fuel cell that runs on hydrogen.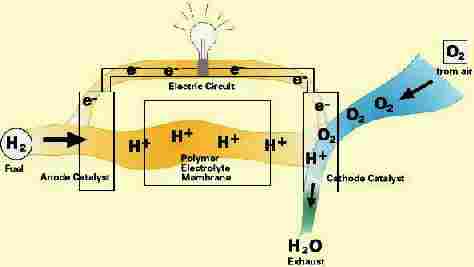 Click on the diagram to find out how fuels work
FORMULA E
Two methods of replenishing energy are to be allowed from 2015 in Formula E:
a) Swapping cars while a spare is being fast charged.
b) Instant battery cartridge exchanges.
A proposed prototype carries a very large Lithium battery cartridge, which can be changed in around 10-15 seconds. Since the average Formula 1 pits stop is not much quicker. Please also note that this cartridge system is compatible with fuel cells, should any team want to give that a go.
The inventor of the patent system is now working on an enclosed cockpit design.
A - Z OEM production FCEVs
Buckeye Bullet 2 - hydrogen fuel cell powered land speed record streamliner 303mph
Honda - Clarity
Mercedes Benz - GLC F-Cell

SMART-CHARGER - Potentially the world's fastest electric car

powered by hydrogen energy cartridges and fuel cells. This streamliner is theoretically capable of 400mph using the latest production electric motors, but is designed to beat Ford's 207mph, at Pendine Sands in the UK and then 300mph at the Bonneville Salt Flats in the USA. Featuring built in energy cartridge refuelling, as per the Automated and Electric Vehicle Act 2018, and charged using renewable solar energy. A project to celebrate the banning of petrol and diesel cars in Europe and the UK from 2030 - fingers crossed.

FUEL CELL MANUFACTURERS & RESEARCH A - Z