Daytona Beach is a city in Volusia County, Florida, USA. As of 2004, the population estimates recorded by the U.S. Census Bureau is 64,422.[1] Daytona Beach is a year-round resort area, and home to Embry-Riddle Aeronautical University, Bethune-Cookman College, Daytona Beach Community College, and Keiser College Daytona Beach Campus. The city is also home to the Daytona Cubs, a minor league baseball team of the Florida State League.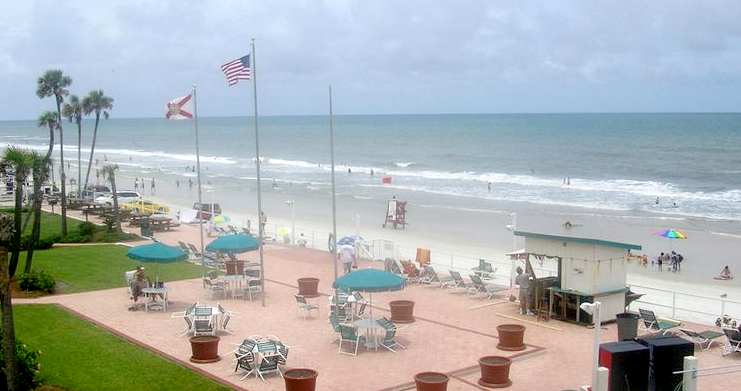 The Beach in 2005
"The World's Most Famous Beach"
The city and its beaches, lined with hotels, motels, condominiums and houses, attract over 8,000,000 tourists each year. In a wide variety of price ranges, hotel and motel rooms are typically plentiful except during special events. Daytona Beach has high security around its main hotel locations, with multiple cameras filming hotel and beach areas.
During motorcycle events (Bike Week and Biketoberfest), several hundred thousand bikers from all over the world visit the greater Daytona Beach area. While the city is often associated with Spring Break, the efforts of the local government to discourage rowdiness, combined with the rise of other Spring Break destinations, have nearly ended Daytona's former preeminence as a Spring Break destination. Indeed, so few students (relative to past years) have come since 2002 that officials stopped estimating their numbers. [2]
Special events that draw visitors to Daytona Beach include:
* Speedweeks (Daytona 500 NASCAR race, Rolex 24 sports car race,
* Daytona 200 motorcycle race and others)
* Pepsi 400 NASCAR race
* Daytona Beach Bike Week
* Biketoberfest
* Black College Reunion (BCR)
* Spring Break
HISTORY
The area was once inhabited by the Timucuan Indians, who lived in fortified villages. War and disease, however, would decimate the tribe. Florida was acquired from Spain by the United States in 1821, although permanent settlement was delayed until after the Second Seminole War from 1835 to 1842. When the Civil War ended, Florida experienced a boom in tourism.
The city was founded in 1870 and incorporated in 1876. It was named for its founder, Matthias Day. In 1886, the St. Johns & Halifax River Railway arrived in Daytona. The line would be purchased in 1889 by Henry Flagler, who made it part of his Florida East Coast Railway. The separate towns of Daytona, Daytona Beach and "Seabreeze" merged as "Daytona Beach" in 1926, at the urging of civic leader J.B. Kahn and others. By the 1920s, it was dubbed "The World's Most Famous Beach."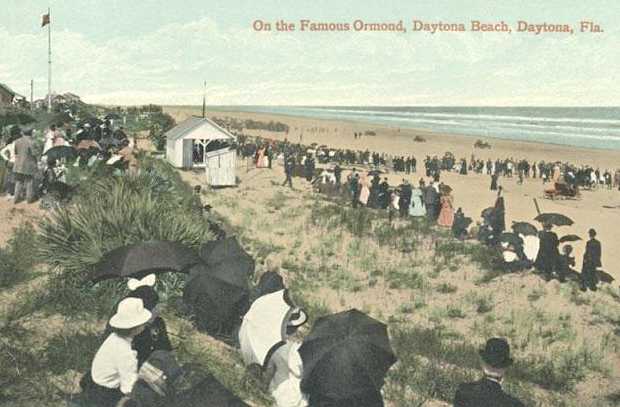 Daytona Beach races c. 1908
Daytona's wide beach of smooth, compacted sand attracted automobile and motorcycle races beginning in 1902, as pioneers in the industry tested their inventions. The area would be nicknamed "The Birthplace of Speed." On March 8, 1936, the first stock car race was held on the Daytona Beach Road Course. In 1959, William France created Daytona International Speedway to replace the beach course. Automobiles are still permitted on the beach, although now only at slow speeds.
Culture
Daytona Beach is located roughly at the southern end of the cultural South, so its culture has remained somewhat Southern, but due to mass migration from Northern states, it is in many ways more similar to South Florida. Its Southern heritage cannot be completely forgotten however, thanks to the presence of NASCAR.
The architecture and style of its older homes and buildings and the culture and speech of its older, locally-born inhabitants leaves no doubt as to its cultural roots.
Daytona Beach has often been viewed as a party town. It has been a traditional destination for people who want to drink and get rowdy. There are still very strong remnants of the party culture, but in recent years the local government has made somewhat successful efforts to clean up Daytona Beach's rough image and turn it into a more family-friendly beach destination.
Notable Inhabitants
Duane Allman and Gregg Allman, musicians

Vince Carter, professional basketball player

Ryan Lochte, Olympic gold medalist (swimming)

Mary McLeod Bethune, civil rights activist

Glen "Fireball" Roberts, race car driver

Bob Ross, host of The Joy of Painting

T. K. Wetherell, president of Florida State University

Robert Wright, musical theater writer
Cultural Sites & Museums:
Daytona USA

International Motorsports Hall of Fame

Ponce de Leon Inlet Light, 2nd tallest in the U.S.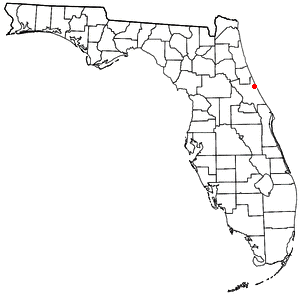 Geography
Daytona Beach is located at 29°12′26″N, 81°2′16″W (29.207309, -81.037900).
According to the United States Census Bureau, the city has a total area of 168.2 km˛ (64.9 mi˛). 152.0 km˛ (58.7 mi˛) of it is land and 16.2 km˛ (6.2 mi˛) of it (9.63%) is water. Daytona Beach is located on the Halifax River lagoon, part of the Atlantic Intracoastal Waterway, and Atlantic Ocean.
Demographics
As of the census of 2000, there were 64,112 people, 28,605 households, and 13,844 families residing in the city. The population density was 421.8/km˛ (1,092.6/mi˛). There were 33,345 housing units at an average density of 219.4/km˛ (568.3/mi˛). The racial makeup of the city was 62.33% White, 32.75% African American, 1.73% Asian, 0.32% Native American, 0.06% Pacific Islander, 1.05% from other races, and 1.76% from two or more races. 3.48% of the population were Hispanic or Latino of any race.
There were 28,605 households out of which 18.0% had children under the age of 18 living with them, 30.1% were married couples living together, 14.5% had a female householder with no husband present, and 51.6% were non-families. 39.4% of all households were made up of individuals and 14.4% had someone living alone who was 65 years of age or older. The average household size was 2.06 and the average family size was 2.77.
In the city the population was spread out with 17.6% under the age of 18, 16.6% from 18 to 24, 25.6% from 25 to 44, 20.5% from 45 to 64, and 19.7% who were 65 years of age or older. The median age was 37 years. For every 100 females there were 99.7 males. For every 100 females age 18 and over, there were 98.5 males.
The median income for a household in the city was $25,439, and the median income for a family was $33,514. Males had a median income of $25,705 versus $20,261 for females. The per capita income for the city was $17,530. 23.6% of the population and 16.9% of families were below the poverty line. Out of the total population, 34.9% of those under the age of 18 and 12.1% of those 65 and older were living below the poverty line.
City Officials
Mayor Yvonne Scarlett-Golden

Zone 1 City Commissioner Richard W. Shiver

Zone 2 City Commissioner Yvonne Newcomb-Doty

Zone 3 City Commissioner Shiela K. McKay

Zone 4 City Commissioner Robert A. Gilliland

Zone 5 City Commissioner Dwayne L. Taylor

Zone 6 City Commissioner Cassandra G. Reynolds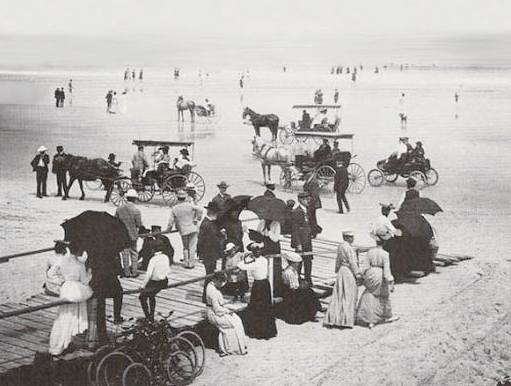 The Beach in 1906
LINKS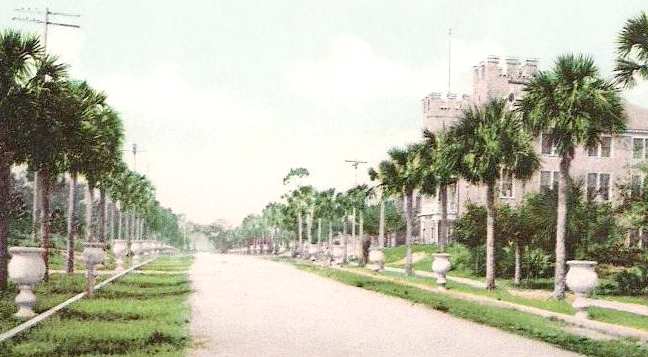 Seabreeze c. 1905

The beautiful car design above was inspired by Reid Railton and Sir Malcolm Campbell's spectacular record runs at Daytona Beach, the BE3 is probably the world's fastest electric car: 350mph + using energy from nature featuring patent built in battery cartridge exchange refueling. The name Bluebird™ and flying blue bird logo are registered trademarks concerning battery cartridge exchange recharging. To licence such technology contact BMS Ltd.
The Bluebird World Cup Trophy