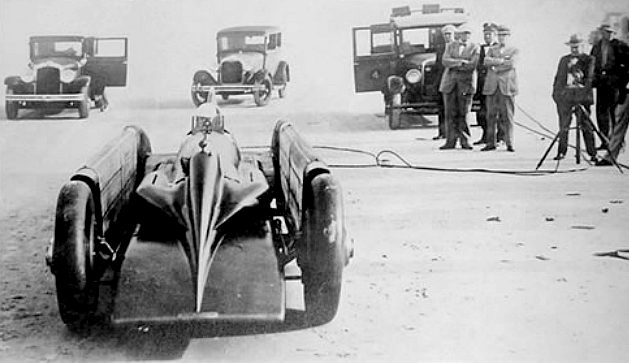 Golden Arrow was a land speed record racer. As with many designs of the time, it is based of a girder chassis that looks for all the world like a truck item. Possibly, truck axles and differential were used. On top of the oversized frame J S Irving then shoehorned in the Napier Lion engine. Thus the engineering challenge was coupling the aircraft engine to a heavy duty gearbox, via a modified prop shaft.
Built for Major Henry Segrave to take the LSR from Ray Keech, Golden Arrow was one of the first streamlined land speed racers, with a pointed nose and tight cowling. Power was provided by a 23.9 litre (1462 ci) W12 Napier Lion VIIA aero engine, specially prepared by Napiers and originally intended for the Schneider Trophy, producing 925 hp (690 kW) at 3300 rpm. The Thrupp and Maberly aluminium bodywork was designed by ex-Sunbeam engineer J.S. Irving, and featured ice chests in the sides through which coolant ran. There was a telescopic sight on the cowl to help Segrave avoid running diagonally.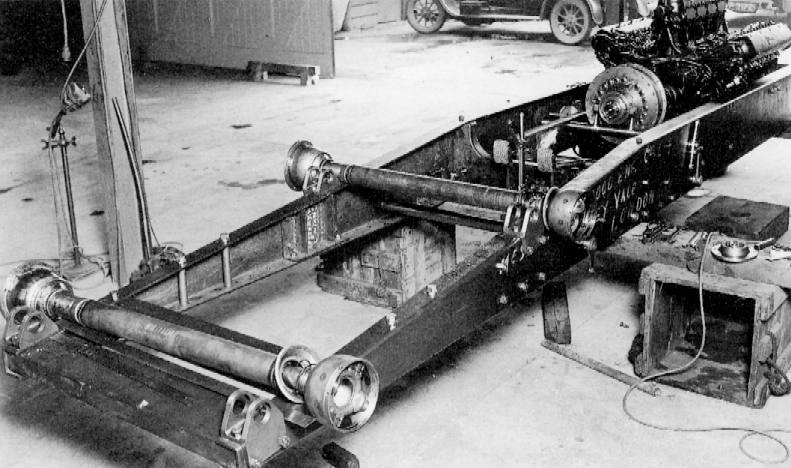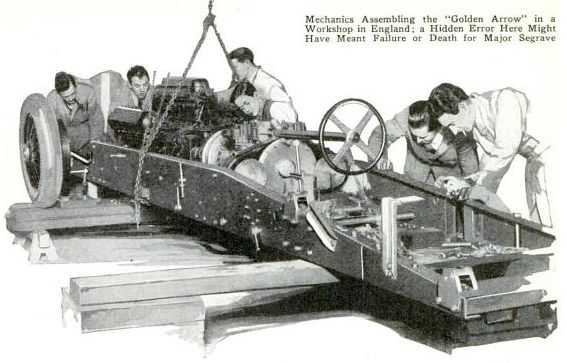 In March 1929, Segrave went to Daytona, and after a sole practice run, on 11 March, in front of 120,000 spectators, set a new flying mile at 231.45 mph (372.46 km/h), easily beating Keech's old speed of 207.55 mph (334.00 km/h). Two days later, Lee Bible's White Triplex crashed and killed a photographer, leading Segrave to quit land speed racing briefly, only to be killed attempting a water speed record the next year. Golden Arrow never ran again. She is now on display at the National Motor Museum, Beaulieu, Hampshire, England.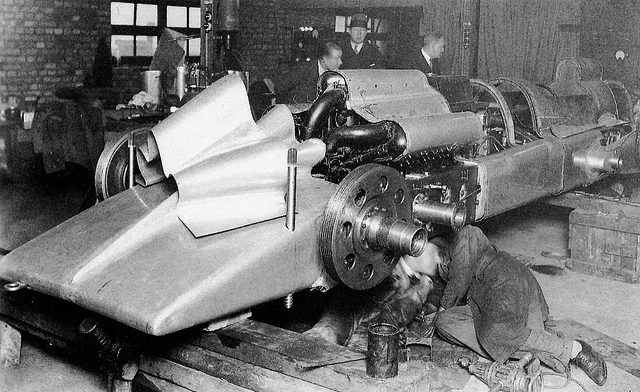 LINKS
Golden-Arrow-Land-Speed-Record-Car
http://en.wikipedia.org/wiki/Golden_Arrow_%28train%29
http://www.goldenarrow.co.uk/
http://www.est1946.com/browseproducts/Golden-Arrow-Land-Speed-Record-Car.html
http://it.wikipedia.org/wiki/KLG_Golden_Arrow
http://en.wikipedia.org/wiki/Golden_Arrow_%28car%29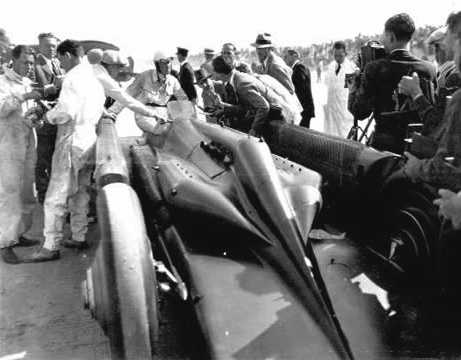 Major Henry Segrave with the Napier Lion aero engined "Golden Arrow" set the record
of 231.567 mph at Daytona Beach on 11th March 1929. The only run for Golden Arrow
as Segrave turned his attention to the World Water Speed Record.
Production

one-off (1928)

J.S. Irving

Body and chassis

front-engined land speed record car.

Powertrain

925 hp, 23.9 litre naturally aspirated Napier Lion W12 aero engine, ice cooling, no radiator

3-speed, final drive through twin driveshafts running either side of driver
Napier Lion aero engined "Golden Arrow" on display at Beaulieu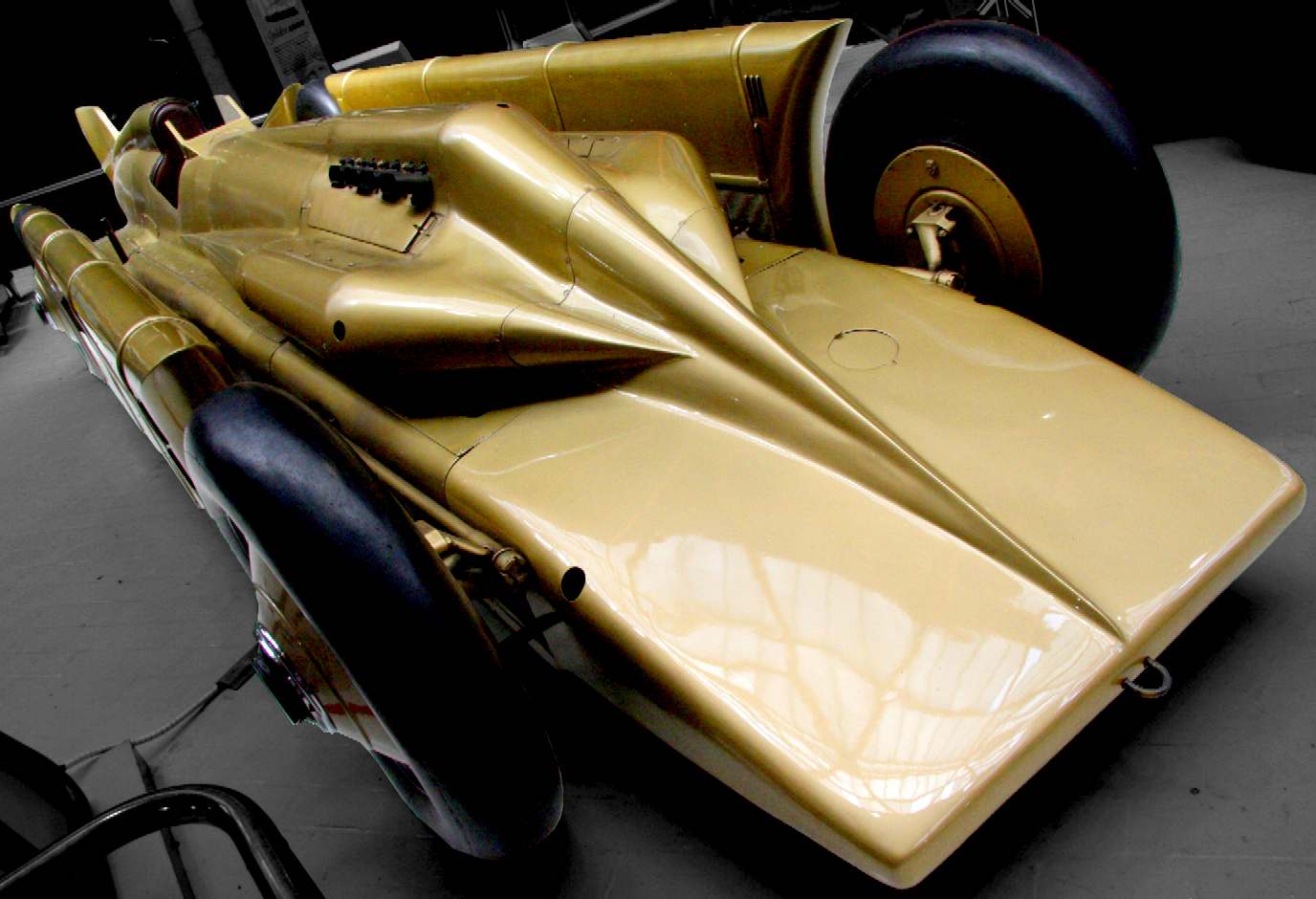 J S Irving's masterpiece in metal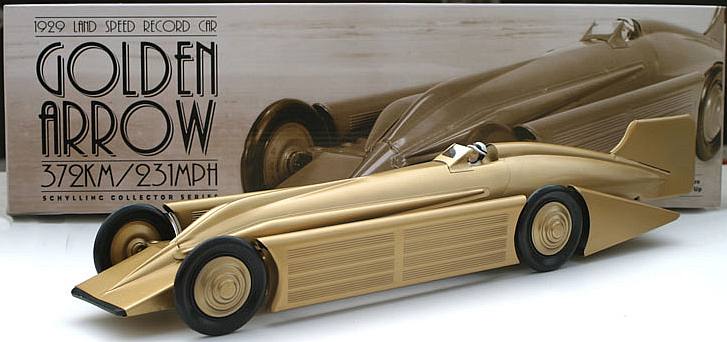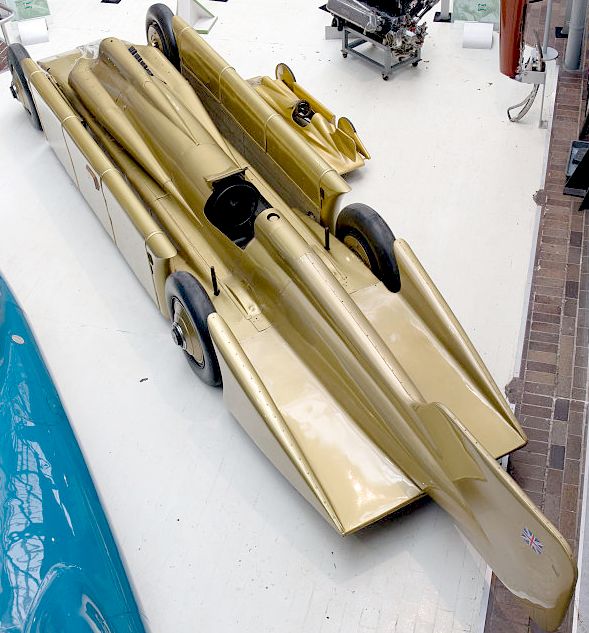 A taste for adventure capitalists
A - Z DIRECTORY of CARS and MOTORCYCLES

The beautiful lines of the BE3 were inspired by Reid Railton (pictured above left) and his designs for the Napier Lion and Rolls Royce engined Blue Bird LSR cars of the 1930s driven with such flair by Malcolm Campbell. The Blueplanet BE3 features instant battery recharging using the patent Bluebird™ cartridge exchange system under license from BMS. This LSR car is also solar assisted. She is designed for speeds in excess of 350mph using clean electricity - and what a spectacle she will make charging along historic venues such as Pendine Sands, Daytona Beach and the Bonneville Salt Flats.