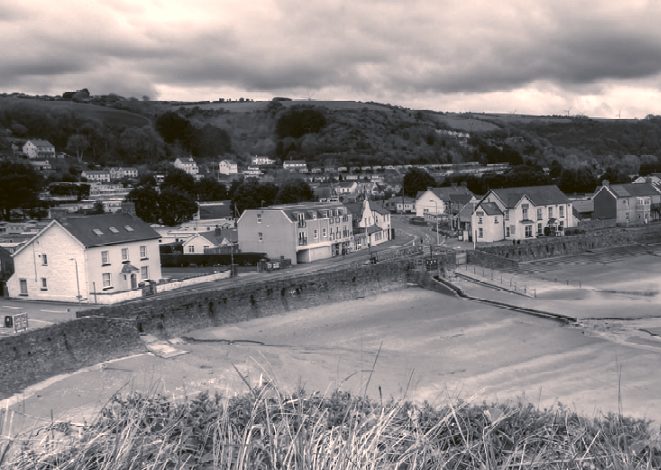 Pendine Sands, Carmarthen Bay, Wales, United Kingdom
This was the scene of many Land Speed Record attempts by Thomas Parry and Captain Campbell in the 1930's. The Sands at Pendine provides around 4 miles of firm, straight-line running, the condition of which is, unfortunately, determined by the preceding tide, sea state and wind direction. For this reason it is a risky business planning to attempt a record at this location.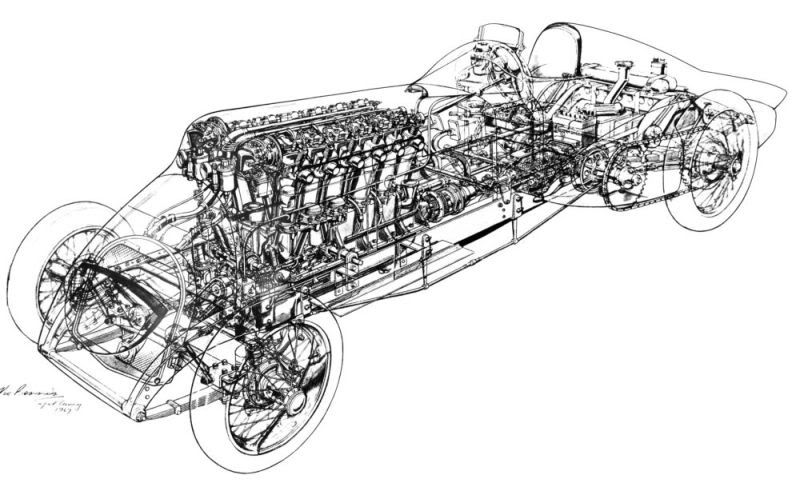 Pendine Sands is a 7 mile long beach on the shores of Carmarthen Bay on the south coast of Wales. It stretches from Gilman Point in the west to Laugharne Sands in the east. The village of Pendine is situated near the western end of Pendine Sands.
In the early 1900s the sands were used as a venue for car and motor cycle races. From 1922 the annual Welsh TT motor cycle event was held at Pendine Sands. The firm flat surface of the beach created a race track that was both straighter and smoother than many major roads at the time. Motor Cycle magazine described the sands as "The finest natural speedway imaginable".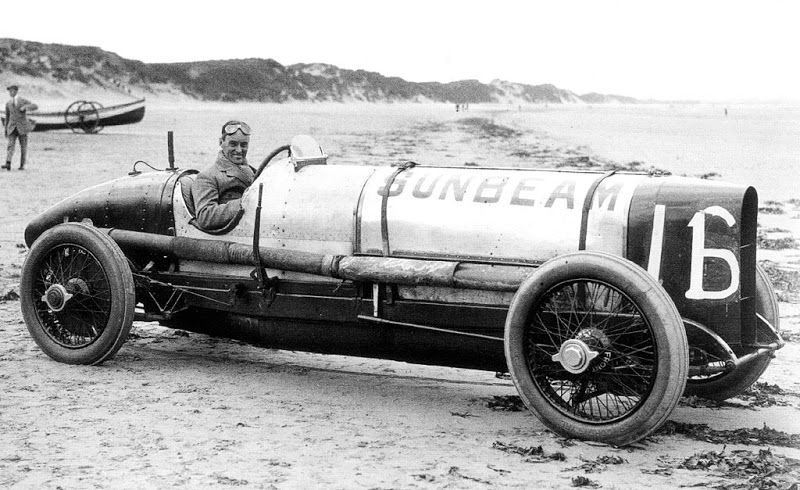 CAPTAIN CAMPBELL - Campbell's Sunbeam racing car, only slightly adapted for a run on the beach. These giants used thundering great aircraft engines as their motive power, to add to the spectacle and of course, global warming.
In the 1920s it became clear that roads and race tracks were no longer adequate venues for attempts on the world land speed record. As record breaking speeds approached 150 mph (240 km/h), the requirements for acceleration to top speed before the measured mile and safe braking distance afterwards meant that a smooth, flat, straight surface of at least 5 miles in length was needed.
The first person to use Pendine Sands for a world land speed record attempt was Malcolm Campbell. On September 25, 1924 he set a world land speed record of 146.16 mph (235.22 km/h) on Pendine Sands in his car Bluebird.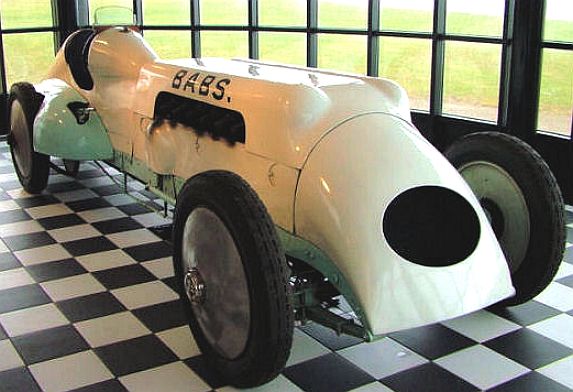 BABS RESTORED - Amazing to think that this car was buried in the sand for all those years. A splendid restoration. She is now housed in a purpose built display. Not sure about the chequered tiles, presumably representing a chequered flag. This car had chain final drive. In this picture the chains are shrouded with a fairing.
Four other record breaking runs were made on Pendine Sands between 1924 and 1927; two more by Campbell, and two by Welshman J.G. Parry-Thomas in his car Babs. The 150 mph barrier was decisively broken, and Campbell raised the record to 174.22 mph (280.38 km/h) in February 1927.
On March 3, 1927 Parry-Thomas attempted to beat Campbell's record. At 180 mph (290 km/h) he lost control of Babs. The car rolled over and Parry-Thomas was killed. He was the first driver to be killed during a world land speed record attempt. This was the final world land speed record attempt made at Pendine Sands.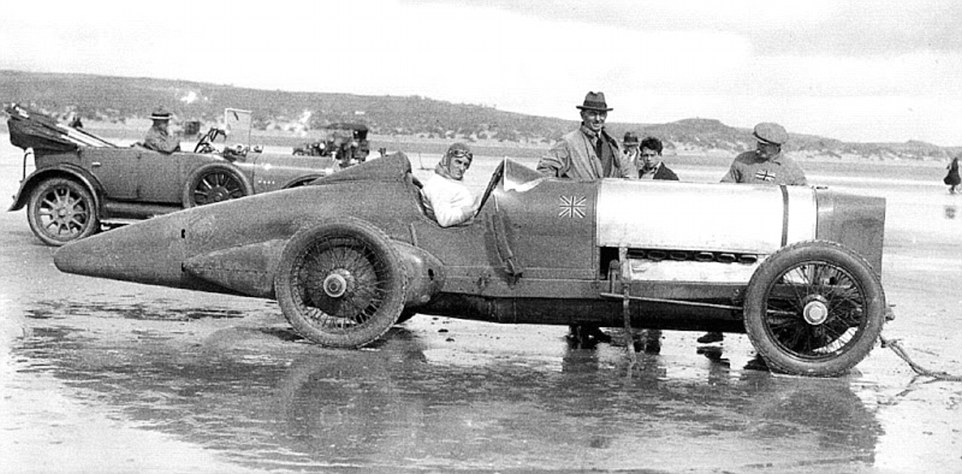 Parry-Thomas' car Babs was buried in the sand dunes near the village of Pendine. in 1969 Owen Wyn-Owen, an engineering lecturer from Bangor Technical College, sought and received permission to excavate Babs. Over the next 15 years he restored the car, which is now housed in the Museum of Speed in Pendine village.
In 1933 Amy Johnson and her husband, Jim Mollinson, took off from Pendine Sands in a De Havilland Dragon Rapide to fly non-stop to the United States.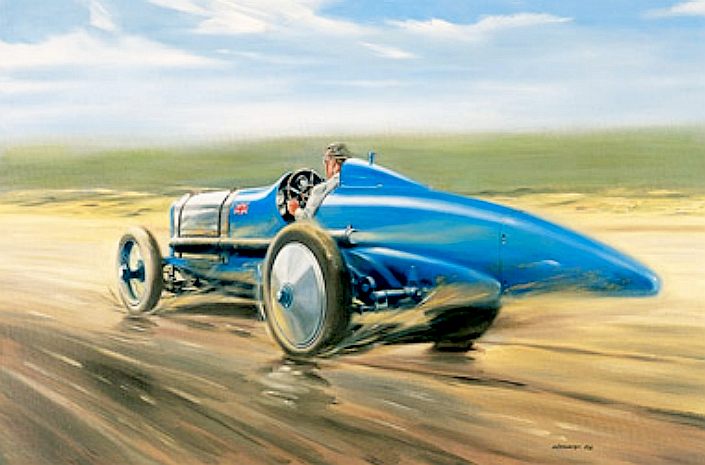 During the Second World War the Ministry of Defence acquired Pendine Sands and used it as a firing range. The beach is still owned by the Ministry of Defence; prominent signs warn of the dangers of unexploded munitions, and public access is sometimes restricted.
In June 2002 the grandson of Malcolm Campbell, Donald (Don) Wales, set a new UK kilometer record at Pendine Sands in an electric car named Bluebird, achieving a speed of 137 mph (220 km/h).
On 9th July 2004 all vehicles were banned from using Pendine due to safety concerns. Part of the beach is closed off because of MOD land and there are many warnings about bombs on the beach.
Top Gear filmed a review as part of the fifth episode of their fourth season, and returned to film a second review for the first episode of the fifth season. Scrapheap Challenge used the beach as the venue for the challenge in Season 10, Episode 1, aired in 2008.
On the 22nd of May 2010 a British lawnmower cut the world land speed record by reaching a new top speed of more than 86.069 mph. The previous lawnmower land speed record was 80.792mph (130.022km/h) set in America by Bob Cleveland at the Bonneville Salt Flats, Utah. Bob was present at the 2010 record run. Mr Donald (Don) Wales was recorded as reaching 86.069mph.

Any motorised grass cutters taking part in this event must also be built primarily from lawnmower parts. The record attempt, named Project RunningBlade, has been led by the National Motor Museum in Beaulieu, Hampshire.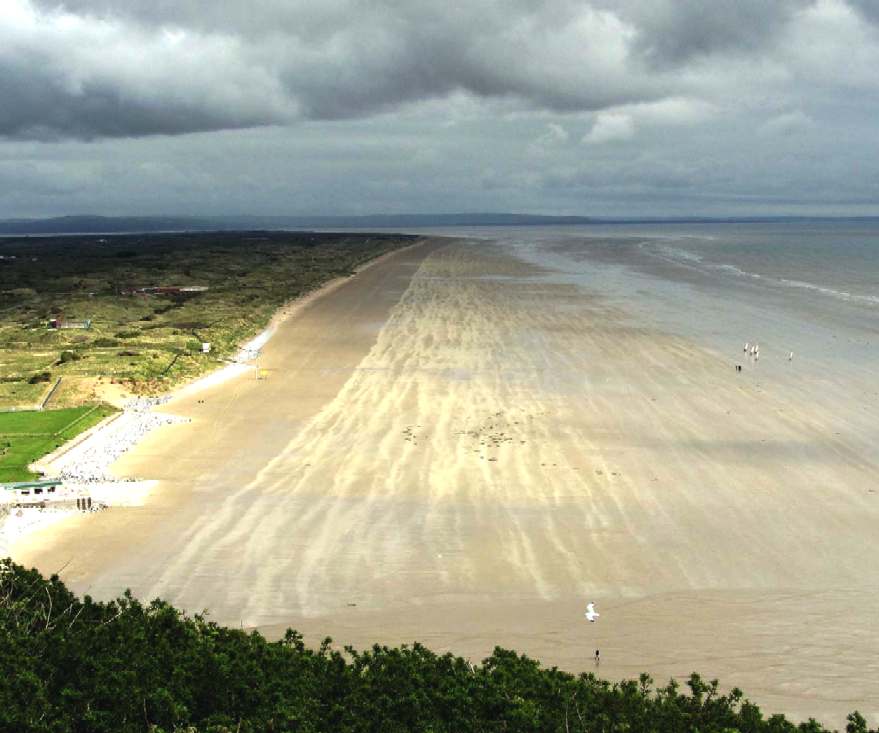 In August of 2011 Joseph (Joe) Wales (son of Donald Wales) attempted to raise his father's 137mph electric car record, but veered off course and damaged the suspension of his electrically powered Bluebird car at Pendine Sands.
In September of 2012, Nick Ponting, a 21 year old estate agent from Gloucestershire sponsored by Ecotricity, raised the British electric land speed record to 157 mph in a converted Lotus Exige, called Nemesis.
Today Pendine Sands is sometimes used as a stage in rally car events, although spectator access is limited for safety reasons. It is also a popular venue for kite buggying and homebuilt hovercraft.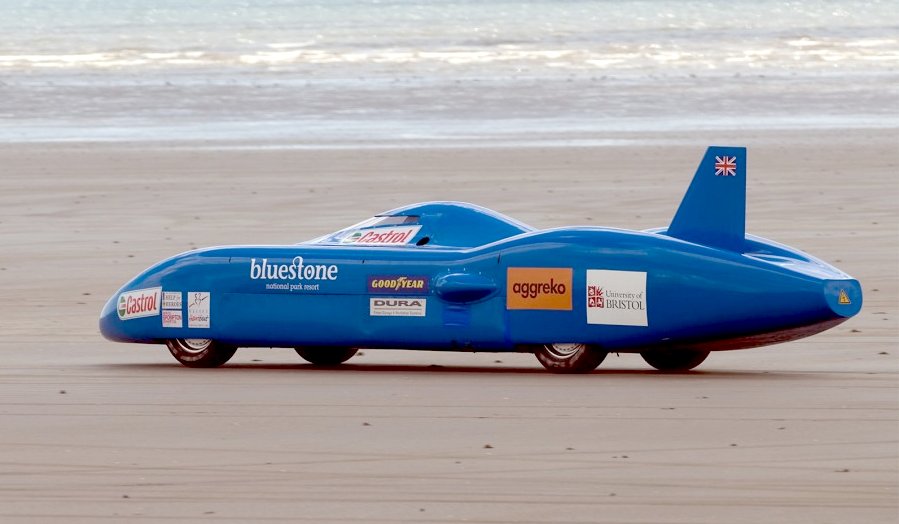 BLUEBIRD - Compared to the Buckeye Bullet, these guys have got a ways to go. It just does not look like a Bluebird from the Campbell stable. In the end the suspension collapsed, putting an end to our woe. But who knows, the Clan may bounce back again with something more appetizing. Don Wales and his son Joe, both had a crack at land speed record breaking in this fated vehicle at Pendine Sands. The car before this, a converted Formula Ford, was so underpowered it could not complete a second run, and had to be towed back to the start line. Perhaps they should have stayed with the original high speed concept that started the career of Mr Wales, instead of jumping from one horse to another.
MUSEUM OF SPEED CONTACTS
Museum of Speed
Pendine
Carmarthenshire SA33 4NY
Tel: +44 (0)1994 453488 (Easter - September)
Tel: +44 (0)1267 228696 (October - Easter)
e.mail: museums@carmarthenshire.gov.uk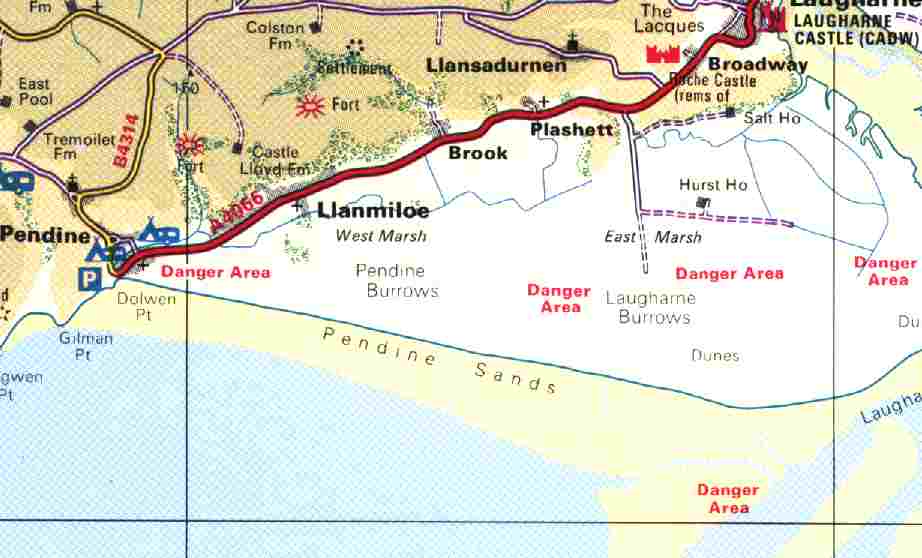 LINKS
Map sources for Pendine Sands
Carmarthenshire English education museums of speed
http://news.bbc.co.uk/1/hi/wales/8699070.stm
www.studiopendinelli.it
www.pendine.com
www.pendineonline.co.uk
www.pendineonline.org
www.pendinepark.com
www.pendinesands.org.uk
www.mariopendinelli.it
www.lapendine.com
A - Z OF WORLD FAMOUS RACING CIRCUITS

SMART-CHARGER - Potentially the world's fastest electric car

powered by hydrogen energy cartridges and fuel cells. This streamliner is theoretically capable of over 400mph using the latest production electric motors, but is designed to beat Ford's 207mph record set at Bonneville, but at Pendine Sands in the UK - and then 350mph at the Bonneville Salt Flats in the USA. Featuring built in energy cartridge refuelling, as per the Automated and Electric Vehicle Act 2018, and charged using renewable solar energy. A project to celebrate the banning of petrol and diesel cars in Europe and the UK from 2030 - fingers crossed.