SMART-CHARGER - This graceful electric car concept is potentially the world's fastest vehicle to be powered by hydrogen energy cartridges. This streamliner is theoretically capable of 400mph using the latest production electric motors, but is designed to beat 208mph at Pendine Sands in the United Kingdom, to beat the Ford Fusion 999 record, and then 350mph at the Bonneville Salt Flats in the USA, to beat the Buckeye Bullet 2 record of 303mpm. Featuring built in energy cartridge swapping system, charged using renewable solar energy. A unique PR opportunity in celebration of the EU banning petrol and diesel cars in Europe and the UK from 2030.

As far as we know, there is only one hydrogen fuel cell powered electric streamliner in the unlimited class as of 2020, and that is Ohio State University's Buckeye Bullet 2, a world land speed record of 303 mph, set in 2009 on the Bonneville Salt Flats.
The Venturi Buckeye Bullet 3 improved on that with a speed of 341mph, but that was battery powered. If the SmartCharger could overtake that, raising the record above 350mph, that would be a real achievement for fuel cell cars.
The idea is to use a Universal liquid hydrogen cartridge, as might be used in family cars as a single unit, or as multiples in electric long haul trucks.
BMW set a record for a hydrogen gas fuelled internal combustion engine car in 2004, but that does not count here, it is just useful background information. More to the point, Ford's Fusion 999 set a superb land speed record in 207mph, that even Pininfarina's $2.5 million dollar 'H2 Speed' cannot beat.
Hence, there is an opportunity here to set a zero emission record to promote hydrogen as a clean and renewable fuel of the future. In this case we'd be using standard energy cartridges that are designed for ordinary road vehicles.
Interestingly, the car can also run on battery cartridges of an identical size and loading configuration.
The project is pitched at a very keen €15 million Euros, to include an attempt at Pendine Sands, in Wales and another €4 million Euros, to include an attempt at the Bonneville Salt Flats in Utah. Details available on request from the Climate Change Trust.
FORD PRESS RELEASE AUGUST 2007 - FORD SETS LAND SPEED RECORD WITH FORD FUSION HYDROGEN 999 FUEL CELL RACECAR

Ford Motor Company made history today by reaching 207.279 mph with the Ford Fusion Hydrogen 999, the world's first production-based hydrogen fuel cell race car.
The Ford Fusion Hydrogen 999 is Ford's latest environmental innovation, another step on the road toward commercially viable hydrogen fuel cell vehicles.
The car was designed and built by Ford engineers in collaboration with Ohio State University, Ballard Power Systems and Roush.
WENDOVER, Utah, August 16 Ford Motor Company today became the world's first automaker to set a land speed record for a production-based fuel cell powered car. The Ford Fusion Hydrogen 999 fuel cell car raced to 207.297 mph at the Bonneville Salt Flats in Wendover, Utah to set the record.

The Ford "999" is the world's first and only production vehicle-based fuel cell race car. It was built in collaboration with Ballard Power Systems, Roush and Ohio State University and is one of two vehicles demonstrating the potential of fuel cell technology. Ford researchers also are supporting student engineers from Ohio State University on its Buckeye Bullet 2, a streamliner-type fuel cell-powered racer attempting 300+ mph.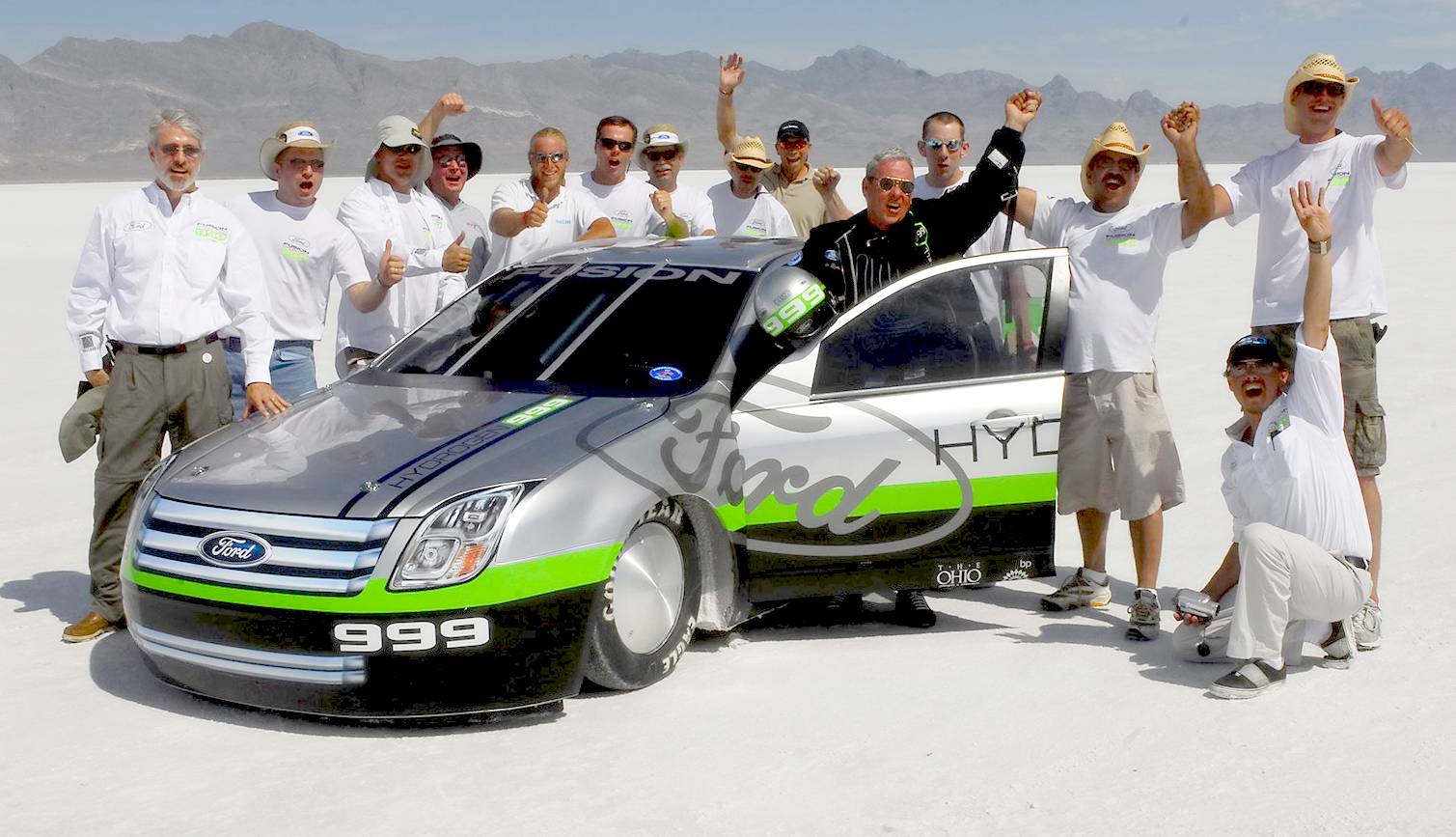 A hydrogen vehicle is a vehicle that uses hydrogen fuel for motive power. Hydrogen vehicles include hydrogen-fueled space rockets, as well as automobiles and other transportation vehicles. The power plants of such vehicles convert the chemical energy of hydrogen to mechanical energy either by burning hydrogen in an internal combustion engine, or, more commonly, by reacting hydrogen with oxygen in a fuel cell to run electric motors. Widespread use of hydrogen for fueling transportation is a key element of a proposed hydrogen economy.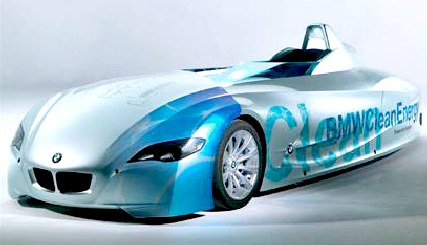 In 2004 the BMW H2R set nine world speed records for internal combustion powered vehicles using hydrogen as a fuel. The H2R has a 0-60 acceleration in under 6 seconds and a top speed of 187.62 mph (301.95 km/h) from 232 horsepower (173 kW).

The main modifications to the 760i engine involve adapting the fuel injection system to the special features and requirements of hydrogen fuel. Intake valves were enlarged, valve seat rings were modified, special hydrogen-specific injection valves were used and relocated to the intake manifold instead of the combustion chamber. The records were set on a race course in the south of France: Miramas be BMW factory drivers Alfred Hilger, Joerg Weidinger and Günther Weber.

The sleek body design was made of aluminium space-frame chassis and suspension with an aluminum body skeleton upon a carbon-fiber-reinforced plastic outer body. It was conceived by California-based, DesignworksUSA. BMW is also developing fuel cell cars, using the technology of the Hybrid Cars.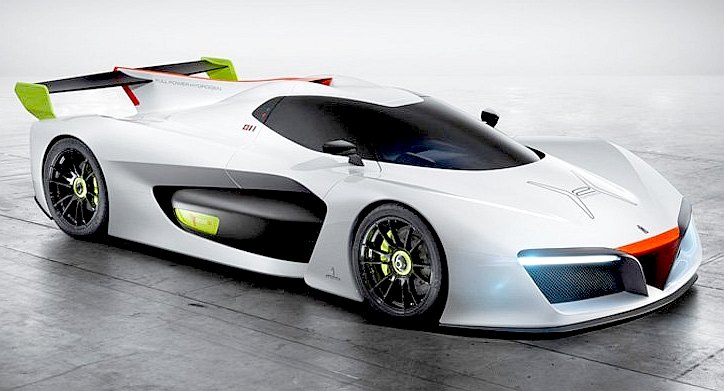 In March 2016 Pininfarina unveiled their concept hydrogen-powered car at the Geneva Motor Show, and not only is it a futuristic little number, it's also the fastest of its kind. While it's certainly not the first automaker to explore the creation of hydrogen cars – Toyota, Audi, and Honda are known brands that are investing into the technology as well – Pininfarina is the first one to create a hydrogen-powered vehicle that is this fast.

The car, called the H2 speed, could reach up to 299 km/h (186 miles per hour), casting a great big shadow on the specs offered by the Toyota Mirai. This also makes it the first high-performance hydrogen car capable of going from zero to 100 km/h (62 miles per hour) in just 3.4 seconds.
It runs on two electric motors along with a hydrogen fuel cell, and it is equipped with the ability to regenerate energy from braking. Oh, it can also refuel in just three minutes.
As previously mentioned, it is still in its concept stage; however, the H2 Speed has already gone through track testing by GreenGT, a Franco-Swiss company known for developing clean propulsion systems.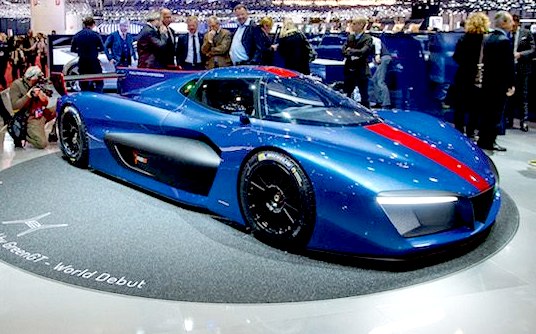 In March 2018 the production version of the H2 was shown in Geneva. Pricing is said to be in region of $2.5-million.

Twelve of these hydrogen race cars will be produced, powered by four electric motors that are good for a total system output of 653 horsepower. Pininfarina's partner in the project is GreenGT, a Franco-Swiss company that designs and develops sustainable propulsion systems. Some of the components used in the production H2 Speed from GreenGT include the 250 kW fuel cell and torque vectoring system.

The H2 Speed features an LMP carbon fiber-based chassis with a steel frame. There's direct transmission to the rear wheels, which means no clutch, no differential, and no gear shifting. It weighs about 3,130 pounds (1,420 kilograms), allowing it to hit 62 mph from a standstill in 3.4 seconds. Top speed is set at 186 mph (300 km/h). For dry conditions, the race car is equipped with Michelin Pilot Sport GT 59M tires, with Pilot Sport GT P2L rubber when it rains.
MAKING ENVIRONMENTALLY FRIENDLY HYDROGEN FUEL
Hydrogen can be produced by using electricity to split water split water into hydrogen and oxygen with renewable solar and wind energy via electrolysis.
LINKS & REFERENCE
http://www.hydrogencarsnow.com/index.php/bmw-hr2/
https://www.sciencealert.com/this-is-the-fastest-hydrogen-powered-car-ever-designed-and-it-s-simply-astounding
https://ecofriend.com/bmw-presents-hybrid-car.html
https://digimission.com/2005/02/28/world-fastest-hydrogen-powered-car/
http://www.seriouswheels.com/cars/top-2007-Ford-Fusion-Hydrogen-999-Land-Speed-Record.htm
https://fareastgizmos.com/other_stuff/ford_fusion_hydrogen_999_aims_for_land_speed_record.php
http://www.h2v.eu/
https://en.wikipedia.org/wiki/Hydrogen_vehicle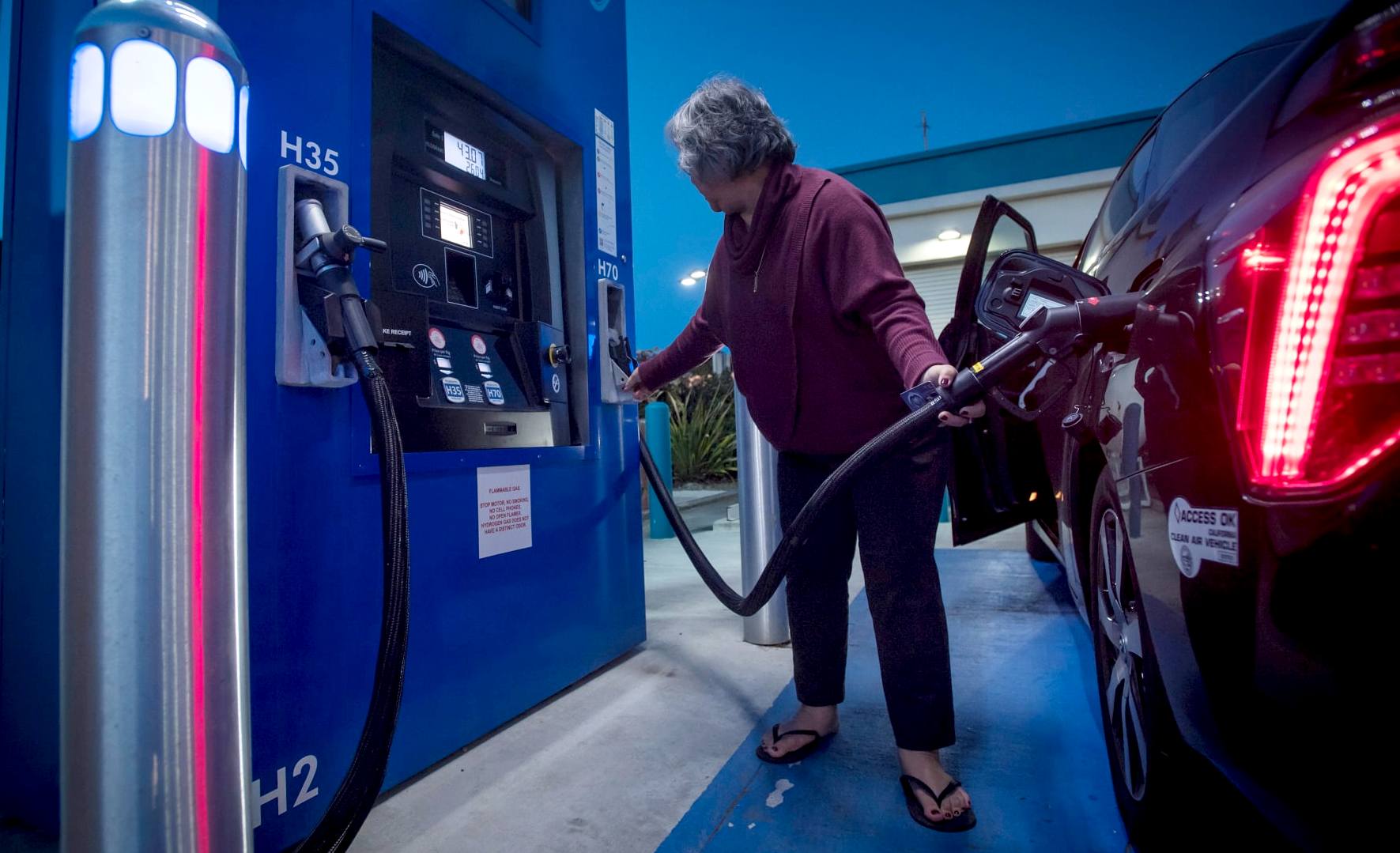 HYDROGEN FILLING STATIONS - There is nothing wrong with this scenario except that it means dedicated hydrogen service stations and dedicated hydrogen powered electric vehicles - with no chance of changing technology, to and from batteries, as technology develops. The buying public is therefore at risk of losing their investment, as if they were putting all their eggs in one basket, when there is no need for that.