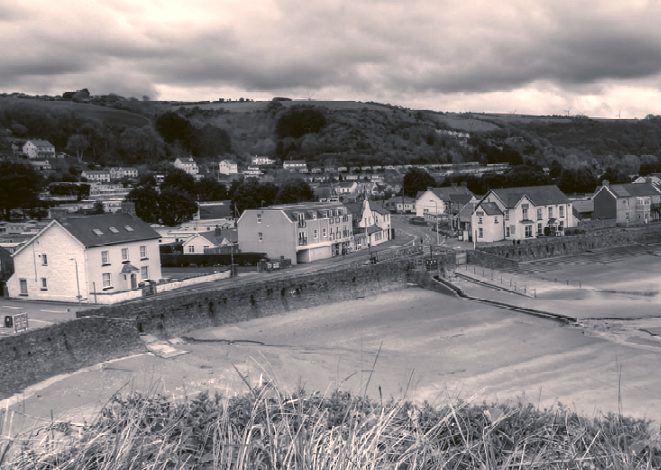 Pendine Sands, Carmarthen Bay, Wales, United Kingdom
This was the scene of many Land Speed Record attempts by Parry Thomas and Captain Campbell in the 1930's. The Sands at Pendine provides around 4 miles of firm, straight-line running, the condition of which is, unfortunately, determined by the preceding tide, sea state and wind direction. For this reason it is a risky business planning to attempt a record at this location.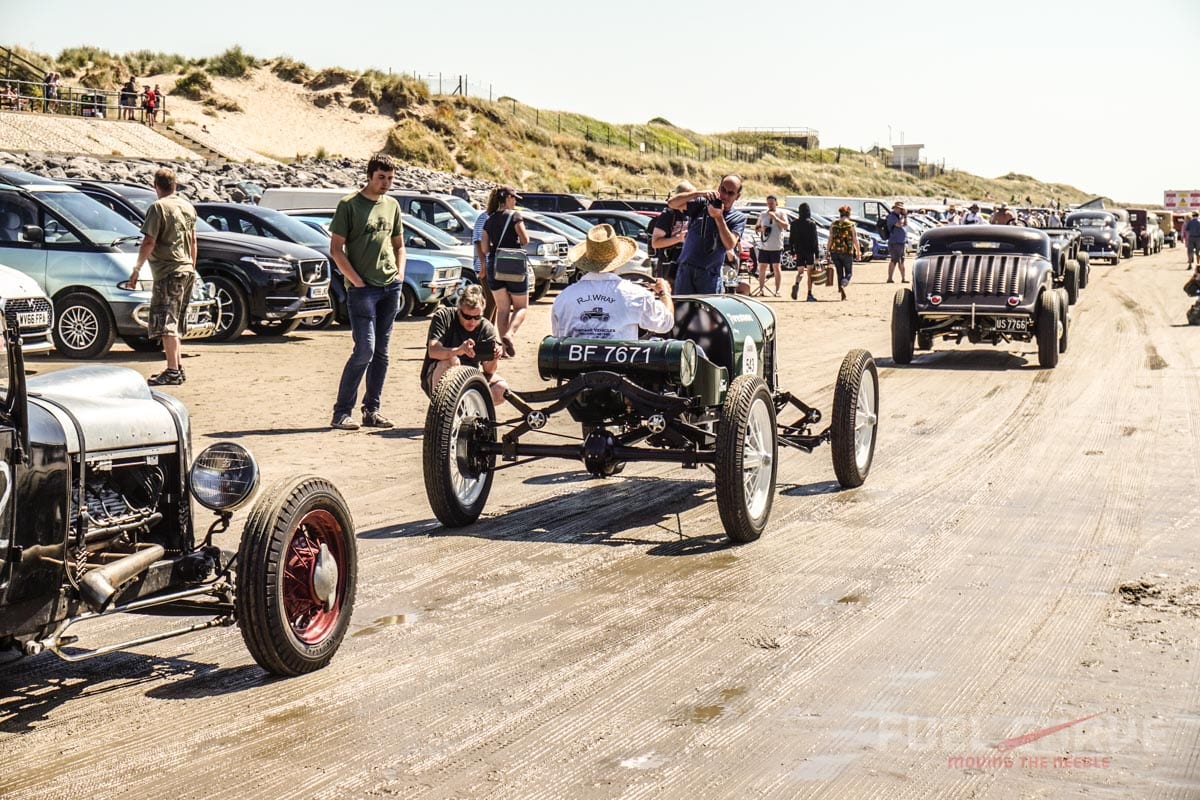 VINTAGE HOT ROD ASSOCIATION - OCTOBER 2020
The eight annual running of the Hot Rod Races will be happening on Pendine Sands over the weekend of 3rd & 4th October 2020. As before, this will be two days of non-stop racing action on the historic beach in Carmarthenshire, South Wales.
The fun starts from around 11.00am each day and racing for around five to six hours, with action from start to finish. Everything is determined by the tide, so times can't be set in stone.

This award winning event has fast become the most important date on the UK hot rod calendar, with participants coming from all over the globe to take part in the world's fastest and most exciting beach racing competition available to traditional hot rods and customs.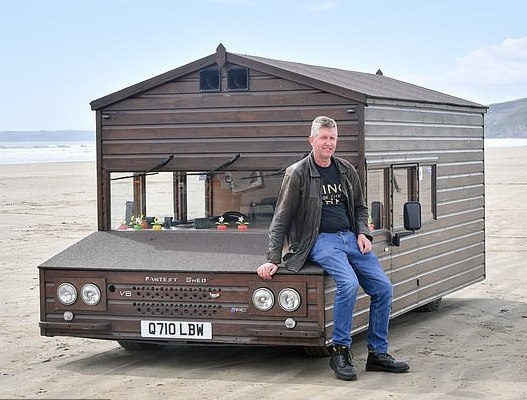 FASTEST SHED - Stretching his imagination on a small budget, the idea seems to have got away from Kevin Nicks and his 450 horsepower shed on wheels. Now that is a kit car (Q plate) with a difference. It must be a nightmare to park! Great stuff though Kevin. We wonder if there is any truth in the rumour that he's now pursuing a career in aerodynamics and wood steaming.
Racing is only open to members of the Vintage Hot Rod Association and their pre-1949 hot rods and customs, so it's guaranteed old time action all the way. Whilst pit passes are only for VHRA members, spectators can watch free from outside the pits.

There are classes for all types of vehicles and internal combustion engines, with cars being built just to break class records. A full list of classes and record holders is seen on this page, as well as a roll call of drivers that have beat the 100 mph barrier.
King of the Beach for 2019 was Marcus Bennett, who claimed the title in his first attempt, topping 120 mph into the bargain. We've heard that Marcus is keen to take the top spot again in 2020, but there's plenty of competition to keep him on his toes. This is certainly a series of races to see who comes out on top to sit on the throne for another year.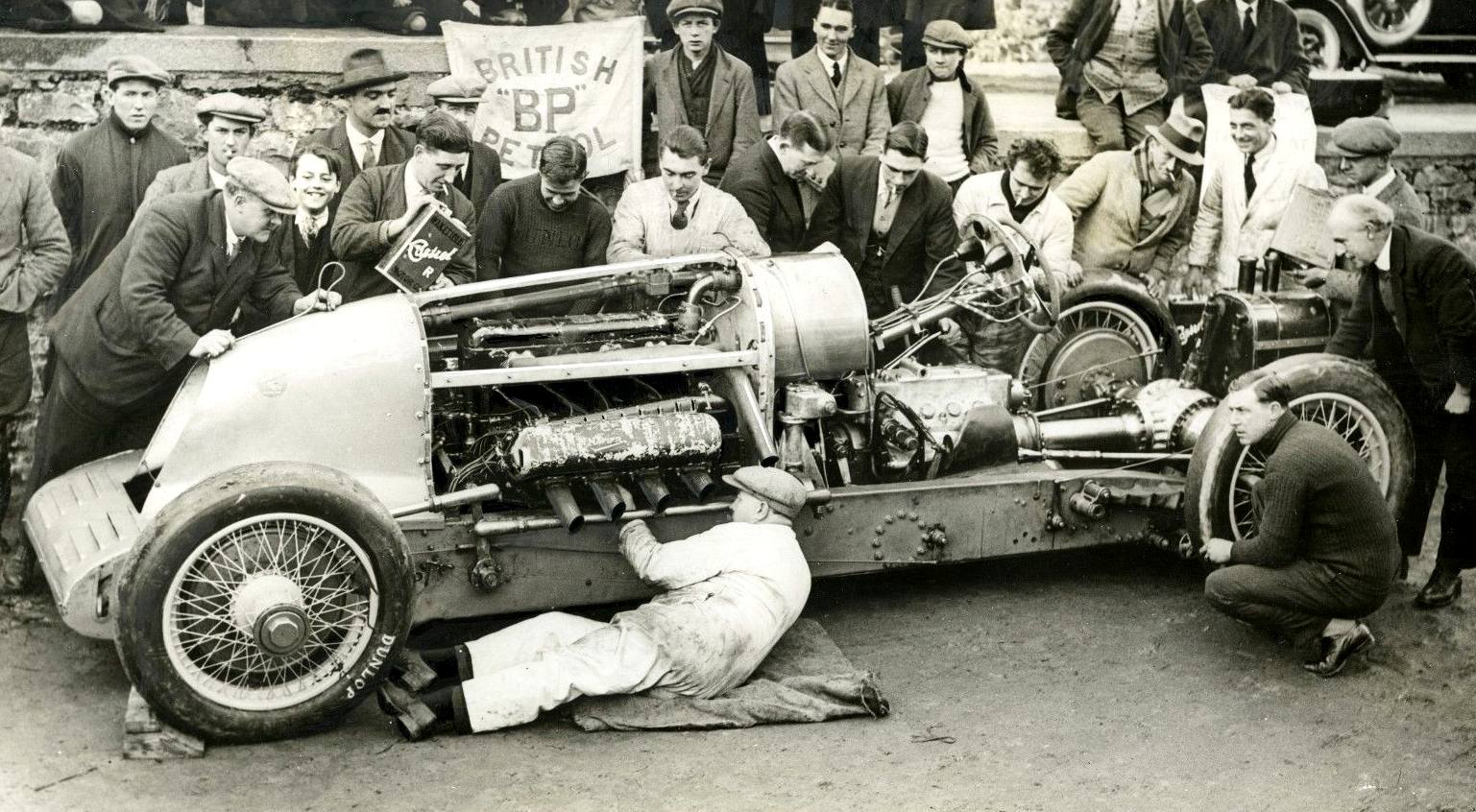 VINTAGE RACING CLASSES
V - Vintage - Pre 54 engines, inclusive of all Ford flathead V8's
L - Late - 1954 and later engines

4 - 4 Cylinder
6 - 6 Cylinder
8 - 8 Cylinder
U - Unlimited Cylinders

B - Blown - Supercharger or Turbo

F - Flathead - ALL valves in block, no OHV conversions

R - Roadster - Open top factory cars. Roof chops allowed, top must be down.
C - Closed Car - Fixed roof factory cars. Roof chops allowed.
M - Modified - Open top special & shortened bodies, including non-factory bodies.
S - Streamliner - Closed car special & shortened bodies, including belly tanks and non-factory bodies.
K - Full Body - Factory cars post 1934. All body styles, roof chops allowed.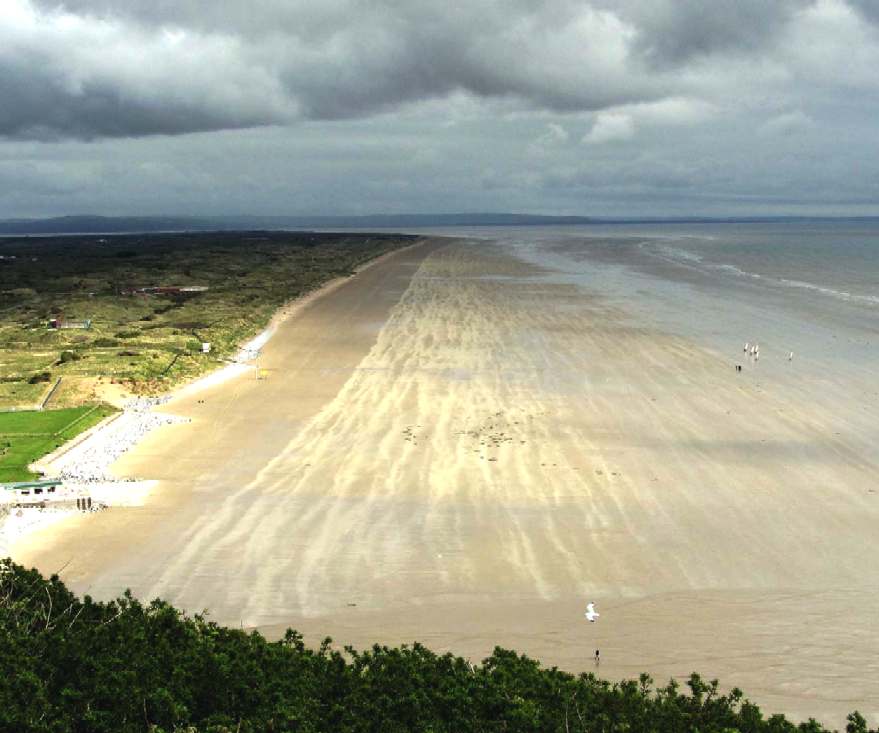 DRAG BIKES 2016
Straightliners Events British and World record top speed event went ahead over the weekend (21st and 22nd of May 2016) at Pendine Sands, Wales despite the unpredictable weather conditions. This was the first time that the Bonneville* vehicle classification system was used on sand in the UK and many records were established.
Over 40 riders from as far as France and Scotland turned up for action and the range of vehicles stretched from the most up to date powerful motorbikes to a pushbike. There were also many classics in action, strange hybrids, and even a bike from the 1930's now running with electric drive.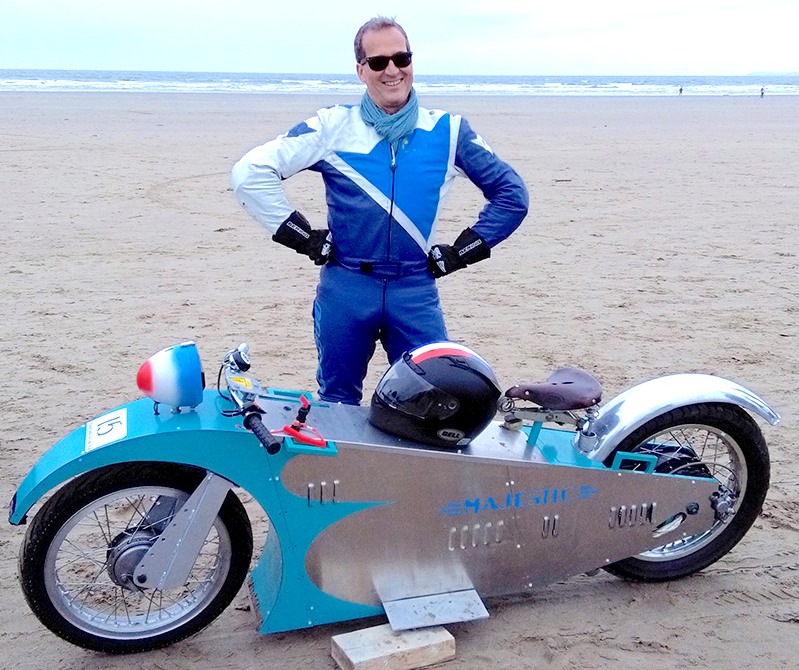 ELECTRIC BIKE - Are we seeing things or does Gilles Pujol look like a young Malcolm Campbell? He is seen here with his French electric 'Majetic' at the Straightliners British: World record top speed event at Pendine Sands. Gilles managed a credible 76.36 mph on his electric machine: 'Majestic.'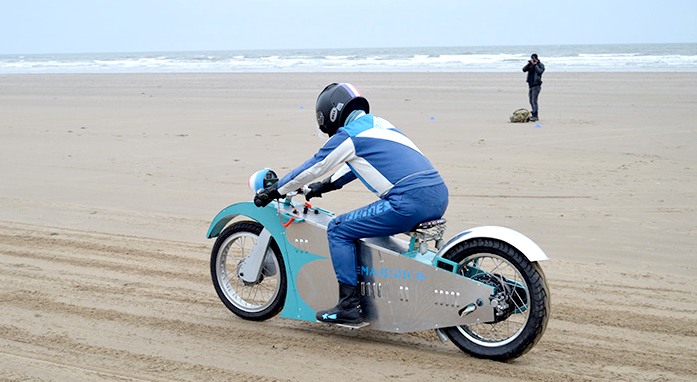 FRENCH CUISINE - Gilles Pujol (France) sets off down the beach with his French electric 'Majetic' at the Straightliners British – World record top speed event at Pendine Sands in 2016.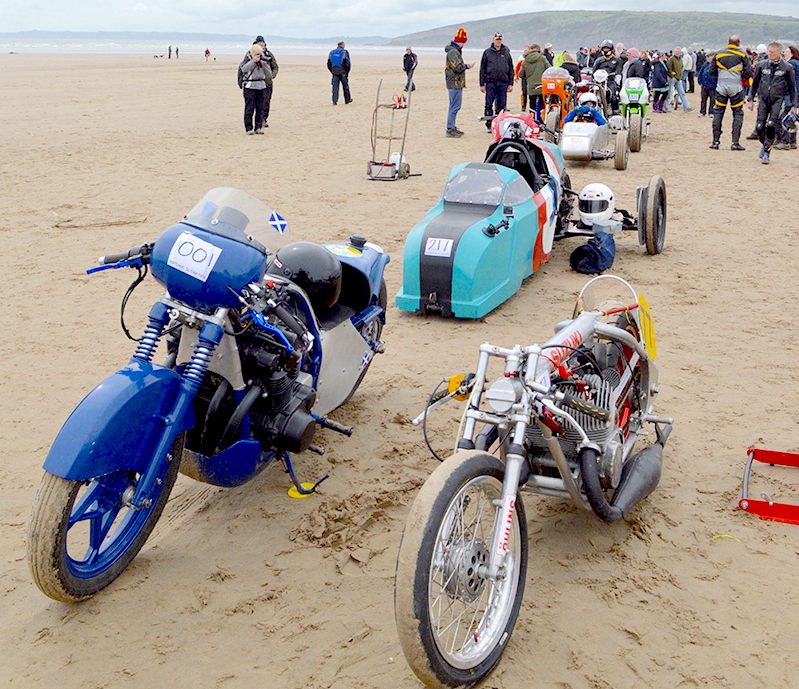 MUSEUM OF SPEED CONTACTS
Museum of Speed
Pendine
Carmarthenshire SA33 4NY
Tel: +44 (0)1994 453488 (Easter - September)
Tel: +44 (0)1267 228696 (October - Easter)
e.mail: museums@carmarthenshire.gov.uk
LINKS
https://www.dragbike.com/new-records-set-pendine-sands-land-speed-event/
www.pendine.com
www.pendineonline.co.uk
www.pendineonline.org
www.pendinepark.com
www.pendinesands.org.uk
www.mariopendinelli.it
www.lapendine.com
A - Z OF WORLD FAMOUS RACING CIRCUITS

SMART-CHARGER - Potentially the world's fastest electric car

powered by hydrogen energy cartridges and fuel cells. This streamliner is theoretically capable of over 400mph using the latest production electric motors, but is designed to beat Ford's 207mph record set at Bonneville, to be attempted at Pendine Sands in the UK - and then 350mph at the Bonneville Salt Flats in the USA, if the project gets the go ahead. Featuring built in refuelling that will work on sand and salt, supporting the Automated and Electric Vehicle Act 2018 ideals, and charged using renewable energy. A project to celebrate the banning of petrol and diesel cars in Europe and the UK from 2030 - fingers crossed.