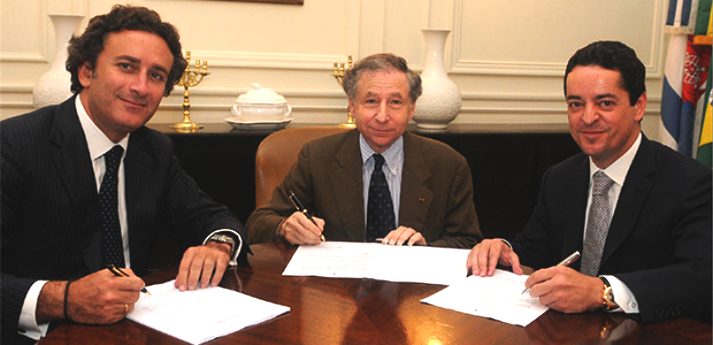 The FIA launches Formula E Championship: to start in Rio de Janeiro 2014 - August 27, 2012

The Federation Internationale de l'Automobile (FIA) has reached an agreement to licence the commercial rights of the FIA Formula E Championship to a Consortium of international investors. Formula E is a new FIA championship featuring Formula cars powered exclusively by electric energy. It represents a vision for the future of the motor industry over the coming decades.

The new promoter, the consortium Formula E Holdings Ltd (FEH) has as anchor investor London based entrepreneur Enrique Bañuelos. Former MEP and racing team owner Alejandro Agag, with long experience in the motor sport business, will be the CEO of FEH, as well as shareholder of the company. Also associated with the project are Lord Drayson, Managing Partner of Drayson Racing Technologies, and Eric Barbaroux, Chairman of the French electric automotive company "Electric Formula".

Demonstrations of the Formula E cars will start in 2013, followed by the first race in 2014. 10 teams and 20 drivers will participate in the competition. The races will be ideally staged in the heart of the world's leading cities, around their main landmarks.

Jean Todt, President of the FIA said: "I would like to thank all the parties involved. This new competition at the heart of major cities is certain to attract a new audience. We are pleased with this agreement with Formula E Holdings as they bring a very strong experience in MotorSport. The new events will provide a great way to engage the younger generation. This spectacular series will offer both entertainment and a new opportunity to share FIA values with a wide audience as clean energy, mobility and sustainability. This is a great day and a strong message to the motor sport community. The FIA is definitely looking to the future!"

Alejandro Agag, CEO of FEH said: "We are very pleased with the agreement reached with FIA. We see this as a great opportunity to create a new and exciting spectacle mixing racing, clean energy and sustainability, looking to the future. We expect this Championship to become the framework for research and development around the electric car, a key element for the future of our cities".

The series will be open to any cars sanctioned as Formula E by the FIA. The Consortium will ensure that a Formula E Car, based on the Formulec EF 01 prototype already in operation, is available for those competing teams willing to race with it.

The representatives of Formula E Holdings proposed to the Mayor and the Governor that the city of Rio become host of a Formula E Electric Grand Prix from 2014. Both the Mayor and the Governor enthusiastically welcomed the idea. Rio has a long commitment to sustainability, having hosted the Rio+20 UN Conference on Sustainable Development only weeks ago. The Mayor of Rio declared the proposed urban track designed to be near the Gloria Marina as "spectacular". Alejandro Agag said, "We are very thankful to the Rio authorities, its Mayor, Mr. Eduardo Paes, and its Governor, Mr. Sergio Cabral, for the enthusiastic welcome they have given to our Championship. The sustainable and clean energy aspects of our project were immediately highlighted by them, as values very much in line with the Rio de Janeiro of the future. We look very much forward to race in this amazing city in 2014."
www.electricautosport.com/2012/08/fia-launches-formula-e-rio-de-janeiro-2014/
FORMULA E
Formula E is a class of auto racing sanctioned by the Fédération Internationale de l'Automobile (FIA). The "formula", designated in the name, refers to a set of rules with which all participants' cars must comply. Formula E is intended to be the highest class of competition for one-make, single-seat, electrically-powered racing cars. The series was conceived in 2012, with the inaugural championship to be held in 2014. Demonstration events are planned for the second half of 2013.

Former Formula One driver Lucas di Grassi was announced as the series test driver in September 2012. Forty-two cars were ordered in November 2012, with Formula One team McLaren providing the motor, transmission and electronics that all cars will use.

Ten host cities are planning races for the 2014 season; unlike most motorsport categories, Formula E races will be run exclusively on street circuits. Rio de Janeiro and Rome were the first host cities to be announced. FE holdings are currently in talks with London mayor Boris Johnson for a London race event.
FORMULA E HOLDINGS
8th Floor
25 Berkeley Square
London
W1J 6HN
United Kingdom
http://www.formulaeholdings.com/
feh@formulaeholdings.com

Formula E Holdings Ltd
6th Floor,
ING Tower
308 Des Voeux Road Central
Hong Kong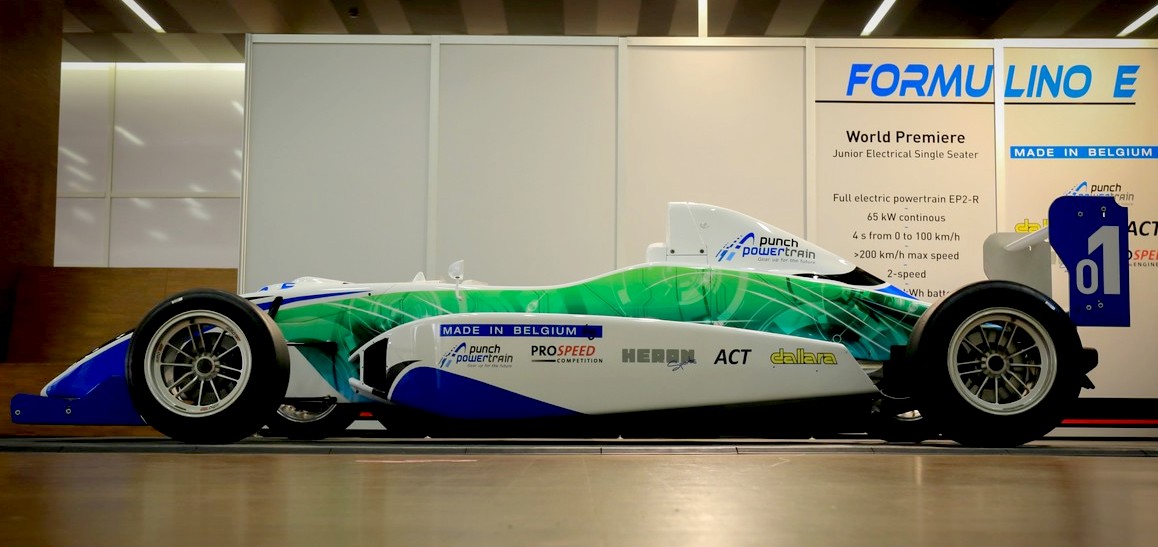 CONTROVERSY

First look at stunning electric race car from record-breaking Bluebird name - June 12, 2012

One hundred years after record-breaker Sir Malcolm Campbell christened his Brooklands racing car 'Blue Bird', his grandson Don Wales today unveiled the Bluebird GTL Formula-E electric circuit racer in London's Haymarket.

GTL Formula-E has been designed specifically for the inaugural Formula-E race series in 2014. The championship is the first electric series commissioned by motorsport's official governing body, the FIA, and Bluebird is aiming to become one of the four manufacturers chosen to supply vehicles to the race teams.

The move brings the Bluebird name "back to its roots", Wales told TheChargingPoint.com. "Formula-E represents the birth of a new era for us. Where we struggle with [financial] support for land speed record attempts, the circuit racing car is going to be more attractive to potential sponsors. Formula-E really is the future, definitely. Electric racing, with the FIA behind it, is going to be a big thing, and if we're in it at the dawn of that then Bluebird should be a very strong brand for the future.

"Grandfather started his racing career on the circuit before going into record-breaking," said Wales. "I went into land-speed record-breaking first and now we're going into circuit racing, so it really has gone full circle."

It's still early days for Bluebird Formula-E; project director Martin Rees began talking to the FIA in January this year. As such, the car is currently only in prototype form at the moment, completed the night before the launch, due to go into the wind tunnel for aerodynamic testing.

The Formula-E concept has an enclosed cockpit, unlike most other single-seater race cars. It's thought Formula One may adopt enclosed cockpits in the future.
However, much of the drivetrain is already complete, having been employed in the Bluebird electric land speed vehicle that failed in its record attempt earlier in the year at Pendine Sands. Rees has so far assembled a team of nine people for the Formula-E project, including former Ferrari F1 chassis designers Chris Hewett and Gareth Hutchinson.

"In our centenary year, the FIA decided in its wisdom to create a race series using the very technology in which are experts, so what could we do?" Rees told us. "We just had to be involved, and when we spoke to the FIA we felt that they had a passion for us to be involved, too. They could see that Bluebird added value to what they're trying to achieve, and that squared a circle for us. It was a no-brainer."

"The downside of Bluebird is that we can't fail," he continued. "Bluebird is synonymous with success in speed record breaking; we want to make it synonymous with success in circuit racing."

http://www.thechargingpoint.com/news/Bluebird-going-back-to-its-roots-with-GTL-Formula-E.html


Electric car racing may be the next big thing in the future, but many are of the opinion there is not much to boast about design and style in electric racers. Well, those many are likely to change their mind when they have a look at the Bluebird GTL Formula E concept racing car.

Imagine what it is when blue dreams and alien concepts come together. That's exactly what the Bluebird concept racing car is, a creation that redefines futuristic high in every sense. Its enclosed cockpit design furiously demands attention and its sinister color and lines throw light on the fact that gothic design elements will pave the way for the future.

FIA's upcoming Formula E has set the pulse racing. Vehicles storming the lanes here will be out of the ordinary. Although Bluebird's GTL electric concept car at first look may have a rather uncanny resemblance to superhero Batman's Batmobile and also draw influences from prototypes at Le Mans, we say it's grotesquely bizarre form is daringly different. This one is a path maker of futuristic electric speed demons.

www.rushlane.com/bluebird-gtl-formula-e-electric-car-racing
WIRED
With critics continuing to scrutinise the battery range of electric vehicles, the announcement of an all-electric racing series - Formula-E - has raised more than a few eyebrows.

But with the announcement of the series by official global body for motorsport, the FIA, comes a significant bonus: regular road-based dynamic induction -- better known as the charge-as-you-drive car battery -- has moved a step closer to your home.

To understand how, one must first understand a controversial problem with Formula-E: the championship requires two cars per driver to cover the sixty-minute length of each race. "We considered switching out the battery but we couldn't comply with the FIA safety regulations," Alejandro Agag, CEO of Formula-E Holdings, which is responsible for the execution of the series, explains to Wired.co.uk", so we had to switch cars.

"The other way was to wait seven or eight years to start the championship but we chose to start now. We know the solution is not perfect, but it might be quite fun to watch and be a base to see the evolution."

It's evolution Paul Drayson, former Minister for Science and Innovation in the UK, is excited by. He owns Drayson Racing Technologies, and his company has encouraged electric racing for many years. He has been involved as far back as 2007, being invited to be Scientific Advisor to the FIA's Environmentally Sustainable Commission, which was set up to explore ways in which motorsport could become more "green".

"Racing for me has increasingly been about this trend towards green racing and sustainability and trying to get motorsport to be part of the solution towards things like climate change and airborne pollution, rather than being part of the problem," Drayson said.

With HaloIPT, he's successfully developed the technology for a static wireless charging system, which was acquired by Qualcomm in 2011 and was demonstrated at Goodwood Festival of Speed last summer as well as the Consumer Electronics Show in Las Vegas earlier this month.

It solves the problem that currently faces electric vehicles: they must be charged using a cable. Instead, this technology allows a battery to charge after the car is parked over a wireless charging device. Drayson is confident it can be developed to support cars still in motion: "I'm convinced that it can be evolved to work on a dynamic basis," he says.

High-speed challenge

Developed by McLaren and Spark Racing Technologies, Formula-E's electric cars will reach speeds of 250kph on urban tracks. The series will comprise ten teams, ten cities and four continents, with the first race set to be held in 2014.

The series provides the perfect opportunity to introduce the charging technology because of the controlled environment it offers: high performance cars, a maximum race time and a dedicated track. The developers anticipate a start with cable-based and static wireless charging, but the vision will be to go for a first all-electric, all-dynamically-induced race in two or three years.

Though these steps look set to silence critics, Drayson concedes there are challenges with infrastructure, but remains resolute. "This [has the potential to] produce a huge legacy benefit for the cities because after the race has gone, you can use the charging circuit for electric buses or electric taxis or private cars and step-by-step, roll out dynamic charging into cities," he says. "It's a very practical and sensible way of introducing a breakthrough technology."

The championship also faces scorn on issues, such as the lack of noise and driver profile. "The people that criticise the sound are true petrolheads," says Agag. "For people that are not already into racing, they don't worry about the noise question."

Targeting a fresh, young audience, urban races are impacted less by noise pollution restrictions and the response from cities willing to take part has been positive. "Some cities with really big pollution problems see it as an important tool to promote electric cars and resolve those problems," explains Agag, who owns teams in GP2 and GP3 -- championships that form part of the career hierarchy to the F1 championship.

Though only ten cities are required, sixteen have already committed to hosting a race. As for drivers, Agag is confident any drivers wishing to sidestep F1 to try out something new will make considerations for Formula-E at the end of their 2013 F1 season contracts. Already associated with names such as F1 rising stars Roman Grosjean, Vitaly Petrov and Sergio Perez, he's just as confident about investment.

"Sponsors have regularly voiced concerns about the sustainability in these sports. So a sustainable championship could be a great option for those kind of big companies that have this as a priority," Agag says.

Undoubtedly, the spectacle of seeing fast cars racing on city streets will challenge the current perception of electric vehicles. Corporate sponsors and sexy cars with ethical exhausts may increase appeal. Perhaps the innovation around dynamic induction could be a catalyst needed to get city commuters to make the switch to green.
http://www.wired.co.uk/news/archive/2013-01/16/formula-e-dynamic-induction
EV WORLD - Formula E Holdings Orders 42 Electric Racers


Spark Racing Technology, in collaboration with McLaren will build the cars for racing series to commence in 2014.

Formula E Holdings Ltd. (FEH) – the official promoter of the new FIA Formula E Championship – has announced the purchase of 42 electric Formula cars from the newly formed company, Spark Racing Technology (SRT). The cars will be used in the Formula E Championship inaugural race in 2014. SRT, led by Mr Frédéric Vasseur, on Monday announced it had reached an agreement with McLaren Electronic Systems to design and construct the powertrain for the first Formula E car.

Commenting on the purchase, Mr Alejandro Agag, CEO of FEH, said: "We are very pleased with the announcement made by Spark Racing Technology and McLaren. The high calibre of the respective manufacturers, SRT and McLaren Electronic Systems, has great relevance for our Championship and also shows their commitment to innovation, excellence and technology."

Formula E has declared itself as an 'open' championship. It has been working to encourage other car designers and constructors to build a Formula E car. The FIA technical regulations, to be published soon for the Championship, will ultimately set the framework for making such submissions possible.

Agag added: "We, as the promoter, are focusing our efforts to ensure racing venues will demonstrate the potential of electric Formula cars to spectators. Formula E wants to show that electric cars are fast, reliable and safe. Our mission is to establish electric cars as a real option for people's daily lives, one that will make our cities cleaner and more liveable."

The 2014 inaugural race will feature 10 urban races. FEH has already received interest from a large number of cities to host the 'E-Prix'. Formula E Holdings will soon define the list of venues that will be proposed to the FIA for hosting races in the first season. Announcements in some of these cities will be made in the coming weeks.

In placing an order of Spark Customer Cars, FEH plans to make 4 cars available to each of the 10 teams. In addition, one will be used as the official test car and a second one for the FIA crash tests. Should a team build and develop its own car, the remaining Spark Cars will be used for roadshows and other racing activities.

Until now, the team led by Frédéric Vasseur had been working on the French designed Formulec car, the first electric Formula car to be built. FEH acquired the Formulec technology last august and integrated the team into the FEH structure, showing its commitment to cutting edge electronic technology.

As the first electric Formula racing car using high performance lithium batteries, the experience with the Formulec prototype will serve as a basis for the new Spark cars and for other potential interested constructors. Vasseur worked with Eric Barbaroux (FEH Chief Operating Officer and co-founder of Formulec) and Pierre Gosselin (FEH CEO Special Advisor and co-founder of Formulec) in the team that developed the Formulec EF01 prototype electric racing car from 2008.

http://evworld.com/news.cfm?newsid=29180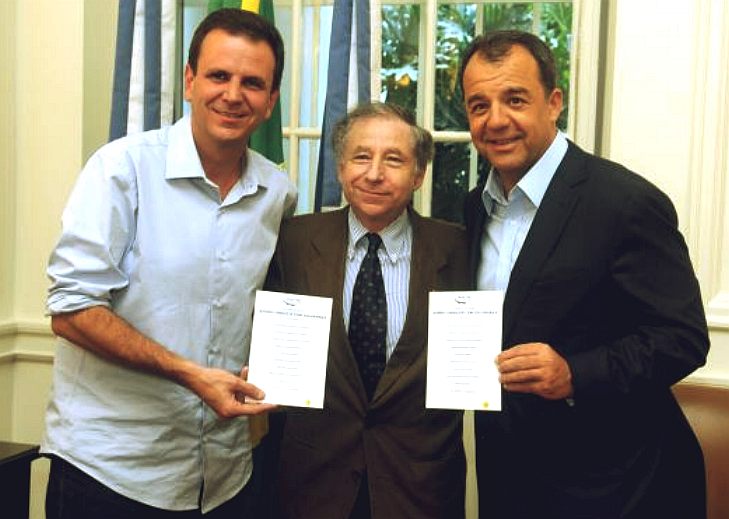 FORMULA E: TEAMS, EVENTS & CARS
Birmingham Super Prix return and the Formula E series
Bluebird™ FE instant pit stop recharging system for Formula E cars*
Bluebird GTL* withdrawn
Pit Stops - servicing and history of the sport
Virgin Racing - Alex Tai
* Note, there is no connection between the Bluebird™ FE system and the proposed Bluebird GTL team
RACING DRIVERS INDEX
F1 RACING TEAMS INDEX
Please click on the links above to find out about these famous automotive makers. If your company is not included and you would like to be listed, please let us know.
UK VEHICLE INSURANCE ONLINE A - Z
The world's fastest electric circuit racers need a system to recharge batteries instantly during pit stops. The Formula E concept design above incorporates the patent Bluebird™ instant energy transfer system - allowing EV refuelling in around 10 seconds. Get your free developer License from Bluebird Marine Systems Ltd.
A - Z OF WORLD FAMOUS RACING CIRCUITS