BTCC - JACK SEARS TROPHY DEC 2013

Organisers of the Dunlop MSA British Touring Car Championship have confirmed that the Jack Sears Trophy will continue in 2014, despite the demise of Super 2000-spec machinery in the series.

The new award was handed out for the first time in 2013 to the driver who took most victories amongst the S2000 class over the course of the year, with Lea Wood taking home the crown thanks to 18 wins in 30 races.

With the full 32 car field set to be made up of Next Generation Touring Car-spec machinery in 2014, TOCA was forced to look for an alternative use for the Trophy, named after the winner of the inaugural BTCC title back in 1958.

It has now been confirmed that the Jack Sears Trophy will be handed out to the Independent driver who makes up the most places from the their respective grid positions over the course of the 2014 season.

The starting and finishing positions for each race will be logged during the campaign, with the combined highest total then securing the Jack Sears Trophy at the end of the year.

Had the system been in place for 2013, Dan Welch would have taken the title in his Proton.


HISTORY
The British Touring Car Championship is a touring car racing series held each year in the United Kingdom, currently organized and administered by ToCA. It was established in 1958 as the British Saloon Car Championship and was renamed as the British Touring Car Championship in 1987. The championship has been run to various national and international regulations over the years including FIA Group 2, FIA Group 5, FIA Group 1, FIA Group A, FIA Super Touring and FIA Super 2000. A lower-key Group N series for production cars ran for most of the 1990s.
The man credited with the idea for a national championship for saloon cars is Ken Gregory, who was also well know in motor racing circles as the manager of Stirling Moss. In the early to mid 50s, saloon car racing achieved high levels of popularity among the public and competitors alike, but no organised series or championship existed in which the leading manufacturers, then recovering from the post-War years, could display the prowess of their new ranges of passenger cars.

Gregory convinced the British Racing & Sports Car Club, of which he was still secretary, that it should fill this void and increase the profile of saloon car racing by running a championship alongside the club's popular 500cc Formula 3 and sports car classes of the day.

The BRSCC adopted its rules and, to suit the manufacturers' product ranges, four individual classes were structured for cars with engine capacities of up to 1200cc, 1201-1600cc, 1601-2700cc and 2701cc and above.

The championship was initially run with a mix of classes, divided according to engine capacity, racing simultaneously. This often meant that a driver who chose the right class could win the overall championship without any chance of overall race wins, thereby devaluing the title for the spectators – for example, in the 1980s Chris Hodgetts won two overall titles in a small Toyota Corolla prepared by Hughes Of Beaconsfield, at that time a Mercedes-Benz/Toyota main dealer when most of the race wins were going to much larger cars; and while the Ford Sierra Cosworth RS500s were playing at the front of the field, Frank Sytner took a title in a Class B BMW M3 and John Cleland's first title was won in a small Class C Vauxhall Astra.

After the domination (and expense) of the Ford Sierra Cosworth in the late 1980s, the BTCC was the first to introduce a 2.0 L formula, in 1990, which later became the template for the Supertouring class that exploded throughout Europe. The BTCC continued to race with Supertouring until 2000 and for 2001 adopted its own BTC Touring rules. However, the Super 2000 rules have now been observed for the overall championship since the 2007 season. The 2000s have seen cheaper cars than the later Supertouring era, with fewer factory teams and fewer international drivers.

In 2009, the BTCC released details of its Next Generation Touring Car (NGTC) specification, to be introduced from 2011. The introduction of these new technical regulations were designed to dramatically reduce the design, build and running costs of the cars and engines as well as reducing the potential for significant performance disparities between cars. The NGTC specification also aimed to cut costs by reducing reliance on WTCC/S2000 equipment, due to increasing costs/complexity and concerns as to its future sustainability and direction.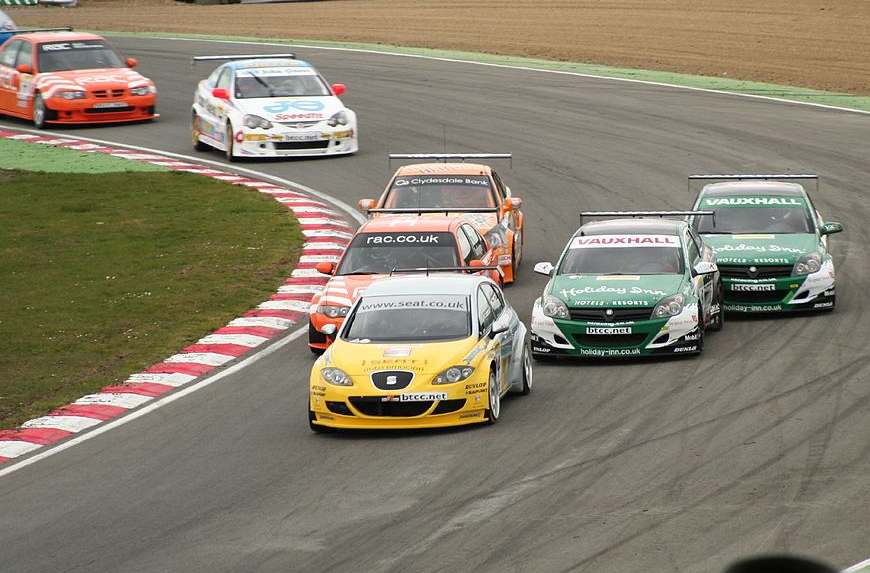 VEHICLE TYPES

Currently, the cars used are a mix of 2.0 L saloons (sedans) such as the BMW 320si E90 and Chevrolet Cruze and hatchback cars such as the Honda Civic and Ford Focus, based on models from a variety of manufacturers, using Super 2000 and NGTC regulations. The series launched its own BTC Touring specification for 2001, a year before the WTCC began in its current form, however car counts were low. Super 2000 cars were allowed to enter from 2004 to encourage cars to be built for both championships, and became the only cars eligible to win the main title – although several independent teams still run BTC Touring-spec cars.

BTCC teams are a mixture of "works" teams from manufacturers (currently Honda and MG) and independent teams such as Team RAC, 888, and Motorbase. However, in 2010 there were two new works teams, following Vauxhall's decision to pull out of the series: Chevrolet, run by RML; and Honda, run by Team Dynamics. In 2005, Team Dynamics became the first independent outfit to win the BTCC drivers and team championships; Matt Neal won the overall and independent drivers contests in his Team Dynamics Honda Integra. This included finishing all 30 championship races that year, something no other driver has achieved before or since. This ended Vauxhall's run of 4 victories in the drivers and teams championships between 2001 and 2004. Neal and Dynamics were also victorious in 2006, before Vauxhall won the 2007 title with Italian Fabrizio Giovanardi. Team Dynamics also achieved the first overall independents race win in the 'Supertouring' era when Neal won a round of the 1999 BTCC at Donington park, earning the team prize-money of £250,000. As a result of Matt Neal's championship victories, and the fact that Team Dynamics were designing and building their own S2000 Honda Civic Type R(with unofficial support from Honda), they were no longer entered into the Independents category, and were classed as neither an "independent" or "works" team until the 2009 season, when the Manufactures championship was renamed Manufactures/Constructors Championship to allow both Team Aon and Team Dynamics to compete with the now sole works entry of Vauxhall.

There are strict limits to the modifications which can be made to the cars, which are intended to reduce the cost of running a competitive team, which had become prohibitive in the final years of the Super Touring rules. These cost reductions have seen a rise in independent entries – teams or individuals entering cars purchased from the manufacturer teams when they update their chassis. These so-called "ex-works" cars have enjoyed some success. To further keep costs in check, the BTCC uses a "control tyre", with Dunlop the current supplier of rubber to all the teams.

The rules allow for a variety of different fuels in a bid to encourage more efficient cars. In 2004 Mardi Gras Motorsport independently entered a Liquified petroleum gas powered Super 2000 Honda Civic Type-R (which was subsequently replaced by a more competitive BTC-Touring Peugeot 406 Coupé, still LPG powered), and in 2005 Tech-Speed Motorsport converted an ex-works Vauxhall Astra Coupé to run on bio-ethanol fuel. In the middle of 2006, Kartworld's owner-driver Jason Hughes converted his 4-cylinder MG ZS to run on Bio-Ethanol, soon followed by the West Surrey Racing cars of championship contender Colin Turkington and Rob Collard, and for the final event at Silverstone, Richard Marsh converted his Peugeot 307 to run on bio-ethanol fuel. Only Hughes continued on this fuel in 2007 and 2008.

The regulations also permitted cars to run on diesel; attempted first in the 2007 season by Rick Kerry in a BMW 120d E87 run by Team AFM Racing. In 2008 SEAT Sport UK entered two Turbo Diesel Power SEAT Leons – the first diesel powered manufacturer entered cars.

At the start of the 2010 season it was announced that Team AON racing had converted both of their Ford Focus ST cars to run on LPG.


NEXT GENERATION CARS

Next Generation Touring Car. New set of regulations specifically developed for the BTCC as a way of moving the sport forward and cut costs for competitors. Introduced from 2011, these new technical regulations were designed to dramatically reduce the design, build and running costs of the cars and engines as well as reduce reliance on WTCC/S2000 equipment. NGTC cars initially maintained performance parity with S2000 cars until the 2013 season when full NGTC cars became the main championship class with Hybrid S2000/NGTC cars running in a secondary class. From the 2014 season, only NGTC cars are eligible to compete the BTCC.


2014 BTCC

The 2014 Dunlop[1] MSA British Touring Car Championship is a multi-event motor racing championship for production based touring car racing cars held across England and Scotland. The championship features a mix of professional motor racing teams and privately funded amateur drivers competing in highly modified versions of Family cars which are sold to the general public and conform to the technical regulations for the championship. It is one of the most popular domestic motor racing series in the United Kingdom, with an extensive program of support categories built up around the BTCC centrepiece. It will be the 57th British Touring Car Championship (BTCC) season.

This will be the fourth season that cars conforming to the Next Generation Touring Car (NGTC) specification will be allowed to compete, and the first season that S2000 specification cars will not complete in since their introduction to the BTCC in 2004. The Jack Sears Trophy, which was introduced in 2013 for the top S2000 finisher over the duration of the season, will instead be awarded to the Independent driver who achieves the greatest improvement from their respective grid positions over the entire season. The start and finishing positions of all Independent drivers will be logged for all 30 races and the driver with the highest total number of positions gained over the season will become the Jack Sears Trophy champion.

OULTON PARK QUALIFYING RESULTS
| P/ | No/ | Independent/ | Driver/ | Car/ | Gap/ | Best/ |
| --- | --- | --- | --- | --- | --- | --- |
| 1. | 5 | I | Colin Turkington | BMW 125i M Sport | 0.000 | 1:42.310 |
| 2. | 99 | M | Jason Plato | MG6 GT | 0.649 | 1:42.959 |
| 3. | 52 | M | Gordon Shedden | Honda Civic Tourer | 0.830 | 1:43.140 |
| 4. | 10 | I | Robert Collard | BMW 125i M Sport | 1.149 | 1:43.459 |
| 5. | 88 | M | Sam Tordoff | MG6 GT | 1.183 | 1:43.493 |
| 6. | 101 | I | Rob Austin | Audi A4 | 1.322 | 1:43.362 |
| 7. | 6 | I | Mat Jackson | Ford Focus ST MK.III | 1.380 | 1:43.690 |
| 8. | 888 | I | Marc Hynes | MG6 GT | 1.538 | 1:43.848 |
| 9. | 80 | I | Tom Ingram | Toyota Avensis | 1.543 | 1:43.853 |
| 10. | 18 | I | Nick Foster | BMW 125i M Sport | 1.553 | 1:43.863 |
| 11. | 40 | I | Aron Smith | Volkswagen CC | 1.596 | 1:43.906 |
| 12. | 7 | I | Fabrizio Giovanardi | Ford Focus ST MK.III | 1.757 | 1:44.067 |
| 13. | 1 | I | Andrew Jordan | Honda Civic | 1.940 | 1:44.250 |
| 14. | 4 | M | Matt Neal | Honda Civic Tourer | 1.959 | 1:44.269 |
| 15. | 9 | I | Alain Menu | Volkswagen CC | 1.984 | 1:44.294 |
| 16. | 17 | I | Dave Newsham | Ford Focus ST MK.III | 2.110 | 1:44.420 |
| 17. | 31 | I | Jack Goff | Vauxhall Insignia | 2.178 | 1:44.488 |
| 18. | 20 | I | James Cole | Toyota Avensis | 2.223 | 1:44.533 |
| 19. | 16 | I | Aiden Moffat | Chevrolet Cruze 4dr | 2.236 | 1:44.546 |
| 20. | 21 | I | Glynn Geddie | Toyota Avensis | 2.292 | 1:44.602 |
| 21. | 39 | I | Warren Scott | Vauxhall Insignia | 2.398 | 1:44.708 |
| 22. | 44 | I | Jack Clarke | Ford Focus ST MK.III | 2.444 | 1:44.754 |
| 23. | 43 | I | Lea Wood | Toyota Avensis | 3.571 | 1:45.881 |
| 24. | 54 | I | Hunter Abbott | Audi A4 | 3.597 | 1:45.907 |
| 25. | 33 | I | Adam Morgan | Mercedes-Benz A-Class | 4.063 | 1:46.373 |
| 26. | 30 | I | Martin Depper | Honda Civic | 4.728 | 1:47.038 |
| 27. | 67 | I | Robb Holland | Audi S3 Saloon | 5.969 | 1:48.279 |
| 28. | 12 | I | Dan Welch | Proton Gen2 | 7.541 | 1:49.851 |
| 29. | 28 | I | Chris Stockton | Chevrolet Cruze 5dr | 11.199 | 1:53.509 |
| 30. | 11 | I | Simon Belcher | Toyota Avensis | 14.818 | 1:57.128 |
| 31. | 48 | I | Ollie Jackson | Proton Gen2 | 32.603 | 2:14.913 |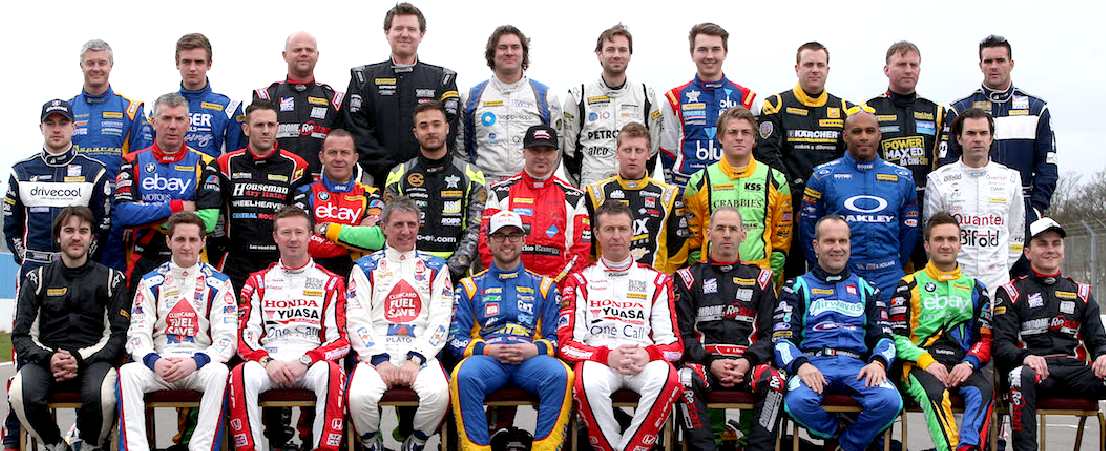 SPONSORS
LINKS
Jack Sears trophy title to live on
2014_British_Touring_Car_Championship_season
http://en.wikipedia.org/wiki/Dunlop_Rubber
http://www.btcc.net/
http://www.touringcartimes.com/
http://www.crash.net/btcc/news/198984/1/jack-sears-trophy-title-to-live-on.html
http://en.wikipedia.org/wiki/Fort_Dunlop
http://en.wikipedia.org/wiki/2014_British_Touring_Car_Championship_season
http://www.dunlop.com
Finding the right mobile phone and airtime package from numerous high street and online dealers can prove to be an overwhelming challenge. However, there's more to a search than just finding a good looking phone with more applications. You need to ensure you get a reliable service and sensibly priced airtime. We therefore recommend you see our extensive Phone Guide as a quick mission briefing before buying.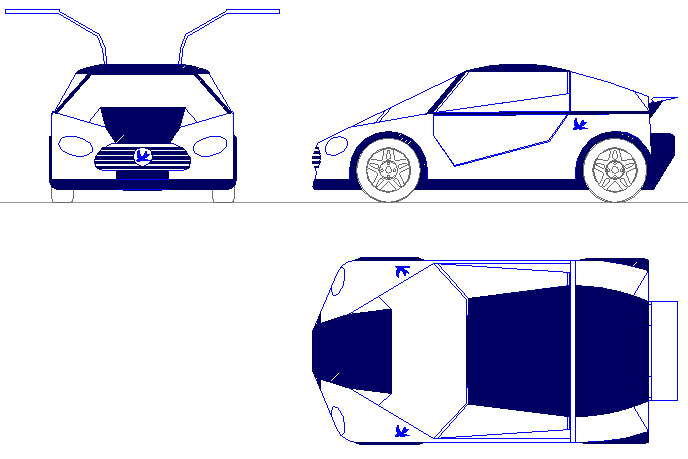 Team Speedace plan to run the Ecostar DC50 above on the 17th of June 2015, from John O'Groats in Scotland to Lands End in Cornwall in an attempt to beat the current record set in a Tesla in 2013. Contact Chris or Terry for details.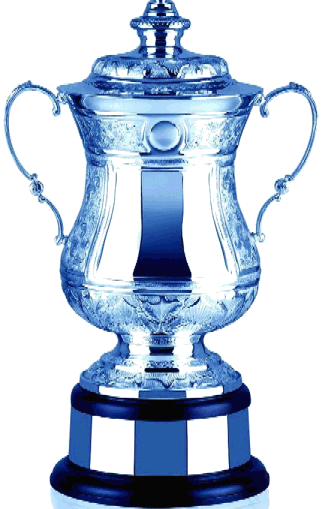 The Bluebird World Cup Trophy challenge
Aintree

Autódromo Internacional Nelson Piquet

Autódromo José Carlos Pace (Brazil)

Barcelona-Catalunya, Circuit de

Bathurst (Australia)

Bremgarten Circuit

Donington Park

Fuji Speedway

Knockhill

Korea International Circuit

Laguna Seca (CA, USA)

Mallory Park

Nurburgring [Nordschleife] (Germany)

Oulton Park

Santa Pod Raceway

Sebring International Raceway

Spa Francorchamps (Belgium)

Suzuka Circuit

Thruxton

Zandvoort, Circuit Park

Zeltweg (Austria - Red Bull)