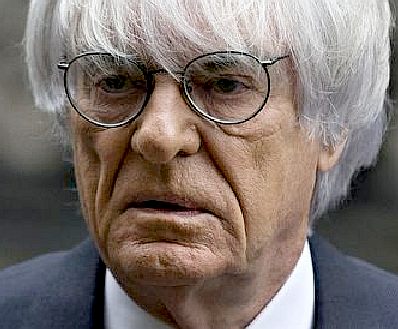 Bernie Ecclestone: 'I'm an idiot' for paying £60m to settle F1 bribery trial
Formula One chief relieved at end of trial but questions paying $100m settlement as 'judge more or less said I was acquitted'
THE GUARDIAN 5 AUGUST 2014

The Formula One chief, Bernie Ecclestone, has declared himself "a bit of an idiot" for paying a £60m settlement to bring an end to his bribery trial.

The president and chief executive of Formula One agreed with German prosecutors on Tuesday to pay the record sum to end his trial, a district court in Munich confirmed. The defence has denied accusations that he had bought his freedom.

The Formula One boss went on trial in Munich in April over allegations that he bribed a former German banker as part of the sale of a major stake in the motor sport business eight years ago.

Although slightly lighter in the pocket, given Ecclestone's worth is estimated at about £3bn-£4bn, he was nonetheless relieved that he could put this period of his life finally behind him.

Ecclestone, 83, told PA: "The bottom line is it's been three and a half years of aggravation, traveling, meeting lawyers, and God knows what else, so it is good it is out of the way.

"This trial has been going on for two days a week and it was going to go on until October. When you're trying to run businesses it's not easy trying to resolve things when you're dealing with lawyers.

"In the end what has happened today is good and bad; the good is the judge more or less said I was acquitted, and they [the prosecution] really didn't have a case.

"So I was a bit of an idiot to do what I did to settle because it wasn't with the judge, it was with the prosecutors.

"Anyway, it's done and finished, so it's all right. I'm contented, it's all fine.

"This now allows me to do what I do best, which is running F1.

"Another three months out would have been bad. I've been working weekends to catch up with what I've been missing during the week.

"I've not really noticed, but it's probably taken its toll a little bit."

The Munich court said in a statement that $99m (£59m) would be paid to the German treasury and a further $1m to a German children's hospice charity. The money will be paid within a week, it added, after which the trial will officially be abandoned.

"The abandonment is neither a 'deal' nor a 'settlement', even less so a 'buying out,'" said Ecclestone's defence team in a joint statement. Prosecutors said they had based their decision partly on the defendant's age and willingness to cooperate.

Ecclestone was accused of having given Bayern Landesbank's chief risk officer, Gerhard Gribkowsky, $44m in 2006 in order to ease the sale of the bank's share to a company that had guaranteed to keep Ecclestone as chief executive.

Throughout the trial, Ecclestone admitted paying the money but denied it was a bribe, saying he paid it to silence Gribkowsky who had threatened to report him over irregularities in his tax affairs. Gribkowsky was sentenced in 2012 to eight and a half years for tax evasion, breach of duty and accepting bribes.

In a statement explaining its decision to abandon proceedings, the court said it had "considerable doubts" that Ecclestone knew Gribkowsky had held the position at the German state bank at the time of the alleged bribe.

"Accordingly, a prosecution of the accused due to bribery is not probable as things stand," the court said, despite admitting that all evidence in the case had not yet been heard.

Last week Ecclestone's legal team informed the court that he was willing to pay €25m (£19.8m) to Bayern LB in a separate settlement. The bank, which had been seeking €400m in damages from Ecclestone, had rejected an earlier offer of €50m in 2012, the Süddeutsche Zeitung reported.

German law provides for some criminal cases to be settled with smaller punishments, such as fines, though the size of the payment in the Ecclestone case has led some to question a system that in effect favours rich defendants.

A paragraph in the German criminal code allows for trials to be ended under conditions that are "appropriate for resolving the public interest in a prosecution," as long as the gravity of wrongdoing does not outweigh this.

In practice, wealthy defendants have in the past used this clause to buy their way out of criminal trials. But no one has ever paid so high a sum as has been agreed with Ecclestone.

The agreement, which his defence lawyers said kept his presumed innocence intact, means Ecclestone is able to continue unchallenged at the helm of the multibillion-pound business, which he is credited with building up over the past four decades.

If he had been sentenced, Ecclestone, a leading figure in the sport since the 1970s, could have faced up to 10 years in prison and would most likely have been forced to step down.

During the trial, Ecclestone handed over the day-to-day running of Formula One to his chief legal officer, Sacha Woodward-Hill. Now Ecclestone is once again free to take control, with no sign of the veteran sports magnate voluntarily giving up any of his considerable power.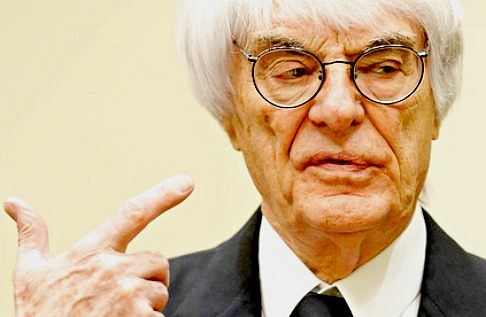 GUARDIAN 23 APRIL 2014
Bernie Ecclestone goes on trial in Munich on Thursday (24-4-14) and for the next five months Formula One will hold its breath. The man who transformed the sport into a billion-pound business and who has run it for four decades in his idiosyncratic and controversial way faces the possibility of 10 years in jail if found guilty of bribery. The sport could face an even longer term of uncertainty, even decline.

The judge Ecclestone will be up against does not take any prisoners; or rather, he does. Peter Noll convicted the former German banker Gerhard Gribkowsky, a central figure in the Munich hearing, and sent him down for eight-and-a-half years in 2012. In his concluding statement, Noll said: "In this process we assume the driving force was Mr Ecclestone."

Last month the same prosecutors, who have spent two years preparing for the Ecclestone case, brought down Uli Hoeness, then president of the European football champions Bayern Munich. Hoeness was jailed for three-and-a-half years for tax evasion.

If all this was not enough to seriously daunt Ecclestone – who will be 84 in October – Noll has also been handed what could be a loaded gun. In February Ecclestone – who denies any wrongdoing – won a civil case brought by the German media company Constantin Medien.

Ecclestone was accused of entering into a "corrupt agreement" with Gribkowsky, and that, as a former shareholder, Constantin Medien lost out in BayernLB's deal to CVC as the shares were undervalued.

But although F1's chief executive won that time, the comments by Mr Justice Newey were immensely damaging. He said it was "impossible" to regard him as a "reliable or truthful witness".

Looking ahead to this trial, Ecclestone said: "He [the German judge] might find, when I'm in court there, that he doesn't agree with what the English judge has said. The judge in England didn't have all of the central witnesses, and I wasn't there to defend whether I'm a liar or unreliable. I was there to simply state whether the shares were cheap or not."

In Munich, Ecclestone will be accused of paying Gribkowsky a bribe of $44m (£26m) to smooth the sale of F1 to the private equity firm CVC eight years ago.

The possible consequences for Ecclestone are dire. The CVC co-chairman, Donald Mackenzie, has said that he would fire Ecclestone if he was found guilty of wrongdoing. Ecclestone would appeal against any guilty verdict.

It was the future of F1, more than Ecclestone, that was being discussed in the paddock in China last week. Although there was much sympathy for Ecclestone there was even more concern for what would be left behind. And the fact that before then, for the next 20 weeks over which the 26-day trial will be spread, this will be a massive distraction from a sport only just showing signs of recovering from a difficult start, following a vast number of changes to the rules and regulations.

F1 does need some fresh air blown through it. There are a number of important people in the paddock who feel that Ecclestone is well past his sell-by date but the same people are also fearful of the post-Ecclestone era, which will arrive soon enough, whatever happens in Munich.

It seems certain that Ecclestone, ultimately, will be replaced by a number of people, and one of them may include the Red Bull team principal, Christian Horner, whom the current supremo gets on with better than any other leading paddock figure. Just who might take control of the sport is occupying everyone's thoughts at CVC.

It is not just a private equity firm that is preoccupied by all this. The fact is that Ecclestone, a brilliant deal-maker who carries most of the information in his entrepreneurial head, is a hard act to follow.
Formula One Management>
Bernard Charles "Bernie" Ecclestone (born October 28, 1930 in Suffolk, United Kingdom) is the president and CEO of Formula One Management and Formula One Administration, he also owns a major stake in Alpha Prema, the parent company of the Formula One Group of companies. As such is generally considered the primary authority in Formula One racing. His control of the sport, which resulted from his pioneering the sale of television rights in the late 1970s, is chiefly financial, but under the terms of the Concorde Agreement he and his companies also manage the administration, setup and logistics of each Formula One grand prix.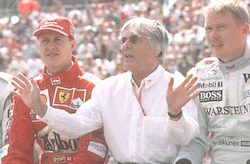 Michael Schumacher Bernie Ecclestone and Mika Häkkinen
Motorsports career
Early life
Ecclestone was born in St Peter South Elham, a small town near Ipswich, Suffolk, United Kingdom, and shortly thereafter moved near London, leaving school at age 16 to work at the local gasworks and pursue his hobby, motorcycles. Immediately after the end of World War II, Ecclestone went into business trading in spare parts for motorcycles, and formed the Compton & Ecclestone motorcycle dealership with Fred Compton. His first racing experience came with 500cc Formula 3 Series; he drove at a very few events, and gave up in 1951 after an accident at the Brands Hatch circuit when his car landed in the car park on the outside of the track.
Team ownership
After his accident, Ecclestone temporarily left racing to make a number of lucrative investments in real estate and loan financing and to manage the Weekend Car Auctions firm. He returned to racing in 1957 as manager of driver Stuart Lewis-Evans, and purchased the F1 Connaught team, whose drivers included Lewis-Evans, Roy Salvadori, Archie Scott-Brown, and Ivor Bueb. Ecclestone even attempted, unsuccessfully, to qualify a car himself at Monaco in 1958.
He continued to manage Lewis-Evans when he moved to the Vanwall team; Salvadori moved on to manage the Cooper team. Lewis-Evans suffered severe burns when his engine exploded at the Moroccan Grand Prix and succumbed to his injuries six days later; Ecclestone was rather shaken up and once again retired from racing.
Soon enough, however, his friendship with Salvadori led to his becoming manager of driver Jochen Rindt and a partial owner of Rindt's Formula 2 team, Lotus (whose other driver was Graham Hill). Rindt, on his way to the 1970 World Championship, died in a crash at the Monza circuit, though he was awarded the championship posthumously.
In early 1972, Ecclestone purchased the Brabham team from Ron Tauranac and began his decades-long advocacy for team control of F1, forming the Formula One Constructors Association with Frank Williams, Colin Chapman, Teddy Mayer, Ken Tyrrell, and Max Mosley. Hereabouts arose the continuing question of television rights.
FISA-FOCA war
Ecclestone became chief executive of FOCA in 1978 with Mosley as his legal advisor; together, they negotiated a series of legal issues with the FIA and Jean-Marie Balestre, culminating in Ecclestone's famous coup, his securing the right for FOCA to negotiate television contracts for the Grands Prix. For this purpose Ecclestone established Formula One Promotions and Administration, giving 47% of television revenues to teams, 30% to the FIA, and 23% to FOPA (i.e. Ecclestone himself); in return, FOPA put up the prize money - grand prix is French for "big prize".
Television rights shuffled between Ecclestone's companies, teams, and the FIA in the late 1990s, but Ecclestone emerged on top again in 1997 when he negotiated the present Concorde Agreement: in exchange for annual payments, he maintains the TV rights. The contract with the various teams is to expire on the last day of 2007, and that with the FIA on the last day of 2012.
Recent activity
Despite heart surgery and triple coronary bypass in 1999, Ecclestone has remained as energetic as always in promoting his own business interests. In the late 1990s he reduced his share in SLEC Holdings (owner of the various F1 managing firms) to 25%, though despite his minority share he retained complete control of the companies.
Also in 1999, Terry Lovell published a biography of Ecclestone, Bernie's Game: Inside the Formula One World of Bernie Ecclestone (ISBN 1843580861).
Ecclestone came under fire in October 2004 when he and British Racing Drivers' Club president Jackie Stewart were unable to come to terms regarding the future British Grand Prix, causing the race to be dropped from the 2005 provisional season calendar. However, when the heads of the ten teams met and agreed on a series of cost-cuts later in the month, the race was again added to the calendar, and a contract on December 9 guaranteed its continuation for five years.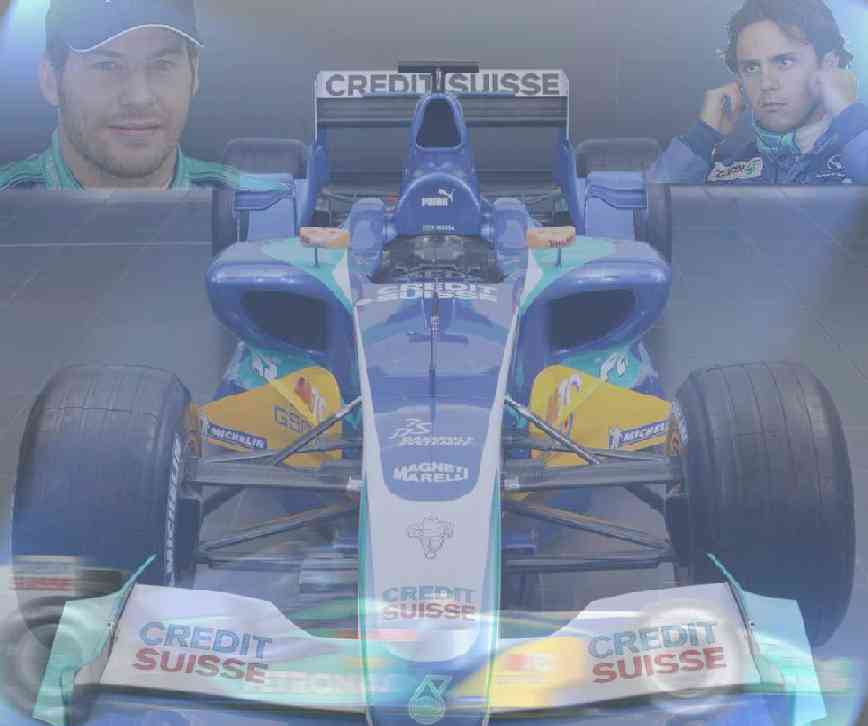 In mid-November 2004, the three banks who comprise Speed Investments, which owns a 75% share in SLEC, which in turn controls Formula One - Bayerische Landesbank, J.P. Morgan Chase, and Lehman Brothers - sued Ecclestone for more control over the sport, prompting speculation that Ecclestone might altogether lose the control he has maintained for more than thirty years. A two-day hearing began on November 23, but after the proceedings had ended the following day, Justice Andrew Park announced his intention to reserve ruling for several weeks. On December 6, 2004, Park read his verdict, stating that "In [his] judgment it is clear that Speed's contentions are correct and [he] should therefore make the declarations which it requests." [1] However, Ecclestone insisted that the verdict - seen almost universally as a legal blow to his control of Formula One - would mean "nothing at all" [2]. He stated his intention to appeal the decision.
The following day, at a meeting of team bosses at Heathrow Airport in London, Ecclestone offered the teams a total of £260,000,000 over three years in return for unanimous renewal of the Concorde Agreement, which expires in 2008 [3]. Weeks later, Gerhard Gibkowsky, a board member of Bayerische Landesbank and the chairman of SLEC, stated that the banks had no intention to remove Ecclestone from his position of control [4].
Ecclestone was a victim of theft in March of 2005: two wheels were stolen from his car while it was parked outside his London home. The car, a brand new Mercedes Benz CLS55 AMG V8, was said to be the first of its kind in Britain.
On Friday, June 17, 2005, Ecclestone made American headlines with his reply to a question about Danica Patrick's fourth-place finish at the Indianapolis 500, during an interview with Indianapolis television station WRTV: "She did a good job, didn't she? Super. Didn't think she'd be able to make it like that. You know, I've got one of these wonderful ideas that women should be all dressed in white like all the other domestic appliances." [5] [6].
In the following two days, Ecclestone saw 14 of 20 cars refuse to race in the 2005 United States Grand Prix at the Indianapolis Motor Speedway. The seven teams who refused to participate, stating concern over the safety of their Michelin tyres, requested rule changes and/or a change to the track configuration. Despite a series of meetings between Ecclestone, Max Mosley, and the team principals, no compromise was reached by race time, and Ecclestone became an object of the public's frustration at the resultant six-car race. Despite his not having caused the problem, fans and journalists blamed him for failing to take control and enforce a solution, given the position of power in which he had placed himself.
On November 25 2005 CVC Capital Partners announced it was to purchase both the Ecclestone shares of the Formula One Group (25% of SLEC) and Bayerische Landesbank's 48% share (held through Speed Investments). This left Alpha Prema owning 71.65% of the Formula One group. Ecclestone used the proceeds of this sale to purchase a stake in this new company (the exact ratio of the CVC/Ecclestone shareholding is not yet known). On December 6 Alpha Prema acquired JP Morgan's share of SLEC to increase its ownership of Formula One to 86%, the remaining 14% is held by Lehman Brothers.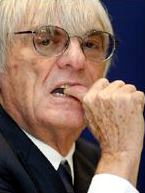 Bernie Ecclestone's £1m gift caused trouble for Labour
Labour Party scandal
In 1997 Ecclestone was involved in a political scandal when it transpired he had given the Labour Party a million pound donation - which raised eyebrows when the Labour government changed its policy to allow Formula 1 to continue being sponsored by tobacco manufacturers. The Labour Party returned the donation.
Personal details
The Sunday Times Rich List of 2003 ranked Ecclestone the 3rd richest person in the United Kingdom, with an estimated fortune of £2,400m. He fell to eighth place in 2004's Sunday Times Rich List, his fortune having decreased to £2,343m. In early 2004 he sold his London residence to steel magnate Lakshmi Mittal for £70 million (then $128 million), making it the most expensive house ever sold.
Ecclestone is married to Slavica Ecclestone, neé Slavica Malić, a 6'2" Croatian former Armani model who is 28 years his junior, with whom he has two daughters, Tamara and Petra.
Bernie Ecclestone has made a promise that F1 will return to South Africa within five years. He has begun talks with a consortium planning to build an F1 circuit in Cape Town. Ecclestone has also made a pledge to hold a Russian Grand Prix either in Moscow or St. Petersburg in the near future. He is in nearly continuous talks with potential race promoters all around the world. It is believed that one significant factor that has F1 searching for venues outside of Europe is the spread of laws in Western nations prohibiting cigarette advertising in sport.
REFERENCES
Bernie Ecclestone, the man behind Formula One. BBC News (12 November 1997).

Chicanery in Formula One? The Economist (26 August 2004).

Grand prix, grand prizes. The Economist (13 July 2004).

Griffiths, John. The case that will decide Formula One's future. Financial Times (23 November 2004).

Lovell, Terry. Bernie's Game: Inside the Formula One World of Bernie Ecclestone. London: Metro Books, 2004. ISBN 1843580861.

Mott, Sue. The funny billionaire in trapped in the body of a tyrant. The Telegraph.

Mr Formula One. The Economist

The main men in F1. BBC Sport

Arron, Simon and Mark Hughes. The Complete Book of Formula One. (Motorbooks International, 2003).

Jones, Bruce. The Official ITV Sport Guide: Formula One Grand Prix 2003. (Carlton, 2003). Includes foreword by Martin Brundle.

FIA Archive. (2004). Federation Internationale de l'Automobile.

Formula One Regulations. (2004). Federation Internationale de l'Automobile. 23 October 2004.

Gross, N et al (1999). Grand Prix Motor Racing. In, 100 Years of Change: Speed and Power (pp. 55-84). Parragon.

Insight. (2004). The Official Formula 1 Website. 25 October 2004.

Jones, B (2005). The Guide to 2005 FIA Formula One World Championship : The World's Bestselling Grand Prix Guide. (Carlton, 2005).

Jones, B (1997). The Ultimate Encyclopedia of Formula One. Hodder & Stoughton.

Jones, B (1998). Formula One: The Complete Stats and Records of Grand Prix Racing. Parragon.

Tremayne, D & Hughes, M (1999). The Concise Encyclopedia of Formula One. Parragon.
LINKS
Official sites
Formula1.com — The official site of Bernie Ecclestone's Formula One Management; contains schedules, statistics, race results, live timing during each race, and some news
Current regulations from the FIA website
Formula-one-bernie-ecclestone-bribery-trial
News and reference
GrandPrix.com — F1 news and a Grand Prix encyclopædia
Planet-F1 — F1 news, fun, results and features
NewsOnF1.com — News, results, information, and statistics
ITV.com/f1 — News, pictures, and commentary from ITV, F1's British broadcasters; also from Matt Bishop and F1 Racing magazine
Fuji TV - F1 — Results and ranking from Fuji TV, F1's Japanese broadcaster
F1-Live — News, pictures, live results, information and many more broadcasters
Formula One DataBase — History, and statistics
FORIX — Formula One Results, Information, Statistics
Autocourse.tk Directory of the automobile sport
F1-Resource - News, Teams, Drivers, Circuits, Results, F1 Shops, Explanations
mad4f1.com - latest news, results, images, articles
Insight and commentary
Atlasf1.com — An online F1 magazine (subscription required)
Fun-1 — Daily satirical commentary on current F1 news
FastMachines.com — Weblog containing regular F1 news and commentary
Funo! — Texts, numbers, images and statistics of Formula 1
Contact us: SPEEDACE.INFO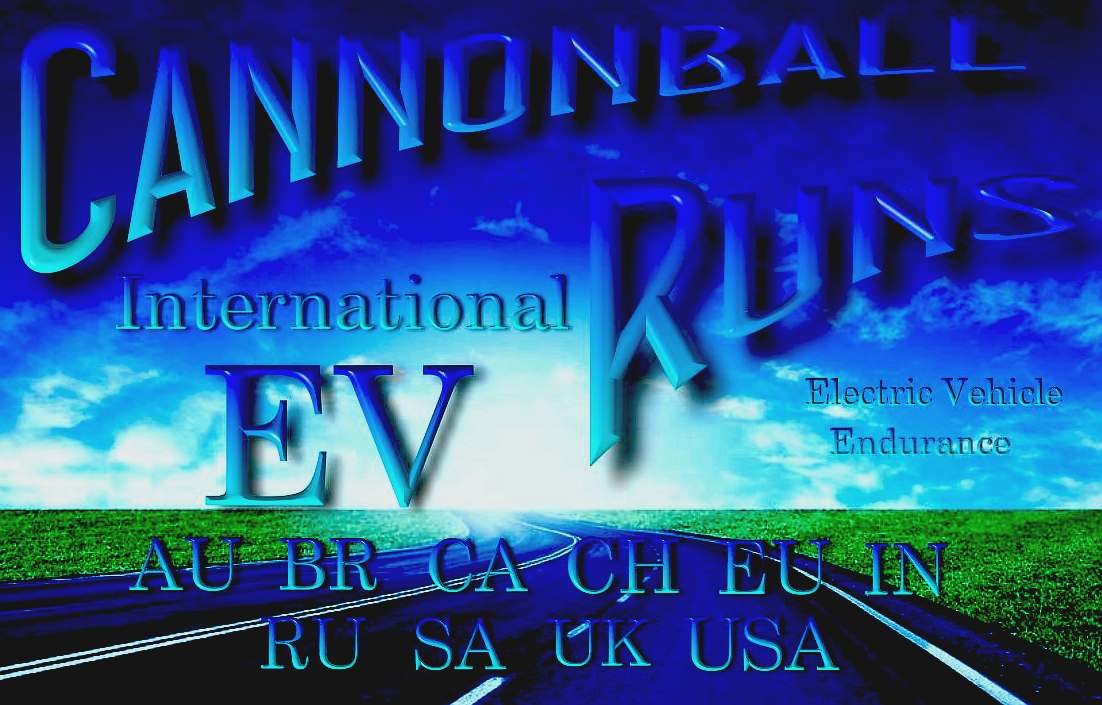 Make a difference by entering one of the events that have been created for everyone to enjoy. New for 2015, the Cannonball ZEV International Run series is designed to further the development of practical and affordable zero emission transport. There are already a good number of official routes for you to contemplate with more in the pipeline from 2015.
You are cordially invited to register your interest. There is no entry fee and the events are legal, unlike the race across the US in the 1970s.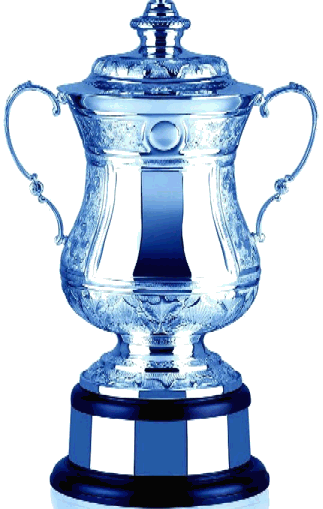 The ultimate prize is the Blue Bird World Cup Trophy™. You can see the International Rules by clicking on the poster above.