FULL OF CHARACTER 2012 - Electric cars have been around for decades, but it hasn't been until recently that they've finally started to be considered a reliable solution to the problem of future transportation. The Danish company ECOmove decided to join the crowded club of EV manufacturers and developed an innovative concept car designed for city driving.

The new Qbeak is a compact hatchback powered by a pack of lithium ion batteries and in-wheel motors. Its skin is made of lightweight, recyclable materials and features a unique chassis platform with room for flexible battery modules. Moreover the vehicle is also equipped with a communication system based on a smartphone. One slight suggestion on the design front, if you are going to upset a lot of traditionalist drivers by moving to a three-pointer, why did they not take full advantage of the aerodynamic possibilities that such a seating layout allows? Having said that, the car has so many new features, perhaps they did not want to include another marketing hurdle.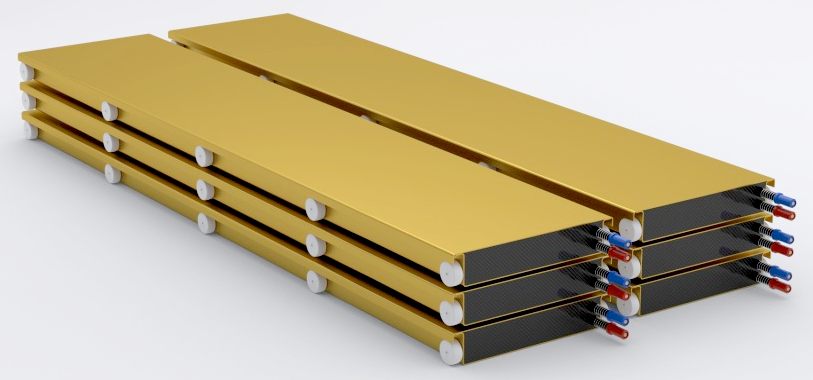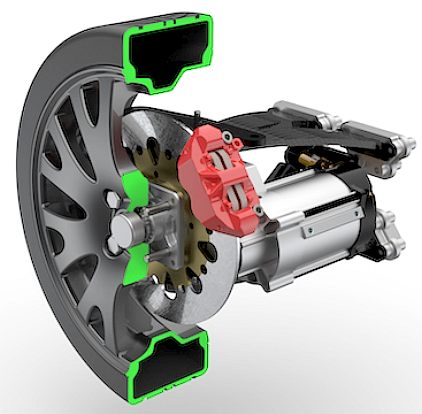 The ECOmove in-wheel motors (one for each of the rear wheels) are reported to deliver approximately 50 hp, which is expected to more than meet city traffic needs while also being capable of reaching and maintaining highway speed. The 500-kg (1,102-lb) vehicle currently uses an 80-volt drive train, but plans are in place to ramp that up to 300 volts in the future. Development is bound to take a little longer with the ground up rethink of components. Many people building an EV for the first time, might use off the shelf parts to save time and money. Not ECOmove. The result is some nice innovations that other zero emission car makers might learn from. The only thing missing is that the car cannot change its own batteries - and, we wonder if their cartridges will be EuroStation compatible? Well, if not now, eventually.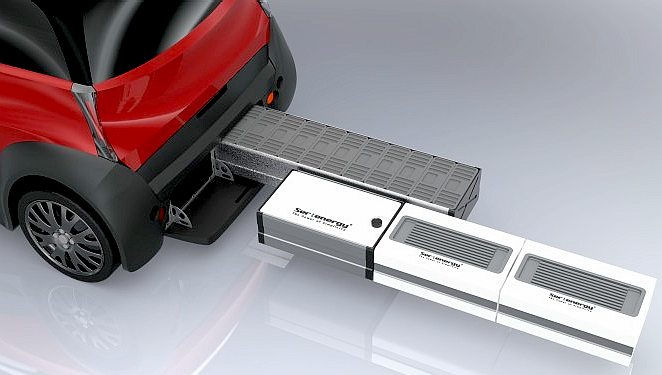 "When it comes to battery configuration, we expect to announce more details later on," Løkke is quoted as saying. "However, I can confirm that the system for simple battery swap-outs is integrated and will support more different power module systems (we are working on a fuel cell system)."
According to ECOmove, discussions are currently underway with experienced manufacturing and supply chain management companies in Denmark and abroad to ready the QBEAK for mass production and distribution in major markets such as Europe, America and Asia. The first production vehicle is now expected to roll out of the factory door in 2014. Steady!
ECOMOVE QBEAK III DEBUT - ADMITS PRODUCTION DELAYS, 21-Dec-2012

QBEAK III is an electric car that is intended to use a methanol fuel cell range extender.

QBEAK III demonstrates a series of ground-breaking lightweight technologies, which, in addition to reducing the weight of the car, increases its range and makes it more affordable to drive an EV.

ECOmove took the first steps towards developing a lightweight electric vehicle in 2009. Now, QBEAK III is being introduced, and even though it is still a prototype, the car is very close to the end result.

The new QBEAK is a much more finished version than number two. For example, the car now has charging structure and instrumentation, and its technologies are so far advanced that we are ready to mature them for production, says Mogens Løkke, CEO at ECOmove.
The developers at ECOmove have just conducted the first official test run of the QBEAK III for specially invited guests. This resulted in a great deal of positive feedback about the EV concept as well as the revolutionary lightweight technologies, which have been developed as part of the QBEAK.
ECOmove originally aimed at a launch of the EV in 2012. However, along the way, challenges appeared, which - along with the complexity of developing the most environmentally-, energy- and city-friendly car in the world without compromising the safety and design - have delayed the original time schedule.
One of the major challenges has been long lead times, which has cost precious time. But we stuck to our concept and criteria for both the development and the quality. We are now very pleased to present an even more complete version of QBEAK, says Mogens Løkke.
READY FOR PARTNERS

In order to ensure a successful market introduction, ECOmove has made a strategic decision to form partnerships with experienced players in manufacturing and supply chain management regarding mass production of the QBEAK. Currently, there are discussions in progress with foreign and domestic companies, who will be able to assemble and deliver cars for the major markets such as Europe, America and Asia, including China.

By entering into partnerships with manufacturers who have well-established supplier networks, we are convinced that the first QBEAK will be ready to leave the factory in 2014, says Mogens Løkke. [historic quote]

Other e-car manufacturers have also shown interest in ECOmove's lightweight technologies, such as the composite suspension system, the sustainable bodywork, and the in-wheel motor unit. As a result, ECOmove is now actively entering partnerships to help others develop lighter, smarter and more sustainable cars. This business area is called 'ECOmove Engineering'.

ECOmove is owned by the management, Insero Horsens and Østjysk Innovation.
GENESIS 2009
Development of the lightweight QBEAK electric vehicle began in 2009 and while the latest version from 2013 was not quite production-ready, it was described as being very close to a finished model. ECOmove has now included a basic charging structure in the version three prototype, along with instrumentation and controls positioned in the center of the steering wheel.

The handle-free sliding doors are operated using a credit-card-like key externally and buttons internally, although the company's CEO Mogens Løkke did tell us that users will be able to enter and leave the vehicle manually in the unlikely event of a systems failure. There have also been some improvements made to the outside and inside.

"One of the biggest changes in materials is the coating of the EPP bodywork (wheel arches, bumpers etc.) which is completely new," said Løkke. "It is flexible and robust to small bumps and accidents. It has a rubbery surface – a bit like rubber coating. For demonstration purposes we have added two comfortable seats allowing two passengers to feel the excellent driving dynamics. The low and centered point of weight (batteries in the lower part of the chassis) allows us to throw the car around corners and easily catch control again if it should tend to slide."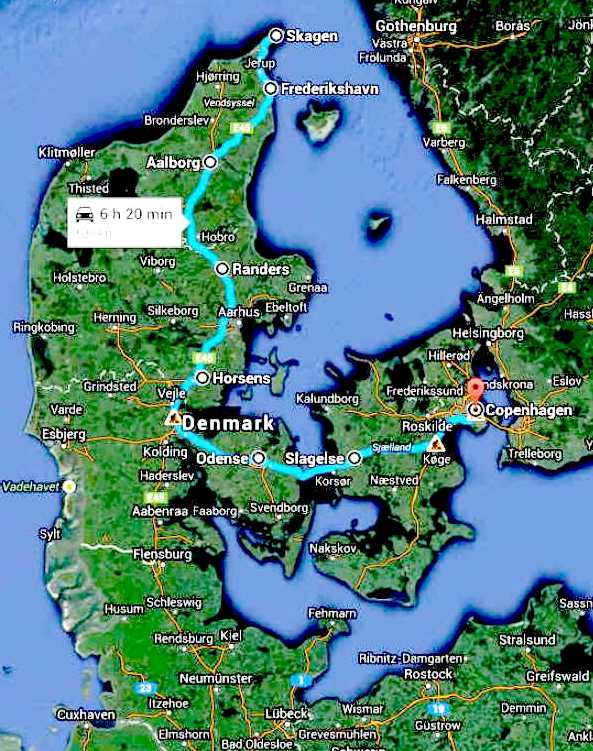 Map of the suggested route for the Danish Cannonball International ZEV Run from Skagen to Copenhagen via the E20 bridge across the Great Belt. Your route may vary from that shown, for example to take in fast charge locations, so long as the start and finish lines are the same.
SKAGEN to COPENHAGEN: THE DANISH CANNONBALL ZEV RUN STOPS @ 50mph AVE
| | | | | | |
| --- | --- | --- | --- | --- | --- |
| START | SKAGEN | MILES RUN | LEG DISTANCE | KM RUN | HOURS |
| | | | 40.9 | | |
| 1st STOP | FREDERIKSHAVN | 25.42 | + | 40.9 | .51 |
| | | | 63.9 | | |
| 2nd STOP | AALBORG | 65.12 | + | 104.8 | 1.30 |
| | | | 80.2 | | |
| 3rd STOP | RANDERS | 114.95 | + | 185.0 | 2.30 |
| | | | 81.1 | | |
| 4th STOP | HORSENS | 165.5 | + | 266.1 | 3.31 |
| | | | 102 | | |
| 5th STOP | ODENSE | 228.73 | + | 368.1 | 4.58 |
| | | | 71.6 | | |
| 6th STOP | SLAGELSE | 273.22 | + | 439.7 | 4.75 |
| | | | 98.2 | | |
| FINISH | COPENHAGEN | 334.24 | | 537.9 | 6.69 |
OFFICIAL CANNONBALL INTERNATIONAL ROUTES
NEW YORK TIMES 2014 - COPENHAGEN
Denmark is a tiny country on the northern fringe of Europe, but despite its size, it is pursuing the world's most ambitious policy against climate change. Denmark aims to end the burning of fossil fuels in any form by 2050 - not just in electricity production, as some other countries hope to do, but in transportation as well.
Now a question is coming into focus: Can Denmark keep the lights on as it chases that lofty goal?

Lest anyone consider such a sweeping transition to be impossible in principle, the Danes beg to differ. They essentially invented the modern wind-power industry, and have pursued it more avidly than any country. They are above 40 percent renewable power on their electric grid, aiming toward 50 percent by 2020. The political consensus here to keep pushing is all but unanimous.

The trouble, if it can be called that, is that renewable power sources like wind and solar cost nothing to run, once installed. That is potentially a huge benefit in the long run.

But as more of these types of power sources push their way onto the electric grid, they cause power prices to crash at what used to be the most profitable times of day.

That can render conventional power plants, operating on gas or coal or uranium, uneconomical to run. Yet those plants are needed to supply backup power for times when the wind is not blowing and the sun is not shining.

With their prime assets throwing off less cash, electricity suppliers in Germany and Denmark are on edge. They have applied to shut down a slew of newly unprofitable power plants, but nervous governments are resisting, afraid of being caught short on some cold winter's night with little wind.

The governments have offered short-term subsidies, knowing that if they force companies to operate these plants at a loss, it will be a matter of time before the companies start going bankrupt.

Throughout Europe, governments have come to the realization that electricity markets are going to have to be redesigned for the new age, but they are not pursuing this task with urgency. A bad redesign could itself throw customers into the dark, after all, as happened in California a decade ago.

Denmark is geographically lucky. It has strong electrical linkages to neighboring Sweden, with plentiful nuclear power capacity, and Norway, with power available on demand from dams. But Swedish politicians have vowed to shut down the country's nuclear plants and go renewable, and Norway's cheap hydroelectric power is in rising demand, with a supply line under consideration to energy-hungry Britain. So the Danish electricity industry sees trouble coming.

Anders Stouge, the deputy director general of the Danish Energy Association, said in an interview: "We are really worried about this situation. If we don't do something, we will in the future face higher and higher risks of blackouts."

The government is somewhat dismissive of that notion but well aware that it needs to find a way out of this box. Environmental groups, for their part, have tended to sneer at the problems the utilities are having, contending that it is their own fault for not getting on the renewables bandwagon years ago.

But the political risks of the situation also ought to be obvious to the greens. The minute any European country - or an ambitious American state, like California - has a blackout attributable to the push for renewables, public support for the transition could weaken drastically.

So the trick now is to get the market redesign right. A modest version of reform would essentially attach a market value, and thus a price, to standby capacity. But Rasmus Helveg Petersen, the Danish climate minister, told me he was tempted by a more ambitious approach. That would involve real-time pricing of electricity for anyone using it - if the wind is blowing vigorously or the sun is shining brightly, prices would fall off a cliff, but in times of shortage they would rise just as sharply.

As Denmark, like other countries, installs more smart meters and smart appliances able to track those prices with no human intervention, one can imagine a system in which demand would adjust smoothly to the available supply. Most people would not care if their water heater were conspiring with other water heaters to decide when to switch on and off, as long as hot water reliably came out of the tap.

Yet, even if Denmark can figure out a proper design for the electric market, it has another big task to meet its 2050 goal: squeezing the fossil fuels out of transportation. Prematurely, perhaps, the country embraced a proposed system of electric cars in which depleted batteries would be switched for fresh ones in minutes, but only a few hundred cars were sold before that overly ambitious plan flopped. [That was before the Bluebird™ concept, which could solve transitional anxieties with a future proofed, flexible approach.]

Mr. Petersen is quoted as saying that he still felt electrification of cars was the way to go, but the cars themselves were not really ready. "We need longer range and lower prices before this becomes a good option. Technology needs to save us here."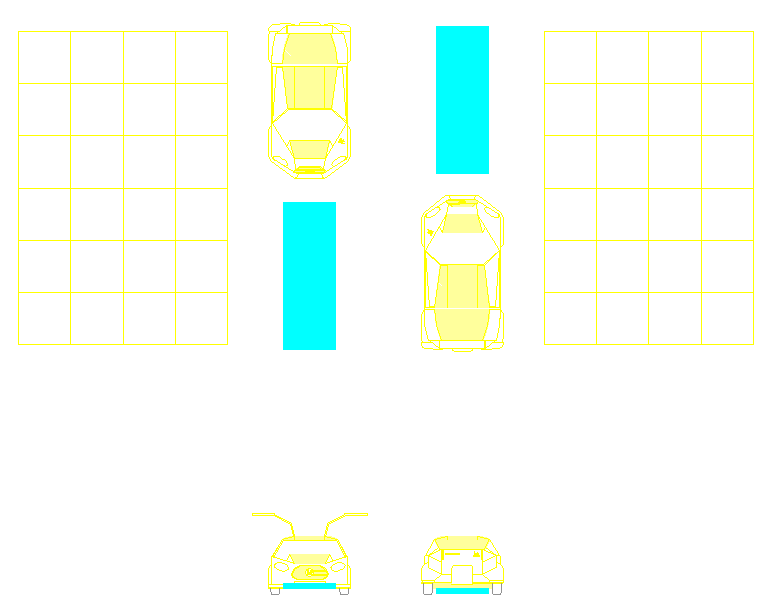 EUROSTATION CONCEPT: From the plan and end views of the concept Eurostation for smart cities (above), you may care to agree that the land, footprint) requirement is significantly smaller than any conventional petrol/diesel forecourt. The Ecostar DC50 (currently under construction) is shown here to scale to give you some idea of size. The DC50 is 300mm longer than a Smart car and the cartridge shown is actually more suited to the super-minis and hatchbacks that are so popular today. You do not need to get out of an EV being serviced, having entering the tunnel. The mechanism is automated. Solar roofs are advocated by way of harvesting a small percentage of energy from nature to further offset climate change. BMS has an in-house planning consultant with experience of awkward councils and several victories on appeal to the Secretary of State under his belt - admittedly, less applicable in Denmark, where their system is sure to be different.
A Bluebird™ EuroStation is a 3.6MW solar assisted EV service facility containing 60 cartridges on a continuous charge cycle. Five of these stations (18MW) can recharge (refuel) 10 cars a minute in ideal circumstances. Next time you visit your BP or Tesco fuel pump, count the number of cars leaving the station in a minute. You will find that an electric forecourt holds the potential to be quicker. During rush hour, 600 cars might be serviced in one hour. During an eight hour day 2,400 or more cars might be serviced - with the equivalent battery charge cycle of one hour - so even under time pressure, less harmful to batteries than curbside fast charging and we start every morning with 60 slow charged cartridges from off-peak overnight supplies. The same forecourt might be used to service fuel-cell cars powered by liquid hydrogen or hydride pellets. One size fits all. If 10 Eurostations were to be installed for the same geographical region, the charge time per exchange rises to 2 hours, and so on. Further protecting batteries and providing an energy store buffer. When using fuel cell technology, charge time does not come into the equation, but other arrangements have to be made to replenish hydrogen, that at the moment is a long way off - simply because it is unlikely that we will be engaged to look at that side of things - and without the flexibility that the Bluebird™ cartridge system offers, EV servicing is likely to remain a problem.
THE IMPACT OF DANISH ENERGY STRATEGY 2050 ON THE CONSUMER
Currently 80% of Denmark's energy needs come from oil, coal and gas. So the transition to a clean green energy supply by 2050 will be a major challenge for all Danes.

For the average Danish household it is hard to predict how life will be in 2050. Though the transition to this fossil fuel independence will certainly not be free and will require huge sums of money. Today, fossils fuels are cheaper than renewable energy, though a reformed energy tax system will help make renewable energy a more attractive incentive because of lower taxation.

With massive investment needed to build a new green energy infrastructure, it may in the short term cost a little more to the average household. Though overall it is predicted that the cost to the Danish consumer in 2050 will stay the same as today, due to the increases in energy efficiency.

An economically responsible transition is important to the Danish government, so all new initiatives up to 2020 have been fully financed. In helping to fund this green transition, an average Danish household energy bill in 2020 - heated on oil, gas or district heating - will have extra costs of approx 900 Kroner ($175), which will be a 4-5% increase. The electricity costs per household will be an extra 250dk ($49).

For the majority of Danish households, they will have a number of options to maintain their heating bill at an unchanged level, through energy efficient measures like renovation and replacement and purchase of new equipment. With concerted efforts to promote energy savings, it is expected the average household will be using 5% less energy in 2020.

With Denmark committing itself to the target of 30% renewable energy by 2020, Danish homes will become even more energy conscious than today. Already 62% of households are connected to district heating systems, by using more biomass energy; this will offer multiple savings, including more efficiency and lower local fuel costs. While worn out oil furnaces or gas installations in households will be replaced by heat pumps which will be more energy efficient in the long term and again help lower energy bills.
EV SALES DENMARK 2014
| | |
| --- | --- |
| Model | Jan-14 |
DANISH TRANSPORT
Significant investment has been made in building road and rail links between regions in Denmark, most notably the Great Belt Fixed Link, which connects Zealand and Funen. It is now possible to drive from Frederikshavn in northern Jutland to Copenhagen on eastern Zealand without leaving the motorway. The main railway operator is DSB for passenger services and DB Schenker Rail for freight trains. The railway tracks are maintained by Banedanmark. The North Sea and the Baltic Sea are intertwined by various, international ferry links. Construction of the Fehmarn Belt Fixed Link, connecting Denmark and Germany with a second link, will start in 2015.

Copenhagen has a Metro system, the Copenhagen Metro, and the Greater Copenhagen area has an extensive electrified suburban railway network, the S-train. In the four biggest cities - Copenhagen, Århus, Odense, Aalborg - light rail systems are planned to be in operation around 2020. The light rail in Greater Copenhagen will traverse 11 municipalities, providing a much needed corridor from Lyngby in the north to Ishøj in the south . With Norway and Sweden, Denmark is part of the Scandinavian Airlines, and Copenhagen Airport forms the largest hub in Scandinavia.

Cycling in Denmark is a common form of transport, particularly for the young and for city dwellers. With a network of bicycle routes extending more than 12,000 km and an estimated 7,000 km of segregated dedicated bicycle paths and lanes, Denmark has a solid bicycle infrastructure.

Private vehicles are increasingly used as a means of transport. Because of the high registration tax (180%), VAT (25%), and one of the world's highest income tax rates, new cars are very expensive. The purpose of the tax is to discourage car ownership. Despite this, the car fleet has increased by 45% over the last 30 years. In 2007, an attempt was made by the government to favour environmentally friendly cars by slightly reducing taxes on high mileage vehicles. However, this has had little effect, and in 2008 Denmark experienced an increase in the import of fuel inefficient old cars primarily from Germany, as the cost for older cars - including taxes - keeps them within the budget of many Danes. The average car age (year 2011) is 9.2 years. Future proofed EVs may therefore be welcomed by Danish motorists in an otherwise disposable society.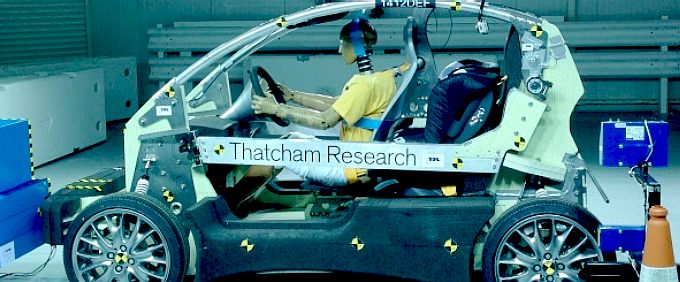 ECOMOVE DEVELOPMENT - This is what really saps development funds: crash testing. It means taking a perfectly good car and ramming it into a concrete block at various speeds. Of course you destroy your precious vehicle, but also carry the cost of the testing and analysis.

"The smartphone integration is progressing and is still to be implemented in the QBEAK III," he added. "We will soon demonstrate an intelligent sound alert system as an option for warning pedestrians. We are performing simulations for crash but are planning to run some destructive tests soon."
With the close of 2012 the promised production version of the QBEAK electric car failed to appear. Its Danish developers advised that unforeseen challenges along the route to producing what they claim will be the most environmentally-, energy- and city-friendly car in the world have eaten away at the original time schedule and forced a launch date rethink. Meanwhile, the company unveiled a third prototype that marks a significant improvement on earlier versions. Well done chaps for sticking to your guns.
MICHELIN CHALLENGE BIBENDUM (MCB)
ECOmove have been involved with the MCB. As with the Cannonball International rally series, Michelin's aim is to make mobility safer, cleaner, more accessible and affordable.
The Michelin Challenge Bibendum was created more than 15 years ago and has grown momentum ever since.With the aim of making mobility safer, cleaner, more accessible and affordable, ECOmove participates in the fully-fledged think tank, Michelin Challenge Bibendum, in Chengdu, China, in November.

Michelin Challenge Bibendum is the only initiative in the world that brings together all transportation stakeholders with the purpose of creating a common vision of tomorrow's sustainable mobility and to decide about actual solutions that generate individual, business, and social benefits. Consequently, companies from all over the world gather to collaborate on creating solutions that 'foster a better life through sustainable mobility'. Here, stakeholders can showcase their contributions to making the transportation industry more sustainable. Thus, these are the perfect settings for showcasing ECOmove's new Qstrung chassis technology for the first time.

ECOmove's lightweight Qstrung chassis technology not only contributes to the reduction of the energy consumption in the transportation industry, but also gives designers larger flexibility, and makes it possible to develop highly safe lightweight cars with excellent drivability both more economical and faster.

The Michelin Challenge Bibendum was created more than 15 years ago and has grown momentum ever since.
LINKS & REFERENCE:
Elbil her-svarer-elon-musk-norske-tesla-eiere
Wikipedia Helle_Thorning-Schmidt
Wikipedia Margrethe_II_of_Denmark
Gizmag ecomove qbeak electric car update
http://www.topspeed.com/cars/others/2012-ecomove-qbeak-ar136896.html
http://www.gizmag.com/ecomove-qbeak-electric-car-update/25418/
http://evworld.com/news.cfm?newsid=29419
http://www.challengebibendum.com/
http://www.challengebibendum.com/eng/Our-approach/our-mission
http://eng.mim.dk/
http://www.kebmin.dk/
http://stateofgreen.com/en
http://www.danskelbilkomite.dk/links.htm
http://www.elbil.no/nyheter/elbiler/3417-her-svarer-elon-musk-norske-tesla-eiere
http://www.elbilsverige.se/
http://www.mega-ecity.dk/
http://www.teslamotors.com/incentives/DK
http://en.wikipedia.org/wiki/Denmark
http://en.wikipedia.org/wiki/Helle_Thorning-Schmidt
http://en.wikipedia.org/wiki/Margrethe_II_of_Denmark
http://irena.org/
Clean Technica 2014 Electric car sales Norway Denmark Sweden January
http://cleantechnica.com/2014/02/12/electric-car-sales-norway-denmark-sweden-january-2014/
Denmark green living impact the energy strategy 2050 on Danish consumers
http://www.forbes.com 2014 oil-majors-woes-good-news-for-tesla-and-other-ev-makers
http://metro.co.uk 2011 cannonball run remake attracts bids from rival guy ritchie and shawn levy
http://en.wikipedia.org/wiki/The_Cannonball_Run
New York Times 2014/11/11 Denmark-aims-for-100-percent-renewable-energy
http://www.mile-to-km.com/km-to-miles.php
http://www.worldsolarchallenge.org/
http://www.endtoenders.co.uk/
https://maps.google.com/
http://www.rideacrossbritain.com/packages/end-to-end/