Campbell-Norris-Proteus Bluebird CN7 1960
The design concept was certainly simple. Take a jet engine - run drive shafts out of each end to the front and rear axles and build a steel frame to house the engine driver and wheels. Well, that's how it started. But hundreds of drawings later and £1,000,000 spent, the vehicle sported an aluminium honeycomb chassis, with huge wheels all covered in a voluptuous ally body.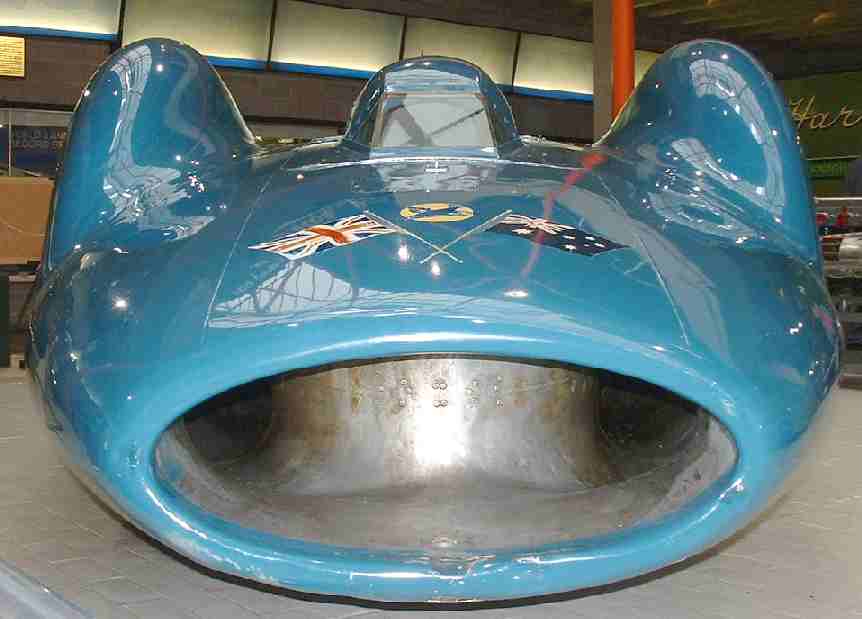 CN7 looking into the air intake
In fact, the shape (aerodynamics) of the cn7 was very similar to John Cobb's Mobil Railton Special which almost achieved 400 mph using petrol engines and no tail fin - dare we say John Cobb's car inspired Donald Campbell and Ken and Louis Norris, the designers of the cn7 = campbell/norris 7.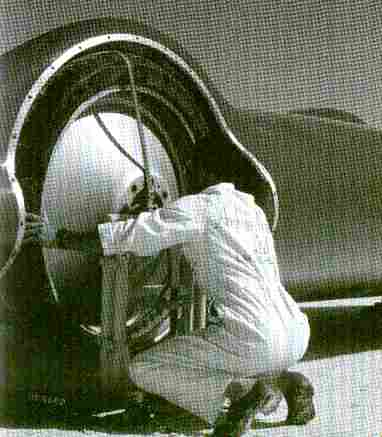 Getting things in proportion - cn7's wheels
Not long after topping John Cobbs 390mph + record, the Summers brothers raised the record above that of the cn7 using 4 petrol engines, comparatively smaller wheels and budget, in Goldenrod. But no-one can deny the spectacle of the cn7, perhaps only eclipsed by Richard Noble's Thrust SSC charging across the desert sands.

5 miles to go chaps - pushing the jet Bluebird to base
Powered by a Bristol Siddeley Proteus free turbine engine developing in excess of 5,000-hp, this revolutionary car was designed by the Norris Brothers and built by Motor Panels, Ltd, of Coventry. It utilised four-wheel drive and two gearboxes, with the gearboxes having a fixed ratio, as there was enough power from the engine, in the lower speed ranges, to dispense with gear changing all together. It utilised three independent braking systems and a mass of complicated electronic instrumentation. First trials were at Bonneville Salt Flats, Utah in September 1960.
This Bluebird was then severely damaged after a huge crash later in the same month. The car was completely rebuilt, thanks to the generosity of Sir Alfred Owen, with the only noticeable changes being a different shaped cockpit cover and the addition of a tail fin for extra stability. The first trials of the rebuilt Bluebird CN7 took place at Lake Eyre in Australia in May 1963, with the world land speed record being set at 403.10 mph at Lake Eyre on 17th July, 1964 after months of torrential rain and flooding.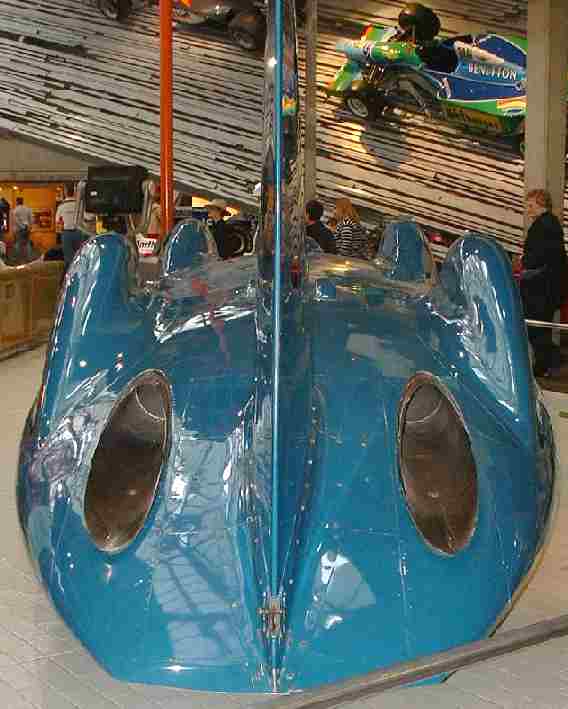 Bluebird CN7 exhausts

SPECIFICATIONS
Country of Manufacture: Great Britain

Engine Manufacturer: Bristol-Siddeley Proteus 705 gas turbine aircraft engine (modified to give drive shaft at each end), Compressor 12 axial-flow stages, 1 centrifugal stage, 8 combustion chambers 2 two stage turbines. Maximum Power, 5,000bhp at 11,000-11,800 power turbine rpm and 11,800 compressor rpm, plus 1,000lb approx. exhaust thrust at standstill diminishing with speed

Transmission:

Clutch none
Axles spiral bevel at front and rear
Type of drive final drive 3.6 to 1

Chassis:
Aeroweb sandwich 2 skins 0.048in thick light alloy spaced 3/4in apart by resin bonded 1/4in mesh honeycomb of 0.002in thick light alloy
Suspension: independent by ball-jointed transverse wishbones

Shock Absorbers: Girling oleo-pneumatic suspension struts with rubber rebound buffers

Steering: Gear Burman recirculating ball quick-thread mechanism as centre section of 3-piece track rod, operated by bevel gear and chains from steering wheel

Brakes: Girling disc brakes, inboard mounted, with duplicated operation from compressed air reservoirs. Discs 16 3/8in external dia. and 10 3/8in internal dia. Air brakes to rear. In all three separate brake systems. Designed by Carl Noble

Wheels: Dunlop split-rim disc wheels

Tyres: Dunlop 7.8in section 52in external diameter

Dimensions: Wheelbase 13ft 6in., Track front 5ft 6in., Track rear 5ft 6in., Length 30ft, Weight 3.5 - 4.2 tons

Body Manufacturer: Motor Panels Ltd., material aluminium

An event was held at the National Motor Museum, Beaulieu, to commemorate the 50th anniversary of DC's double. Tonia Bern-Campbell was a guest speaker, talking about her beloved speed king.
BLUEBIRD K7 JET POWERED HYDROPLANE
Bluebird K7 is a turbo jet engined hydroplane with which Britain's Donald Campbell set seven world water speed records (WSR) during the later half of the 1950s and the 1960s. K7 was the first successful jet powered hydroplane, and was considered revolutionary when launched in January 1955. Campbell and K7 were responsible for adding almost 100 miles per hour (160 km/h) to the WSR, taking it from existing mark of 178 miles per hour (286 km/h) to just over 276 miles per hour (444 km/h). Donald Campbell was killed in an accident with a much modified K7, on 4 January 1967, whilst making a bid for his eighth WSR, with his aim to raise the record to over 300 miles per hour (480 km/h) on Coniston Water.
K7 1966 - 67 TECHNICAL SPECIFICATION

Construction

The hull of Bluebird K7 was stressed to twice the factor of a supersonic aircraft (Max. 25 g). Constructor: Samlesbury Engineering, Space frame: Chrome-molybdenum seamless square section steel tubing by Accles & Pollock, Outer skin: Birmabright light aluminium alloy, Sponsons & spars: Fabricated light alloy angle and plate to form watertight square box section, Planing shoes: Machined solid alloy castings, Fasteners: Rivets, high tensile steel bolts, welding, and chromate assembly paste.

Engine

Type: Bristol-Siddeley Orpheus 701 turbojet single-stage turbine, 7-stage axial compressor, 7 flame tubes; turbine inlet temp 640 °C, Max. output (nominal) lb thrust / kN 4,500 / 20.02, Max. output (boosted) lb thrust / kN 5,277 / 23.53 (110% of max., 2 °C inlet temp,) Max. output bhp / kW at 328 mph 4,623 / 3,446, At rpm 10,450, Max. jet pipe temperature 720 °C, Fuel Kerosene (AVTUR DERD 2494)

Dimensions

Length inc. rudder (ft & in. / m) 26 ft 5.0 / 8.05
Width inc. sponsons (ft & in. / m) 10 ft 6 / 3.20
Width of main hull (ft & in. / m) 5 ft 2 / 1.58
Height inc. tail fin & rudder (ft & in. / m) 8 ft 0.4'' / 2.45
Sponson length (ft & in. / m) 12 ft 9.5 / 3.90
All-up Weight: (lb / kg) 5,813 / 2,637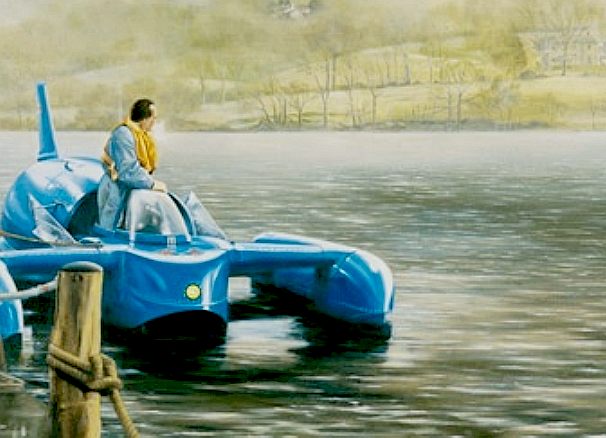 Campbell had made his mind up to give it his all no matter what
DONALD CAMPBELL'S FINAL RECORD RUN

On 4 January 1967, Campbell mounted his record attempt. Bluebird had completed an initial north-south run at an average of 297.6 mph (478.9 km/h), and Campbell used a new water brake to slow K7 from a speed of about 240 mph, after reaching a peak speed of 311 mph (501 km/h) exiting the measured kilometre. This run, which was originally thought to have occurred in perfect trim and without incident, has been shown to demonstrate evidence of instability with pitch-up of approx. 3° and a 'bouncing' episode involving the starboard sponson leaving the water for 0.7 seconds, at the end of the measured kilometre. Following this, an engine flameout was reported by Campbell and activation of the water-brake was found to be not as efficacious as had been demonstrated in previous, lower-speed runs.

Campbell's words on his first run were, via radio intercom:

" ... I'm under way, all systems normal; brake swept up, er . . . air pressure warning light on . . . I'm coming onto track now and er . . . I'll open up just as soon as I am heading down the lake, er doesn't look too smooth from here, doesn't matter, here we go . . . Here we go . . . [pause 3 seconds]. . . Passing through four . . . five coming up . . . a lot of water, nose beginning to lift, water all over the front of the engine again . . . and the nose is up . . . low pressure fuel warning light . . . going left . . . OK we're up and away . . . and passing through er . . . tramping very hard at 150 . . . very hard indeed . . . FULL POWER . . . Passing through 2 . . . 25 out of the way . . . tramping like hell Leo, I don't think I can get over the top, but I'll try, FULL HOUSE . . . and I can't see where I am . . . FULL HOUSE – FULL HOUSE – FULL HOUSE . . . POWER OFF NOW! . . . I'M THROUGH! . . .power . . . (garbled) er passing through 25 vector off Peel Island . . . passing through 2 . . . I'm lighting like mad . . . brake gone down . . . er . . . engine lighting up now . . . relighting . . . passing Peel Island . . . relight made normal . . . and now . . . down at Brown Howe . . . passing through 100 . . . er . . . nose hasn't dropped yet . . . nose down ."

Instead of refuelling and waiting for the wash of this run to subside, Campbell decided to make the return run immediately. This was not an unprecedented diversion from normal practise, as Campbell had used the advantage presented i.e. no encroachment of water disturbances on the measured kilometre by the quick turn-a-round, in many previous runs. The second run was even faster once severe tramping subsided on the run-up from Peel Island (caused by the water-brake disturbance). Once smooth water was reached some 700 metres or so from the start of the kilometre, K7 demonstrated cycles of 'ground' effect hovering before accelerating hard at 0.63g to a peak speed of 328 mph (530 km/h) some 200 metres or so from the southern marker buoy. Bluebird was now experiencing bouncing episodes of the starboard sponson with increasing ferocity. At the peak speed, the most intense and long-lasting bounce precipitated a severe decelerating episode (328 mph - 296 mph, -1.86g) as the airborne starboard sponson K7 dropped back onto the water.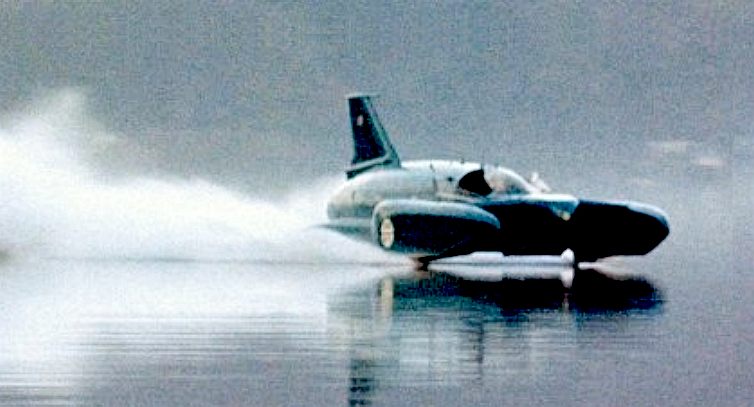 The final run of a man on the edge, Bluebird K7 at full throttle on Lake Coniston in 1967, seconds before the leap into legend.
Engine flame-out then occurred and, shorn of thrust which provided a nose-down moment, K7 experienced a gliding episode in strong ground effect with increasing angle-of-attack (AoA), before completely leaving the water at her static stability pitch-up limit of 5.2°. Bluebird then executed an almost complete somersault (~ 320° and slightly off-axis) before plunging into the water (port sponson marginally in advance of the starboard), approximately 230 metres from the end of the measured kilometre. The boat then cartwheeled across the water before coming to rest. The impact broke K7 forward of the air intakes (where Donald was sitting) and the main hull sank shortly afterwards. Campbell had been killed instantly. Mr Whoppit, Campbell's teddy bear mascot, was found among the floating debris and the pilot's helmet was recovered. Royal Navy divers made efforts to find and recover the body but, although the wreck of K7 was found, they called off the search, after two weeks, without locating his body.

Campbell's last words during a 31 second transmission made on his final run were, via radio intercom:

" . . . Full nose up . . . Pitching a bit down here . . . coming through our own wash . . . er getting straightened up now on track . . . rather closer to Peel Island . . . and we're tramping like mad . . . and er . . . FULL POWER . . . er tramping like hell OVER. I can't see much and the water's very bad indeed . . . I'm galloping over (I can't get over) the top* . . . and she's actually giving a hell of a bloody row in here...I can't see anything...I've got the bows out ...I'm going . . . U-hh . . ."

*This phrase is disputed, but the former is more consistent with events timed to coincide with it, when K7 was accelerating very hard on an almost perfect water surface. This interpretation has been arrived at by exhaustive analysis by the authors of 'Donald Campbell, Bluebird And The Final Record Attempt' in 2010/2011, and differs from the original interpretation arrived at in 1967. Donald Campbell's run commentary abilities had been likened, on many occasions, to those of a test pilot and should be interpreted as a stream of consciousness, where events are effectively described in real time.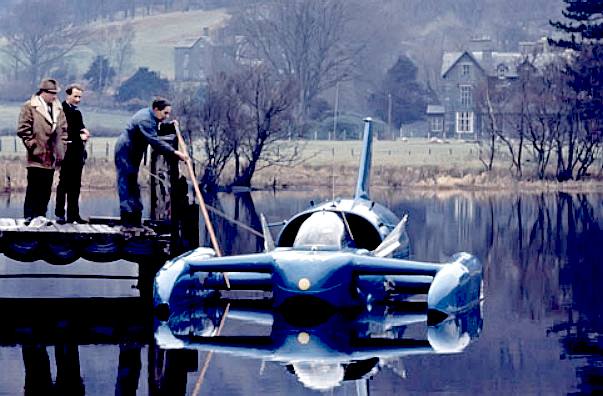 Like a mirror. The surface of Lake Coniston on a day more suited to a flat out run.


K7 RECOVERY

The wreckage of Bluebird was discovered on the lake bed on 5 January 1967. A 10-man Royal Navy diving team led by Lt Cmdr John Futcher, had arrived at Coniston late on the day of the accident. They set off for first attempt to locate Donald Campbell and Bluebird at 12.30pm the next day. Futcher believed that Campbell's body would be either at the point of impact, in the main wreckage of the boat, or at a point between the two locations.
Ken Norris had worked out some calculations to guide the dive team to its likely resting point. The first three dives that afternoon found small pieces of wreckage, indicating the dive team were on the correct track. On the fourth dive, the main hull of K7 was found in 142 feet of water, resting in her correct attitude but facing to the south east. A subsequent and prolonged search located many pieces of wreckage, and indeed items were brought to the surface including Bluebird's broken steering wheel and column.
The body of Donald Campbell was not located, and the search was called off on 16 January. The Campbell family and team let it be known that they did not wish to have the hull of K7 recovered in the absence of finding Campbell's body. They also felt they would learn nothing from its recovery. The wreck sat on the lake bed for a further 34 years, its location known by a few people but never disclosed.

A diving team led by Bill Smith was responsible for relocating the wreckage and its subsequent recovery was handled by Smith's Bluebird Project team. The wreckage was recovered between October 2000, when the first small sections were raised, and May 2001, when Campbell's body was finally recovered. The largest section, representing approximately two-thirds of the main hull, was salvaged on 8 March 2001.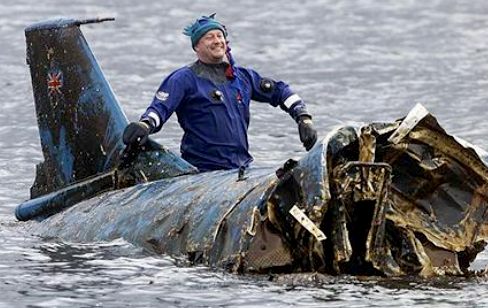 A jubilant Bill Smith rides the recovered K7 to shore - March 2001

K7 RESTORATION

On Thursday 7 December 2006, Gina Campbell, Donald's daughter, formally gifted Bluebird K7 to the Ruskin Museum in Coniston on behalf of the Campbell Family Heritage Trust. In agreement with the Campbell Family Heritage Trust and the museum, Bill Smith is to organize the restoration of the boat, which is now under way. Now the property of the Ruskin Museum, the intention is to rebuild K7 back to running order circa 4 January 1967. Bill Smith has said that this will take an undisclosed number of years to accomplish.
Gina Campbell is quoted as saying: "I've decided to secure the future of Bluebird for the people of Coniston, the Ruskin Museum and the people of the world". Museum Director Vicky Slowe spoke of Gina's generosity and then said: "Bill Smith has assured us he can get Bluebird fully conserved and reconfigured at no cost to the museum.
As of 2008, K7 is being fully restored by The Bluebird Project, to a very high standard of working condition in North Shields, Tyne and Wear, using a significant proportion of her original fabric, but with a new BS Orpheus engine of the same type albeit incorporating many original components."

As of May 2009 permission has been given for a one off set of proving trials of Bluebird on Coniston Water, where she will be tested to a safe speed for demonstration purposes only. There is no fixed date for completion of Bluebird K7 or the trials. K7 will be housed in her own purpose built wing at the Ruskin Museum in Coniston, while remaining in the care of The Bluebird Project.
REPRODUCTION K7s
Due to its iconic design, the K7 is one of the most reproduced boats in the world, largely due to Ken Norris's keen eye for beauty. This is true of scale and full size models. The K777 is a superb example of a working K7 inspired boat, while over in Barmera, Australia, there are plans to construct a replica to commemorate DC's visits to Lake Bonney, Lake Dumbleyung and Lake Erye. This is important geographical history that is often overlooked when looking at where the K7 and CN7 achieved the records in the same year. It was in Australia, not the UK.
Filching Manor also has a K7 replica from the BBC docudrama Across the Lake, starring Anthony Hopkins as the driven Donald Campbell.
SIR MALCOLM CAMPBELL'S BLUE BIRDS
DONALD CAMPBELL'S BLUEBIRDS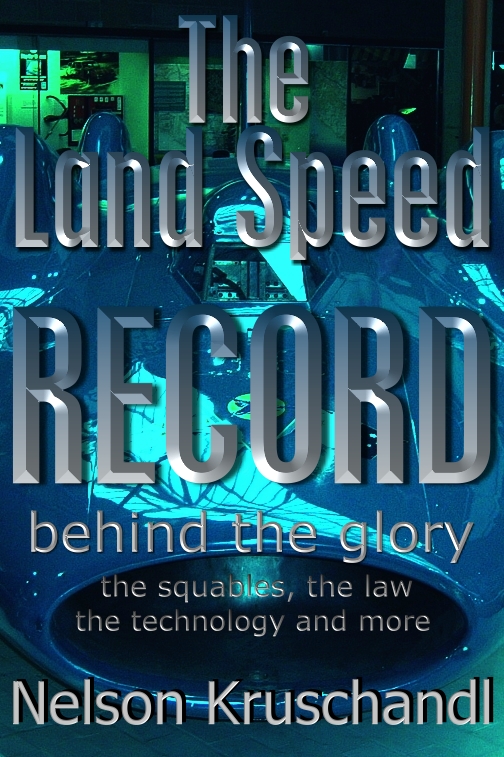 A book by the designer of a joystick car and several electric racing cars, also a keen Land Speed Record archivist. Building cars is a lot of fun, provided that you are paid for your work. He says that he was not paid because of competing interests by another party who indulged in a war of attrition to prevent his honest competition. Nelson Kruschandl is also a progressive futurist and patentee, with a good sense of humor.

THE MALCOLM CAMPBELL HERITAGE TRUST (MCHT)
You can see from the scans of what appears to be a 'Declaration of Trust' dated the 16th of October 2001, that the original Trustees of the MCHT were:
1. Peter John Hulme, New Barn, Tokens Farm, Loxwood, West Sussex.
2. Malcolm Brian Hulme, 17 Norman Avenue, Twickenham, Middlesex.
3. Donald Charles Wales, 11 Weston Avenue, Addlestone, Surrey, KT15 1UW.
4. Georgina Campbell, Birkby Grange Farm, Carr Lane, Thorner, Leeds, LS14 3HG.
5. Jean Dorothy Wales, Orchard Lodge, Oakhurst Lane, Loxwood, West Sussex.
For more information of this Trust, click on the document extract above.