HUGHES DUWAL
AUTOMOTIVE A TO Z CLIMATE CHANGE FUEL CELLS HYDROGEN LANDING PAGE SPEEDACES A- Z UTILITIES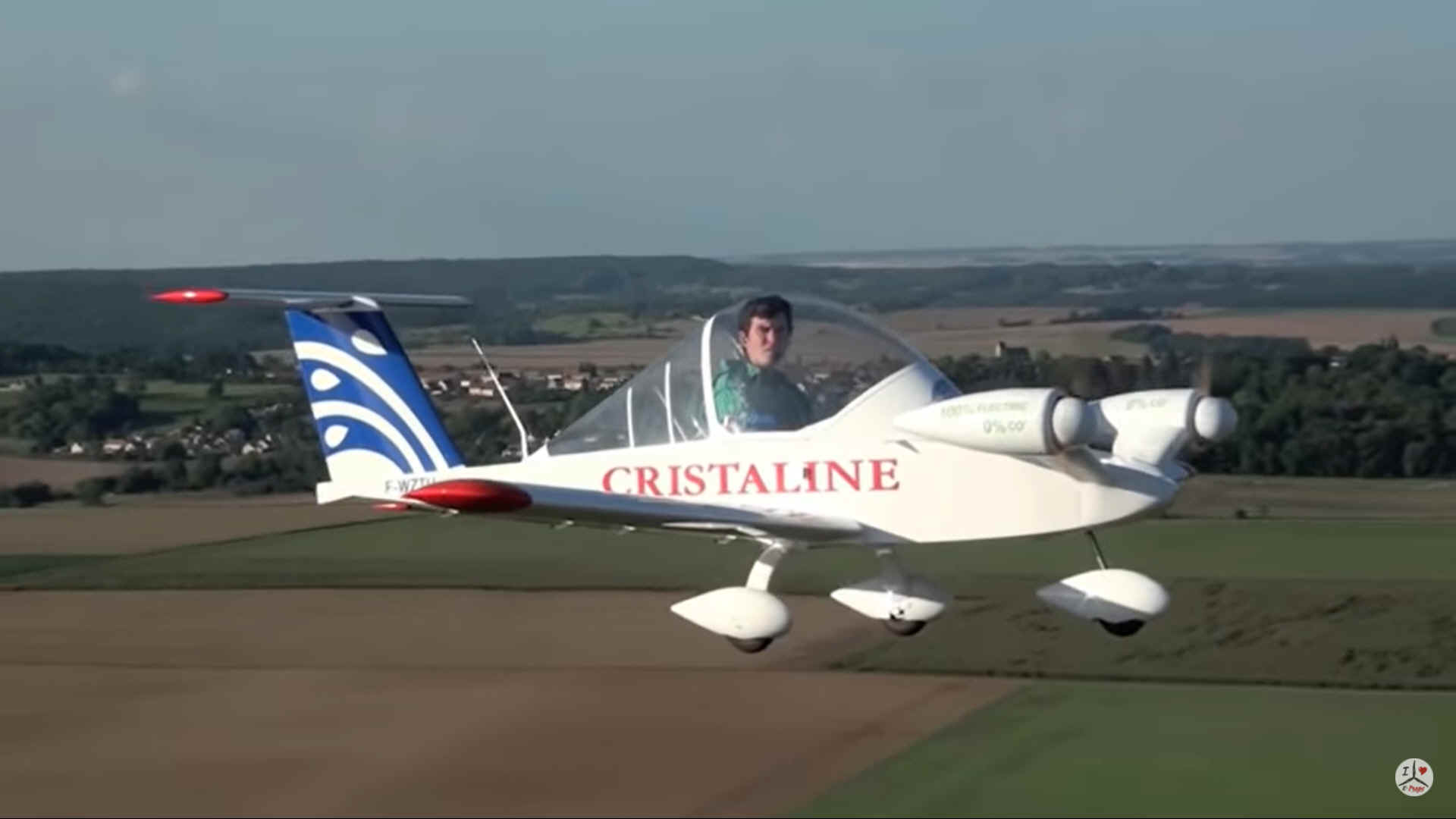 Hughes Duwal takes to the skies in his electrically powered E-Cristaline single seater. He could have had twice the endurance using hydrogen batteries.
After the Wright Brothers conquest of the air at Kitty Hawk in 1903, the next major air conquest was from Calais to Dover across the English Channel. The successful pilot was Louis Bleriot in a monoplane of his own design: Bleriot XI on the 25th of July 1909. The fight took 37 minutes, and it changed the course of the world. Louis collected a £1,000 pound prize put up by the Daily Mail owner Lord Northcliffe. Bully for Lord Northcliffe.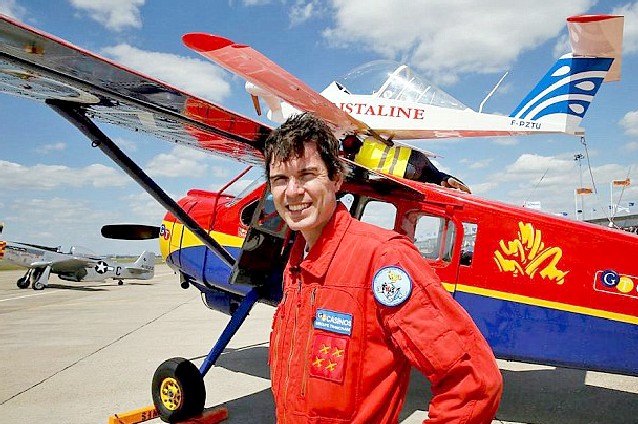 Then came Charles Lindbergh in his aircraft, Spirit of St. Louis. He crossed the Atlantic Ocean in May of 1927 to collect a $25,000 dollar prize.
The next big Pond was the Atlantic Ocean conquered by Charles Lindbergh in 1927. Then in 1928 Sir Charles Kingsford Smith crossed the Pacific Ocean from Mana to Brisbane, also completing a World Circumnavigation in 1930. The ladies got a look in with the exceptional achievement of Amy Johnson in 1930 she managed Croydon, London to Brisbane, Australia solo.
Bleriot, Lindbergh, Kingsford Smith and Johnson all used petrol engines.
GOING ELECTRIC
Then came Hughes Duwal on the 9th of July 2015, in his electrically propelled Colomban E-Cristaline, pipping Airbus to the post with their E-Fan on the 10th of July 2015.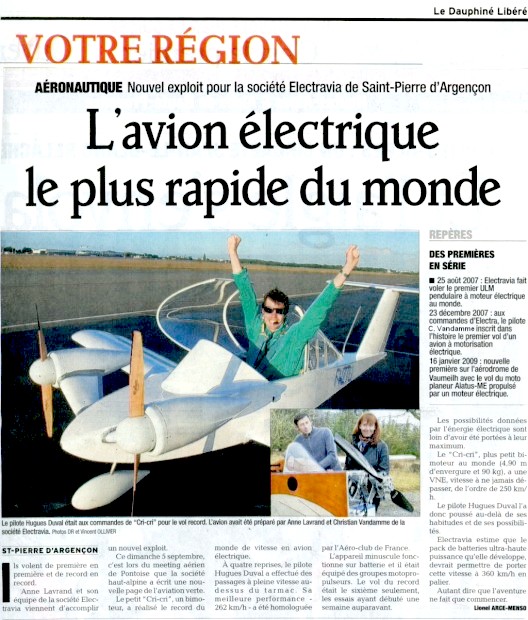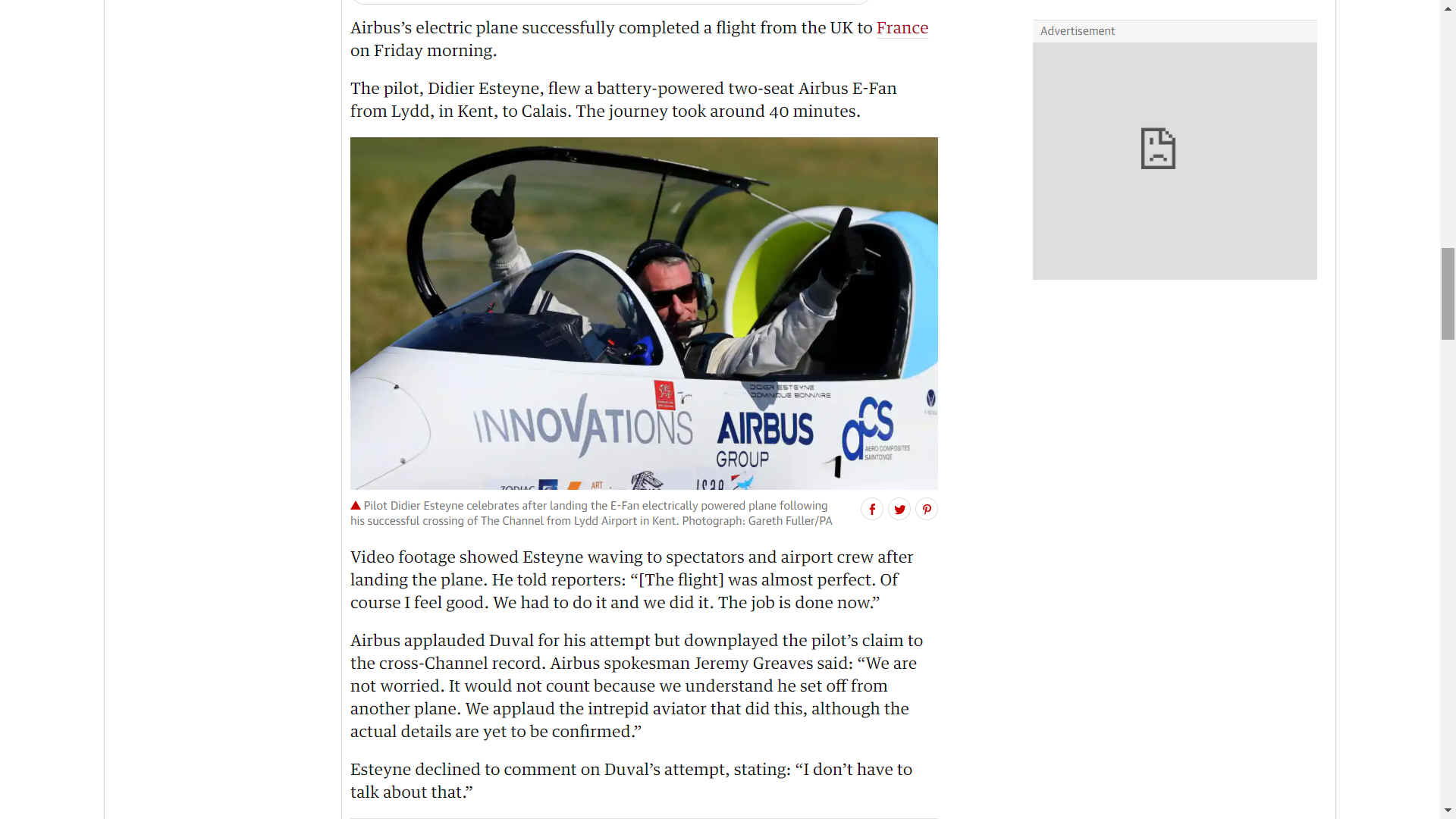 THE GUARDIAN 10 July 2015 - Airbus cries foul over first electric cross-Channel flight by Frenchman

A French pilot has made the first flight in an electric plane across the Channel just hours before a rival Airbus venture completed the journey.

Airbus immediately cried foul, claiming Hugues Duval's effort should not be counted as the first official electric-powered flight because his Crici plane is believed to have been launched from another aircraft.

Duval flew from the French port of Calais to the English shoreline and back on Thursday night in the one-seat Crici plane. His 22-mile journey is considered a milestone in the attempt to make electric flights a viable form of travel.

Duval told the Associated Press that his successful flight was a relief and an important moment after years of developing the plane and flying it over land.

Airbus's electric plane successfully completed a flight from the UK to France on Friday morning.

The pilot, Didier Esteyne, flew a battery-powered two-seat Airbus E-Fan from Lydd, in Kent, to Calais. The journey took around 40 minutes.

Video footage showed Esteyne waving to spectators and airport crew after landing the plane. He told reporters: "[The flight] was almost perfect. Of course I feel good. We had to do it and we did it. The job is done now."

Airbus applauded Duval for his attempt but downplayed the pilot's claim to the cross-Channel record. Airbus spokesman Jeremy Greaves said: "We are not worried. It would not count because we understand he set off from another plane. We applaud the intrepid aviator that did this, although the actual details are yet to be confirmed."

Esteyne declined to comment on Duval's attempt, stating: "I don't have to talk about that."

Jean Botti, the chief technical officer of Airbus Group, said: "I'm very happy; when I look at my team, I can only thank them."

He said the flight brought to mind the Swiss solar-powered aircraft project Solar Impulse, "a fantastic human adventure". He added: "I'm thinking of those two guys up in the sky and it's the same thing for us. This was not a traditional industrial project, it was a shared project. We shared hours at the drawing board."

Several companies in different countries have been trying to develop electric planes in the hope of offering fuel-, emissions- and noise-free flights in the future. So far, the planes have only made short test flights at air shows and airfields, but Airbus said it hope d Friday's flight was a significant step towards creating a 90-seat electric or hybrid-powered plane by 2050.

Due to its lightness, the E-Fan is cheaper to operate than a normal plane. The electric aircraft, which is made of carbon fibre, costs £10 an hour to run compared with £35 for a similar-sized piston-engine, petrol-powered plane. It has a wingspan of 9.45 metres (31ft) and is two metres high, with a total engine power of 60kW. It operates on a 120-minute lithium battery system that needs only 90 minutes to recharge fully.

In 1909, the French pilot Louis Bleriot made aviation history by completing the first cross-Channel flight from Calais to Dover. Esteyne's journey was made in the opposite direction of Bleriot's crossing.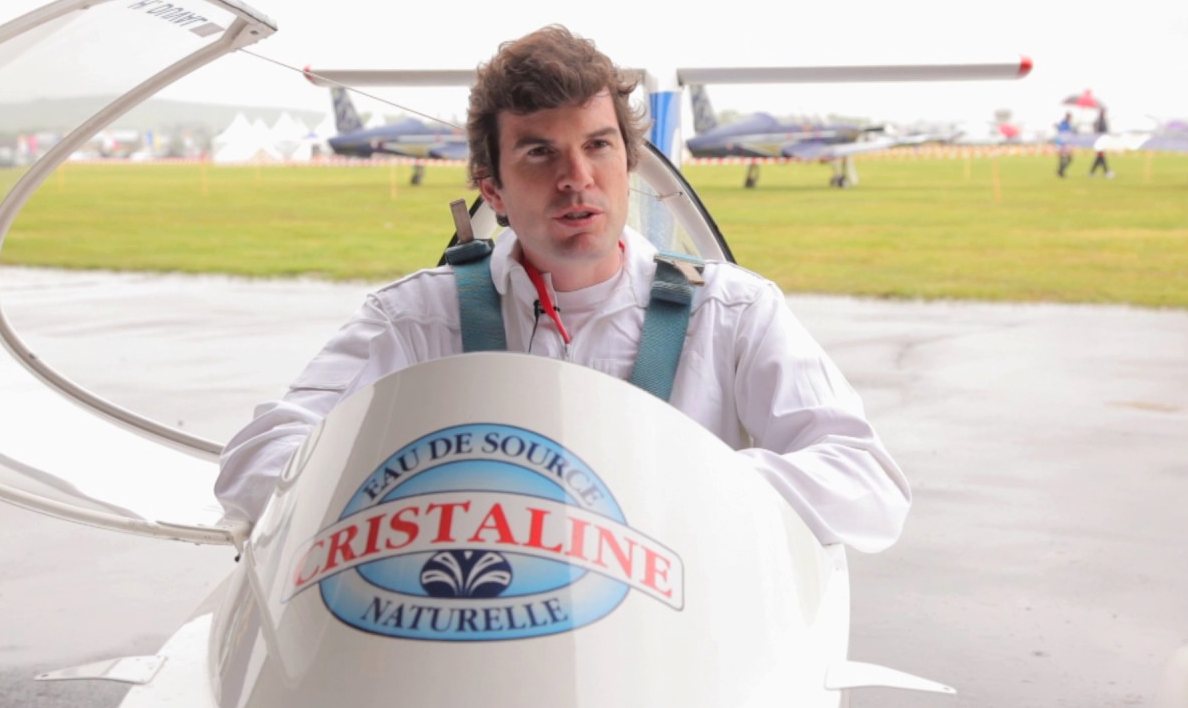 SPUTNIK NEWS 11 JULY 2015

The planes crossed the channel separating England and France 106 years after French aviator Louis Bleriot became the first person to fly an internal combustion-powered airplane across the water.

The English Channel became the site of a new milestone on Friday when two electric planes crossed its waters in opposite directions, the first battery-powered aircraft to be flown across the sea.

On Friday, aircraft manufacturer Airbus announced the successful journey of its E-Fan electric plane, flown by test pilot Didier Esteyne, who took off from Lydd airfield in Kent and touched down in Calais after a 37 minute flight, taking slightly longer to complete the crossing than his predecessor Louis Bleriot 106 years ago.
The Airbus plane weighs 600 kg, and its lithium-ion battery system alone weighs 167 kg; it traveled at an altitude of about 1,000 meters [3,500 feet]. Before Friday's journey, the aircraft had carried out more than 100 flights and a test program in preparation for the Channel crossing attempt.

"E-Fan is a crucial step on Airbus Group's journey toward all-electric aviation," says Airbus, which is also developing E-Fan 2.0 and 4.0 versions of the aircraft. The company hopes to start production of the two-seater E-Fan 2.0 series in 2017. The E-Fan 4.0 will be a four-seat electric airplane, available for the general aviation market.

Airbus announced the historic significance of its achievement on Friday, with Jean Botti, Airbus Group Chief Technical Officer stating, "The 10th of July 2015 will now join the list of famous days in aviation history, and I'm sure Bleriot would be proud of this achievement."
Airbus test pilot Didier Esteyne said the flight represented "the beginning of great innovations," potentially leading to commercial flights on electric or hybrid electric planes.

However, earlier on Friday, French aviator Hugues Duval told the press he had beaten Airbus to the punch, having flown across the Channel in his twin-engine, one-seat Cricri plane on Thursday.

Since Duval was not authorized to take off from Calais, he and his aircraft began the trip on a Broussard plane, before separating from the shuttle aircraft to begin the flight autonomously.

His journey was an "important moment," after years of preparation said Duval, who flew from Calais to Dover and back again in his Cricri plane, and reached a speed of 150 kilometers [90 miles] an hour.

Airbus stated that it doubted Duval's claim to the achievement after hearing the news on Friday. "We applaud the intrepid aviator that did this, although the actual details are yet to be confirmed."

"We are not worried. It would not count because we understand he set off from another plane."

On July 25, 1909 Frenchman Louis Bleriot made the first powered flight across the Channel, when he flew his Bleriot XI 25 horsepower [19 kW] monoplane from Calais to Dover. Bleriot was awarded a prize of £1,000 offered by the British Daily Mail newspaper for the achievement, which he completed in just 36 minutes.
LINKS & REFERENCE
https://www.eta.co.uk/2015/07/17/electric-aircraft-to-cross-the-channel/
https://newatlas.com/first-electric-aircraft-cross-english-channel-airbus-cri-cri/38410/
https://www.theguardian.com/world/2015/jul/10/airbus-french-pilot-first-electric-flight-channel
http://www.solarnavigator.net/aviation_and_space_travel/charles_lindbergh.htm
http://elizabethqueenseaswann.com/Events_Records_Attempts_Solar_Powered/Cross_Channel
http://www.elizabethqueenseaswann.com/TransAtlantic_Solar_Powered_Autonomous_Records_Attempt.html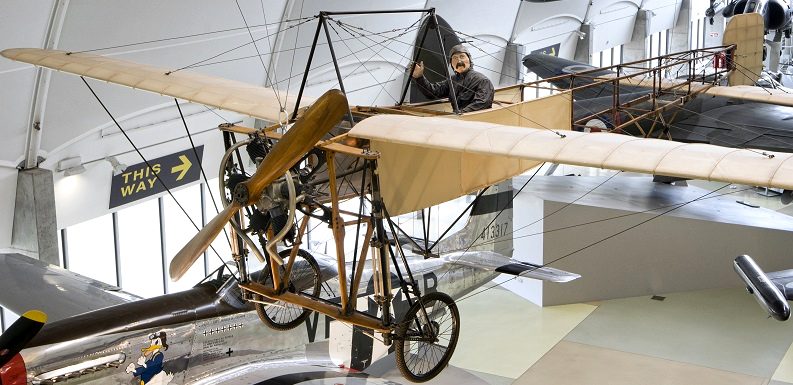 The original aviator, first to cross the English Channel in 1909, Louis Bleriot in his XI
Copyright © website 2020, all rights reserved, save for educational and media review purposes. You do not need permission to use our information if it is to help promote a low carbon economy. This is a low carbon website that loads quickly and is as kept simple as possible while still providing useful information. Cleaner Ocean Foundation Ltd and Climate Change Trust.