CHARLES STEWART ROLLS
AUTOMOTIVE A TO Z CLIMATE CHANGE FUEL CELLS HYDROGEN SPEEDACES A - Z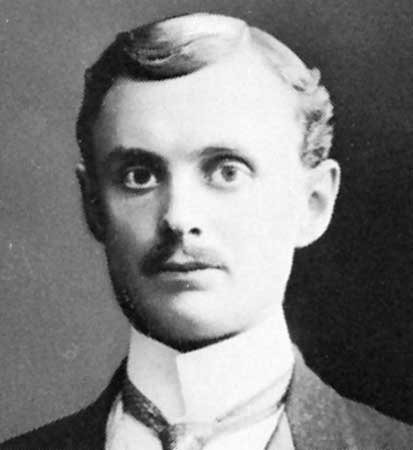 Charles Rolls
Charles Rolls was born in Mayfair in 1877. The fourth man in England ever to own an automobile, Rolls invested in his 3.75hp Peugeot in 1895, sparking his love affair with the motorcar. Two years later he became a founder-member of the Automobile Club of Great Britain and Ireland (later the RAC). Rolls was quite the Lewis Hamilton of his day – he took part in numerous 'goggles and dust' trials in England and on the Continent, during which he broke the land speed record several times.

It was in the early part of the twentieth century that the legendary Rolls-Royce brand was born. To fund his racing and trialling, Rolls formed a car sales and service firm in 1902. The foundation of this company led to the famous meeting in Manchester with the engineer Henry Royce in May 1904, and Rolls becoming the sole agent for Royce Cars. Rolls-Royce Ltd was formally incorporated in March 1906.

During the early 1900s, Rolls became increasingly interested in aeronautics. A founder member of the Royal Aero Club, during his lifetime Rolls made over 160 balloon ascents and was one of the first people to fly solo in Wilbur Wright's newly invented aeroplane. On 2 June 1910 he became the first man to fly non-stop across the Channel and back. Sadly, in July of the same year, Charles Rolls' passion for adrenaline, adventure and risk-taking finally caught up with him and he was killed whilst taking part in a flying tournament at Bournemouth. He was the first British casualty of the modern age of powered aviation.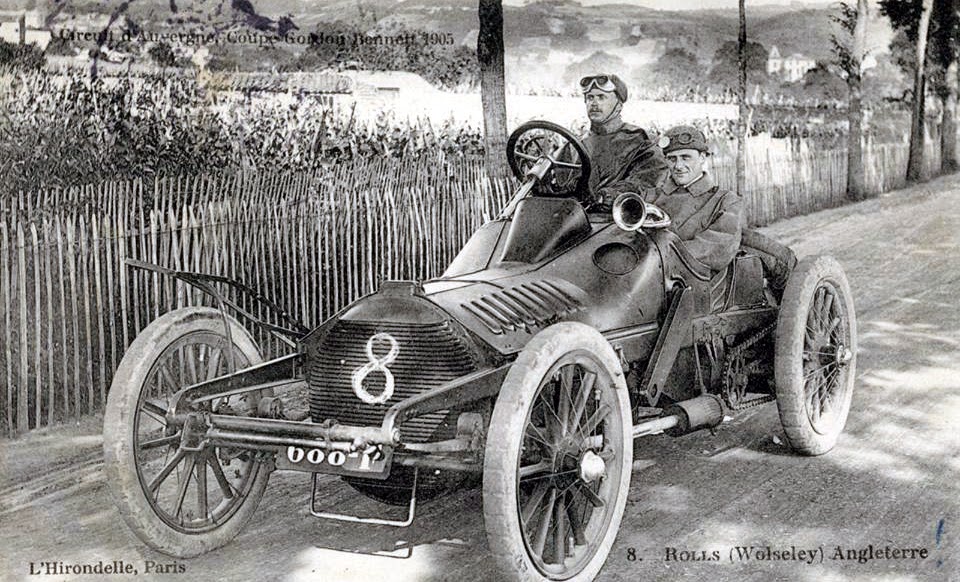 Charles competed in the Gordon Bennett of 1905
FIRST NON-STOP FLIGHT ACROSS THE ENGLISH CHANNEL AND BACK - JUNE 1910

Just seven years after heavier-than-air flight was initially achieved, Charles Stewart Rolls made the first non-stop flight by airplane across the English Channel from Britain to France and back again.

That historic flight took place 110 years ago, on June 2, 1910, a date that Rolls-Royce Motor Cars is commemorating as it marks 116 years since its founding by Charles Rolls and Henry Royce.

The primitive aircraft that Rolls used was a Wright Flyer not very different from the one that Wilbur and Orville Wright sent aloft in 1903 near Kitty Hawk, North Carolina. Rolls made the trip alone in the wood-wire-and-fabric aircraft, traveling from Dover to the small French town of Sangatte, where the Chunnel now emerges, and back in 95 minutes.

Upon his return to England, he even made a fanciful loop at 500 feet around the medieval castle at Dover, much to the delight of the throngs of observers.

Charles Rolls was not the first to cross the Channel by plane, that feat accomplished a year earlier by Louis Blériot, a French inventor and aviator, flying a monoplane of his own design. But Rolls was the first to make the round trip non-stop and the first Englishman to make the crossing by winged aircraft.

"The flight caused a sensation and made Rolls an instant national celebrity," according to a Rolls-Royce news release. "The recently crowned King George V sent a personal telegram: 'The Queen and I heartily congratulate you on your splendid Cross-Channel flight. George R.I.' The Aero Clubs of both England and France presented him with special awards. London's famous Madame Tussauds even began making a waxwork of him."

The flight was not only adventurous but treacherous, according to the release notes.

"His sole concessions to safety were a lifejacket for himself, and four large buoyancy bags filled with compressed air lashed to the machine's undercarriage," the release says. "The Daily Telegraph noted laconically: 'Happily, there was no need to test their efficacy'."

As well as being the scion of Lord and Lady Llangattock and co-founder of Rolls-Royce Motor Cars, along with Henry Royce, Rolls was highly regarded as an early aviator.

"His flying career spanned what was then virtually the entire history of aviation," the Rolls-Royce release says. "Born in 1877, Rolls had been fascinated by engines since his schooldays – he went on to earn a degree in Mechanical & Applied Science from Trinity College, Cambridge – and was captivated by flying from its inception.

"He was a founding member of the Royal Aero Club, initially as a balloonist, making over 170 flights and winning the Gordon Bennett Gold Medal in 1903 for the longest sustained time aloft.

"In the spring of 1909, when the Wright brothers came to England from America as guests of the Royal Aero Club, Rolls acted as their official host. A year later, he became only the second person in Britain to be awarded an aeroplane pilot's license."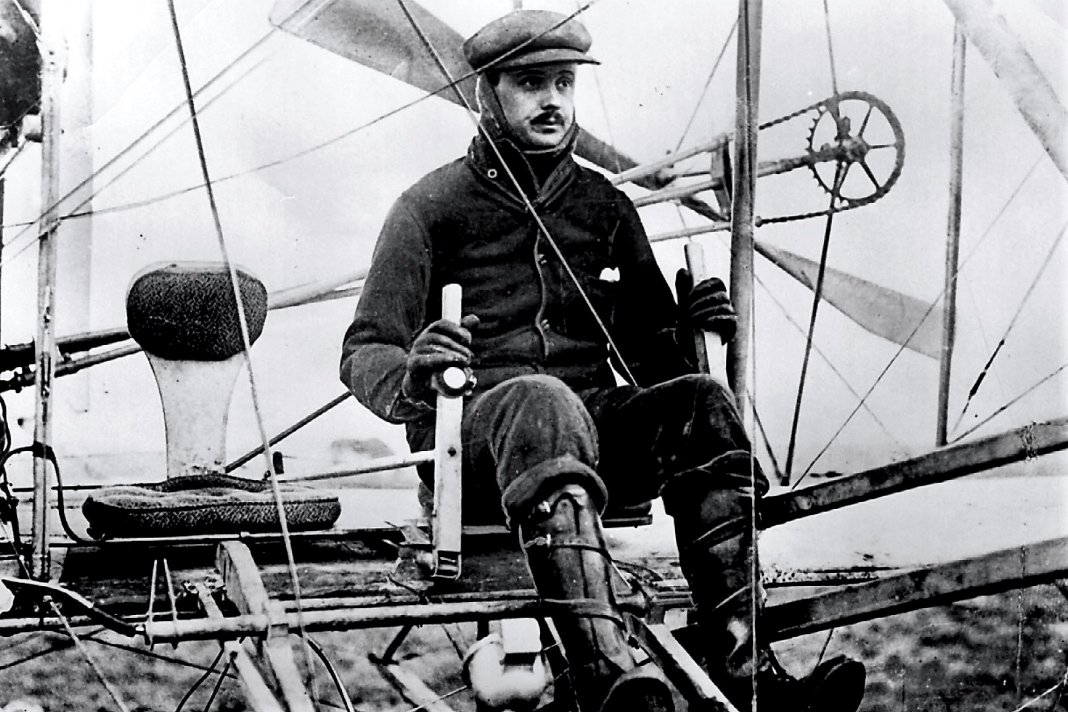 .....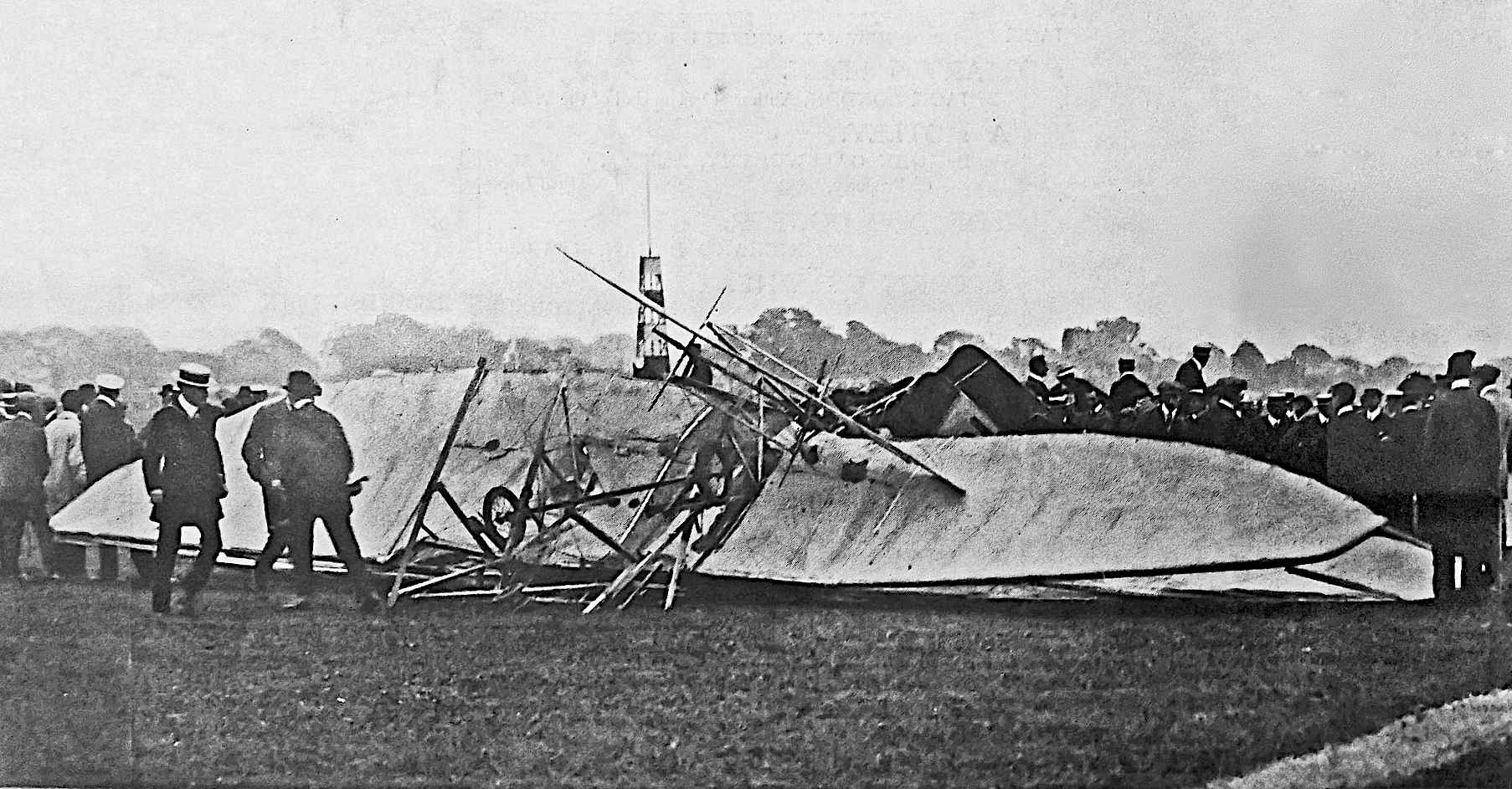 Bournemouth crash that killed Charles Rolls
TRAGEDY 12 JULY 1910

The Channel crossing was, sadly, to be Rolls' last flying achievement.

"Tragically, it was in such a machine that Rolls met his death just a month after his cross-Channel feat," the release says. "On 12 July 1910, during a competition at Bournemouth, the tail-piece broke off and the aircraft plunged to the ground from a height of 100 feet, crashing close to the crowded grandstand in a tangle of spars and canvas.

"Rolls sustained a fractured skull and was pronounced dead at the scene; he was only the 12th person in history to be killed in a flying accident, and the first Briton to lose his life in a powered aircraft. He was just a few weeks short of his 33rd birthday."

While Charles Stewart Rolls is more highly remembered today for his automotive legacy, his aeronautical exploits were crucial to advancing early aviation. A statue commemorating his short life was erected in April 1912 at Guilford Gardens on Dover's seafront. The statue was rededicated on June 2, 1995, by the then-chairman of the Rolls-Royce Heritage Trust.

"Charles Rolls combined a fine technical mind with a bold, adventurous spirit," said Torsten Müller-Ötvös, chief executive officer of Rolls-Royce Motor Cars. "It is no wonder that aviation and motoring held such powerful, almost magical attractions for him.

"He was a true pioneer in both fields, instrumental in the development of aeroplanes and motor cars with his record-breaking feats."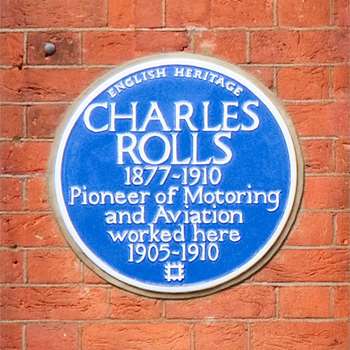 .....

ENGLISH HERITAGE - 'EXTRAORDINARILY ABLE PUBLICIST FOR MOTORING'

Howard Spencer, English Heritage Historian, is quoted as saying:

"Rolls was not an engineer, but an extraordinarily able publicist for motoring in general and for Royce's peerless cars in particular. As an aviator, Rolls scored a notable double cross-channel 'first', and was among the first to predict that aircraft would become 'a practical and dependable conveyance'. English Heritage felt that it was fitting that the Blue Plaque should be erected on the centenary year of his death at Conduit Street; an address that was associated with the Rolls-Royce brand as showrooms and offices for most of the twentieth century. It was here that Rolls had his office from 1905 to 1910; and it was from here that he gave demonstration drives of early Rolls-Royce models. Rolls had achieved much of significance by the time of his tragic and untimely death at the age of 32. His legacy to the automotive and aviation industries is unquestionable and he is a most worthy recipient of an English Heritage commemorative Blue Plaque."

A BUILDING OF 'GREAT HISTORIC INTEREST'

On 22 March 2010, Rolls was commemorated with an English Heritage Blue Plaque in recognition of his outstanding contribution to the motoring and aviation industries. The Plaque was unveiled by Lord Montagu of Beaulieu, founder of the National Motor Museum and former Chairman of English Heritage, at 14/15 Conduit Street, Mayfair, W1; Rolls's place of work from 1905 to 1910. Lord Montagu is noted to have commented:

"This building is of great historic interest, having been the West End headquarters of Rolls-Royce, and many people, both famous and otherwise, have passed through its door to purchase their vehicle".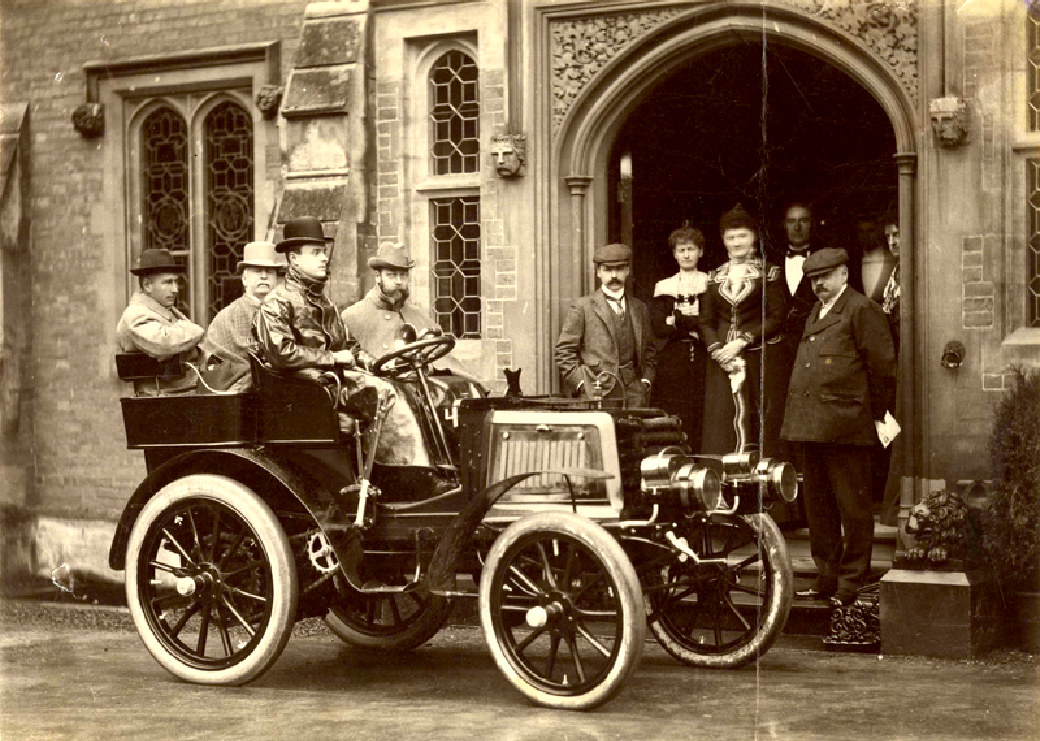 .....
ABOUT CHARLES

Charles Stewart Rolls FRGS FRMetS MICE (27 August 1877 – 12 July 1910) was a British motoring and aviation pioneer. With Henry Royce, he co-founded the Rolls-Royce car manufacturing firm. He was the first Briton to be killed in an aeronautical accident with a powered aircraft, when the tail of his Wright Flyer broke off during a flying display in Bournemouth. He was aged 32.

Rolls was born in Berkeley Square, London, third son of the 1st Baron Llangattock and Lady Llangattock. Despite his London birth, he retained a strong family connection with his ancestral home[1] of The Hendre, near Monmouth, Wales. After attending Mortimer Vicarage Preparatory School in Berkshire, he was educated at Eton College where his developing interest in engines earned him the nickname "dirty Rolls".

In 1894, he attended a private crammer in Cambridge which helped him gain entry to Trinity College, Cambridge in 1895, where he studied mechanical and applied science. In 1896, at the age of 18, he travelled to Paris to buy his first car, a Peugeot Phaeton, and joined the Automobile Club of France. His Peugeot is believed to have been the first car based in Cambridge, and one of the first three cars owned in Wales. An early motoring enthusiast, he joined the Self-Propelled Traffic Association, which campaigned against the restrictions imposed on motor vehicles by the Locomotive Act, and became a founder member of the Automobile Club of Great Britain, with which the Association merged in 1897.

Rolls was a keen cyclist and spent time at Cambridge bicycle racing. In 1896, he won a Half Blue and the following year became captain of the Cambridge University Bicycle Club.

Rolls graduated from Cambridge in 1898 and began working on the steam yacht Santa Maria followed by a position at the London and North Western Railway in Crewe. However, his talents lay more in salesmanship and motoring pioneering than practical engineering; in January 1903, with the help of £6,600 provided by his father, he started one of Britain's first car dealerships, C. S. Rolls & Co. based in Lillie Hall, Fulham, to import and sell French Peugeot and Belgian Minerva vehicles.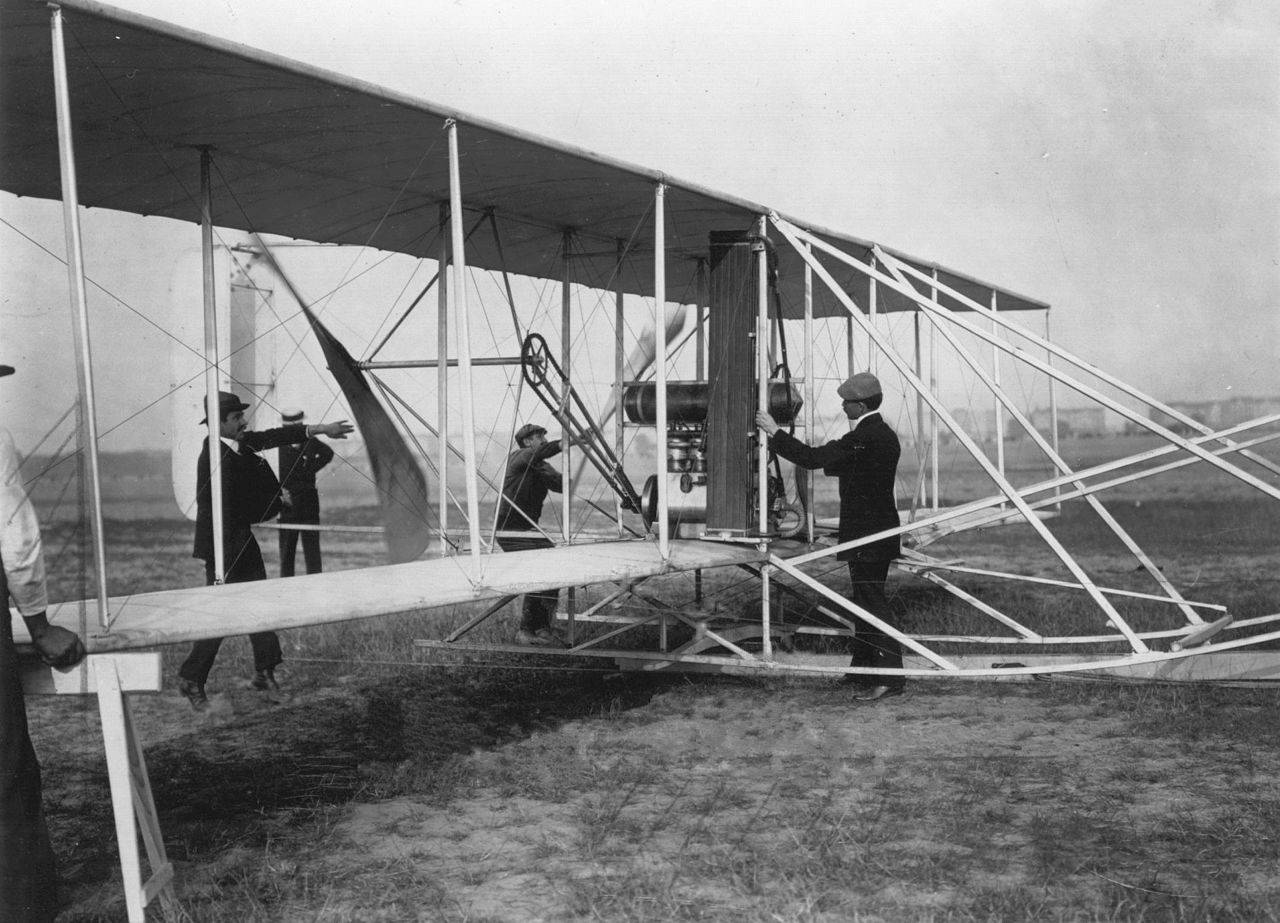 .....
PARTNERSHIP WITH HENRY ROYCE

Rolls was introduced to Henry Royce by a friend at the Royal Automobile Club, Henry Edmunds, who was also a director of Royce Ltd. Edmunds showed him Royce's car and arranged the historic meeting between Rolls and Royce at the Midland Hotel, Manchester, on 4 May 1904. In spite of his preference for three or four cylinder cars, Rolls was impressed with the two-cylinder Royce 10 and in a subsequent agreement of 23 December 1904 agreed to take all the cars Royce could make. These would be of two, three, four and six cylinders and would be badged as Rolls-Royces.

The first Rolls-Royce car, the Rolls-Royce 10 hp, was unveiled at the Paris Salon in December 1904, although in the early advertising it was the name of Rolls that was emphasised over that of Royce. In 1906 Rolls and Royce formalised their partnership by creating Rolls-Royce Limited, with Rolls appointed Technical managing director on a salary of £750 per annum plus 4% of the profits in excess of £10,000. Rolls provided the financial backing and business acumen to complement Royce's technical expertise. In 1907 Rolls-Royce Limited bought out C. S. Rolls & Co.

Rolls put much effort into publicising the quietness and smoothness of the Rolls-Royce, and at the end of 1906 travelled to the US to promote the new cars. The company was winning awards for the quality and reliability of its cars by 1907. But by 1909 Rolls' interest in the business was waning, and at the end of the year he resigned as Technical managing director and became a non-executive director.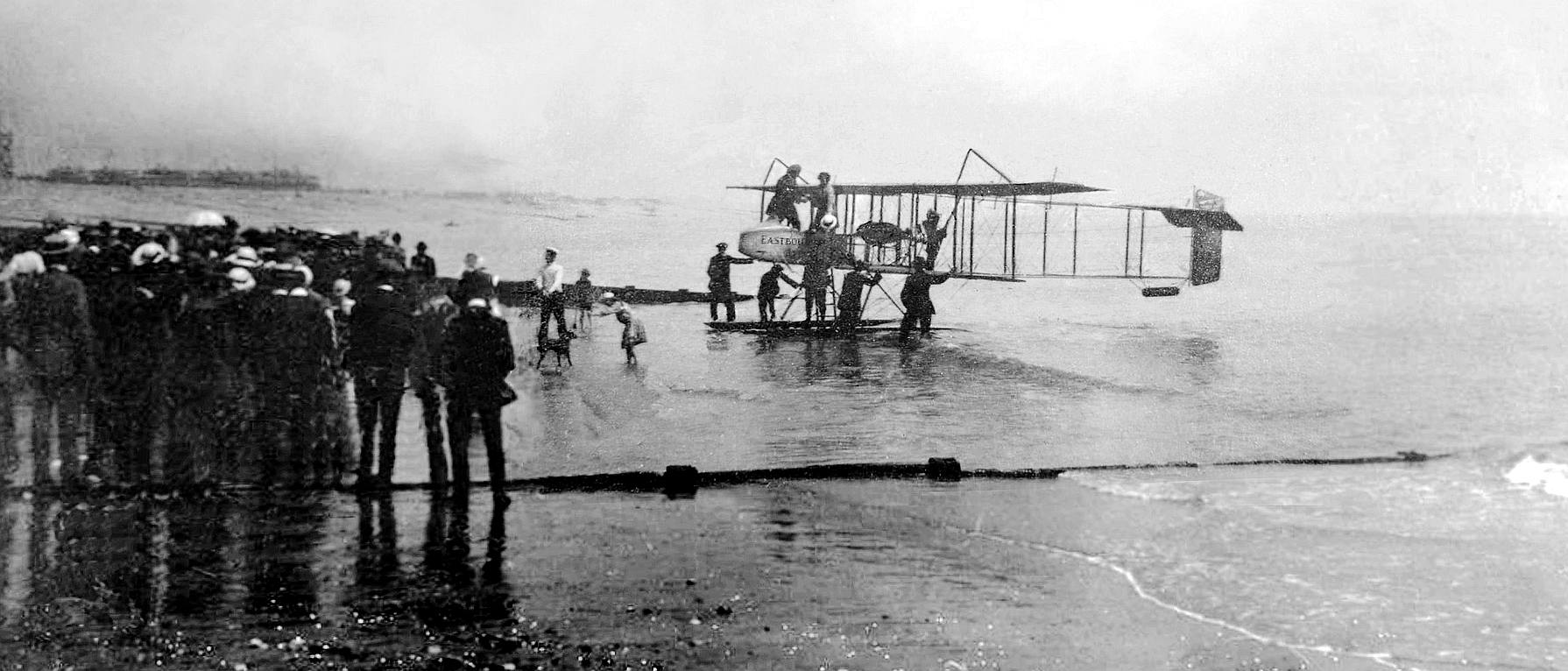 EASTBOURNE AVIATION COMPANY - The Baron, Charles Henry de Roemer lived in Lime Park, Herstmonceux, Sussex, England with Lady de Roemer, the father and mother of Major Charles William de Roemer of Lime Park, Hurstmonceux. The only directors of the EAC by 31-12-1921 were Bernard Fowler (founder), C. W de Roemer and H. Roll (solicitor). This company built 250 Maurice Farman biplanes under license at their Seaplane Base factory and developed a monoplane before ceasing to trade in 1924. The above picture clearly shows the 'Longhorn' sporting the name of the EAC while landing at Eastbourne beach. Four aircraft were built and 19 airmen trained before war broke out in 1914. Thereafter the airfield became a RNAS Training Station at which over 120 men learned to fly.
PIONEER AVIATORS

Rolls was a pioneer aviator and initially, balloonist, making over 170 balloon ascents. In 1903 he won the Gordon Bennett Gold Medal for the longest single flight time.

By 1907 Rolls' interest turned increasingly to flying and he tried to persuade Royce to design an aero engine. He became the second Briton to go up in an aeroplane. Piloted by Wilbur Wright their flight on 8 October 1908 from Camp d'Auvours, eleven kilometres east of Le Mans, lasted four minutes and twenty seconds. He bought one of six Wright Flyer aircraft built by Short Brothers under licence from the Wright Brothers and from early October 1909 made more than 200 flights. Founder in 1901 with Frank Hedges Butler of the ballooning club that became the Royal Aero Club in March 1910 he was the second person they licensed to fly an aeroplane. He became the first man to make a non-stop double crossing of the English Channel by plane taking 95 minutes on 2 June 1910. For this feat, which included the first eastbound aerial crossing of the English Channel, he was awarded the Gold Medal of the Royal Aero Club. There is a statue in Monmouth to commemorate the flight and another, by Kathleen Scott, in Dover.

Given that he attended Eton, and that Charles de Roemer was soon to start building seaplanes in 1911, for the Royal Navy, it is believed that Charles Rolls would have known Charles de Roemer quite well. Where naval interest in seaplanes was high on the agenda of those in the know. And CW was a Royal Air Force Captain.

DEATH

On 12 July 1910, at the age of 32, Rolls was killed in an air crash at Hengistbury Airfield, Southbourne, Bournemouth when the tail of his Wright Flyer broke off during a flying display. He was the first Briton to be killed in an aeronautical accident with a powered aircraft, and the eleventh person internationally. His was also the first powered aviation fatality in the United Kingdom.

His grave lies at the churchyard of St Cadoc's Church, Llangattock-Vibon-Avel, where many of the Rolls family lie buried in various family tombs. His grave is just below Llangattock Manor and bears the inscription:

"Blessed are the pure in heart for they shall see God."

A statue in his memory, in which he is seen holding a biplane model, was erected in Agincourt Square, Monmouth. A further memorial to him was unveiled in 1981 in the bottom playing field of St Peter's Catholic School, Bournemouth, which was developed on the site of Hengistbury Airfield. There is a stained-glass window in All Saints' Church, Eastchurch on the Isle of Sheppey, dedicated jointly to Rolls and to fellow pioneer aviator Cecil Grace.

A memorial to Charles Rolls was dedicated 12th July 2022, at Hengistbury Head, Southbourne, Dorset, between the car park and the Hiker cafe.

This was the same day, date and time as it was in 1910 at the time of his crash at Southbourne, Hampshire [as it was at the time] when the tail came off of his Wright Flyer during a flying display on the airfield at what is now St Peters School.
After the Wright Brothers conquest of the air at Kitty Hawk in 1903, the next major air conquest was from Calais to Dover across the English Channel. The successful pilot was Louis Bleriot in a monoplane of his own design changed the course of the world.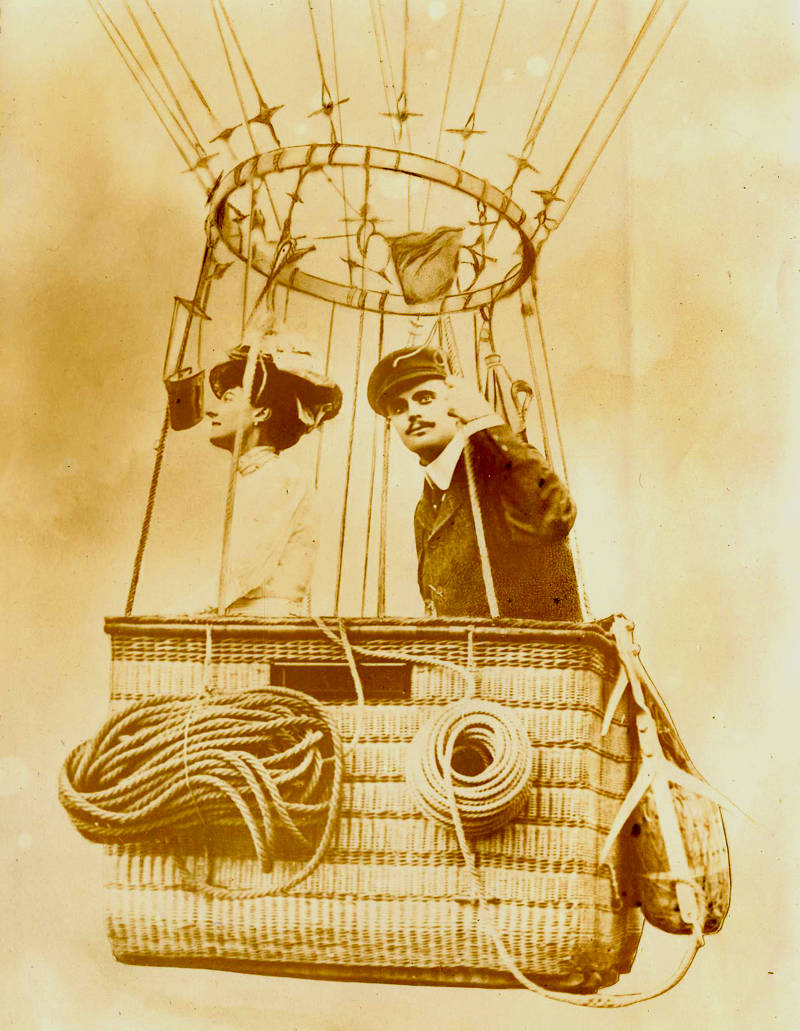 .....
GOING ELECTRIC
Then came Hughes Duwal on the 9th of July 2015, in his electrically propelled Colomban E-Cristaline, pipping Airbus to the post with their E-Fan on the 10th of July 2015.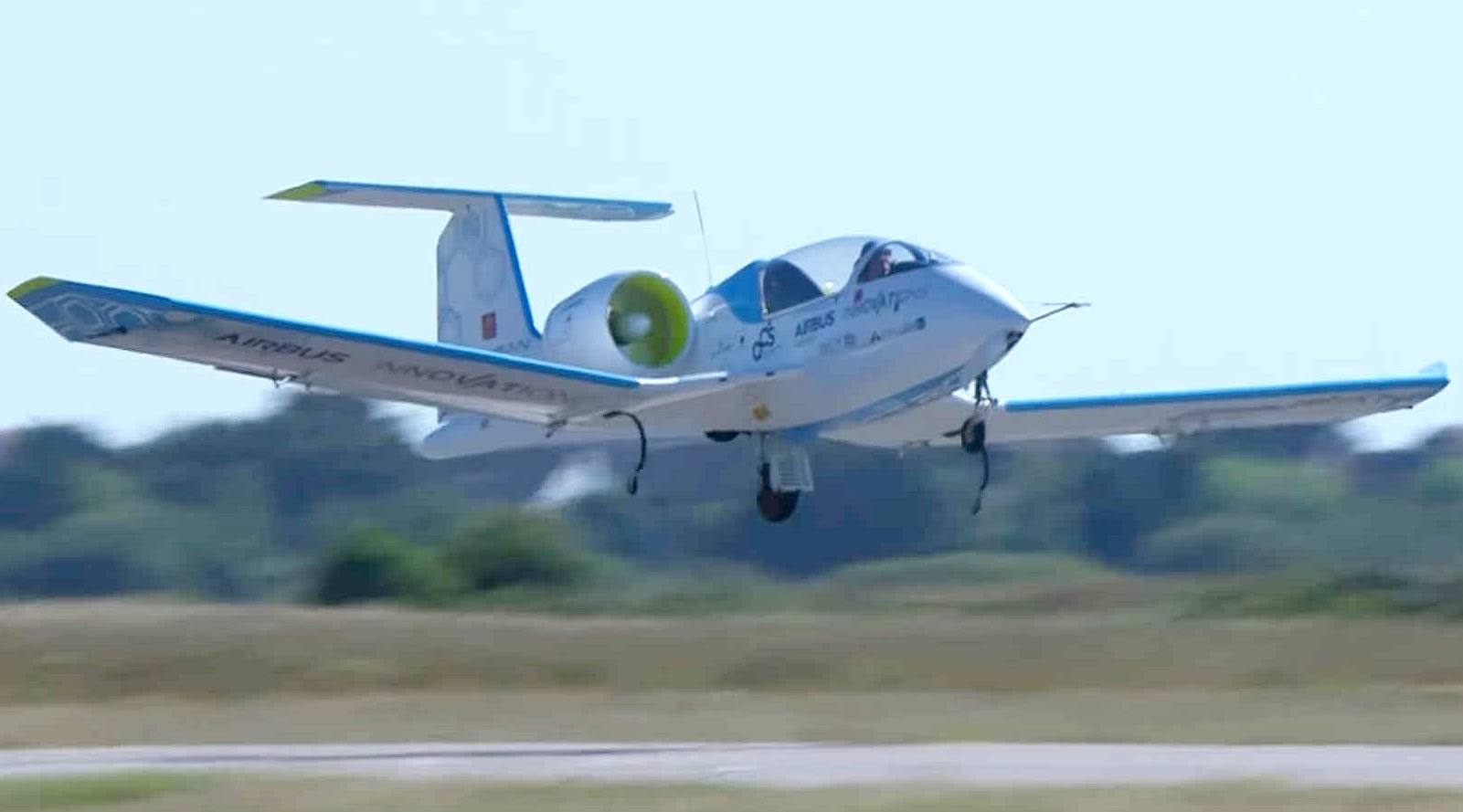 LINKS & REFERENCE
http://www
Copyright © website 2023, all rights reserved, save for educational and media review purposes. You do not need permission to use our information if it is to help promote a low carbon economy. This is a low carbon website that loads quickly and is as kept simple as possible while still providing useful information. Cleaner Ocean Foundation Ltd and Climate Change Trust.