Craig Breedlove has held the Land Speed Record 5 times to date.
His father, Norman, was a motion picture studio special effects man. Breedlove's mother, Portia, worked at the studios as a dancer, performing with the likes of Fred Astaire and Ginger Rogers. Craig grew up in the Los Angeles suburb of Mar Vista and went to Venice High School.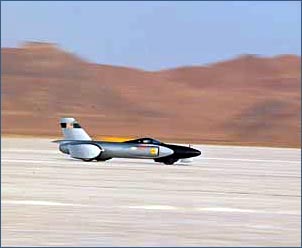 Spirit of America in July 1963 - speed of 407 mph
He bought his first car when he was only 13, and at 16 drove it in speed trials on Mojave Desert dry lakes. It was a chopped and channeled 1934 Ford three-window hot rod coupe with a supercharged V8 engine, and young Breedlove clocked a timed speed of 154 mph, burning alcohol fuel. In 1958, four years later, he piloted a supercharged Oldsmobile-engine "belly tank" streamliner car to 236 mph on the Bonneville salt flats in Utah.
After high school, Craig worked at Douglas Aircraft in Santa Monica as a technician in structural engineering, where he learned many of his design and engineering skills before taking on fire-fighting duty in Costa Mesa. In 1959, he bought a $500 military surplus J47 jet engine, with a goal to design and create his first three-wheel "Spirit of America" land speed record vehicle.
With sponsorship funds from Shell Oil Co. and Goodyear, Breedlove finished his revolutionary new jet-car in 1962 and took it to Bonneville, expecting to break Englishman John Cobb's land speed record of 394 mph in an effort to bring home the record to America for the first time in more than 30 years. The new car's handling problems prevented Craig from doing that, but his sponsors hung on.
The following year, in July of 1963, he returned to Bonneville with a steerable nose wheel and a high, vertical stabilizer on the car. With this improvement, he was able to set a new, two-way official speed record of 407 mph, to become the first ever to average over 400 mph. His remarkable achievement and youthful, matinee-idol good looks made him an overnight, worldwide celebrity. But already new competition was emerging.

Spirit of America in 18-foot-deep salt brine pond.
Tom Green drove 413 mph at Bonneville in February of 1964. Then a drag racer from Ohio, Art Arfons built a land speed car in his back yard he called "Green Monster," using a military surplus J79 jet aircraft engine with afterburner to reach an astounding 434 mph on the Utah salt flats for a new world's record in May of that same year.
Craig returned to Bonneville with Spirit of America to defend his reputation with a new speed record of his own, at 468 mph. Then he went through 500 mph, with another new record of 526 mph.
The new record came at a high price. While surpassing Arfons' newest speed record, Craig lost both drag parachutes and wheel brakes. The Spirit of America sliced through a row of telephone poles at 400 mph and "flew" at 200 mph into an 18-foot-deep salt brine pond. He had to swim out to save his life, but was miraculously not hurt. Although it never ran again, the record-setting car has been a main hall exhibit in Chicago's Museum of Science and Industry for the past 30 years. Arfons responded by breaking that record with 536 mph.
Craig instantly began building an all-new Spirit of America - Sonic I car with four wheels and powered by a larger, more powerful J79 jet engine. He was ready to go after Arfons record again in 1965. When he drove his new car 555 mph in November, the ever-faster land speed record was traded once again between Breedlove and Arfons. A week later, Arfons reappeared and went 576 mph. Then, later in the season than anyone had ever attempted at Bonneville, with freezing rain water standing on parts of the course, a determined and focused Breedlove became the first ever to drive through 600 mph, with a new Unlimited World Land Speed Record of 600.601 mph.
Arfons was never able to better that speed. After Breedlove retired his "Sonic I", he set a number of long-distance speed records for American motors, driving AMC passenger cars. His historic 600.601 mph record stood for five years until, in 1970, another American from Long Beach, Calif., Gary Gabelich, went 622 mph in the Gas Co.'s "Blue Flame" rocket car. That World Land Speed Record would stand for the next 13 years. The Sonic I car is now on special loan to the Petersen Automotive Museum in Los Angeles from the Indianapolis Motor Speedway Museum.
During the 1970's, Craig campaigned a rocket dragster powered with a lunar module motor fueled by hydrazine. This led to this consideration of a new rocket-powered land speed record car, but U.S. government restrictions on the use of rocket engines and fuels became too stringent to successfully continue the program, and he had to abandon his rocket car project in the mid-1980s. The full-size, 41 foot mock-up for that intended rocket car is now exhibited at various museums and is the design forerunner to his newest Spirit of America land speed record car.
Then, Englishman Richard Noble set a new World Land Speed Record in October 1983 driving his Rolls-Royce powered "Thrust 2" jet-car on the vast, dry lake bed of Black Rock Desert in Nevada.
Date of Birth: 3/23/1937 Find on Amazon: Craig Breedlove
---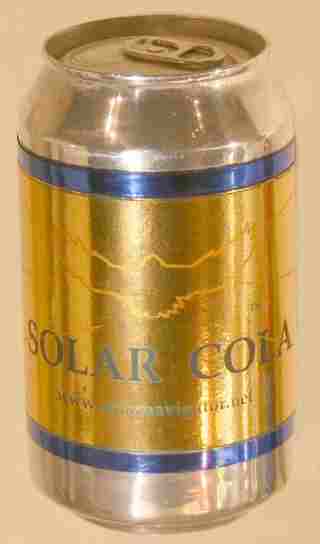 Website sponsored by Solar Cola