The JAPANESE WORLD SOLAR-CAR RALLYE is an international solar vehicle event held annually Prefecture, Japan. It has been developing year by year with many participants from all over the world who are attracted by sun power.
Be one with the Sun
The W.S.R. in Akita Headquarters issues irregularly the Newsletter, "Be one with the sun". This is the digest of the matters that require attention in the competition.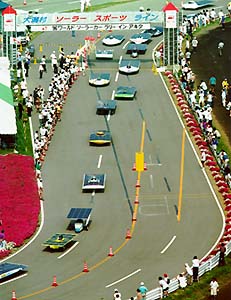 Japanese World Solar Car Rallye
OLD REPORT
PLACE: Ogata-mura Solar Sports Line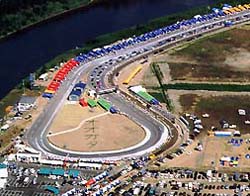 Ogata-mura Solar Sports Line
Ogata-mura Village is located in the northern part of Japan, 600km from Tokyo. It was created 30 years ago by land reclamation from Lake Hachiro-gata which used to be the second largest lake in Japan. The size is 17,000 hectares, and all the land is below sea level. At present, about 3,400 villagers have been making great effort to develop a new style of agricultural society in order to be a model agricultural village.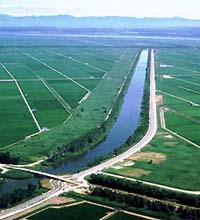 The facility, which was completed in March, 1994, is flat and straight, approximately 31km long and 7m wide and has no intersections with public roads. It is available for various sports training and events. This is the first course officially approved by the International Solar Car Federation (April, 1994).

The 8th WORLD SOLAR-CAR RALLYE
DATE: July 28 - 30, 2000

STYLE: Accumulation of laps in 3 days (about 25 hours)
Japan Intercollege Solar car Championship
PHOTO LIBRARY
The 7th WORLD SOLAR BICYCLE RACE
DATE:July 22, 23, 2000

STYLE: a. Speed Contest; competition of average speed in 200m
b. Marathon; competition of time to cover 3 laps (about 94km)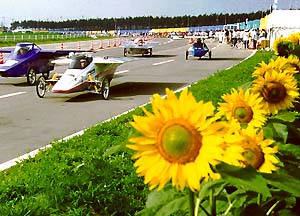 Be one with the Sun
REFERENCE
If you would like the regulations and more information, you might contact us by mail or facsimile on the address below:
W.S.R. Executive Committe
c/o Solar Division
Ogata-mura Yakuba
Chuo Ogata-mura
Akita 010-0494
JAPAN
FAX: 81-185-45-2162
E-mail: wsr@ogata.or.jp
---
LINKS:
WSR in Akita Unofficial FAQ (Tourist information
American Solar Challenge Sunrayce
Related Events and Links Formula Sun Grand Prix Solar BikeRayce USA
---
---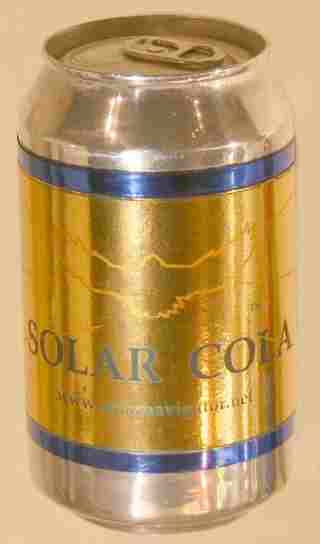 Solar Cola - the healthier alternative