The American Solar Challenge (ASC) is a competition to design, build and rayce solar-powered cars in a cross-country event. In 2005 there will be a special edition of ASC, the 2005 North American Solar Challenge. Teams will compete in a solar vehicle rayce from United States through Canada! To learn more about this, please visit the 2005 North American Solar Challenge page.
American Solar Challenge is a solar car race across North America. Originally called Sunrayce, organized and sponsored by General Motors in 1990, it was renamed American Solar Challenge in 2001, sponsored by the United States Department of Energy and the National Renewable Energy Laboratory. Beginning in 2005, it is now called North American Solar Challenge with the addition of co-sponsor Natural Resources Canada.
It is customarily held once every two years in the summer, though there was a three year gap between the first two races. Teams from universities in the United States and Canada compete in a long distance test of endurance as well as efficiency, driving thousands of miles on regular highways.
The first ever winner was the University of Michigan Solar Car Team's Sunrunner, with an average speed of 24.7 mph over an 1800 mile route.
In 2005, the longest race so far, the route covered 2494.9 miles, taking the teams from Austin, TX, USA to Calgary, Alberta, Canada. Won by the University of Michigan for the fourth time with an average speed of 46.2 mph, the 2005 race was the most hotly contested ever. The University of Minnesota came in second, only 11 minutes and 52 seconds behind after 54 hours of racing. The lead teams often drove 65 mph (the maximum allowed), but were slowed by rain in Kansas, and 20 mph headwinds in Canada.
Classes
Teams in the race are divided into two categories; open and stock.
For the 2005 race:
Open class - Solar cells over $10 USD per watt (higher efficiency)

Stock class - From a pre-approved list of cells that are under $10 per watt
Previous races included different battery technologies into the class definitions.
Past Open Class Winners
Past Stock Class Winners
---
Recent Updates

Online Regs Question Form ASC2005 Kickoff Conference info ASC2003 History with photos, standings, awards, press releases, and more.

Visit a Team Website

South Bank University in London, UK.
HEADQUARTERS
PO Box 30
Freeman, MO 64746
USA
Fax: 816 - 250 - 5430
LINKS TO OTHER SOLAR CAR EVENTS
American Solar Challenge World Solar Rallye - Japan Sunrayce
Related Events and Links Formula Sun Grand Prix Solar BikeRayce USA
---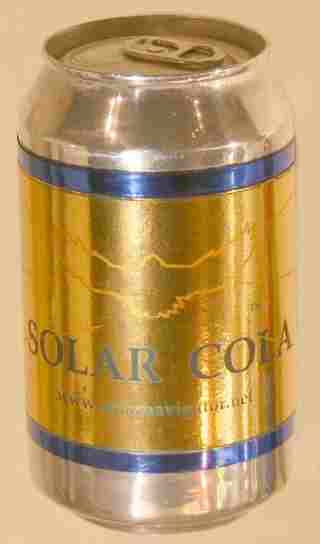 Solar Cola - the healthier alternative
---
---