The Fastest Car powered by Dry Cell Batteries
In 2006, Panasonic and the Tokyo Institute of Technology created the first manned aircraft to be powered by 160 AA 'Oxyride' batteries - a fantastic achievement, but the record category itself is not one that is monitored by Guinness World Records.
It seems this is a record for record's sake and more of a pure advertising stunt, since such a battery pack in a road going electric vehicle would surely be impractical, cost and recycling wise. However, we await further information on this.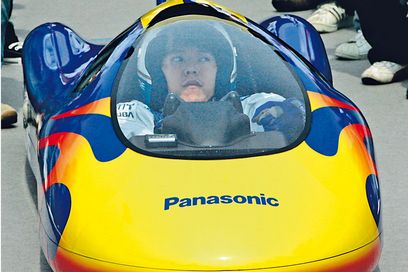 The Panasonic sponsored 'Oxyride Racer'
A year later in 2007 and undeterred by the fact the record would not be official, Panasonic set their sights on a new, world record breaking challenge – this time, to build the world's fastest car powered by dry cell batteries of the AA type used by TV remotes and torches. To do this, they teamed up with students from Osaka Sangyo University to form The Oxyride Speed Challenge Team, and development began on the Oxyride Racer.
Japan's Oxyride racer was a little more power hungry than the average TV remote control, though – it needed 194 cells to hit its top speed of 75mph, and see the picture below of the battery pack.

Driver Takashi Sudo secured his and the car's place in the history books at a test track near Tokyo. With its carbon fibre-reinforced plastic frame, the car weighs just 84lb - not much more than some TV sets. The build was a joint venture between a local electrical firm and Osaka Sangyo University.
'Oxyride Racer' Panasonic battery pack and Takashi Sudo
There hasn't been much good news recently for Panasonic on the automotive battery front with reports of delays to Toyota's plans to use lithium ion batteries in the next-generation Prius. However there was one recent bright spot with this record, when driver Takashi Sudo piloted the tiny Oxyride racer to a record 75 mph.
The Racer measures 3.3 m (10 ft 9 in) long, 78 cm (2 ft 6 in) wide and 56 cm (1 ft 10 in) tall. Its body is nicely shaped from plastic reinforced by carbon fibre - a strong and light composite material, which means the car weighs in at only 38 kg.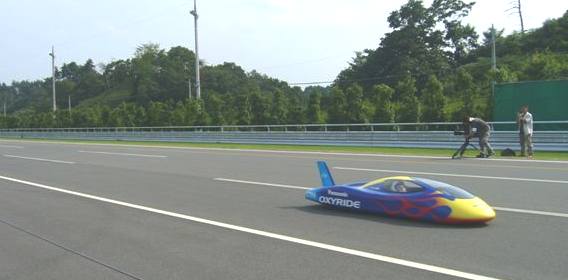 'Oxyride Racer' during timing run
It's tiny, but fast. At a test course in Shirosato town in Ibaraki prefecture (100 km northeast of Tokyo), student Takashi Sudo piloted the Racer to achieved an average speed of 105.95 km/h (65.5 mph) and a maximum speed of 122 km/h (75.8 mph)! And all this, on just 192 AA Oxyride batteries! We wonder if the car could have performed as well on NiMh batteries, such as that used in the current ou0right land speed record car: the Buckeye Bullet, built by students at Ohio State University in the USA. The BB topped an astonishing 300mph in one run.
A contender is waiting in the wings, in the form of the BE3 - Blue Max. This car is said to be capable of exceeding 350mph over the flying mile, in two directions within the required one hour turn-around time. It remains to be seen if the BE3 ever sees the salt in anger, which we understand in down to sponsorship.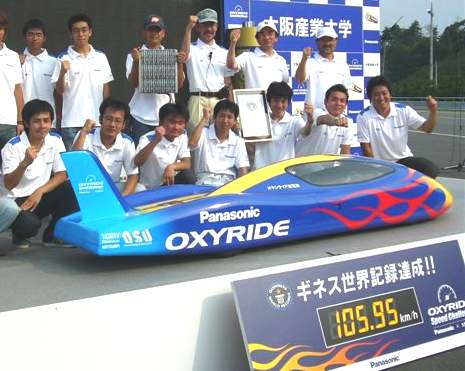 'Oxyride Racer' and the University team
Solar Cola drinkers communicate ......

330ml Earth can - the World in Your Hand