The Brigham Young University set an electric land speed record of 155.799 mph in this superbly built vehicle, in the E1 class, electric streamliner under 500 kg (1100 lbs).
They also have an unofficial pass at over 175 mph which cannot be classed as a record since it was not ratified by a return run average. Nevertheless, quite impressive.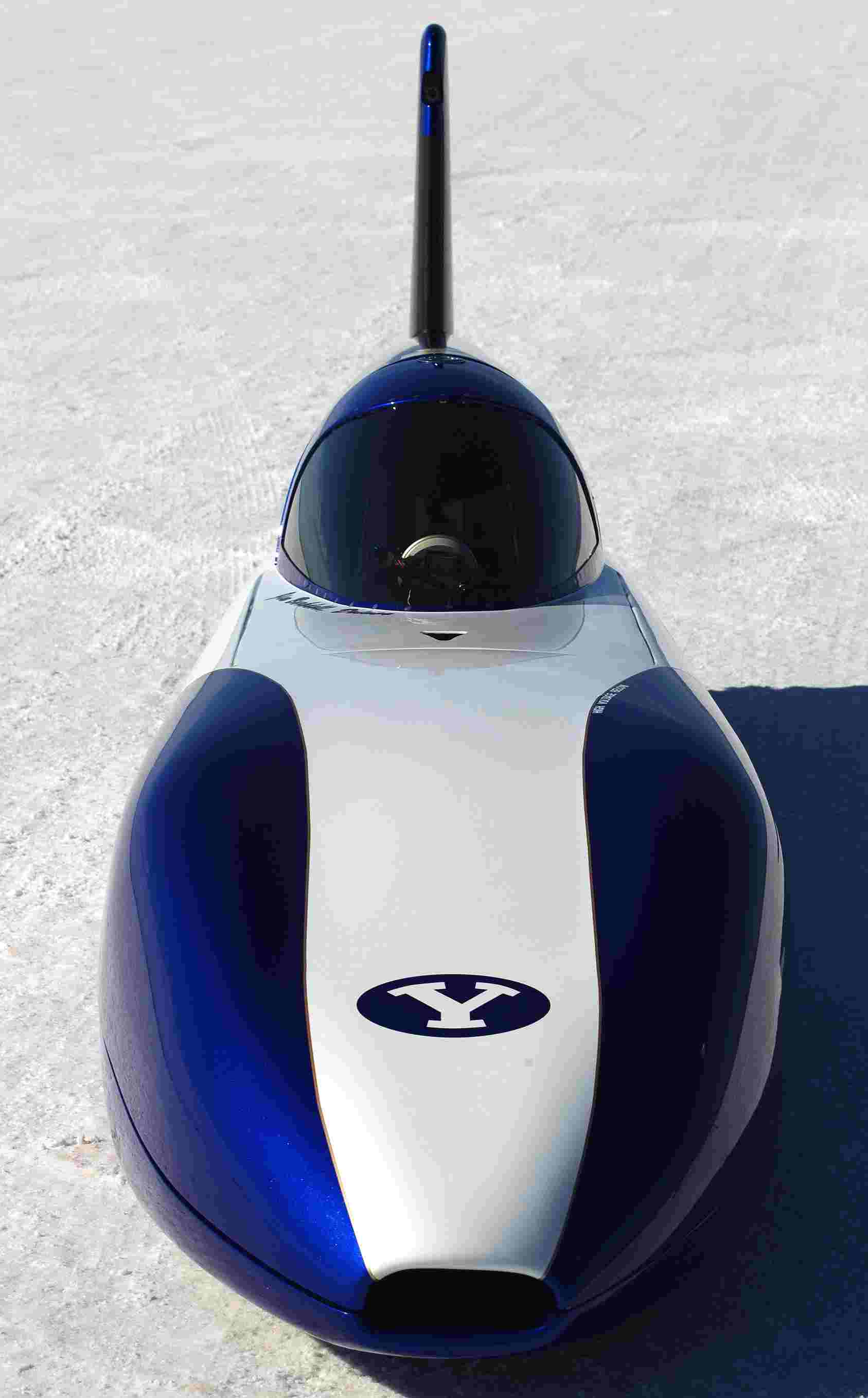 The Electric Blue WLSR vehicle
It took seven years and around 130 students to complete. In August of 2010 the BYU car achieved 139 mph at the Bonneville Salt Flats. Then in a return match the car set its blistering 155 mile per hour record. With more to come it seems. That really is an achievement to be proud of with the car weighing in at under 1,100 lbs.
It hums quietly along the salt, but is faster than a Chevrolet Corvette without any harmful emissions. The eerie silence makes the running all the more impressive. The primary sponsor of this BYU project is: Ira A. Fulton, after whom BYU's College of Engineering and Technology is named.


TERMINOLOGY
Streamliner is the term used in land speed record circles to describe the long aerodynamic shape of a land speed record car. Nearly all speedsters adhere to this formula to reduce drag to a minimum, sacrificing identity somewhat, where LSR cars are beginning to look alike. Indeed, the narrowness is more akin to a motorcycle. You could be forgiven for making that mistake.
Everything, including the wheels are enclosed in the body which is modeled in a wind tunnel to fine tune the shape using a computer. This results in the aircraft like fuselage. Indeed, early streamliners used discarded long range fuel tanks from old aircraft as the basis for their bodies.
The bodywork of the BYG streamliner is made from carbon fiber. The chassis looks to be made of steel, though aluminum would save a few more pounds and yours truly has made that mistake before. The small diameter of the chassis tubing is also an area that could yield improvements.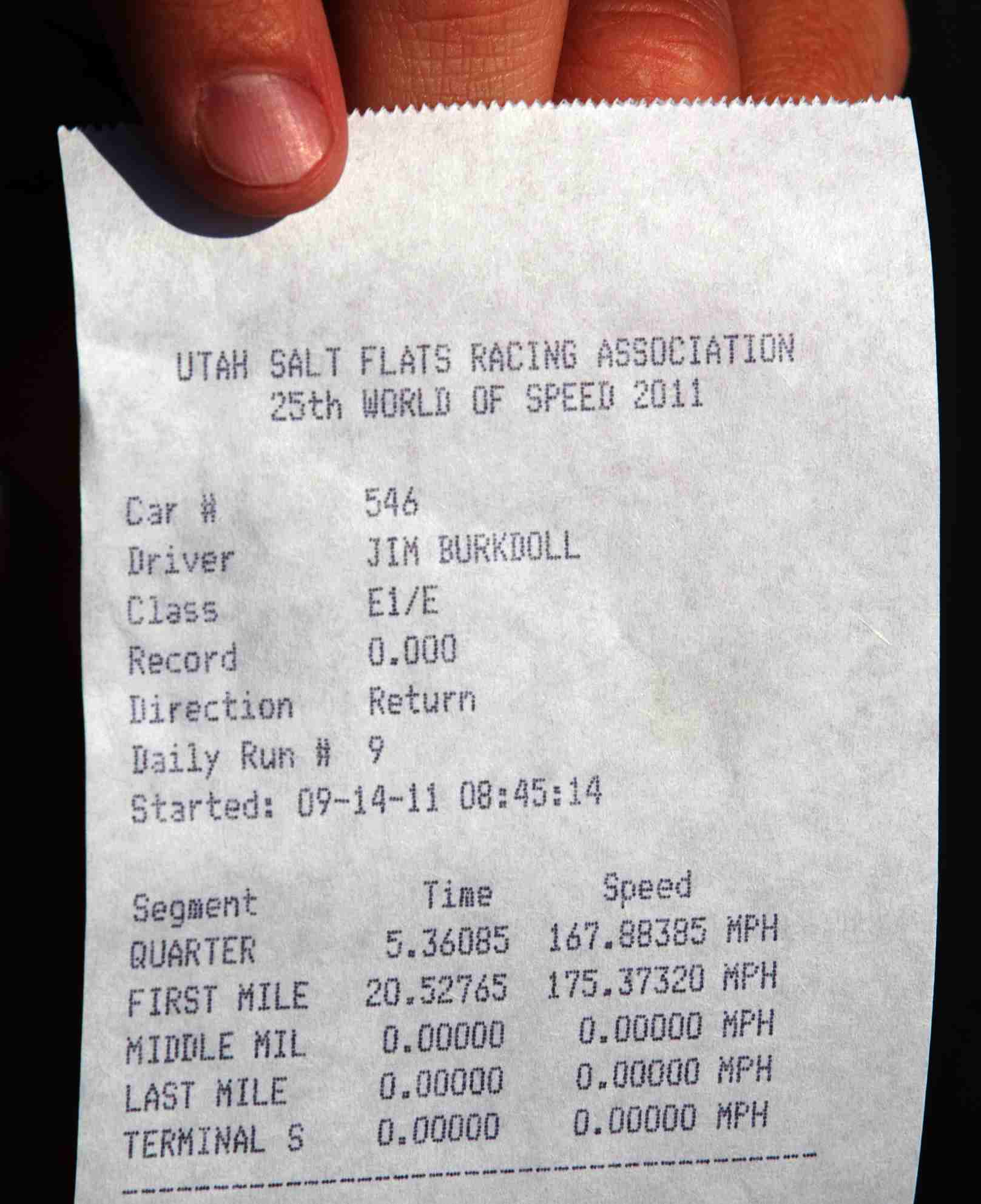 The Electric Blue's winning ticket
POWER SOURCE
The car uses 880 lithium ion phosphate batteries taken from Dewalt power tool battery packs. The car has just one inch of ground clearance and a turning circle of 600 feet. The rear tires are not rubber, but rims of solid aluminum, presumably to save weight if they are not driven.
This compares to around 6-8 inches of ground clearance and a 40 foot turning circle for most production cars using rubber tires on all four wheels. For this reason the BYU car can only run safely at strips like the Bonneville Salt Flats, which is near Wendover in the state of Utah.
A compact computer at the rear of the car is used as a dashboard instrument to display the cars speed, throttle position and voltage via a webpage, that anyone can read who is in computer range.
Senior engineering technology student, Kristin Heuer has been working on the car as part of a capstone course. He is quoted as saying:

"Very few people get the chance to work with carbon fiber projects, especially something this big. It's not something you can do with just a couple people, so it taught me a lot about problem solving and working efficiently as a team. I feel tremendously lucky."
Kristin is one of the 130 or so students, some from outside the engineering college and all unpaid, who gave their time to design and build the car under the lead of mentor Perry Carter.
MENTOR PERRY CARTER
The team mentor, Perry Carter (who has not retired as an associate professor) is quoted as saying:

"Students who study music need to give concerts, students who study dance need to perform, and students who study engineering need to engineer things and compete to see how they work." He continued:
"This is a wonderful closure to 31 years of teaching at BYU and many projects. But this is the one that takes the cake. I'm done."
"Experiential education is a key aspect of every program."
Well said, we couldn't agree more. He continued:

"This car represents thousands of hours of student time, literally thousands," Carter said. "There's a lot of educational value there."
"Many of our students have had good interviews and job placements because of their practical experience here," he said. "I think employers like to see that a student has gone out of his way to do something extracurricular rather than just sit through class and do all of the assignments."
Perry Carter is said to be pleased with his students' unstinting efforts and the opportunities that the experience is sure to open up to them.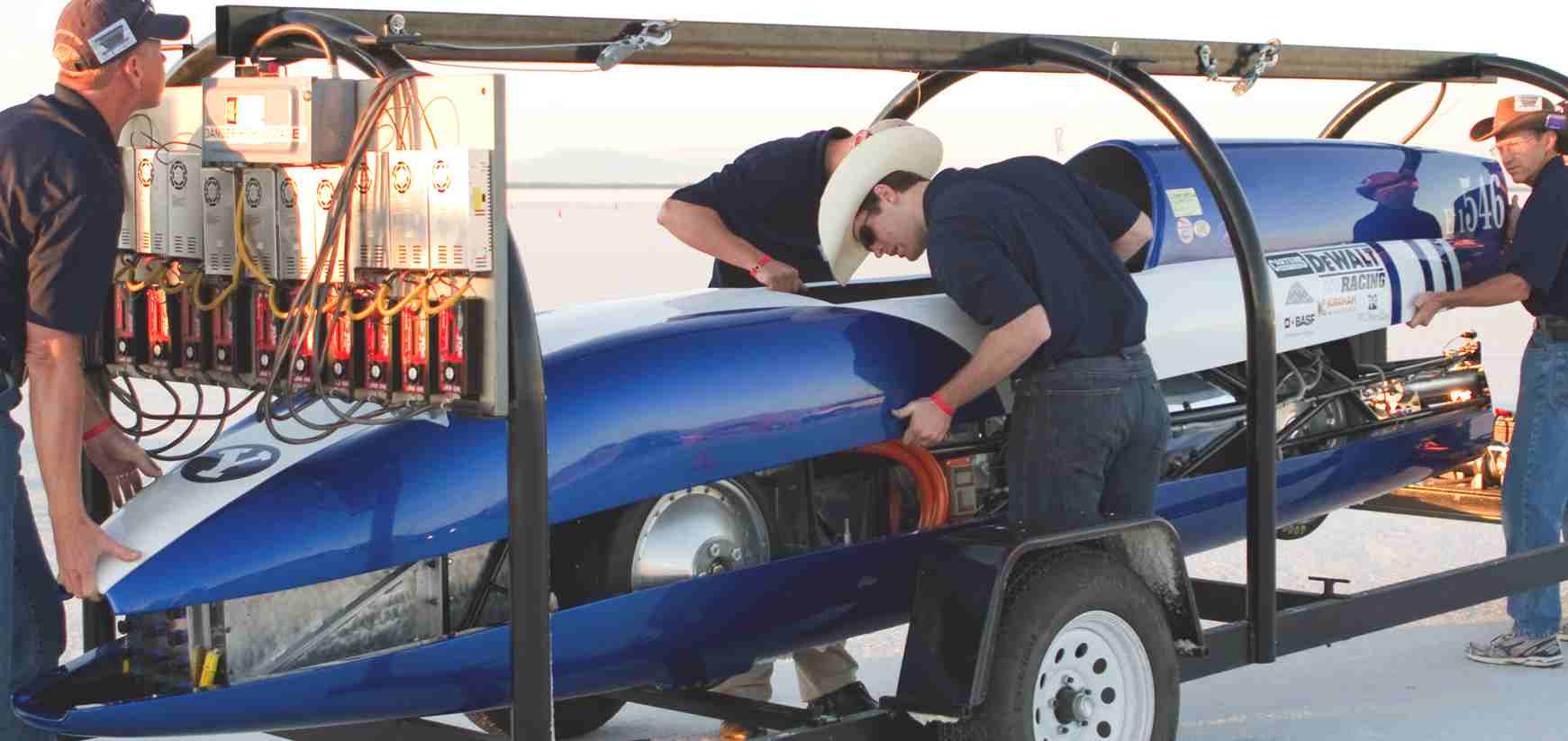 The Electric Blue's transport rig
WORK OPPORTUNITIES

Students who worked on the project have gone on to jobs and internships at Nascar engineering, StyleMark sunglasses and Optimal Solutions Company partly because of their work on the construction, design and computer analysis of the car, respectively.
Roughly half of the students who have worked on the Electric Blue streamliner during the seven last years have been manufacturing engineering technology majors. About 40 percent of these are mechanical engineering majors which speaks for itself, but does not detract from the other disciplines.
THE DRIVER
Jim Burkdoll drove for BYU. He is also the president of the Utah Salt Flats Racing Association. His two record-setting runs were certified by the Southern California Timing Association - Bonneville Nationals, Inc.
He raced the car at Bonneville Speed Week during August 14-20th. Most people know the Speed Week is a weeklong event of racing and world record attempts held annually at the Bonneville Salt Flats. The feature film "The World's Fastest Indian" was filmed at Bonneville, staring Anthony Hopkins. This film really captures the feel of the event and is recommended viewing if you are into land speed racing.
THE RULES

Vehicles attempting to set world records should be designed with the course in mind. Basically, it is a five mile strip giving two miles to accelerate, one mile during which the record speed is measured and another two miles to decelerate.
The BYU car recorded a 139 mph speed in 2010, which was fairly fast. But to qualify as an official world record, a car must achieve the speed on two consecutive days to show it's not a one off. During the run on the second day, the BYU car was traveling at 180 mph when it hit a rut and sustaining too much damage to complete the set. Thus they returned to the Salt Flats this year. Last year Perry Carter is quoted as saying:

"We're disappointed but not discouraged. When we return next year we have a goal of 200 mph. We have just opened the door to a lot more engineering education being derived from this project."
BYU electric LSR September 2011



OTHER QUOTES

Jeffrey Baxter (a mechanical engineering undergrad) helped to build the car as he continued with his MBA at BYU's Marriott School. He is quoted as saying:

"It was my senior project to design the car, so it's great to help make it a reality. It's really about the leadership opportunities: working with the people, working with Dr. Carter, getting a team together and getting everything in line."

"This is like Christmas morning. But like five Christmas mornings – or seven Christmas mornings!"

Jeffrey Baxter completed his BYU MBA in April and left to work for a space exploration company. Baxter is one of many alumni who have gone on to success in their careers after helping develop the streamliner.


ELECTRIC BLUE
The streamliner, named "Electric Blue," competes in the "E1" class for cars weighing less than 1,100 pounds. Battery electric cars rely on heavy batteries for their energy for traction which presents a problem encountered by Camille Jenatzy Camille Jenatzy and the Count Gaston de Chasseloup-Laubat in 1899.
This problem is being tackled by another contender in the Blueplanet Ecostar, a battery electric which features a built in battery cartridge exchange system as part of the conceptual design.
Before the Electric Blue there were no previous certified speed runs in the E1 class, though some unofficial runs reached speeds of 130+ miles per hour. The BYU team completed a qualifying run at 139 mph last year, but failed during the second the car rolled over damaging the car's body. Fortunately, the driver was not injured.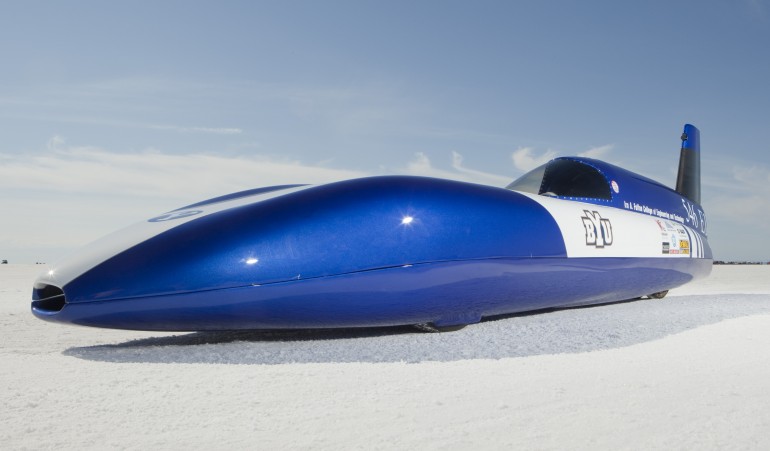 EV LINKS:
BYU Salt Flats Streamliner + EV-1
Porsche 9Electric Slow Salt Flats Debut
Electric Barstool World Record 2009
Electric Barstool World Record 2008
Electric Barstool World Record 2007
Electrathons on the Salt Flats 2008
Electric Dragin 2008
Electrathons on the Salt Flats 2007
Electric Junior Dragster on the Salt Flats 2007
Race 2 the Future, Aug. 18, 2007
UK VEHICLE INSURANCE ONLINE A - Z
The World in Your Hands

The world's fastest electric car: 350mph + using energy from nature.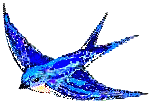 Featuring built in battery cartridge exchange, charged using renewable solar energy. Sponsors sought for the 2016 season.