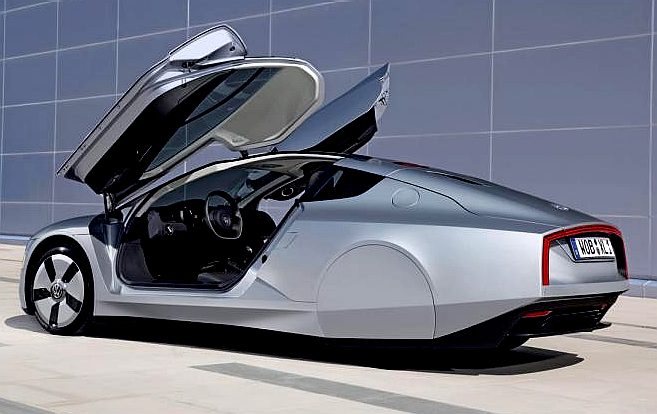 The Volkswagen XL1
The XL1 is the third iteration of the Volkswagen 1-litre car, unveiled at the 2011 Qatar Motor Show. The diesel plug-in hybrid prototype is branded as a "Super Efficient Vehicle" (SEV).
The VW 1-litre car is a two-person concept car designed to be able to travel 100 km on 1 litre of diesel fuel (280 mpg-imp; 240 mpg-US), while being both roadworthy and practical. To achieve such economy, it is produced with lightweight materials, a streamlined body and an engine and transmission designed and tuned for economy. The concept car was modified first in 2009 as the L1 and again in 2011 as the XL1.

According to Volkswagen, the XL1 can achieve a combined fuel consumption of 0.9 litres per 100 kilometres (310 mpg-imp; 260 mpg-US) and CO2 emissions of 24 g/km. Like the L1, the XL1 uses a two-cylinder turbo-diesel. Displacing 800 cm3, it is rated at 35 kW (47 hp) and 121 Nm (89 lb-ft) of torque and transmits power to the rear wheels through a seven-speed DSG transmission. The electric motor pitches in with 20 kW (27 hp) and 100 Nm (74 lb-ft) of torque, and can work in parallel with the diesel or drive the car independent of it. Fully charged, the XL1 can travel up to 35 km (22 mi) on electric power.

The XL1 has a curb weight of 795 kg (1,753 lb), and a drag coefficient (Cd) of 0.186 (a similar drag coefficient to the General Motors EV1 electric car). Frontal area is 1.5 m2 giving a drag area (CdA) of 0.28 m2.

Just 23.2% of the car (184 kg (406 lb)) is made out of either steel or iron; the drive-train weighs 227 kg (500 lb). The XL1's length and width are similar to the Volkswagen Polo, with a length of 3,970 mm (156.3 in) and width of 1,682 mm (66.2 in). However, the car is much lower with a height of only 1,184 mm (46.6 in), and has a coupe-like roofline, reducing interior volume. The design incorporates butterfly doors, with the interior seating layout using a staggered side-by-side arrangement similar to a Smart Fortwo, rather than the previous versions' tandem seating.

Performance credentials include a governed top speed of 158 km/h (98.2 mph), with acceleration to 100 km/h (62.1 mph) in 11.9 seconds.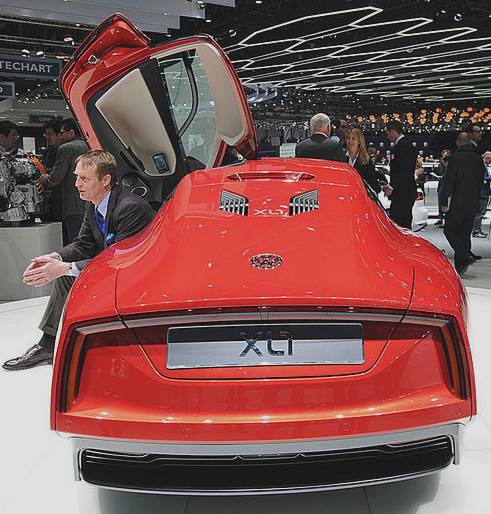 PRODUCTION VERSION

In February 2012, Volkswagen confirmed that it would build a limited series of XL1s starting in 2013. In February 2013, Volkswagen announced that it expected the plug-in hybrid to achieve a fuel economy to be 0.9 l/100 km (260 mpg-US; 310 mpg-imp) and emissions of 21 g/km of CO2. The test cycle allows for a re-charge of the battery every 75 km (47 mi) which results in a high mpg value. Using diesel alone the car is capable of up to 2.0 l/100 km (120 mpg-US; 140 mpg-imp). As with the 2011 concept XL1, it is powered by an 800 cm3 two-cylinder diesel engine with 35 kW (48 PS; 47 bhp) and a 20 kW (27 PS; 27 bhp) electric motor, delivering power to the rear wheels through a seven-speed dual-clutch gearbox. The drag coefficient has increased slightly from 0.186 to 0.189. The production version is expected to deliver an all-electric range of 50 km (31 mi).

The production version of the plug-in diesel-electric hybrid was unveiled at the 2013 Geneva Motor Show. Production began by mid 2013 and it will be limited to 250 units. A total of 50 units had been built by early September 2013, and the remaining 200 XL1s are scheduled to be built in the second quarter of 2014. Pricing starts at €111,000 (~ US$146,000). The XL1 will be available in Europe only. Retail deliveries are scheduled to start in the second quarter of 2014.

Of the 250 units to be produced, 200 will be sold to retail customers. Volkswagen opened a registration process for interested customers that closed on October 18, 2013. Because more than 200 potential buyers registered, a draft will be conducted to select the customers with a purchase option for the available cars. They will be offered a purchase contract and after the payment of a €20,000 (~ US$27,000) deposit, the purchase agreement for a XL1 will be binding.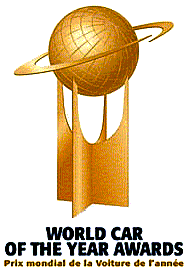 Reception

The Volkswagen XL1 was selected in February 2014 as one of the top three finalists for the 2014 World Green Car of the Year.

LINKS and REFERENCE
http://en.wikipedia.org/wiki/Volkswagen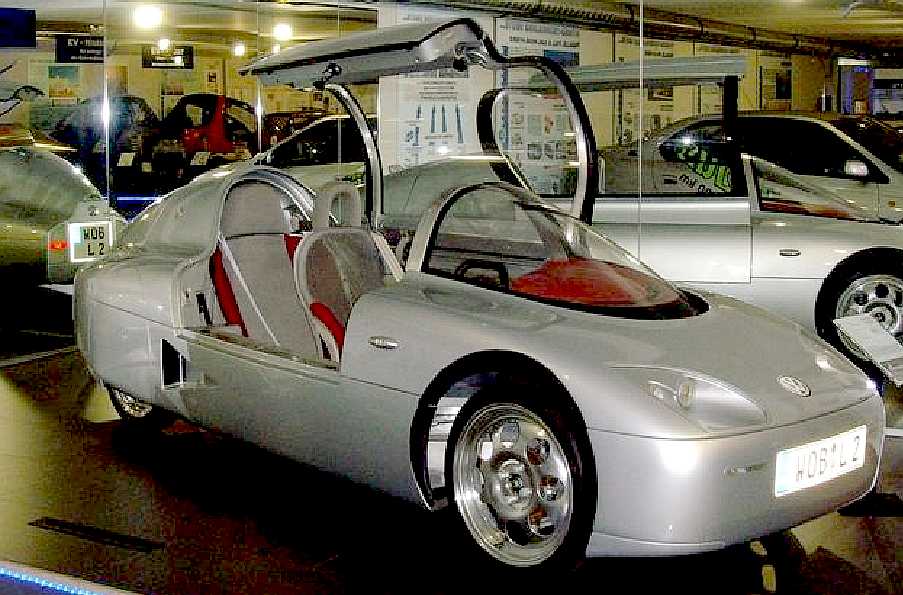 Please click on the links above to find out about these famous automotive makers. If your company is not included and you would like to be listed, please let us know.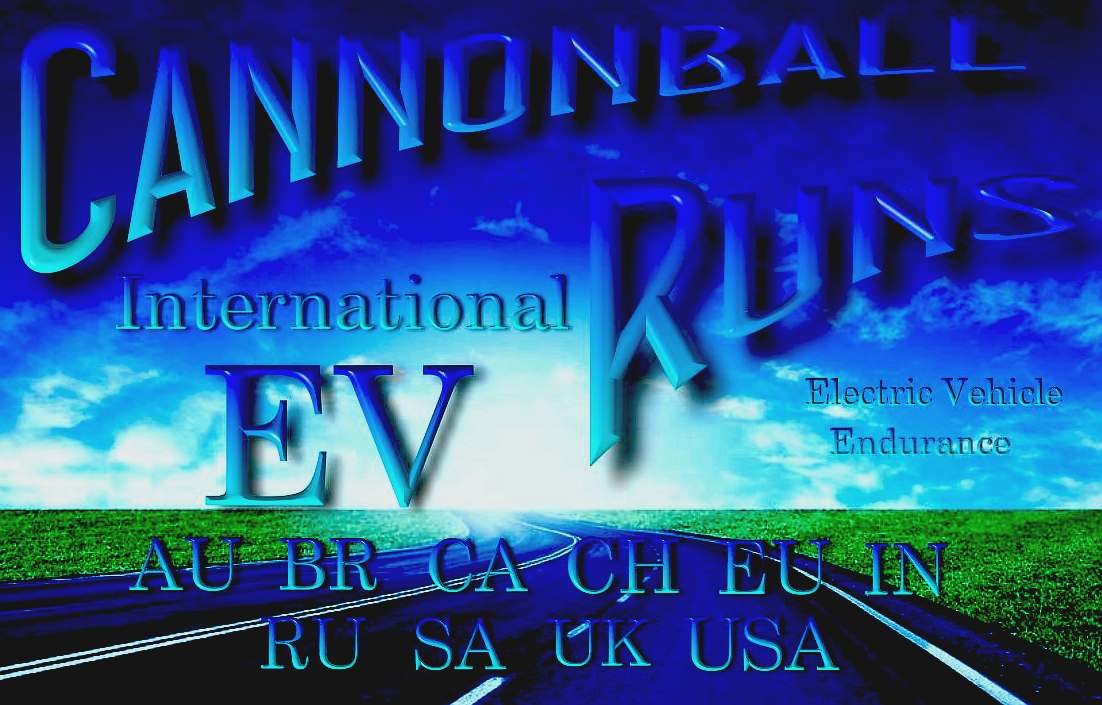 The international cannonball run series rules