The Audi A8 is a full-size luxury car built by the German automaker Audi to replace the V8 model as its flagship offering. First brought to the market in 1994, most versions of the A8 have featured Quattro all-wheel-drive as standard as well as a multitronic or tiptronic automatic transmission. The A8 rivals long-running German competitors, the Mercedes-Benz S-Class and BMW 7 Series, along with the Jaguar XJ8, Lexus LS, and the long wheelbase Volkswagen Phaeton; all are competitors in the same size and price category. Two generations of the A8 have been produced thus far in both short and long wheelbase form.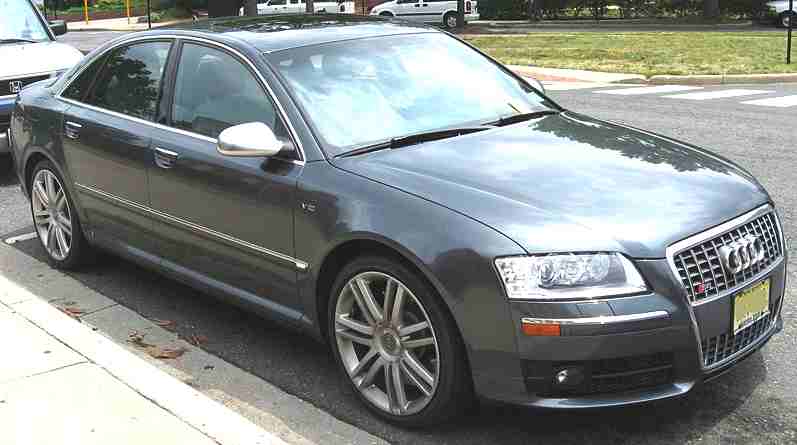 Audi S8 2007 model
First generation (1994-2003)
The A8 debuted in Europe in 1994, although it wasn't until 1997 that it became available in North America. Unlike the V8 model, which was built on an existing steel platform, the A8 debuted on Audi's then-new D2 platform, an all aluminum space frame which helped to significantly reduce weight without being any less rigid. The sedan was offered in both the A8 and the A8L long-wheelbase version. The A8L has 5 inches of additional wheelbase, which are entirely devoted to rear-seat space. In addition to being the world's first car built on an entirely aluminum platform, updates to the car in 1997 included the addition of six interior airbags, making the A8 the first vehicle to be so equipped.
For 1997, the new A8, in addition to being available in short and long wheel base forms, is available with front-wheel drive or all-wheel drive Quattro. The front wheel drive model is powered by a 3.7L V8 producing 230hp while the Quattro receives Audi's 4.2L V8, which produces 300hp. Being a luxury car, the A8 includes all the standard amenities seen in cars of its class like dual-zone climate control, real wood and leather interior, 14-way power and heated seats, and a premium Bose audio system. Audi's flagship received a few tweaks for 1999 with new colors and restructuring of option packages. The warm weather package was now offered with a solar sunroof that would allow the car to turn on the air conditioning or heating without turning on the motor of the car. Changes to all models included a regular sized passenger mirror in lieu of the small one that had been offered on all Audi's previously and a first aid kit located in the rear armrest.
The 2000 model year saw front-end re freshening with new, larger, clear headlights, a revised grill, and lower front valance with standard projection fog lamps. On the interior, the seats received a new, horizontal stitch pattern instead of the many vertical lines. Also, the 3.7 Liter front-wheel drive model was dropped leaving the 4.2 Quattro and 4.2L Quattro to continue on. The main difference between the two models now was the added 5 inches of rear legroom, a navigation system which was available on the 4.2, and heated rear seats.
For 2001, A8 received minimal changes, the biggest being the added SIDEGUARD side curtain airbags. The big news in 2001 came when Audi introduced their new W12 engine, a compact 6.0 L unit developed by mating two 3.0 L VR6 engines together at the crankshaft, similar to the 3.6 L engine from the V8 model which had been created by mating two inline-four cylinder engines at the crankshaft. The engine quickly became available in the A8, although only to European and Asian customers. From its introduction through its discontinuation in 2003, only 750 of the W12 models were produced.
The 2002 model once again saw minimal changes with the anticipation of an all new design that fall. The main changes were in options and features. The A8L was now standard with Xenon headlights and a heated steering wheel. A few new options were added like a tire pressure monitoring system and new exterior colors.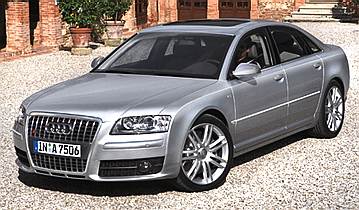 Second generation (2004-current)
A second generation went on sale early in 2003 using Audi's D3 platform. The model was longer than before, with room for four or five adult occupants in the cabin depending on rear seat configuration. Legroom in the rear was more than sufficient for six-footers-plus to stretch out in absolute comfort.
Two body variants of the second generation A8 are offered, the A8 and the A8L long-wheelbase version. The A8L has 5 inches of additional wheelbase, which are entirely devoted to rear-seat space.
Audi restyled the D3 platform A8 range slightly in 2005, endowing all variants with a tall and wide so-called single-frame grille inspired by that of the Nuvolari concept car. The top-of-the-line 12-cylinder W12 version was the first to be equipped with this grille before it was introduced to less potent A8s. Subsequently, all current Audi models down to the Audi A3 have adopted this styling element. In addition to the styling update, new engines became available to European and Asian market customers. The entry-level 3.0 V6 was replaced by a new 3.2 L unit featuring FSI, which it shares with the new A4. More significantly was the introduction of a 4.2 L Diesel V8 engine generating 240 kW (326 PS) of power, the most powerful Diesel engine Audi has ever offered in a passenger automobile. This V8 diesel with turbos still manages to do 40mpg. The engine uses two turbochargers and two intercoolers with each turbocharger functioning exclusively for one set of four cylinders.
Engine variants
Engine

Power

0-100km/h

Displacement

Type

3.0 L (2967 cc)

V6 TDI

171 kW (233 PS)

8.0 s

3.2 L (3123 cc)

V6 FSI

191 kW (260 PS)

8.0 s

4.2 L (4134 cc)

V8 TDI

240 kW (326 PS)

5.9 s

4.2 L (4163 cc)

V8 FSI

257 kW (350 PS)

6.1 s

6.0 L (5998 cc)

W12

331 kW (450 PS)

5.2 s
In most markets outside Europe, only the 4.2 V8 and 6.0 W12 petrol power-plants are available.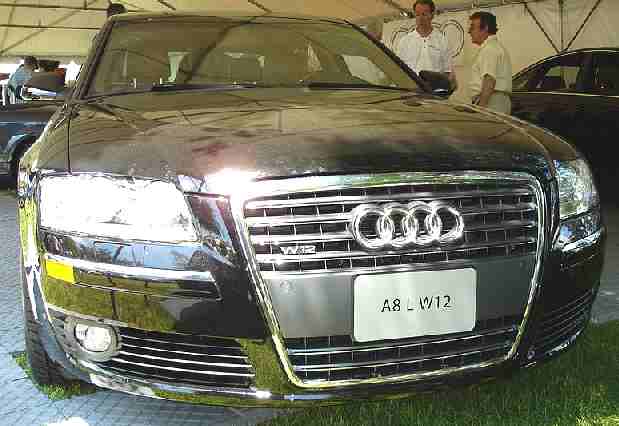 Audi A8 W12 polished alloy show car
Audi S8
In 2001, Audi introduced the S8 variant in the vein of Mercedes-Benz AMG models. Although it shared the standard model's platform, it featured a re-tuned, 360 PS (265 kW) version of the standard V8 engine, a re-tuned suspension with larger wheels and upgraded tires, enlarged brakes and a re-calibrated version of the 5-speed Tiptronic transmission (European-spec. models had a 6-speed manual transmission option); quattro was standard. Production of the first-generation S8 ended in 2003, shortly before the introduction of the D3 platform A8.
In the last quarter of 2005, Audi introduced a new S8, now powered by a 450 PS (331 kW) V10 engine derived from the 5.2 L V10 used in the Lamborghini Gallardo. Much public confusion surrounded this engine choice after Audi's initial announcement because its power output is identical to that of the W12 motor, prompting people to ask why Audi would bother with the development of the V10. Criticism finds Audi once again when a Car and Driver Road Test said they could not "authenticate" Audi's claim that the S8 could do the 0-60 mph scheme in 4.9 seconds, that is only 0.1 seconds faster than the standard BMW 750i and 0.3 seconds faster than the Mercedes Benz S55 they last tested. However, Audi claims that the V10 revs more quickly than the W12, and that its lighter weight helps give the S8 a lower overall curb weight and better weight distribution (the SWB model being 20 kg lighter). Initial reviews from European automotive magazines seem generally positive.
Second generation Audi S8

Production

2006-present

Assembly

Ingolstadt, Germany

Body style(s)

4-door sedan

Layout

All-wheel drive

Platform

Volkswagen D3 platform

Engine(s)

5.2L 450 hp V10

Transmission(s)

6-speed automatic

Wheelbase

115.9 in

Length

199.3 in

Width

74.7 in

Height

56.1 in

Fuel capacity

23.8 US gal.
Audi's factory performance claims for the V10 S8 indicate a 0-100 km/h time of 5.1 seconds. This would put it in a competitive range with the Mercedes-Benz S 63 AMG and the S600 (powered by a twin-turbo V12), the BMW 760Li (powered by a naturally-aspirated 12 cylinder engine) and the company's own A8L W12, although the upcoming version of the Mercedes-Benz S65 AMG will be considerably faster, albeit at a much higher price.
Popular culture
The previous S8 came to popular prominence after the 1998 movie Ronin, starring Robert De Niro, where its dramatic speed combined with its size became a useful plot element, and gained the car much international attention. As Larry (driver, played by Skipp Sudduth in the same movie) put it: "Something very fast...Something that can shovel a bit."
A8 Coupé
In 1997, IVM Automotive of Munich, Germany built a 2-door Audi A8 Coupé. The car was unveiled at the 1997 Geneva Motor Show. Audi hired IVM to build the prototype, and was considering production of the vehicle. The coupé had a re-engineered alloy body shorter than the production A8 sedan. Like the Mercedes-Benz CL-Class, there was no central pillar, giving the car a seamless design with a gradually sloping roofline. The car included custom leather seats and could seat four. Ultimately, Audi decided not to put the coupé into production, citing lower-than-expected sales figures for the similar BMW 8 Series and Mercedes-Benz S-Class Coupé. Only one A8 Coupé was ever built. The single prototype, painted a color called "Ming Blue Pearl," remains the property of IVM Automotive and resides in Munich. Its last public appearance was in 2002 on a series of test drives. As of 2006, there are still no plans for an A8 coupé series.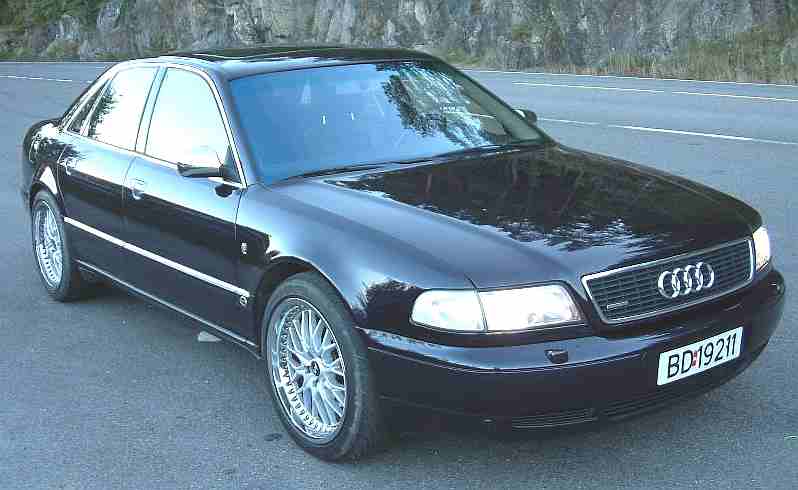 Audi A8 with split rim alloy wheels
There is no conflict between sportiness and common sense in the case of the Audi A8: the luxury saloon brings together quattro four-wheel drive, the light but sturdy Audi Space Frame ASF® aluminium body and adaptive air suspension in a single car. On top of this, there are numerous high-torque, powerful engines to choose from. The A8's design and technology redefine the benchmark in every respect.
LINKS and REFERENCE
---
A - Z DIRECTORY of CARS
Please click on the links above to find out about these famous automotive makers. If your company is not included and you would like to be listed, please let us know.
UK VEHICLE INSURANCE ONLINE A - Z
No matter what car, van or bike you drive, we're all looking for great value and quality in our UK motor insurance? But who is the best - who is the cheapest and who offers the great service in the event of a claim?
See the insurance companies below who claim to offer competitive cover at sensible prices, our guide to the jargon and tips for cutting your quote - Good Luck:-
---
A taste for adventure capitalists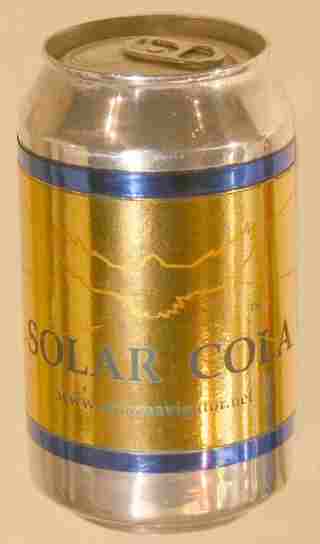 Solar Cola - a healthier alternative