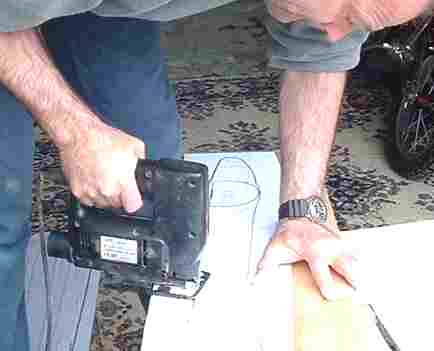 Nelson cutting plywood patterns using an electric jigsaw
To produce our first wind tunnel model of the BE3 we used the tried and tested method of producing models cheaply. Namely: cutting wooden patterns, filling the assembled patterns with foam, then shaping.
The procedure is described and illustrated on the link pages below for persons interested in model making. Unfortunately, if you use this method, a relatively high skill level and many man hours are required to achieve a quality finish.
Steps 1. Mark out your plywood and cut formers
Step 2. Assemble plywood formers
Step 3. Fill formers with foam and shape
Step 4. Coat foam plug with plaster
Step 5. Sand, add detail mouldings and prime
Step 6. Paint finished model
PLEASE NOTE: the BE3 is a registered design (3007044) and design copyright, hence may not be reproduced in model form without the express written permission of the proprietor.