Top Gear is a long-running BBC television series about cars, motorcycles and motorsport. When it started in 1977, it was initially not networked throughout Britain, hosted by BBC anchorwoman Angela Rippon. Early presenters included Noel Edmonds and William Woollard.
Originally a fairly middle-of-the-road magazine show reviewing new car models and other car-related issues, such as road safety, it saw a massive boost in its audience in the early 1990s when it became more controversial, unashamedly petrolhead-oriented programme, fronted by Jeremy Clarkson. Among Clarkson's contemporary presenters were Quentin Willson, a former used car salesman, Tiff Needell, a keen racing driver, and Vicki Butler-Henderson, also a racing driver.
THE battle to have Top Gear scrapped and replaced with a programme promoting sensible driving in sensible vehicles today reached a new level with Transport 2000 writing to BBC2 Controller Roly Keating to seek a meeting to discuss campaigners' concerns.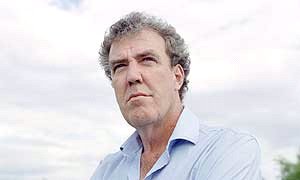 Jeremy Clarkson
In a letter arriving at the BBC today, Director of Transport 2000, said: "As a programme put out by a public service broadcaster, Top Gear should be in the public interest, not just the interest of a small section of the public, and promote responsible motoring. At at time when everyone is talking about how to reduce car use, cut climate change emissions and make the roads safer, Top Gear has become outdated and irresponsible. It is in danger of undoing good work elsewhere towards making the roads safer and reducing the impact of transport on the environment."
While recognising that Top Gear is seen by many of its viewers as entertaining, Transport 2000 argues that it has a number of serious faults that cannot be ignored in the name of 'entertainment':
... It glamorises speed and fails to make the connection between speed and danger on the roads.
... It encourages an obsession with unnecessarily powerful and therefore heavily polluting cars.
... It is in danger of promoting a 'yobbish' attitude on the road and inconsiderate behaviour towards other road users.
... It does not focus enough on 'greener' cars, the need to cut car journeys or the alternatives to car travel.
... Through its recurring 'macho' themes of speed and power, it fails to include the interests of many women in its programmes.
The programme's excesses are well catalogued:
... Following complaints made to the BBC, the programme team had to be sent back to Oxford twice to refilm a piece about the closure of the High Street to through traffic because it failed to present a balanced view of the scheme.
... To test the claims made for a 4x4, the programme really did try to take the vehicle to the top of a mountain in Scotland, through a sensitive peat bog causing substantial ecological damage and encouraging irresponsible off-roading.
... In a race against colleagues using public transport and plane, a presenter drove a Ferrari more or less non-stop from London to Switzerland, regardless of fatigue, and was stopped by police for speeding on the way.
Jeremy Clarkson - Burns the Planet
A presenter deliberately drove a vehicle into a mature tree in a car park in Somerset to test the strength of the vehicle in a crash. The programme ended up apologising and paying compensation to the local parish council for the damage caused.
Transport 2000 would like to see Top Gear taken off the BBC schedules and replaced with a new programme devoted to encouraging responsible motoring based on less environmentally damaging cars, considerate and safety-conscious driving, and exploration of alternatives to the car.
Stephen Joseph said: "It should be perfectly possible to make a responsible programme on motoring that's entertaining or even funny. A new-look 'Third Gear' programme could even still include Jeremy Clarkson but let's see a softer, more caring Jeremy, one who's willing to slow down for old ladies crossing the road and perhaps even stop to help a cyclist mend a puncture."
For further information or interviews contact Steve Hounsham in the Transport 2000 press office on 020 7613 0743 extn 106 or 07984 773468.
It just goes to show how little publicity this Transport 2000 campaign has been given by our ICE-fundamentalist "corporate service" BBC and our ICE-devoted media in general.
( ICE="Internal Combustion Engine" )
Note the ever more ferocious 2-fingered salute from the BBC who have now allocated TWO hours of family primetime (7 pm) TV to Top Gear every week.

This is uniquely bullish, defiant child-targeted pro-ICE propaganda (get 'em hooked young when they're sitting on the sofa bonding with ICE-addicted dad...).
No other programme in the BBC TV schedule gets to be repeated primetime on the BBC's main terrestrial channels. Let alone a one hour programme. Even the Jonathan Ross show is only repeated on BBC3 digital - and at 10 pm.
And in the name of fair and balanced "equal time" public service TV - when will our corporately embedded BBC finally relent and provide viewers with a TV programme devoted to the environment - to all aspects of eco-innovation and green technology in the UK and around the world? And for TWO hours a week please - family prime time!! EVUK has of course written to the BBC many times on this - we've even given them (with no consultation fee...) a programme title to run with : "Action Planet" - and have contacted three household name TV production companies who'd love to produce it!
Top Gear, please note, is not a motoring programme - it is an ICE programme, a show for ICE-fundamentalists that exists to defend the Internal Combustion Engine on behalf of corporate (Oil/ICE) vested interests, the government (specifically the Treasury) and male (or at least would- be "masculine") crank 'n' piston addicts.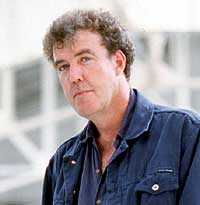 Jeremy Clarkson - Anti Environment?

And on behalf of the rest of the ICE/ oil / fossil-fuel food-chain. When has the programme ever taken the carmakers to task for dragging their feet and failing to move to ZEV / EV technology as promised for so many years? Top Gear presenters - and motoring journalists in general - love to paint themselves as the cardriver's champion and best friend - so why are they not challenging carmakers and pressuring them into at last producing ultra-high fuel-efficient plug-in (able) hybrids - not to mention extremely cheap-to-run pure battery EV's?

When have they ever used their considerable power to pressure carmakers into delivering ZEV alternatives?

Never! The ICE is almost a religion to these people. They are ICE- fanatics, technological and environmental muttheads - and immensely proud of it! And these people populate the media and call the shots at our increasingly corporately correct BBC (BBC TV especially).
You see, the BBC love to defend Top Gear by saying (quote):
"The BBC can't be politically correct in all its programming".
(Yes, that's also one of ultra right-wing Fox News' favourite put-down phrases - ie. invoking over-zealous "political correctness"...)

You might therefore like to ask our corporately correct BBC why there is no show called "Top Burger" or "Top Fag" or "Top Booze".
After all, millions of people enjoy these politically incorrect products (burgers, fags,booze) every day - products which, what's more - unlike petrol and diesel engines - only pose a threat to human health.

Yet it is the Internal Combustion Engine - which threatens both human health AND the health of the planet - that is allocated TWO hours of "public service" family (-indoctrination) prime TV time every week.

Why the execrable double standards from the BBC? Why do the public and consumer groups let them get away with it?

Where is the equivalent "amusingly" politically incorrect, in yer face..er.."public service" programming for burger, cigarette and booze fans? (Come on BBC - we can't be politically correct all the b***dy time, now can we...hmm?)
As we've said before, Top Gear is where the BBC wears its heart on its sleeve.
The BBC is (ostensibly) a "public service" TV company that scrapped Tomorrow's World (a show focused on innovation and the future...) and has subsequently quadrupled the weekly air-time given over to Top Gear and shifted it to peak family primetime.
And Top Gear is a programme that is now deliberately using B-list celebs as part of its relentless ICE-mindset reinforcement armoury and has also regularly invited clerics/vicars into the studio as audience members to tell us(on a Sunday...) that (quote) "the petrol engine shows us man's god-given ingenuity and inventiveness".
And this is a programme that took three climate-killer "supercars" into two primary school playgrounds(Gigmill Primnary and Ridgehill Primary, Stourbridge, W.Midlands) and commented in the subsequent Top Gear report about it that, when they did so, the(quote) "kids were incredibly excited..which just goes to prove that when kids see cars like this they don't go on about the environment all the time as some people would have us believe."
And this supercars-in-the-playground edition by the way was aired in the week(Nov 2002) of the massive Prestige oil spill off the coast of N.East Spain/S.West France.
We of course asked the BBC and Top Gear why they didn't take some schoolchildren instead to look at some dead and dying oil-drenched birds in S.W. France...then show them the stunningly fast, long-range, highly energy-efficient all-electric TZero sports' car being recharged from renewable energy - and thus teach the kids(and the adults) the sort of lesson they should - urgently - be learning.
Contact Top Gear: top.gear@bbc.co.uk or BBC complaints/feedback at: www.bbc.co.uk/complaints , pov@bbc.co.uk, feedback@bbc.co.uk, youandyours@bbc.co.uk, info@bbc.co.uk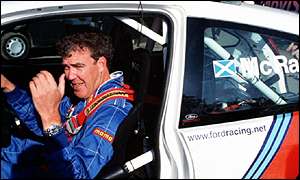 Jez likes fast cars
Despite enduring criticism that the show is overly macho, encourages irresponsible driving behaviour, and ignores the environment, under Clarkson's presentation it pulled in huge audiences. It became hugely influential with the motor manufacturers, since a critical word from the Top Gear team can spell disaster in the sales department; this was most memorable in the case of the Ford Ka, whose sales plummeted when Clarkson declared that "it looks like a frog". However, even more critical statements have not affected sales of the Toyota Corolla; and praise did not help the Alpine Renault A610.
Every year since the early 1990s, the team has named and shamed the worst (and the best) of the year's new cars in the J. D. Power Top 100 survey.
Top Gear has used the Allman Brothers Band instrumental hit "Jessica" as its theme tune for many years, so much so that many viewers are unaware that the track exists as a separate entity from the show. Originally the show used part of the original recording of the song, although in recent years (and as of the previous series in 2004) it has used a different recording which has different instruments and is not performed by the original artists.
After Clarkson left to pursue other aspects of his TV career, the show became more toned down, but still retaining something of its influence. The show's format has been widely imitated since the huge success of the mid-1990s, for example by Channel 4's Driven show, and ITV's Pulling Power. However, without Clarkson its audience fell from six million to under three million. In 2002, the show's remaining presenters moved to Channel Five with a virtually identical show called 5th Gear when the BBC decided to discontinue the show.
Top Gear revived
After a period of doing other programmes, Clarkson and producer Andy Wilman pitched a new format for Top Gear to the BBC, who consequently brought it back. Two new presenters were introduced, Richard Hammond and Jason Dawe, before James May replaced Dawe after the first series. The credits also mention The Stig as a presenter, although he never speaks a word.
The new format show, made at Dunsfold Park in Surrey, involves a standing studio audience with whom the presenters interact and with whom Clarkson often good-naturedly argues. There is also a "chat show"-type segment where Jeremy talks to a different guest each week and the video of their on-track performance in a Suzuki Liana is viewed (the subsegment being entitled 'Star in a Reasonably Priced Car'). The show is famed for its outrageous races, for example Clarkson racing the TGV train against Hammond and May from Surrey to Monte Carlo in an Aston Martin DB9, racing a plane from Surrey to Verbier in a Ferrari 612 Scaglietti, racing a boat from Surrey to Oslo in a Mercedes-Benz SLR McLaren.
A trait exhibited by Top Gear producers is an apparently pathological hatred for caravans. Various stunts have seen caravans destroyed by using them as conkers while suspended from cranes, dropping one onto a Toyota Hi-Lux diesel light utility to prove the truck's indestructibility and towing one example to aerodynamically induced structural failure using a high powered Jaguar saloon car. Though many of these "tests" are often pointless and silly, they are marvelously entertaining to the audience.
The sixth series of Top Gear began on May 22, 2005. Due to the good viewing figures of the new format show, it also seems to have been awarded an increased budget as there are several expensive experiments and trips into Europe and to America. In July 2005 the Discovery Channel (America) started showing a version of the relaunched show using the original location reports/reviews intercut with new linking sequences by the British presenters.

Star in a Reasonably Priced Car
This is a section in the show where a celebrity guest does a lap of the Top Gear track in a Suzuki Liana. Currently, the top three celebrity laps are:
Comedian and TV presenter Jimmy Carr with 1:46.9s

Music expert and TV presenter Simon Cowell with 1:47.1s

Snooker player Ronnie O'Sullivan with 1:47.3s
The two slowest laps are held by the late TV presenter Richard Whiteley with 2:06.0s and Broadcaster Terry Wogan with 2:04s. They were later humourously beaten by a completely blind man Billy Baxtor with a time of 2:02s. In June 2005, previous Formula 1 racing driver Damon Hill took the lead with a time of 1:46.3s, but his time was recorded separately from other celebrities since he was a former F1 driver, and there is now a separate board for such drivers.
POWER LAPS
The top ten power laps, or laps where a car is driven round the track by the Stig are held by:
Maserati MC12 with 1:18.9s

Ferrari Enzo with 1:19.0s

Ariel Atom with 1:19.5s

Porsche Carrera GT with 1:19.8s

Mercedes-Benz SLR McLaren with 1:20.9s

Ford GT with 1:21.9s

Ferrari 360 Challenge Stradale and the Porsche Carrera GT3 RS, both with 1:22.3s

Ferrari 430 with 1:22.9s

Lamborghini Murcielago with 1:23.7s
HIGHLIGHTS
2002
October - A motorcyclist caught speeding at 137mph has been banned in the week Top Gear presenter Jeremy Clarkson encouraged motorists to have fun on Welsh roads. Ross Curwell was banned by Flintshire magistrates from driving for a year after admitting dangerous driving on a road at Treuddyn between Mold and Corwen, in north Wales. The 38-year-old hairdresser was caught during North Wales Police's Arrive Alive campaign last July. North Wales Police have denied that since Clarkson's gaffe on the programme - heard by millions of viewers - there has been a clampdown on motorists.
2003
In May 2003, Richard used a drag racer with a rocket engine to blow up the car he considered to be the worst of all time, the Nissan Sunny. At the end of the show he also used the racer to blow up a caravan.
Jeremy tested the Koenigsegg which, with a top speed of 245mph is the world's fastest production car. He couldn't resist a speed run on the test track. The record was 170mph set by the Pagani Zonda. This was smashed, with the Koenigsegg managing 174mph. Jeremy later commented how he felt nervous before the run because engineers from Koenigsegg had asked him if they could put tape around the windscreen. Jeremy thought that the tape was to keep the windscreen from flying off.
The team visited the Isle of Man to test four BMW sportscars, the M1, M3, M5 and M3 CSL.
2004
2005
The first episode of series 6, Jeremy tested the new Mercedes CLS AMG, Richard and James played football using the new Toyota Aygo and Jeremy took up the gauntlet to see whether a Challenger 2 tank could lock its main cannon onto a Range Rover Sport.
In the second episode of series 6, Jeremy tested the Maserati MC12, which costs a staggering £412,000. The team also decided to buy a 2-door coupe each for less than £1,500 that wasn't a Porsche (mirroring a competition they had last series where they had to spend £1,500 to buy a Porsche). They were then set a series of challenges to see which had got the best deal, scoring points for each challenge. The winner turned out to be James, with a Jaguar XJS. Richard bought a BMW 635CSi, while Jeremy went for a Mitsubishi Starion.
Car of the Year
Every year, the show presents a "Car of the Year" for the best new car in that year. Winners have included:
2001: Ford Mondeo

2003: Ford Focus RS

2004: Aston Martin DB9

2005: VW Golf GTI
External links
BBC TOP GEAR HOME | NEWS | FEATURES | TIME TO BURN | WIN STUFF | BUY GUIDE
UK VEHICLE INSURANCE ONLINE A - Z
No matter what car, van or bike you drive, we're all looking for great value and quality in our UK motor insurance? But who is the best - who is the cheapest and who offers the great service in the event of a claim?
See the insurance companies below who claim to offer competitive cover at sensible prices, our guide to the jargon and tips for cutting your quote - Good Luck:-
A - Z OF MOTOR MANUFACTURERS