Lighting Rod was the first Electric car to set records over 200 mph (October 15, 1997). Both BNI and FIA records were set in three passes on that day, the best speed being 215.3 mph.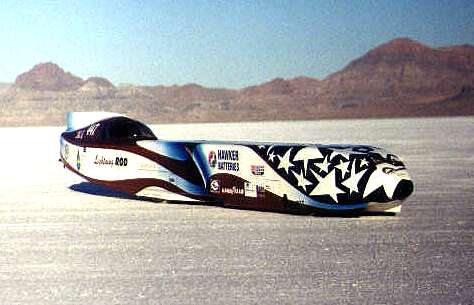 Lightning Rod - Photo courtesy Eric Luebben
Ed Rannberg of Eyeball Engineering and Lloyd Healey of Healey Motorsports have some things in common.
One: They have both exceeded 200 MPH in EV's.

Two: They are competing against each other.
Ed is very much aware of his competitor's battles with illness, having been through some rough times himself. After the Spirit of San Antonio II set its top speed record (one-way) of 206.516, Ed told Healey, "I'm really glad you broke 200. I was waiting in the wings, but I wanted you to be first."
Nevertheless Ed came on hard with a speed of 201.703 on the exit clock. The timers showed that Lightning Rod was still accelerating as it came out of the fifth mile. Ed Rannberg and Lloyd Healey have triumphed -- CB
Please click on the links above to find out about these famous automotive makers. If your company is not included and you would like to be listed, please let us know.
UK VEHICLE INSURANCE ONLINE A - Z
No matter what car, van or bike you drive, we're all looking for great value and quality in our UK motor insurance? But who is the best - who is the cheapest and who offers the great service in the event of a claim?
See the insurance companies below who claim to offer competitive cover at sensible prices, our guide to the jargon and tips for cutting your quote - Good Luck:-
A taste for adventure capitalists

The world's fastest electric car: 350mph + using energy from nature. Featuring built in battery cartridge exchange, charged using renewable solar energy. Sponsors sought for the 2016 season.