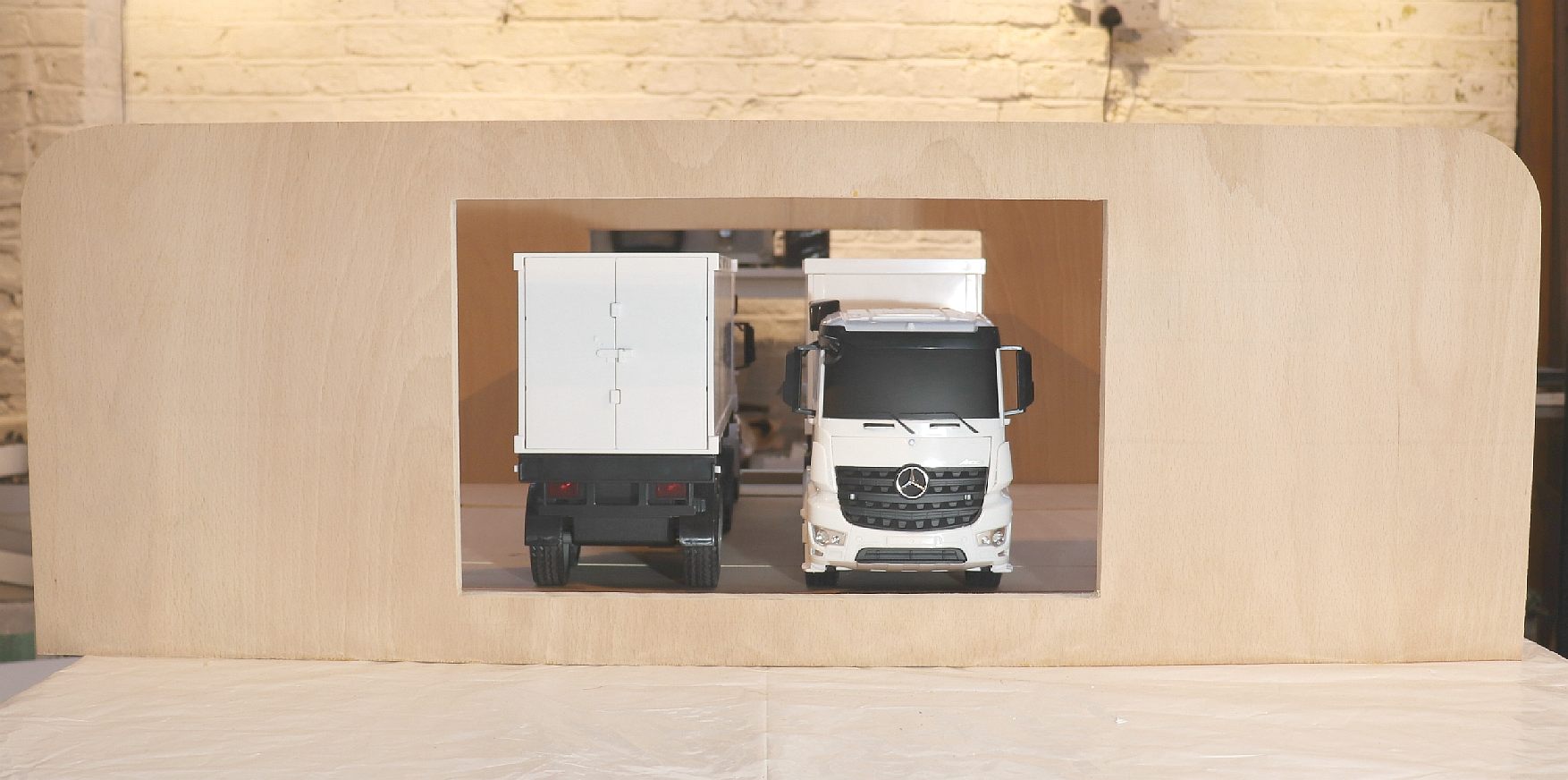 1:20 SCALE MODEL - April 6 2020, a model of a service station that can refuel buses, truck and cars is under construction in workshops in Sussex, England. Seen here are two 1:20 scale Mercedes articulated container trucks inside. The makers are using plywood for the model of the building and some of the working parts - that cannot be shown due to patent law prohibiting prior publication. The Automated & Electric Vehicle Act 2018, makes it law in England that provision must be made for charging and refuelling of electric vehicles at service stops. This system would more accurately be described as a refuelling point - since the energy exchanges for trucks and cars are virtually instant. The full size building can be a quarter this size for city locations where space is limited. But for load levelling purposes, the larger the capacity of stored electricity, the more efficient the grid. Copyright photograph © 6 April 2020, Cleaner Ocean Foundation.
Commercial long-haul trucks use a lot of energy to transport goods by road from docks and factories to warehouse distribution centers, supermarkets, car, van and other dealers like builders merchants. Just about everything gets to you by road, with trucks doing most of the work.
In short, we all rely on HGVs, but most people never give them a second thought as to the diesel they consume and the particulates they pump into the atmosphere that cause lung cancer and global warming.
All that can change with the advent of hydrogen and battery service stations, as per the Automated and Electric Vehicles Act 2018, where it is a requirement to provide service stations for EVs, to include hydrogen refuelling.
MODEL
Before we proceed to a full size demonstration prototype service station, we are making a 1/20th scale model to work out as many of the design kinks as we can.
Work on this model has to fit in with our development timetable and is subject to funding. Hence, applications for funding and networking to build consortiums, consisting of like minded visionaries, take precedence - along with design of the Universal Energy Cartridges.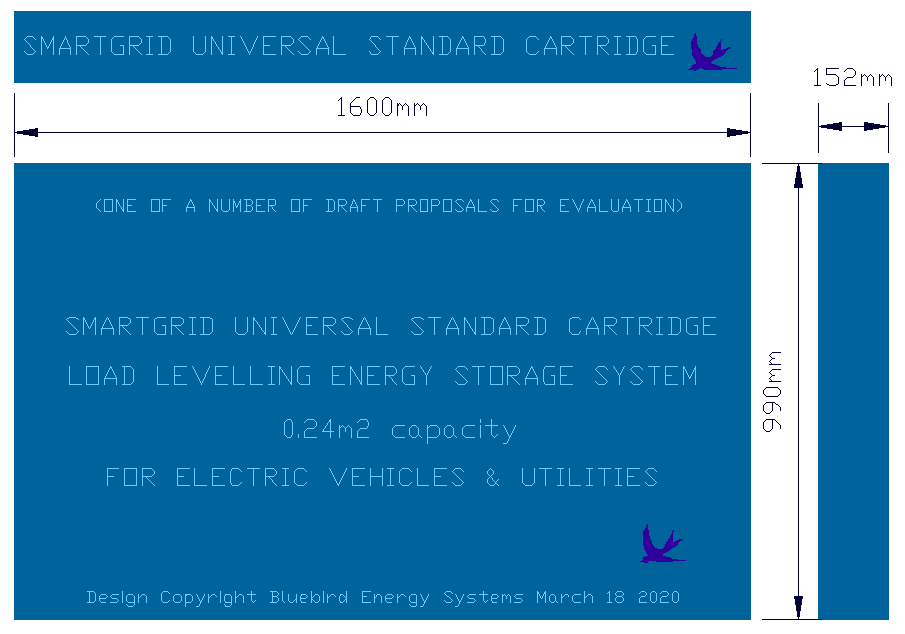 UNIVERSAL CARTRIDGE FORMAT PROPOSAL - This cartridge format provides 0.24 of a meter cubic capacity. All of these formats can be used in multiples to provide up to 1.92 of a cubic meter capacity. This is one of a number of sizes that we will be evaluating as part of a study we hope to obtain funding for - to define a universal format or international standard.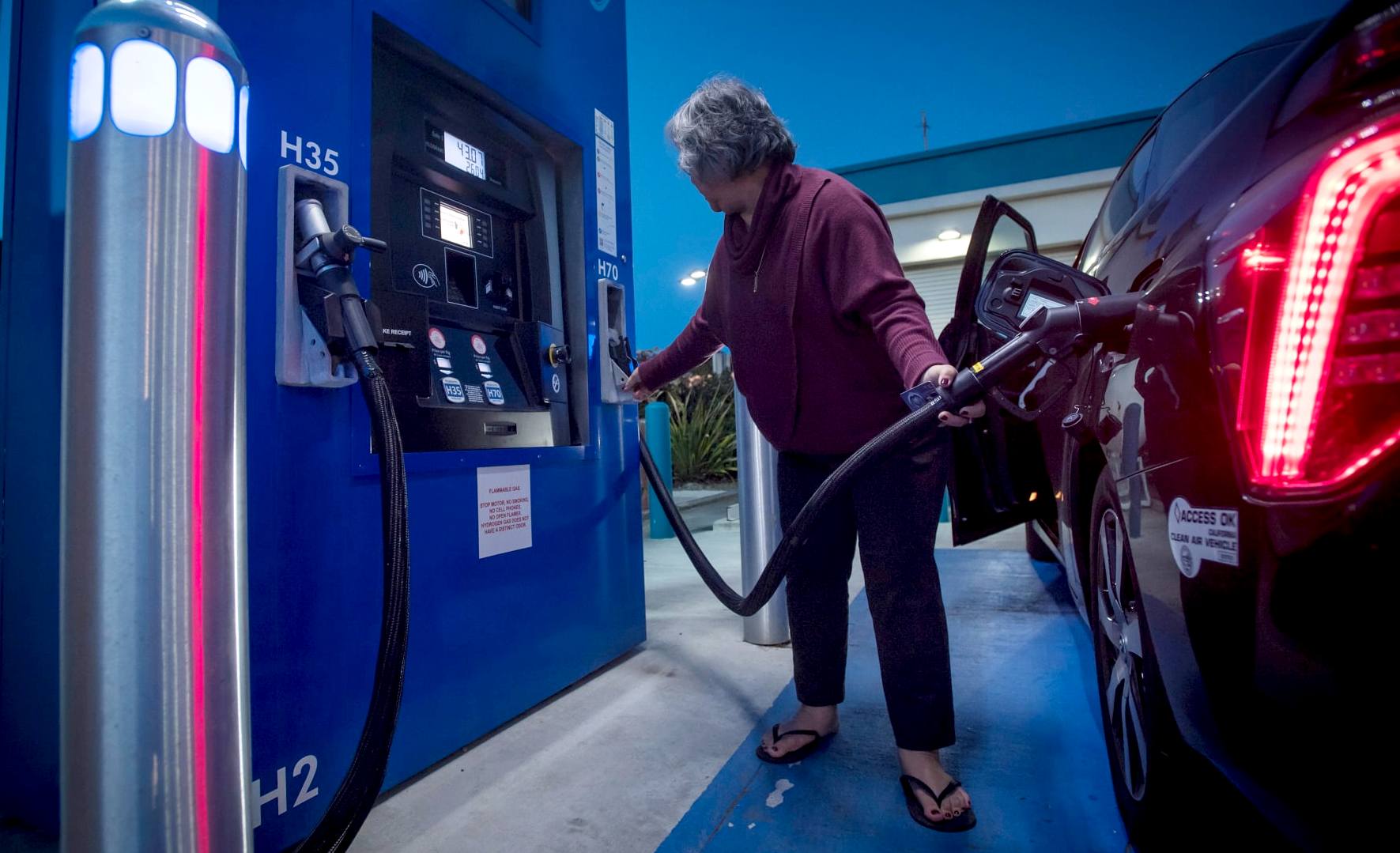 FILLING STATION - There is nothing wrong with this scenario except that it means dedicated hydrogen service stations and dedicated hydrogen powered electric vehicles - with no chance of changing technology, to and from batteries, as technology develops. The buying public is therefore at risk of losing their investment, as if they were putting all their eggs in one basket, when there is no need for that.