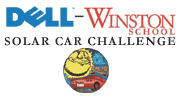 The closed-track event will be held at the world-famous Texas Motor Speedway over the course of four days. The main scrutineering event and vehicle impound will be held in one of the garage areas. During the event, teams will be assigned a space along pit lane.
For track information, please visit the Texas Motor Speedway web site.
For specific dates, please see the Event Calendar.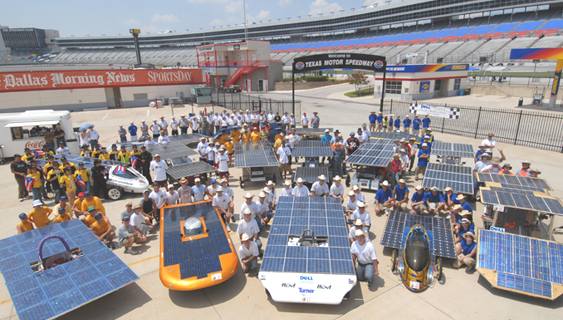 Texas Motor Speedway - contestant group photo - well done everyone
2006 Race Results - Texas Motor Speedway
Overall Standings
Rank

Team

Total Laps

Distance (mi)

CLASSIC DIVISION

1

399

598.5

2

245

367.5

3

227

340.5

4

225

337.5

5

197

295.5

6

179

268.5

7

175

262.5

8

154

231.0

9

99

148.5

10

97

145.5

11

1

1.5

OPEN DIVISION

1

416

624.0

2

206

309.0

3

158

237.0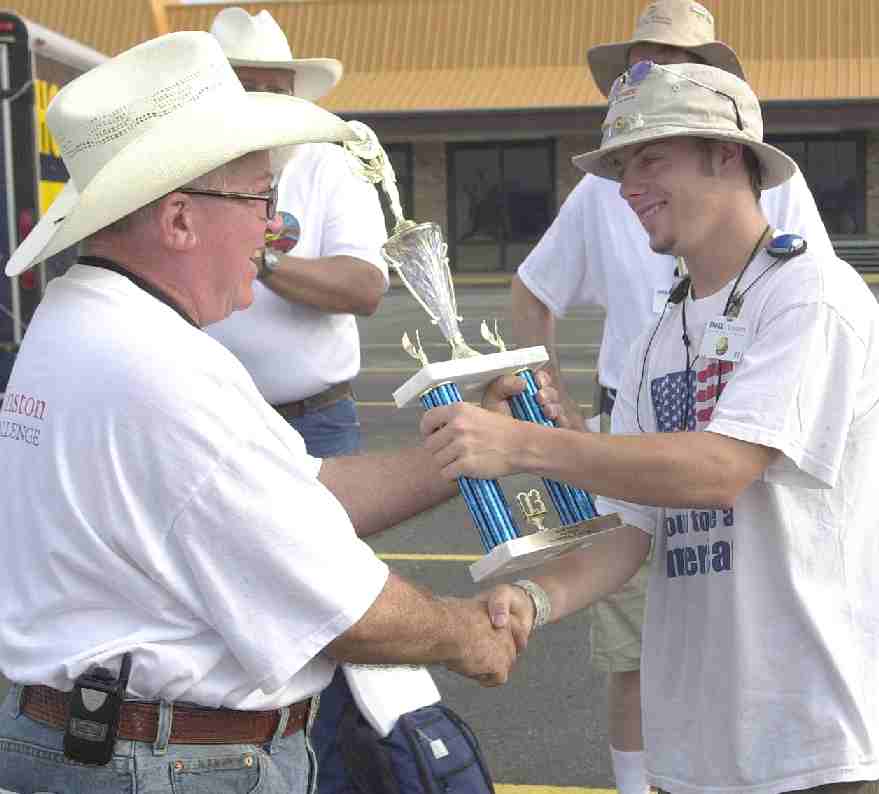 Dell Winston Challenge Trophy
LINKS
Event Information
Technical Documents
Registration

Due on March 1 of each racing year, this form registers your team's intent to race in the Dell-Winston School Solar Car Challenge. This allows the race staff to send important announcements directly to team members.

Due on April 1 of each racing year, this form officially registers your team for racing in the Dell-Winston School Solar Car Challenge. This form also requires technical documents about your car for review by the race staff and includes details about the team for inclusion in the Race Booklet.


Please print this form and send it to:
Dr. Lehman Marks
The Winston School
5707 Royal Lane
Dallas, TX 75229
Scrutineering
Sample Scrutineering Check Sheets
These forms are provided to teams so that they can preview the types of questions asked at the six Scrutineering stations. This allows the teams to prepare for the rigors of the scrutineering process.
SPONSORS
Dell Inc. (NASDAQ: DELL) is a premier provider of products and services required for customers worldwide to build their information-technology and Internet infrastructures. Dell, through its direct business model, designs, manufactures and customizes products and services to customer requirements, and offers an extensive selection of software and peripherals. Information on Dell and its products can be obtained at www.dell.com.
Computer Associates International, Inc. (NYSE:CA), one of the world's largest management software companies, delivers software and services across operations, security, storage, life cycle and service management to optimize the performance, reliability and efficiency of enterprise IT environments. The Computer Associates Grant helps develop curriculum materials and videos and fund regional workshops and site visits.
Based in Dallas, Texas, The Winston School is focused on addressing the potential of bright students who learn differently through individualized learning strategies and on preparing graduates for college-level work.
Terion, Inc., is a leading wireless data communication and information solution provider for mobile and remote business-to-business applications focusing on the transportation industry.
Speedway Motorsports, Inc (SMI) is a leading promoter, marketer and sponsor of motorsports activities in the United States. As the owner and operator of Atlanta Motor Speedway, Bristol Motor Speedway, Lowe's Motor Speedway, Las Vegas Motor Speedway, Infineon Raceway at Sonoma, and Texas Motor Speedway, SMI has one of the largest portfolios of major speedway facilities in the motorsports industry.
The Lightner-Sams Foundation of Dallas has generously funded the Internship program. This program allows former Challenge participants to return to the race to help plan, coordinate, and judge the upcoming race, and plan for the future races.
The Texas Christian University's Information Services Department provides a dedicated web server for displaying photos and videos of the race.
The Texas Solar Energy Society is dedicated to educating the public about the use of solar and other renewable energy technologies. The membership includes educators, engineers, researchers, students, bankers, electrical contractors, architects, builders, building inspectors, home owners and solar enthusiasts.
The Texas State Energy Conservation Office administers and delivers a variety of energy efficiency and renewable programs which significantly impact energy cost and consumption in the institutional, industrial, transportation and residential sectors.
In 1999, after careful market research and thorough competitive analysis, a group of the U.S.A.'s top weather researchers and technology innovators formed Weather Decision Technologies, Inc. WDT provides the world's highest resolution, most accurate weather information content to help you make the appropriate decisions to minimize weather-related risk
Ryder is a Fortune 500 company providing leading-edge logistics, supply chain, and transportation management solutions worldwide.
PSC manufactures quality traffic safety devices including: L.E.D. Traffic Signal Lamps, Speed Monitors/Displays, Message/Information Centers, and Arrow Indicator Boards to name a few.
Located in the heart of North Dallas By The Galleria, the Wyndham Dallas North is a 14-floor high rise, surrounded by more than 200 of the Fortune 500 companies.
Orbit One Communications provides satellite communications for the race, allowing race results to be updated instantaneously and keeping race staff informed throughout the race route.
Tucked away in the small southwest Missouri town of Cassville, Able 2 Products Company produces lights and sirens under the SHO-ME® brand name. Able 2 Products is generously loaning light bars to every team for use on the lead and chase vehicles.
Dell-Winston School Solar Car Challenge, 5707 Royal Lane, Dallas, TX 75229
Questions about the race? Contact Dr. Lehman Marks, Event Coordinator
Questions or comments about the web page? Contact Michael Foree, Webmaster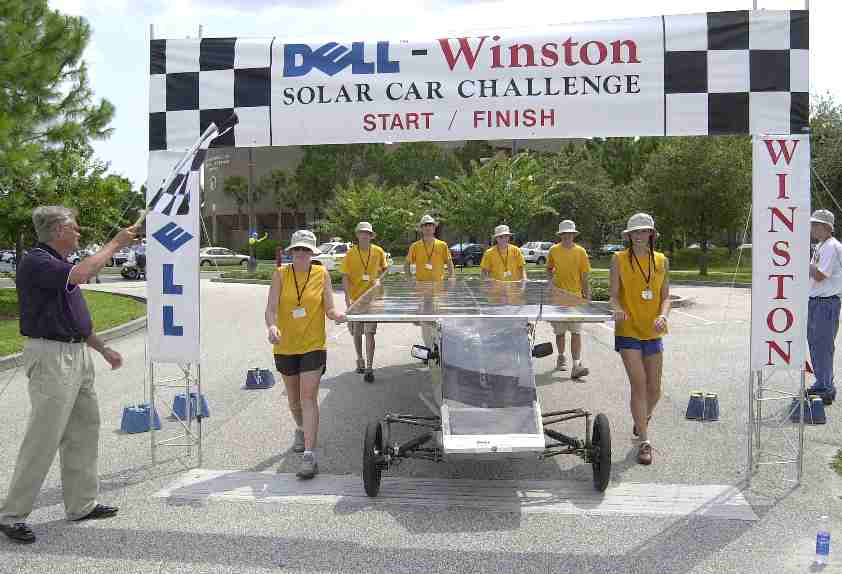 ---
SOLAR CAR RACING EVENT A - Z
A dream can make all the difference under the sun - when a bunch of high school misfits in Hawaii, introduced by their new teacher (Halle Berry), attend a science fair in which they draw up inspiration to build their own solar car and win a trip to compete in the 1990 World Solar Challenge in Australia. One of my favourites NK
The teams below are either established, or considering competing in any of the attractions above. Please click on the hyperlinks for more information. Remember, it's not the winning that matters, it's taking part. Whatever car or result your team produces, simply taking part will be rewarding in terms of learning, achievement and fun.
Healthier alternative tastes for adventure capitalists
Solar Red | Solar Crush + | Solar Cola | Solar Citrus + | Solar +