Michael Schumacher was born on the 3rd of January 1969. He is a German Formula One racing driver. Up to the end of season 2012 he is driving for the Mercedes team. Schumacher is a seven-time World Champion and is widely regarded as one of the greatest F1 drivers of all time. He holds many of the formula's driver records, including most championships, race victories, fastest laps, pole positions, points scored and most races won in a single season – 13 in 2004.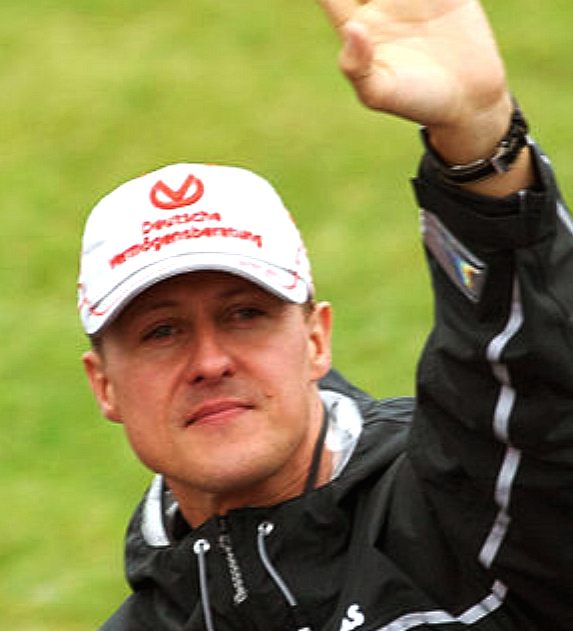 In 2002 he became the only driver in Formula One history to finish in the top three in every race of a season and then also broke the record for most consecutive podium finishes. According to the official Formula One website he is "statistically the greatest driver the sport has ever seen". In 2009, a poll of 217 Formula One drivers conducted by the British magazine Autosport named Schumacher the second-greatest F1 driver of all time, behind Ayrton Senna.

After beginning with karting, Schumacher won German drivers' championships in Formula König and Formula Three before joining Mercedes in the World Sportscar Championship. After one Mercedes-funded race for the Jordan Formula One team Schumacher signed as a driver for the Benetton Formula One team in 1991. After winning consecutive championships with Benetton in 1994/5, Schumacher moved to Ferrari in 1996 and won another five consecutive drivers' titles with them from 2000 to 2004. Schumacher retired from Formula One driving in 2006 staying with Ferrari as an advisor. Schumacher agreed to return for Ferrari part-way through 2009, as cover for the badly injured Felipe Massa, but was prevented by a neck injury. He later signed a three-year contract to drive for the new Mercedes GP team starting in 2010.

His career has not been without controversy, including being twice involved in collisions in the final race of a season that determined the outcome of the world championship, with Damon Hill in 1994 in Adelaide, and with Jacques Villeneuve in 1997 in Jerez. Off the track Schumacher is an ambassador for UNESCO and a spokesman for driver safety. He has been involved in numerous humanitarian efforts throughout his life and donated tens of millions of dollars to charity. Michael and his younger brother Ralf Schumacher are the only brothers to win races in Formula One, and they were the first brothers to finish 1st and 2nd in the same race, in Montreal in 2001. The two brothers repeated this achievement in four more races (2001 French Grand Prix, 2002 Brazilian Grand Prix, 2003 Canadian Grand Prix, 2004 Japanese Grand Prix).
RACING CAREER
dd
PERSONAL
DD
LINKS
dd
RACING DRIVERS INDEX
RACING TRACKS A - Z INDEX DRIVERS
A very fast electric vehicle
---
TEAM TECH WIND-TNL CHASSIS SUSP MOTORS DRIVE BATTERIES BODY
INSTRUMENTS FUNDING TIRES CLOTHING SAFETY CAPSULE LSR ESTIMATES
SERVICE STATIONS PAY AS YOU DRIVE HYBRID MULTIFUEL TRANSITION
EV MOTORING COSTS SOLAR PANELS