Lewis Carl Davidson Hamilton, MBE, was born on the 7th of January 1985. He is a British Formula One racing driver from England, currently racing for the McLaren team. He is the 2008 Formula One World Champion.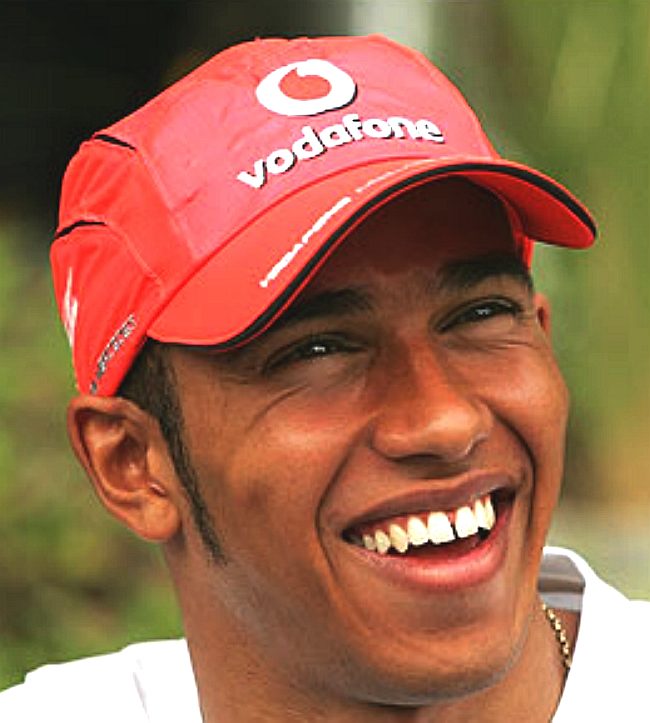 Hamilton was born in Stevenage, Hertfordshire. In December 1995, at the age of ten, he approached McLaren team principal Ron Dennis at the Autosport Awards ceremony and told him, "I want to race for you one day ... I want to race for McLaren." Less than three years later McLaren and Mercedes-Benz signed him to their Young Driver Support Programme. After winning the British Formula Renault, Formula Three Euroseries, and GP2 championships on his way up the racing career ladder, he drove for McLaren in 2007, making his Formula One debut 12 years after his initial encounter with Dennis. Hamilton's contract for the McLaren driver development program made him the youngest ever driver to secure a contract which later resulted in a Formula One drive.

Coming from a mixed background, with a black father and white mother, Hamilton is often labelled "the first black driver in Formula One", although Willy T. Ribbs tested an F1 car in 1986. He is also the first driver of black heritage to win a major race at Indianapolis Motor Speedway in any discipline.

In his first season in Formula One, Hamilton set numerous records, while finishing second in the 2007 Formula One Championship, just one point behind Kimi Räikkönen. He won the World Championship the following season.
EARLY CAREER
Karting

Hamilton began karting in 1993 at the age of eight, at the Rye House Kart Circuit and quickly began winning races and Cadet class championships. At the age of ten he approached McLaren F1 team boss Ron Dennis for an autograph, and told him, "Hi. I'm Lewis Hamilton. I won the British Championship and one day I want to be racing your cars." Dennis wrote in his autograph book, "Phone me in nine years, we'll sort something out then." Hamilton drove for Martin Hines' Zip Young Guns Karting Team. From the Cadet ranks, he progressed through to Junior Yamaha (1997) and Ron Dennis actually called him in 1998 after Hamilton won an additional Super One series and his second British championship. Dennis delivered on his promise and signed Hamilton to the McLaren driver development program. This contract included an option of a future F1 seat, which would eventually make Hamilton the youngest ever driver to secure a contract which later resulted in an F1 drive.

"He's a quality driver, very strong and only 16. If he keeps this up I'm sure he will reach F1. It's something special to see a kid of his age out on the circuit. He's clearly got the right racing mentality."

Michael Schumacher, speaking about Hamilton in 2001.

Hamilton continued his progress in the Intercontinental A (1999), Formula A (2000) and Formula Super A (2001) ranks, and became European Champion in 2000 with maximum points. In Formula A and Formula Super A, racing for TeamMBM.com, his team mate was Nico Rosberg who would later drive for the Williams and Mercedes GP teams in Formula One. Following his karting successes the British Racing Drivers' Club made him a "Rising Star" Member in 2000.

In 2001, Michael Schumacher made a one-off return to karts and competed against Hamilton along with other future F1 drivers Vitantonio Liuzzi and Nico Rosberg. Hamilton ended the final in seventh, four places behind Schumacher. Although the two saw little of each other on the track Schumacher praised the young Briton (see quote box).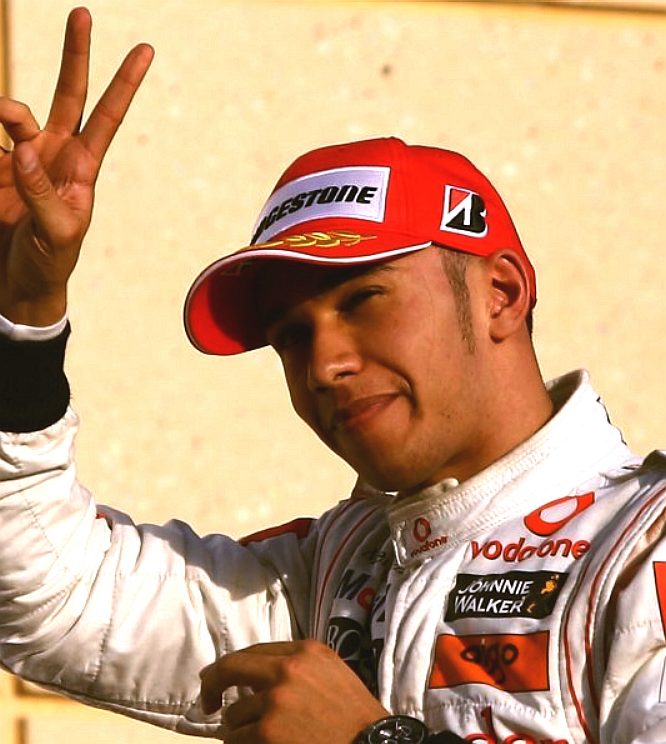 Formula Renault and Formula Three

Hamilton began his car racing career in the 2001 British Formula Renault Winter Series. Despite crashing on his third lap in the car in testing, he finished fifth overall in the winter series. This led to a full 2002 Formula Renault UK campaign with Manor Motorsport. Hamilton finished third overall with three wins and three pole positions. He remained with Manor for another year and won the championship with ten wins and 419 points to the two wins and 377 points of his nearest rival, Alex Lloyd. Having clinched the championship, Hamilton missed the last two races of the season to make his debut in the season finale of the British Formula Three Championship. Here he was less successful: in the first race he was forced out with a puncture, and in the second he crashed out and was taken to hospital after a collision with his team-mate Tor Graves. He did show his speed at both the Macau Grand Prix and Korea Super Prix, in the latter he qualified on pole position in his first visit to the track and in only his fourth F3 race. Asked in 2002 about the prospect of becoming one of the youngest ever Formula One drivers, Hamilton replied that his goal was "not to be the youngest in F1 ...[but] to be experienced and then show what I can do in F1".

Later in 2004 Williams would announce that they had come close to signing him but were refused the opportunity due to BMW, their engine supplier at the time, refusing to fund Hamilton's career. Hamilton eventually re-signed with McLaren, and made his debut with Manor in the 2004 Formula 3 Euro Series. They won one race and Hamilton ended the year fifth in the championship. He also won the Bahrain F3 Superprix and raced one of the Macau F3 Grand Prix. Hamilton first tested for McLaren in late 2004 at Silverstone.

Hamilton moved to the reigning Euro Series champions ASM for the 2005 season and dominated the championship, winning 15 of the 20 rounds. This would have been 16 but for being disqualified from one win at Spa-Francorchamps on a technical infringement that caught out several other drivers. He also won the Marlboro Masters of Formula 3 at Zandvoort. After the season British magazine Autosport featured him in their "Top 50 Drivers of 2005" issue, ranking Hamilton 24th.

GP2

Due to his success in Formula Three, he moved to ASM's sister GP2 team ART Grand Prix for 2006. Just like their sister team in F3, ART were the leaders of the field and reigning champions having taken the 2005 GP2 crown with Nico Rosberg. Hamilton won the GP2 championship at his first attempt, beating Nelson Piquet, Jr. and Timo Glock.

His performances included a dominant win at the Nürburgring, despite serving a penalty for speeding in the pit lane. At his home race at Silverstone, supporting the British Grand Prix, Hamilton overtook two rivals at Becketts, a series of high-speed (up to 150 mph in a GP2 car) bends where overtaking is rare. In Istanbul he recovered from a spin that left him in eighteenth place to take second position in the final corners. He won the title in unusual circumstances, inheriting the final point he needed after Giorgio Pantano was stripped of fastest lap in the Monza feature race. In the sprint race, though he finished second with Piquet sixth, he finished twelve points clear of his rival.

His 2006 GP2 championship coincided with a vacancy at McLaren following the departure of Juan Pablo Montoya to NASCAR and Kimi Räikkönen to Ferrari. After months of speculation on whether Hamilton, Pedro de la Rosa or Gary Paffett would be paired with defending champion Fernando Alonso for 2007, Hamilton was confirmed as the team's second driver. He was told of McLaren's decision on 30 September, but the news was not made public until 24 November, for fear that it would be overshadowed by Michael Schumacher's retirement announcement.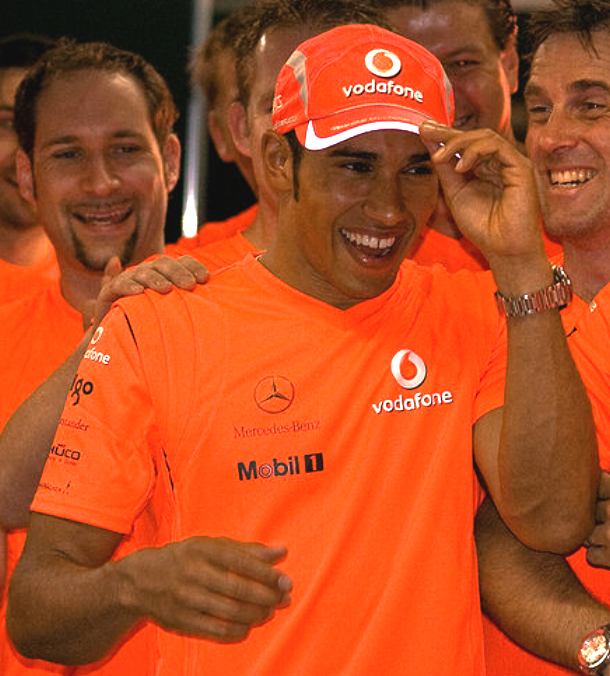 FORMULA ONE CAREER
McLaren (2007–2012)

2007

It was announced prior to the start of the season that Hamilton would be partnering defending double World Champion Fernando Alonso who had joined McLaren after leaving Renault. On his debut at the Australian Grand Prix, he qualified fourth and finished third in the race, becoming the thirteenth driver to finish on the podium in his first F1 career race (excluding those in the first ever World Championship round). In Bahrain, Hamilton got his first front-row start, qualifying and finishing second behind Felipe Massa. Hamilton again finished second behind Massa in the Spanish Grand Prix, to take the lead in the drivers championship. This meant that Hamilton broke Bruce McLaren's record of being the youngest driver to ever lead the world championship.

Hamilton finished second behind Alonso at Monaco and afterwards suggested he was prevented from racing his team mate. The FIA cleared McLaren following an investigation. Hamilton had both his first pole position and first victory of his F1 career in the Canadian Grand Prix at Montreal. He led for most of the race even after the safety car was deployed four times increasing the chances of him being overtaken. A week later Hamilton won the United States Grand Prix, also from pole position, becoming the first Briton since John Watson in 1983 to win an F1 race in the US, and only the second person, after Jacques Villeneuve, to win more than one race in his rookie Formula One season since the first year of the Championship.

By finishing third at Magny-Cours behind Ferrari drivers Kimi Räikkönen and Felipe Massa, Hamilton extended his lead in the Driver's Championship to 14 points. This was the first time in his F1 career he finished a race in a lower position than he started, and the first time he had been passed on the race track in Formula One.[citation needed] He took pole at his home Grand Prix at Silverstone and led for the first 16 laps, but slipped to third, 40 seconds behind Räikkönen and Alonso. Having secured this podium finish meant he equalled Jim Clark's 1963 record of 9 consecutive podium finishes for a British driver.

During qualifying for the European Grand Prix, Hamilton crashed at the Schumacher chicane after a problem with the wheel nut caused by the air gun used on his car. He was taken to the circuit's medical centre on a stretcher with an oxygen mask and drip, but was conscious throughout. He was unable to complete qualifying and his existing laptime was surpassed by all other competitors during Q3, thus he qualified in tenth position. After a final medical check on Sunday morning, Hamilton was cleared to race. During a heavy rainstorm which caused the race to be red-flagged Hamilton slid off into a gravel trap, however as he kept his engine running he was lifted back on to the circuit and able to rejoin the race after the restart. His ninth place finish in this race was his first non-podium and non-points finish, enabling title contenders Alonso and Massa to reduce Hamilton's championship lead. Hamilton became the first driver to have his car recovered by a crane and put back on the track during an F1 race, although several drivers have been pushed back onto the circuit by the marshals without mechanical aids when judged to be in a dangerous position, such as Michael Schumacher during the 2003 European Grand Prix. Since then, the FIA have now banned the use of mechanical assistance to help move a car back onto the track, meaning that Hamilton became the first and the last driver to have his car recovered by crane back onto the track.

Hamilton won the Hungarian Grand Prix from pole position following a controversial qualifying session. Alonso had set the fastest time, but was relegated five places down the grid to sixth for preventing Hamilton to leave the pit lane in time to complete his final qualifying lap. Kimi Räikkönen stayed within five seconds of Hamilton for the entire race (excluding pit stop periods). McLaren were docked any constructor's points earned during the race due to the incident in qualifying.

After declaring he had restored his relationship with Alonso, Hamilton qualified second in Turkey. After dropping to third at the first corner, Hamilton looked set for a podium finish with 15 laps remaining, but a right-front tyre puncture forced him to crawl back to the pits, leaving him to finish fifth meaning his championship lead was cut once more.

Alonso beat Hamilton in the Italian and Belgian Grands Prix, leaving Hamilton with a two-point lead in the title race. However he extended his lead to 12 points after winning the Japanese Grand Prix in heavy rain after Alonso crashed. Following the race Hamilton was investigated by the race stewards over his involvement in an incident behind the safety car, which saw both Sebastian Vettel and Mark Webber crash out of the race while following the McLaren. The trio were cleared on the Friday of the Chinese Grand Prix weekend.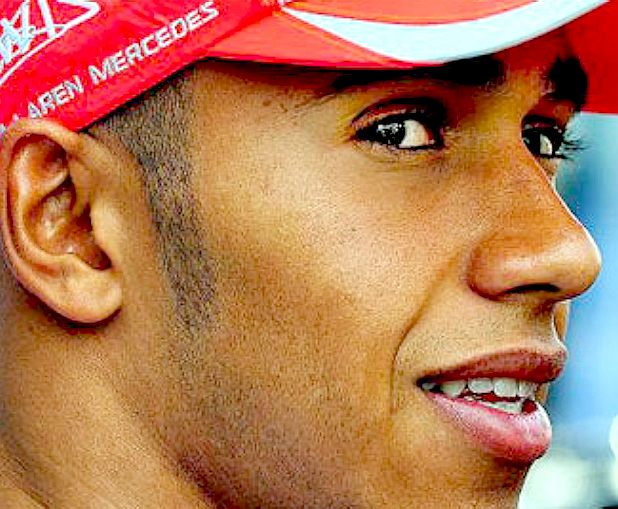 After securing pole position in China, which saw changeable weather conditions, Hamilton retired from the race. He experienced considerable tyre wear, notably his right rear, and he ran wide into the gravel trap in the pitlane where his car beached, recording the first retirement of his Formula One career. It was later revealed that Bridgestone became unnerved at the glaringly worn tyres and advised McLaren to order him to make a pit stop, which McLaren refused to do, believing it would be counterproductive. Hamilton himself couldn't tell the full extent of the tyre problem as raindrops were in his wing mirrors. Hamilton thus went into the final race of the season four and seven points ahead of Alonso and Räikkönen respectively.

In the Brazilian Grand Prix he failed to finish in a championship-winning position, finishing the race in seventh after being as low as 18th place during the race, due to two incidents. In the first he was passed by Räikkönen away from the line before being boxed in by Massa and Räikkönen into the first corner, and 'wrong-footed' by Räikkönen mid-corner, Hamilton was passed by Alonso in Turn 3. Hamilton attempted to re-pass Alonso in turn four, but ran wide, dropping four places to eighth. The second problem started on lap 9 when Hamilton encountered a gearbox problem, which meant that he was stuck in neutral and could not select any gears. The gearbox became operational again after Hamilton switched settings on his steering wheel, but he lost 40 seconds while his car was coasting. For most of the race, Massa was leading with Räikkönen in second. If this had been the case come the chequered flag with Hamilton in seventh place, Hamilton would have become world champion. After the second round of pit stops, Räikkönen stayed out a couple of laps longer than Massa and took the lead.
Once in front Räikkönen made no mistakes in the remaining laps and won the race to become the Formula One world champion. Finishing second in the championship, Hamilton took the record of Youngest World Drivers' Championship runner-up, at 22 years and 288 days, previously held by Kimi Räikkönen at 23 years and 360 days. In 2009, this record was taken by Sebastian Vettel, who was 22 years and 122 days when he secured runner-up position in the championship.

On 21 October 2007 it was announced that the FIA were investigating BMW Sauber and Williams for fuel irregularities, the BMW drivers had finished in fifth and sixth place, and if they were to be excluded Hamilton would be promoted to fifth and would win the 2007 Drivers World Championship by one point over Räikkönen. Ultimately no penalty whatsoever was given to any team as there was "sufficient doubt as to render it inappropriate to impose a penalty", though McLaren officially appealed this decision.
Hamilton subsequently told the BBC he does not want to win an F1 title through the disqualifications of other drivers. A precedent had been set in 1995 when Michael Schumacher, then of Benetton-Renault, and David Coulthard, then of Williams-Renault, were both found guilty of possessing illegal fuel in their cars and in that situation both drivers were initially docked drivers points, but for unspecified reasons it would transpire over a week later that constructor points would be docked instead.

Ahead of the world championship finale, Hamilton answered a question about what it would mean to him to become the first black champion, saying: "It will show that not only white people can do it, but also black people, Indians, Japanese and Chinese. It will be good to mean something." Having made few public remarks about his ethnicity since becoming an F1 driver, Hamilton added: "Outside of Formula One my heroes are foremost my father, then Nelson Mandela and Martin Luther King. Being black is not a negative. It's a positive, if anything, because I'm different. In the future it can open doors to different cultures and that is what motor sport is trying to do anyway".

Team tensions

Hamilton's relationship with McLaren team boss Ron Dennis dates back to 1995, with the first indication that Hamilton was unhappy with his team appearing after he finished second at Monaco in 2007. After post-race comments made by Hamilton which suggested he had been forced into a supporting role, the FIA initiated an inquiry to determine whether McLaren had broken rules by enforcing team orders.
McLaren denied favouring double world champion Fernando Alonso, and the FIA subsequently vindicated the team, stating that: "McLaren were able to pursue an optimum team strategy because they had a substantial advantage over all other cars. They did nothing which could be described as interfering with the race result".

The tensions within the team surfaced again at the 2007 Hungarian Grand Prix. During the final qualifying session for the race Hamilton was delayed in the pits by Alonso and thus unable to set a final lap time before the end of the session. McLaren pointed out that Hamilton had disobeyed an earlier instruction to let Alonso pass in qualifying, for fear of losing his own position. Alonso was relegated to sixth place on the starting grid, thus elevating Hamilton (who had originally qualified second) to first, while McLaren were docked constructors championship points. Hamilton said he thought Alonso's penalty was "quite light if anything" and only regretted the loss of constructors' points. Hamilton was reported to have sworn at Dennis on the team radio following the incident. British motorsport journal Autosport claimed that this "[led] Dennis to throw his headphones on the pit wall in disgust (a gesture that was misinterpreted by many to be in reaction to Alonso's pole)". However McLaren later issued a statement on behalf of Hamilton which denied the use of any profanity. As a result of these events, the relationship between Hamilton and Alonso temporarily collapsed, with the pair not on speaking terms for a short period. In the aftermath it was reported that Hamilton had been targeted by Luca Cordero di Montezemolo regarding a Ferrari drive for 2008.

Following the stewards' investigation into the incident at the 2007 Japanese Grand Prix, Alonso stated: "I'm not thinking of this championship any more, it's been decided off the track. The drivers' briefing has no purpose. You go there to hear what Charlie Whiting and the other officials say. Twenty one drivers have an opinion, Charlie and the officials another, and so it's like talking to a wall".

The rivalry between Hamilton and teammate Alonso led to speculation that one of the pair would leave McLaren at the end of the 2007 season and Alonso and McLaren subsequently terminated their contract by mutual consent on 2 November 2007.

2008

On 14 December 2007, it was confirmed that Heikki Kovalainen who drove for Renault in 2007 would drive the second car for McLaren-Mercedes for the 2008 Formula One season alongside Hamilton. In January 2008, Hamilton signed a new five-year multi-million pound contract to stay with McLaren-Mercedes until the end of the 2012 season.

Hamilton won the first race of the 2008 season, the Australian Grand Prix, having qualified on pole position. In Malaysia, he finished fifth after duels with Mark Webber and Jarno Trulli. He had been demoted to ninth on the grid, from fourth, for impeding Nick Heidfeld's flying lap. In Bahrain, Hamilton destroyed his car during a practice crash. He continued with a spare chassis and took third place in qualifying. In the race, after a bad start, he crashed into the back of Alonso's Renault finishing 13th. This led to him being overtaken in the Drivers' Championship by Kimi Räikkönen and Nick Heidfeld. He was back on the podium in Spain finishing third from fifth on the grid. Hamilton finished second in Turkey, and won the Monaco Grand Prix a fortnight later, putting him in the lead of the championship.

He achieved his eighth career pole position in Montreal but he crashed into the back of Räikkönen during the race, after failing to see that the Finn was waiting at a red light at the end of the pit lane. Both cars were forced to retire and Hamilton was given a 10 position grid penalty for the next race, the French Grand Prix, as a result of this incident. At that race, Hamilton overtook Sebastian Vettel at the chicane on lap 1 but missed the apex and was given a drive through penalty which he served on lap 13, finishing the race in 13th. Despite an error in qualifying that saw him start fourth on the grid, Hamilton went on to win the British Grand Prix in difficult, wet conditions. His performance was stated as being one of his best drives to date. Hamilton himself said in the post race press conference that it was his most difficult and most meaningful win.

In the next race at Hockenheim, Hamilton started from pole position, building up an 11 second lead over second-placed Felipe Massa early in the race. After stopping and re-emerging in the lead, McLaren then decided to keep Hamilton out on-track when the safety car was deployed mid-way through the race. When Hamilton finally pitted, he came out in fifth place, jumping to third after his team-mate let him by and Nick Heidfeld pitted. He then overtook Massa and Nelson Piquet, Jr. for the lead, eventually winning by 9 seconds.
Hamilton won the Belgian Grand Prix on the road, however he was later judged to have gained an unfair advantage by cutting a chicane when he used a tarmac run off area to avoid hitting Kimi Räikkönen. McLaren said that their telemetry showed Hamilton backed off to let Räikkönen past but Hamilton was given a 25 second penalty, thereby dropping him to third. As a result his main title rival Massa inherited the win. Hamilton's lead in the drivers' championship was cut to two points, and a subsequent appeal by McLaren to the FIA World Motor Sport Council was rejected on the grounds that the case was inadmissible. The Italian Grand Prix was won by Sebastian Vettel in the Toro Rosso. Both Massa and Hamilton failed to capitalise on the weather and each other's poor grid positions finishing sixth and seventh respectively. This result cut Hamilton's lead in the Championship to one point. Hamilton finished third at the next race in Singapore, while Massa failed to score any points, allowing Hamilton to increase his championship lead to seven points.

At Fuji, Hamilton took pole in qualifying. His closest rival for the Championship title, Felipe Massa, could only manage to qualify fifth. As the race began Kimi Räikkönen made a good start from second position, getting ahead of pole-sitter Hamilton. Hamilton moved down the inside before the first corner, out-braking himself and running wide. This forced some of the drivers behind him to go off the track, including the cars of Räikkönen and Heikki Kovalainen, for which Hamilton was given a drive-through penalty. A second incident followed soon afterwards, on the second lap, when Hamilton attempted to pass Massa into the chicane at turn 10. Hamilton pulled alongside the Ferrari and as Massa ran wide into the corner, Hamilton made a move to pass him. Massa then ran up inside Hamilton and the cars collided at the second bend of the chicane, pushing the McLaren into a spin. Massa was later given a drive-through penalty for this move. Hamilton, who had been in sixth place behind Massa, dropped down to last place but managed to regain some places and managed to finish the race in 12th position. However Massa finished seventh after being given an extra point after a penalty was given to Toro Rosso's Sébastien Bourdais. This meant that with just two races to go Hamilton led the World Championship by five points from Massa.

At the penultimate race of the season, the Chinese Grand Prix, Hamilton was much faster than all the other cars in the practice sessions, and qualified on pole position. He went on to win the race from Felipe Massa and Kimi Räikkönen, taking a 7 point lead in the World Championship into the last race of the season. Speaking afterwards, Hamilton said "All weekend we have had God on our side as always, and the team did a phenomenal job in preparing the car, which has been a dream to drive."

Hamilton needed to finish at least fifth in the Brazilian Grand Prix to secure the World Championship. After a hard fought race Hamilton was in fifth but, after rain, and in the closing laps of the race, Sebastian Vettel of Scuderia Toro Rosso took the fifth position away from Hamilton. Had the race ended then, this would have given the driver's title to Massa.

On the final lap of the race first Vettel and then Hamilton managed to pass Timo Glock of Toyota, after Glock (unlike Hamilton) had risked staying on the track with dry-weather tyres, despite the rain. This moved Hamilton back up to fifth, ensuring that he finished one point ahead of Massa overall and winning the 2008 title. Hamilton's overtaking move happened after Massa had crossed the line to win. This meant that Hamilton had clinched the 2008 Formula One World Championship, becoming the youngest driver to win the title, as well as the first black driver. He is also the first British driver to win the World Championship since Damon Hill triumphed in 1996.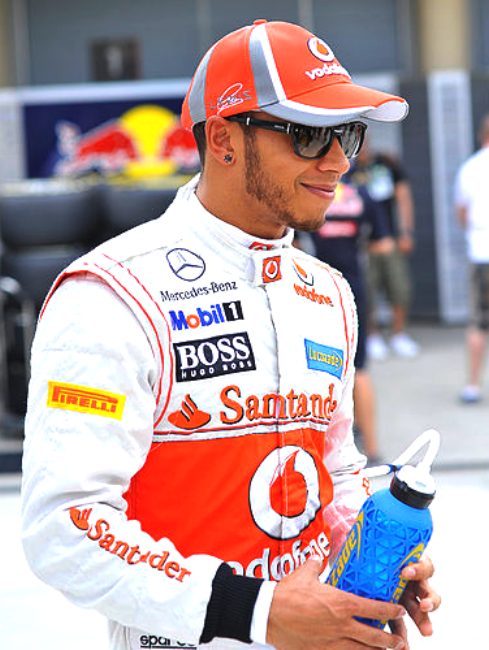 Racial abuse

On 4 February 2008, Hamilton was verbally heckled and otherwise abused during pre-season testing at the Circuit de Catalunya in Catalonia by several Spanish spectators who wore black face paint and black wigs, as well as shirts bearing the words "Hamilton's familly". Hamilton became widely unpopular in Spain because of his rivalry with Spanish former team-mate Fernando Alonso. The FIA have warned Spanish authorities about the repetition of such behaviour. In reaction to this behaviour, the FIA announced on 13 February 2008 that it will launch a "Race Against Racism" campaign.

Shortly before the 2008 Brazilian Grand Prix, a website owned by the Spanish branch of the New York-based advertising agency TBWA and named "pinchalaruedadeHamilton" (burst Hamilton's tyre) was featured in the British media. The website contained an animated image of Interlagos that allowed users to leave nails and porcupines on the track for Hamilton's car to run over. Among thousands of comments left since 2007, some included racial insults. His rival Fernando Alonso condemned the racist supporters.

2009

A year after winning the 2008 Australian Grand Prix from pole position, Hamilton started the 2009 season-opening Australian Grand Prix from 18th place on the grid after the McLaren team incurred a penalty for changing his malfunctioning gearbox during qualifying. Hamilton benefited from a late crash between Red Bull's Sebastian Vettel and BMW Sauber's Robert Kubica to move into fourth place by the end of the race. He was then promoted to third after Jarno Trulli was penalised for overtaking him under safety-car conditions. During a post-race stewards' hearing, Hamilton and McLaren officials told stewards they had not purposely let Trulli pass, but it was revealed by release of the McLaren race radio communication that this was not true. Hamilton was then disqualified from the race for providing "misleading evidence" during the stewards' hearing. He later privately apologised to FIA race director Charlie Whiting for having lied to the stewards.

Over the next six races, Hamilton qualified outside the top ten three more times, twice qualifying as high as fifth. He scored minor points at the Malaysian, Chinese and Bahrain Grands Prix. A chance for points, and even hopes for a podium finish came at the Nürburgring when he again qualified fifth, but a puncture on the first lap caused by a collision with Mark Webber sent him down to 19th as the McLaren limped back to the pits damaging the floor and undertray. With the car's aerodynamics damaged he finished 18th – his car was the last of the finishers, and the only one which finished the race lapped.

Hamilton's fortunes were reversed at the Hungaroring, the tenth round of the season. A KERS-assisted start from fourth place saw him take second place by the first corner, before losing it to Mark Webber at the next turn. Hamilton repassed Webber on lap five and following Alonso's retirement on lap 13, he led the remainder of the race to finish 11.529 seconds clear of Räikkönen and take his 10th career win and the first for a KERS-equipped car. McLaren's return to form continued in Valencia, where Hamilton qualified on pole position for the first time in the season, heading a McLaren one-two with team-mate Heikki Kovalainen. In the race a poor pit stop by the mechanics lost Hamilton first place but he finished a steady second behind Rubens Barrichello's Brawn.

Hamilton crashed out of the next two races, the Belgian and Italian Grands Prix, going out of third place on the last lap of the Italian race when chasing Jenson Button for second. This mathematically eliminated his chances of defending his title. In September, at the Singapore Grand Prix, Hamilton took his second win of the season. He finished third at the next two races, the Japanese and Brazilian Grands Prix, starting the latter event from 17th on the grid. In the inaugural Abu Dhabi Grand Prix, Hamilton was quick throughout the practice sessions and qualified on pole, six tenths of a second quicker than Sebastian Vettel who was second on the grid. Hamilton led the race, but retired on lap 20 due to a rear brake problem, his first technical-related retirement in Formula One.

Kovalainen left the team at the end of the year, and like Alonso he was upset with the team's favouritism of Hamilton. According to Kovalainen, Hamilton always had priority for the newest parts, and Kovalainen was forced to carry more fuel during qualifying, reducing his qualifying times.

2010

After a difficult 2009 season Hamilton was set out to challenge for the title hoping for a better season for him and McLaren. For the new season Hamilton would drive alongside new teammate, Jenson Button, while Heikki Kovalainen moved to Lotus Racing.

Hamilton finished third in Bahrain, having qualified fourth on the grid. In Australia, Hamilton failed to make the top ten in qualifying, starting the race from eleventh place on the grid. He ran as high as third, before ending the race in sixth, after a late-race collision with Mark Webber. The Malaysia saw him in the top three positions in all practice sessions, but a misjudgement on the weather by his team in qualifying, left him on tyres that were unfavourable for the wet conditions. This restricted him to 20th on the grid for the race, before he came through to finish sixth. He was given a warning during the race, after he weaved four times over a straight trying to break the tow that Vitaly Petrov was receiving and was not intending to block him. After the race the rules were clarified by stewards to only allow a driver to weave once even if they are only trying to break a tow.


Hamilton scored his second successive victory in Canada., leading teammate Jenson Button home
Hamilton qualified in sixth position in Shanghai, making up four places in the race and achieving a second place finish, behind teammate Jenson Button. This completed the team's first 1–2 finish since the 2007 Italian Grand Prix. The race saw multiple brief periods of rain, and two safety car periods, which upset the order and resulted in many overtaking manoeuvres. Hamilton was involved in a pit lane incident with Red Bull driver Sebastian Vettel, for which both later received a reprimand from race stewards, Hamilton for his second consecutive race after the Petrov incident in Malaysia. Hamilton qualified third for the Spanish Grand Prix, and by the end of the race he was running in second behind Mark Webber and set the fastest lap of the race on the third last lap. The next lap, he speared off into the gravel trap and came in contact with the wall, destroying the left front suspension and putting him out of the race. It appeared that his front left tyre received a puncture and blew out but it was later confirmed by McLaren that the wheel rim had failed and destroyed the tyre, sending Hamilton into the barrier. Despite running in the top three for most of the race, he was classified outside the points.

The next weekend at Monaco Hamilton qualified and finished 5th. For the Turkish Grand Prix, Hamilton qualified a season's best 2nd, behind Mark Webber. He was overtaken by 3rd placed Sebastian Vettel, but managed to reclaim the place soon after. Hamilton was then promoted to 1st after Vettel and Webber collided with each other on Lap 40. Hamilton's teammate, Jenson Button was then in 2nd behind him and later overtook Hamilton, but Hamilton retook the lead in the first corner after a few near collisions. Both drivers held back then and cruised to a the finish, with Hamilton taking his first victory of the 2010 season, promoting him to 3rd in the Drivers Championship.

Prior to the Turkish Grand Prix in 2010, Hamilton evidently had both of his ears pierced, as he was sporting black studs in each ear on the grid before the race, however despite FIA policy prohibiting the wearing of earrings and jewellery at grand prix, the FIA stated that they had no issue with Hamilton's freshly pierced ears. Hamilton qualified on pole for the Canadian Grand Prix, continuing a 100% pole record at Circuit Gilles Villeneuve. After setting his pole lap, Hamilton received instructions from his team to stop on circuit due to a lack of fuel in the car which would not be equivalent to the level necessary for a sample to be taken by the FIA. Hamilton was reprimanded after failing to complete his in-lap in a sufficient time, while his team received a $10,000 fine. This fine did not appear to affect Hamilton who won the race and took the Drivers' Championship lead, after McLaren's third 1–2 of the season. A day after the Grand Prix Hamilton flew back into the UK and drove Ayrton Senna's championship winning MP4/4. Hamilton had been denied the chance to drive it in 2009 when the car had a gearbox problem the day before he drove it at the Goodwood Festival of Speed. Hamilton was clearly excited and overcome with emotion and described it as 'one of the best days of his life'. He also stated that he had 'ticked off one of his dreams' by driving the car.

Hamilton qualified third in Valencia and passed Mark Webber at the start of the race. He went up the inside of Vettel into the second corner but was run out of room by Vettel, jumped over the kerbs and made slight contact which resulted in some damage to his McLaren. When the safety car was deployed after Webber's 300 km/h flying crash, Vettel and Hamilton were on the pit straight. Vettel passed the second safety car line before the safety car exited the pits while Hamilton just missed making the line by about 0.5s. Hamilton passed the safety car after the second safety car line instead of decelerating to follow the safety car. Fernando Alonso was a second behind Hamilton and was disadvantaged by having to remain behind the safety car. Alonso complained on the radio to his team which led to the stewards investigating the incident and penalising Hamilton with a drive through penalty. The stewards announced the penalty 20 minutes after the incident which allowed Hamilton to make a gap before serving the penalty and kept him in second place. This angered Alonso and the Ferrari team as the penalty did not alter the results, leading Hamilton to accuse Alonso of "sour grapes", although the pair reconciled before the next race.

He finished second at his home race at Silverstone, after starting from fourth; benefitting from Vettel's first lap puncture, and followed it up with fourth at the German Grand Prix, while in Hungary, Hamilton retired during the race due to gearbox problems, losing the championship lead to Webber. Despite running into the gravel at Spa-Francorchamps, Hamilton won his third race of the season and reclaimed the championship lead. Hamilton crashed out of the Singapore Grand Prix in a racing incident with Mark Webber on lap 35. Webber had overtaken Hamilton during his pitstop, then Hamilton attempted to overtake Webber whilst Webber was lapping Virgin Racing's Lucas di Grassi. The resulting collision ended Hamilton's race while Webber went on to finish third. At the Japanese Grand Prix, Hamilton lost more ground in the championship race by finishing fifth, falling 28 points behind Webber. However, Webber crashed out at the next race in South Korea, and Hamilton finished second behind Alonso, and fell 31 points behind, as Alonso assumed the championship lead. Despite finishing fourth at the Brazilian Grand Prix, and setting the fastest lap of the race, Hamilton's chances of a second world championship were remote, as he was 24 points off the lead with 25 points available at the final race in Abu Dhabi needing to win himself, as well as needing his other rivals to falter. He finished second to Vettel in the race, who broke Hamilton's record for being the youngest ever Formula One World Champion.
2011

Hamilton began the season qualifying and finishing second in the Australian Grand Prix behind winner Sebastian Vettel of Red Bull, despite having to deal with a damaged floor on his McLaren. In the Malaysian Grand Prix, he qualified second and finished seventh on-the-road, struggling partly due to tyre wear and being tagged by Ferrari's Fernando Alonso in the closing stages. Both Hamilton and Alonso received 20-second time penalties post-race for weaving whilst defending and unsuitable driving, which dropped Hamilton to eighth place behind Kamui Kobayashi, while Alonso remained sixth. Hamilton took his first win of the season in China, overtaking race leader Vettel with just a few laps remaining as Vettel had excessive tyre wear using the two stop stratergy. He then finished fourth in Turkey, and second behind Vettel in Spain, after pressuring him for the lead in the closing stages on the prime tyres.

In Monaco, he qualified tenth after Q3 was red-flagged before he could set a competitive time due to a heavy crash from Sergio Pérez. He then passed Schumacher at the start, but was re-passed at the Grand Hotel hairpin. Later on he tried to pass Massa at this point, and hit Massa's side pod, stopping both temporarily. After this he passed and sent Massa into the barriers in the tunnel, putting him out of the race. He was then given a drive-through penalty. Later on, he was being lapped whilst battling with several other drivers. He braked to avoid Adrian Sutil, who had run wide, this caused Alguersuari to rear-end Hamilton, breaking his rear wing. This crash red-flagged the race as Petrov had hit the wall and injured himself. Hamilton's wing was repaired, and on the restart he sent Maldonado into the barriers, putting him out of the race too. He eventually finished 6th, one lap down. He was then given a 20 second time penalty for his crash with Maldonado, but that did not drop him down the order.
Hamilton later criticised the stewards after the race. At the Canadian Grand Prix, Hamilton attempted to pass teammate Button on the start/finish straight, though lack of visibility in wet conditions meant that Button was unaware of Hamilton's presence and they collided. Button carried on to victory in a rainy race and Hamilton retired with supposed suspension damage, however it turned out McLaren were wrong and it was only a tyre puncture.

Hamilton qualified third in Valencia, and dropped to fifth at the start, but he passed Massa during the pit stop phase to finish fourth. He qualified tenth at Silverstone, and moved up to sixth on the first lap. He later moved up to fourth place, but was told to conserve fuel towards the end of the race, and started being caught up by Massa. Massa passed him on the last lap, but Hamilton moved ahead at the final corner and marginally held on to fourth position. He qualified second at Germany, and took the lead from Webber at turn 1. Webber undercut Hamilton during the pit stops to take the lead, but Hamilton re-took the lead after the second set of pit stops, where Webber emerged just behind him and he passed Alonso round the outside of turn 2 to take his second victory of 2011. Another front-row start followed at Hungary and had many exciting battles for the lead with Button. He spun whilst in the lead at one point and sent Paul di Resta onto the grass, for which he received a drive-through penalty, but recovered to finish fourth.

After qualifying second for the Belgian Grand Prix, Hamilton failed to finish for only the second time in the season after a collision with Sauber driver Kamui Kobayashi. He finished fourth at Monza, and at the Singapore Grand Prix, Hamilton again caused an accident touching Felipe Massa's Ferrari. Hamilton once more was punished with a drive through penalty, being accused by Massa of being "incapable of using his brain". In a post-race altercation, Massa grabbed Hamilton's shoulder saying "Good job, man, well done". The two collided once more in Japan, but recovered to finish the race in fifth place. Hamilton later told Massa to "grow up", after admitting that his Formula One career had driven over a cliff.
In Korea, Hamilton qualified on pole position, ending a run of 16 consecutive pole positions for Red Bull. He led only until turn four on lap 1, where World Champion Sebastian Vettel overtook him and went on to win the race. Hamilton finished second. At the inaugural race in India, Hamilton recorded the second-fastest time in qualifying, but was penalised three places on the starting grid, after a yellow flag infraction in Friday practice. In Abu Dhabi, Hamilton qualified second and won the race, after pole-sitter Vettel suffered a puncture on lap 1 and retired with suspension damage. In Brazil, Hamilton ended his season on another low after suffering a gearbox failure. Despite his Abu Dhabi win, Hamilton was outscored by a teammate for first time during a season.

2012

Hamilton remained at McLaren alongside Button for the 2012 season. Hamilton qualified in pole position for the Australian Grand Prix, but finished third after being passed by Button at the start, and by Vettel after pitting before a safety car. Hamilton again qualified on pole for the Malaysian Grand Prix, but in the race was passed early on by Fernando Alonso and Sergio Pérez, finishing third. Hamilton took his third consecutive third place finish in China, with Nico Rosberg and Button ahead. Hamilton qualified in second place in Bahrain, but during the race, a series of poor pitstops put him out of contention, and he finished eighth. Hamilton was also involved in a controversial racing incident with Rosberg, with Rosberg appearing to push Hamilton off track while he attempted to overtake. Hamilton qualified on pole position for the Spanish Grand Prix, but had to stop the car on track in order for a reputable fuel sample to be given post-qualifying. The stewards decided he had breached qualifying rules introduced after a similar incident involving Hamilton at the 2010 Canadian Grand Prix. Race stewards excluded him from the qualifying results, and demoted him to the back of the grid; but despite this, Hamilton finished eighth, ahead of Button, who had started in tenth.

Hamilton achieved his first victory of the season at the Canadian Grand Prix – winning the race for the third time – after overtaking Fernando Alonso in the closing stages.

Hamilton won the Hungarian Grand Prix on 29 July 2012 to claim his second win of the season. Hamilton was taken out by Romain Grosjean at the first corner of the Belgian Grand Prix, with Grosjean given a one-race ban for causing the accident which also took out championship leader Fernando Alonso. Hamilton bounced back with pole position for the Italian Grand Prix, and led for the majority of the rae to claim his third victory of the season and keep his hopes of winning the Drivers' Championship alive. Hamilton again qualified on pole at the Singapore Grand Prix, but suffered a gearbox failure whilst leading the race.

Mercedes AMG (2013)

On 28 September 2012, it was announced after much speculation that Hamilton would be leaving McLaren after the 2012 season to join Mercedes for the 2013 season onwards, partnering Nico Rosberg after signing a three-year contract with the team.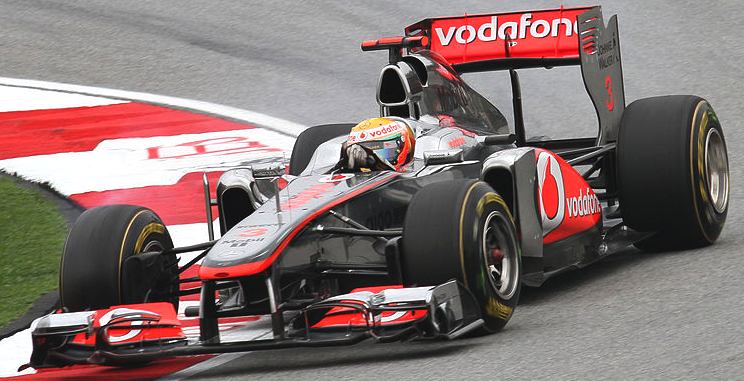 PERSONAL LIFE

Hamilton was born on 7 January 1985 in Stevenage, Hertfordshire, England, and was named after American sprinter Carl Lewis. Hamilton's mother, Carmen Brenda Larbalestier (now married as Carmen Brenda Lockhart and preferring to be known as Brenda), is white British, while his father, Anthony Hamilton, is black British, making him mixed-race, (Anthony Hamilton's parents emigrated from Grenada to the United Kingdom in the 1950s). Lewis Hamilton's parents separated when he was two, as a result of this he lived with his mother and half-sisters Nicola and Samantha until he was twelve, when he started living with his father, stepmother Linda and half-brother Nicolas (who has cerebral palsy). In early 2011, Nicolas signed with Total Control Racing to start a racing career in the 2011 Renault Clio Cup. Hamilton was raised as a Roman Catholic by his father.

Hamilton's father bought him a radio-controlled car in 1991, which gave him his first taste of racing competition. Hamilton finished second in the national BRCA championship the following year. He said of the time: "I was racing these remote-controlled cars and winning club championships against adults". As a result of this his father bought him his first go-kart as a Christmas present at the age of six. His father told him that he would support his racing career as long as he worked hard at school. Supporting his son became problematic, which caused him to take redundancy from his position as an IT Manager and became a contractor. He was sometimes employed in up to three jobs at a time, while still managing to find enough time to attend all Hamilton's races. He later set up his own computer company as well as working as a full-time manager for Hamilton. Hamilton is now managed by Simon Fuller.

Hamilton was educated at The John Henry Newman School, a voluntary aided Catholic secondary school in Stevenage, Hertfordshire. Alongside his interest for racing, he played association football for his school team with England international midfielder Ashley Young. Hamilton said that if Formula One had not worked for him he would have been a footballer, being a big fan of Arsenal F.C. or a cricketer, having played both for his school teams as a youngster. He subsequently attended, in February 2001, Cambridge Arts and Sciences (CATS), a private sixth-form college in Cambridge. At the age of five Hamilton took up Karate in order to defend himself as a result of bullying at school.

In October 2007, Hamilton announced his intention to live in Switzerland, stating that this was because he wished to get away from the media scrutiny that he experienced living in the United Kingdom. Hamilton admitted under questioning on the television show Parkinson, which was broadcast on 10 November 2007, that taxation was partly responsible for his decision, in addition to wanting more privacy. Hamilton received public criticism from UK MPs including Liberal Democrat MP Bob Russell for avoiding UK taxes. He settled in Luins in Vaud canton on Lake Geneva; other Formula One drivers, including world champions Michael Schumacher, Kimi Räikkönen and Fernando Alonso, also live in Switzerland. Hamilton was one of several super-rich figures whose tax arrangements were singled out for criticism in a report by the charity Christian Aid in 2008.


On 18 December 2007, Hamilton was suspended from driving in France for a month after being caught speeding at 196 km/h (122 mph) on a French motorway. His Mercedes-Benz CLK was also impounded. In November 2007, Hamilton started dating Nicole Scherzinger, the lead singer of the American girl band Pussycat Dolls; it was announced in January 2010 that they split up to focus on their respective careers, however they were seen together at the 2010 Turkish Grand Prix and at the Canadian Grand Prix in Montreal, on 13 June 2010.

Hamilton was awarded an MBE by the Queen in the 2009 New Year Honours. On 18 March 2009, Madame Tussauds unveiled a waxwork of Hamilton in his Vodafone McLaren Mercedes race suit. This wax replica cost around £150,000 and took over six months to complete.

Two days before the 2010 Australian Grand Prix, Victoria Police witnessed Hamilton "deliberately losing traction" in his silver Mercedes-AMG C63, and impounded the car for 48 hours. Hamilton immediately released a statement of apology for "driving in an over-exuberant manner". After being charged with intentionally losing control of a vehicle, Hamilton was eventually fined A$500 (£288), being described as a "Hoon" [boy racer] by the magistrate.

In July 2011 the father of Nicole Scherzinger announced that Hamilton and his daughter were engaged to be married. However, this was denied shortly after by Scherzinger on Twitter. In October 2011, it was announced that Hamilton and Scherzinger had split up. At the start of 2012, he moved his personal residence from Switzerland to Monaco. In 2012, Hamilton features in a new cartoon, called Tooned alongside Jenson Button and comedian Alexander Armstrong.
LINKS
RACING DRIVERS INDEX
RACING TRACKS A - Z INDEX DRIVERS
A very fast electric vehicle
---
TEAM TECH WIND-TNL CHASSIS SUSP MOTORS DRIVE BATTERIES BODY
INSTRUMENTS FUNDING TIRES CLOTHING SAFETY CAPSULE LSR ESTIMATES
SERVICE STATIONS PAY AS YOU DRIVE HYBRID MULTIFUEL TRANSITION
EV MOTORING COSTS SOLAR PANELS