HISTORY OF THE JEEP
The Bantam Car Company won the opening round of the contest to satisfy the US army's 1940 specification for a light four wheel drive but Willys Overland won the battle and, some would say, the war. To ensure supply in war-time the Army decided on a second supplier - Ford. Between 1941 and 1945 Willys and Ford built about 700,000 of the vehicle.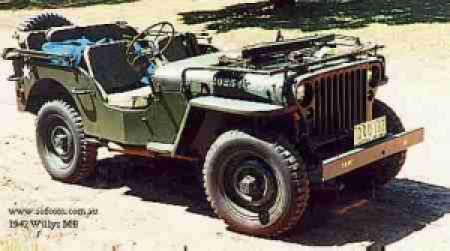 Easiest ways to tell a Ford GPW from a Willys MB:
The Willys chassis front Cross-member is tubular, whereas the Ford cross-member is an inverted U section. Other ways include looking at the tops of all the nuts and bolts, Fords should all be script F marked, though this is not reliable as some restorers replace all the nuts and bolts with new ones. Most of the panels on a Ford Jeep will be stamped with a script F somewhere or another. For example in the middle of the seat frames (back panel), top of the mud guards, on the bonnet hinge, on the rear foot rests, even on the reflectors for some models. I think that the Ford Motor Co. made sure that their stamp was on every sub-assembly of their vehicles.
Willys Overland Jeep MB : Specifications
soft-top, 2+2 seats, what doors?
loa: 132",
width: 62",
height: 52" (steering wheel) - 72" (soft top),
weight: 2400 (unladen)
GVM: 3200lbs nominally
2199cc petrol 4-cyls, 2 valves/cyl, side-valve
bore: 79.4mm, stroke: 111mm, c.r.: 6.48:1
transmission: 3-speed, 2-speed transfer case, part-time 4WD
suspension: beam-leaf/beam-leaf, brakes: drum/drum
tyres: 6.00x16
Go to the Bantam, Rifkind report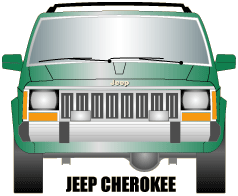 THE JEEP IN CIVILIAN CLOTHING
When the liberating heroes came home in 1945 they needed an all-terrain vehicle like the original Jeep CJ for adventure and family. Willys-Overland answered the call with the first all-steel station wagon, equipped with a six cylinder engine and what was to become Jeep's legendary four wheel drive.


Introduced a year after the first civilian Jeep vehicle, the Jeep CJ-2A, the Willys-Overland all-steel station wagon was an auto industry first. The new wagon provided all the capability and ruggedness of the original four-wheel-drive Jeep CJ with the practicality and increased passenger and cargo space of a station wagon.


The new 'Jeep' station wagon had pressed steel framing and three-tone paintwork which simulated the wood look. It used Jeep running gear and MB-style front sheet metal and was designed to compete against the "real" wood wagons still being manufactured by Detroit's Big Three.

The new vehicle chassis was also available in a sedan delivery truck. Four-wheel-drive would become available in these models in 1949 along with the 148 cubic-inch 'Lightening' six-cylinder engine.
THE FIFTIES

The 50s saw the introduction of the "Hurricane" engine which was then the most economical and powerful engine in its class. This was the standard engine on the wagon with the "Lightening," the optional V-6. During this time, Willys-Overland continued to sell their four-wheel drive all-steel station wagon, and even licensed out its manufacturing to companies in Japan and Argentina.

In 1953 Willys-Overland, the original developer of the Jeep vehicle, was sold to the Henry J. Kaiser interests for $60 million. This would be the beginning of Kaiser's influence on the future of 4WD sport utility as the company began an extensive research and development program that would seek to broaden Jeep products in this area. The fruits of this project would first be seen in the fall of 1962.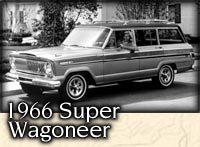 THE SIXTIES

In October 1962, Jeep introduced the new J-series with the Wagoneer. This vehicle was bigger than the station wagon and the first of what could properly be called a Sport Utility Vehicle.

The Wagoneer, powered by the first modern overhead-cam six-cylinder truck engine known as the 'Tornado-OHC' six, could also be had with an industry first automatic transmission. It was offered in two and four-wheel-drive versions.

This, along with the J-series "Gladiator" pickups, was the first fresh non-military design from the company since the all station wagon and sporty two-wheel Jeepster. Both the Wagoneer and the Gladiator found a huge market with construction, agricultural and military buyers and evolved into a niche with everyday retail buyers who wanted a good looking, all-terrain vehicle for fishing, skiing, hunting, hauling, and off-highway adventuring.

The second-generation Wagoneer also included a Super Wagoneer Station Wagon that featured three-tone body striping, vinyl roof, chrome roof rack, full wheel hubcaps, and white-walled tires. The Super Wagoneer came with four-wheel drive and power supplied from a 327-cubic inch V8, and said Kaiser Jeep, "constituted a unique and dramatic approach to the station wagon market...designed for the prestige buyer who is rapidly becoming aware of the safety and advantages of four-wheel-drive. While being the ultimate in detailed elegance, the new vehicle still has all the traditional versatility and ability of Jeep vehicles to go on or off road."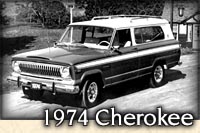 THE SEVENTIES

In the 70s, four-wheel-drive vehicles made a major leap from utility to family motoring. By the end of the decade, Ford, Chevrolet and Chrysler had all launched new vehicles for the burgeoning sport utility market.

The Jeep Wagoneer for 1972 included the biggest standard engine in the 4WD station wagon field -- a 258-cubic-inch AMC-built OHV 6-cylinder. In 1974, The Cherokee Chief became the two-door version of the Wagoneer, and there was also the larger Custom Wagoneer. A four door model of the Cherokee was available by 1977.

Although the sporty Cherokee was similar to the more luxurious Wagoneer at birth, down the road the names Cherokee and Cherokee Chief would apply to the most successful Jeep vehicle in history.

Also introduced to the Wagoneer line during the 70s was Quadra-Trac, an automatic full-time 4WD system. This was another Jeep brand industry first.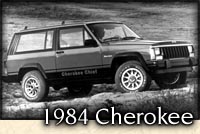 THE EIGHTIES

A market research program undertaken by American Motor Corporation, the Jeep brand owner at the time, culminated in the birth of the modern Cherokee.

Research had found that future markets lay in compact sport-utility vehicles. AMC then pumped $250 million into the design and production of the new compact XJ Cherokee and Wagoneer sports wagons. They were introduced to the press at Borrego Springs, California, in late 1983 and immediately received rave reviews.
The new version of the Cherokee was introduced in 1984. It was available in a two or four door wagon body style. Unit-Body construction, and a much-improved suspension lead the list of features. The four wheel leaf springs were replaced by front coil springs and rear leaf springs. The new Cherokee was much lighter and fuel efficient than the old model. Very few parts were carried over from the old models. Four Wheel Drive was optional on all models, and All Wheel Drive was available on some models. Automatic hubs were standard on all 4x4 models. The Cherokee was offered in two-door and four-door configurations.

The new Cherokee was a unique and revolutionary vehicle. It measured in 21 inches shorter, 6 inches narrower, 4 inches lower and weighed less 1,000 pounds less than the senior Jeep Wagoneer first introduced in 1962. It was the only compact sport utility to offer two-door and four-door models and it was built as a Unibody rather than using a traditional chassis and frame construction. It was named "4x4 of the Year" from three magazines in 1984. It was powered by either a four-cylinder base model or an optional 2.8-litre V-6. In 1987, a 4.0-litre V-6 would become the premium power plant.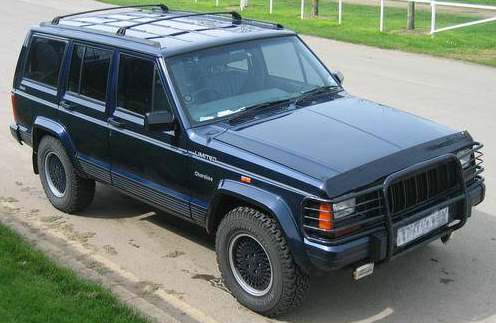 1994 Jeep Cherokee Limited 4.0i 4x4
The base powertrain was a four speed manual transmission with the AMC 2.5l (151 cid) four cylinder engine. The 2.5l four gained fuel injection, and an optional five speed transmission for the 1986 model year. A three or four speed automatic transmission was also available with the four cylinder. A 2.8l six cylinder was also available with a five speed manual or four speed automatic transmission. The original six cylinder was not an AMC engine; it was made by General Motors. The V-6 was the same engine that was used in many Chevy and GMC Trucks, and Pontiac and Chevy Sedans. This V-6 was sold by AMC with a 2bbl carburator.
A four cylinder Diesel was also available with either the five speed manual or four speed automatic. The Diesel engine was the Renault 2.0l Turbo-Diesel. Most of the Diesel Cherokees were sold in Canada and Europe. In 1986, a pickup truck body was added, the Commanche. It had bed rails welded onto the back of the cab in lieu of a true frame. The Commanche is probably the highest production Unit-Body pickup truck ever produced.
These configurations were available through the 1986 model year, in four body trims: base, Chief, Laredo, and Wagoneer. In 1987, the whole line was revamped, with a new six cylinder engine, and the discontinuance of the Diesel model in the United States. The new six cylinder was a 4.0l (242 cid) inline, Throttle-Body Injected engine. This engine, aside from being much more powerful and reliable than the V-6, was the last true AMC engine, based on the 2.5l four.
The Commanche was available in four trims, base, Sport, Chief, and Laredo. Sales of the Cherokee and Commanche took off in 1987; unfortunately, AMC had already agreed to the merger with Chrysler. Chrysler made few changes to the Cherokee after the takeover. Most of the changes were in the wiring for the Stereo, A/C, etc. etc. Chrysler also changed the instrument panel for the 1990 model year, but changed it back to the old AMC panel in 1993. Both engines gained Multi-Port Fuel Injection for the 1991 model year. The 2.5l went to 125 bhp, and the 4.0l went to 190 bhp.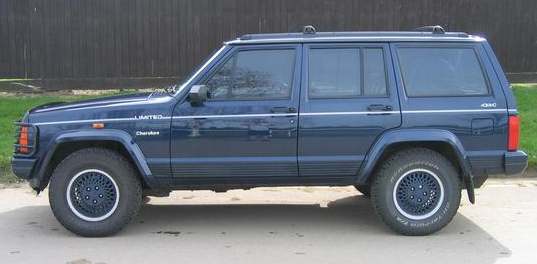 Several four-wheel-drive systems, including Command-Trac and Selec-Trac, offered either part-time or full-time four-wheel traction. Various interior and exterior styling, comfort and off-road performance packages were also offered. The model line continued largely unchanged into the nineties, although many revisions and improvements were made to the Cherokee.


THE NINETIES

The 90s saw Jeep engineers develop a right-hand-drive version of the Cherokee. This produced a model that made it possible to sell to mail fleets, and to export markets in Britain, Australia and Japan. Over half of all Jeep vehicles sold overseas are Cherokees. Jeep engineers had one more model to add to this winning new range: the Grand Wagoneer Limited. It was introduced as the ultimate luxury performance model, powered by an electronically fuel-injected 5.9 litre V8 engine. But with the introduction of the Grand Cherokee in 1993, the Grand Wagoneer Limited was discontinued.
The 1997 model year brought about the most radical changes in the Cherokee's design since it's introduction 13 years prior. The body panels were redesigned for improved aerodynamics, and the interior was changed to a more Chrysler-esque design. The interior was the most radical change, where the Cherokee's boxy, Renault-Insipried design became very rounded and modern. Chrysler plans to continue producing the Cherokee base Unit-Body unchanged through the 2000 model year. The 2 Millionth Cherokee rolled off the line at the Toledo, Ohio, plant in July 1996 with President Clinton behind the wheel.
Today, the latest version of the Cherokee combines over 50 years of engineering and technological excellence with the classic styling and practicality of a Jeep vehicle. Be sure to check out all the refinements to this American icon: an all-new interior, dual air-bags** and UniFrame construction.
CHRYSLER FOR SALE 9 April 2007
You want to buy Chrysler Group? You'd better have some marketing savvy -- as well as $7 billion to spare.


Sure, the incoming buyer of the group will, on paper, be getting a bargain. The price tag being bandied about is $5 billion to $7 billion -- substantially lower than the $36 billion valuation of the original merger. But the new owner of Chrysler will have to market its way out of one of the great automaker inventory gluts of all time -- a surplus of steel that drove Chrysler into the red last year.


Branding and positioning issues

And even as it's solving that problem, it has a monster positioning and branding issue -- namely, how to clearly delineate and define Chrysler's brand trio, something experts queried at last week's New York Auto Show said the group has failed to do.


Vic Doolan, non-executive chairman of consultant Courland Automotive Practice, said the carmaker has overlapping Dodge, Jeep and Chrysler models that compete too much with one another. He also recommended the automaker build its global presence to reach fast-growing emerging markets such as China.


The automaker will have to spend a lot on marketing, but before a penny is laid out, Chrysler must better differentiate its brands, said John Morel, director-product and market planning at American Suzuki Motors Corp.


The Chrysler brand probably needs the most work -- its perception now is "vaguely premium" -- and the company has too many similar models, he said, citing the Dodge Durango and Chrysler Aspen.


Jeep stretched too thin

Management tried to stretch the Jeep brand too far, Mr. Morel said, with the Commander hurting the Grand Cherokee and the Jeep Compass competing with the Dodge Caliber. "Jeep is an iconic brand," he said. "They need to keep it pure."


Auto consultant Gordon Wangers said Jeep's crown jewel, the Grand Cherokee, has been ignored, and the Dodge Ram should be redone so it can compete again as a key player in the full-size-pickup segment. The last time the model got a total redo was in 2001; it is the oldest in Detroit.


The auto-show chatter followed the company's annual meeting last week, where Chairman Dieter Zetsche confirmed the industry's worst-kept secret: DaimlerChrysler is in discussions with undisclosed parties to sell Chrysler.


Reporting on contenders

The auto press has been reporting contenders for weeks, which are believed to have been whittled down to two New York financial outfits, Blackstone Group and private-equity firm Cerberus Capital Management, and Canadian auto supplier Magna International Corp. Last week Kirk Kerkorian offered $4.5 billion.


Mr. Zetsche indicated a sale Feb. 14 by saying: "We do not exclude any option in order to find the best solution for both the Chrysler Group and DaimlerChrysler."
---
JEEP LINKS
Jeep Trials
www.jeep.co.uk/trials Grab one of 2,000 free on and off-road driving days with Jeep
A Jeep has a balanced approach to performance resulting in a car that is quick and powerful. The Jeep is the ultimate performance sports utility vehicle ... www.jeep.co.uk/
The Jeep Cherokee hasn't just been built for forest trails and mountain passes. The Jeep Cherokee is as at home on the road in the UK as it is on the rough ... www.jeep.co.uk/
Jeep - 4x4 - SUV - Off Road Vehicles
The official home of Jeep vehicles on the Internet. www.jeep.com
Chrysler Jeep & Dodge Official UK web site
The official web site for Chrysler and Jeep. Model information, accessories, merchandise and dealer networks.
www.chryslerjeep.co.uk/
JeepClub - Living the Legend. Jeep more than any other brand, represents more than just a product. It represents a history, has become a generic term for ... www.jeepclub.co.uk/
What Car new and used car reviews for the Jeep model range. What Car? is the UK's leading source of information and advice on new and used cars - its car ...
Buyers guide, tech tips, and everything new in the world of Jeep. Subscription only UK Magazine.
www.jeepworld.co.uk
Jeep - Compare prices and read reviews
Looking for a Jeep? You can find top Jeep models such as the Jeep Cherokee, Jeep Wrangler, Jeep Grand Cherokee, plus... www.ciao.co.uk/Jeep_5090285_3
Used Jeep Parts, Jeep Car Spares, Jeep Breakers - Dismantlers ...
Used Jeep Car Part Finder, Jeep Car Breakers Online, Jeep Car motorcycle Salvage, Jeep Car Dismantler Network, used recon Jeep Car Engine, Jeep Car Gearbox, ...
www.247spares.co.uk/jeep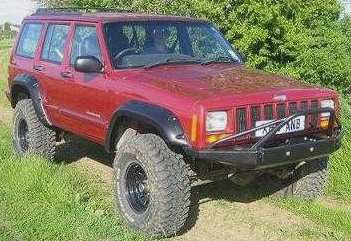 Clubs United States

- Central Illinois Jeep Club
- Great Lakes Jeep Thing
- Western Maine Mountain Jumpers - Bethel, Maine
- Virginia Four Wheel Drive Association
- Louisiana 4X4 Club - Baton Rouge, La.
- Black Hills 4 Wheelers - Rapid City, SD
- Last Frontier 4 Wheelers - Anchorage, AK
- Midcoast Maine Jeepers Association - Warren,...
- North Jersey Jeep Club
- Oregon BushHackers
- Overland Jeepers of Maine
- P.Y.T. (Pound Your Truck) Offroaders Associa...
- Pacific Northwest Four Wheel Drive Association
- Weld County 4 Wheelers - Kersey, CO
- Seattle Jeep Club
- Two Rivers Jeep Club
- The Midwest Jeep Thing Club - Fenton MO
- Jolly Jeepers - Gladstone, OR
- East Coast Four-Wheel Drive Association
- Trailriders 4x4 Club - Minneapolis, MN
- TrickNTraction 4x4 Club
- The Hobo1Jeepers Homepage
- Las Vegas Jeep Club
- Just Jeeps Club of Omaha
- Flatlanders Jeep Club - Manhattan, KS
- Eastern 4 Wheelers
- Nutmeg State 4X4 - CT
- Southwest Washington Jeep Association
- Southwest Four Wheel Drive Association
- Southern Jeeps Club
- Southern Four Wheel Drive Association SFWDA
- South Appalachian 4-Wheel Drive Assoc.
- Scenic City 4 Wheel Drive Club, Chattanooga, TN
- Quadrapaws
- Ohio 4X4 Trailriders - Pataskala, OH
- Midwest 4x4 Alliance
Jeep Tech
- Stu Offroad
- 4x4 Xplor
- Jeep Engine Swap
- WJs 4x4 & Offroad Homepage
- Wanderingtrail.com
- Allexperts Jeep Repair Q&A
- Jeep Tech
- Jeep Web - 4x4 Jeeps on the Off-Road Network
- Tim Weavers 4.0 Head Article
- Jeep Land
- 1997-98 Jeep Wrangler (TJ) Frequently Asked ...
- Disk Brakes for Postal Jeep
- Jeepsters
- Jeep Tech Mailing List
- N2jeepn.com
- Parts Mike the Answer Man Forum
- Jeep Talk Florida Forum
- GM HEI Ignition Upgrade for 258 I6 Jeeps
- J20 Off Road

Personal Pages CJ

- Rons Jeep CJ-5
- Mike Knorrs Jeep Site
- Merls Garage
- Ozark Jeep - Bobbys Jeep Page
- Stainless Steel Willys Jeep
- Rickys Obsession
- Keiths CJ-8
- Eugene Jeep
- Jeepskates Joint
- Jeep Page
- Virginia Beach 4x4
- Mikes Jeep
- CayJays Jeep CJ-7 Page
- Grzelkas Jeep CJ
- Terry Howes Jeep Page
- Off-Road New Hampshire
- Jons Jeep Place
- Harolds Jeep and Off-Road Adventures
- Iron Dog Tales
- Johns 83 Jeep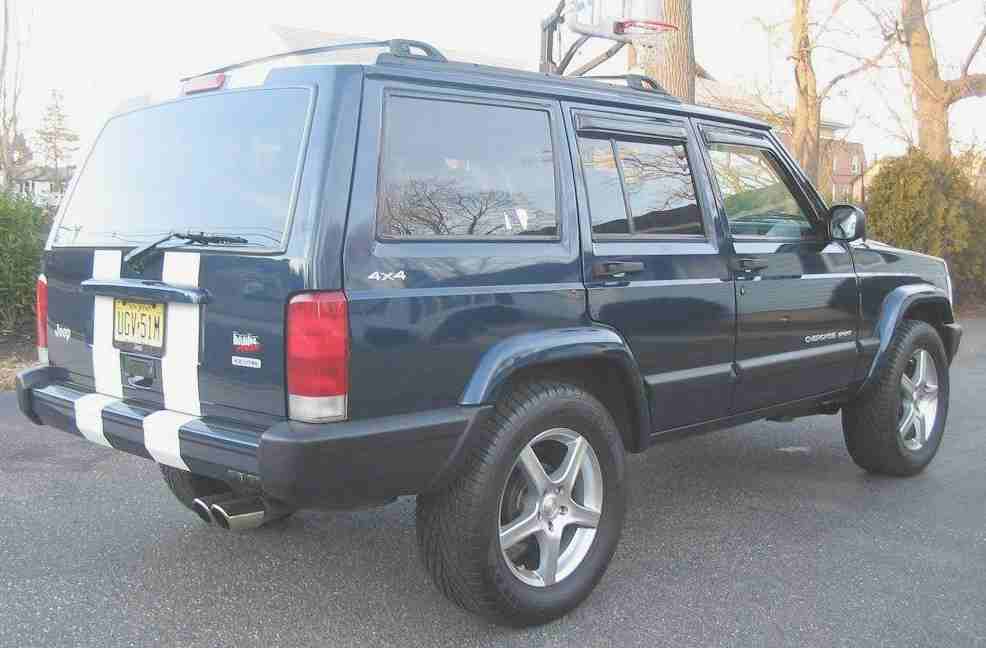 Personal Pages Wrangler TJ

- Topless Jeepchicks Homestead
- Mitchel & Stephens 1997 Jeep Wrangler
- Beths Jeep Wrangler
- Toms TJ Page from Iceland
- Dan and Nivas Jeep Page
- Jeepthing
- TJ Hardcore
- Robyns Jeep Dementia
- Florida Jeeper
- Tims 2002 Jeep Wrangler Sport Site
- Charles Bartons Homepage

Personal Pages Wrangler YJ
- The Jeep YJ Web
- Myles Browns Jeep Wrangler
- Obi-Wans New Toy
- Jeep Site Without a Name
- Black Widow
- Matts Jeep Page
- Brian Simon
- Gilbert Verkuijlens Netherlands Jeep Site
- Pattersonville Jeep
- Rockdogz Jeep World
- The Ostendorfs Vehicles
- XCL Equipped 93 Jeep Wrangler

Clubs California

- Grass Valley 4 Wheelers - Nevada City, CA
- Riverside Ruff Riders 4WD Club - Riverside, CA
- California Association of 4WD Clubs
- Lost Coast 4x4s - Eureka, CA
- Ophir Gopher Jeep Club - Oroville, CA
- Pirates of the Rubicon 4wd Club, El Dorado C...
- The Roughwheelers IV Club
- Tierra Del Sol 4-Wheel Drive Club - CA
- San Diego 4 Wheelers Web Page

Personal Pages

- Jeep Tech Tips
- Beths Jeep Liberty Site
- Stu Olsons Jeep Site
- Jims 4x4 and Offroad Page
- Ultimate Jeep projects
- The Pilaf Tank
- Terry Howes Jeep Page
- Ozark 4x4
- The Bryants 71 Commando
- Jeep 1944 MB Restoration Site
- Jeepready

Cherokee

- A Jeep Cherokee History
- North American XJ Association (NAXJA)
- Autopictures.com: Jeep Cherokee
- Off-road.coms Jeep mailing list
- Right Hand Drive Jeeps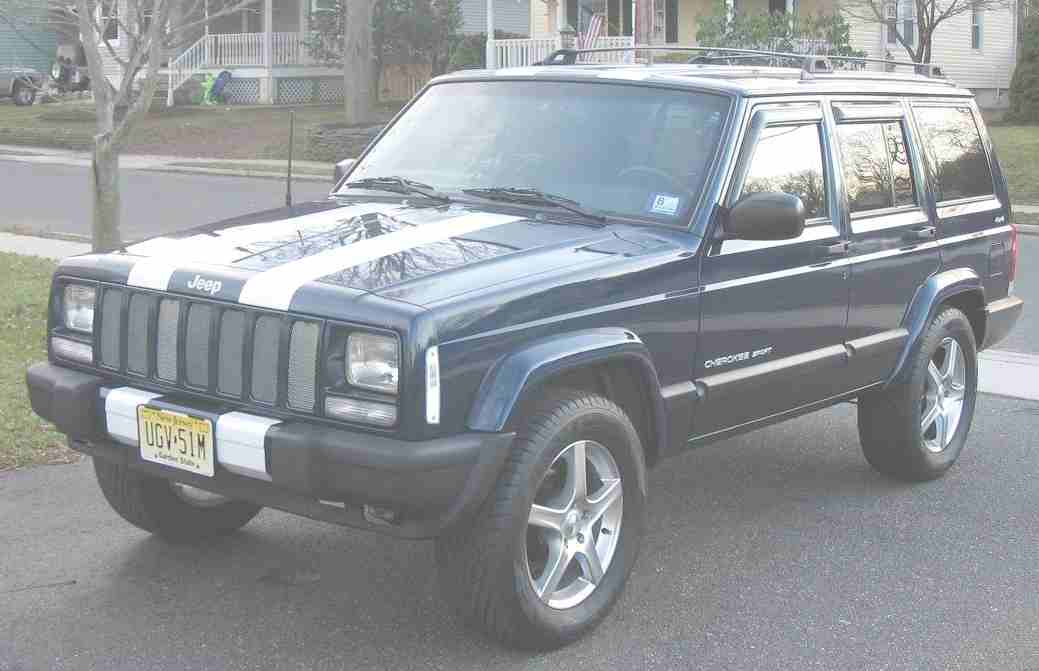 Clubs

- Queensland Jeepers Club
- Jeep Registry
- Jeep Owner Club in Jakarta - Indonesia
- 4x4 HET Noorden - Holland
- ARCA
- American Jeepster Club
- J33p Adventur Club
- Jeep Owners Club Victoria
- The Belgian AMC Jeep CJ Club
Clubs Texas

- Austin Four Wheelers - Austin, TX
- Jeeps of north Texas - Plano, TX
- Fort Worth / Dallas Four Wheel Drive Club - TX
- Houston Area Hummer Association (HAHA)
- Pirates of Paradise - Dallas, TX

Mailing Lists

- Jeep-L...The Web Site
- Jeep Canada Webring
- Jeep XJ-Tech Webring
- WillysTech Mailing List
- XJ Mailing list
- Offroad Mailing List Home Page
- Off-Road.com Mailing lists

Wrangler

- The Jeep YJ Factory

Magazines and E-zines

- Jeep World
- Jeep Fan
- JP Magazine
- Aus Jeep Offroad
- Four Wheeler
- Jeep Zine
- FSJ Magazine
- JJournal

Liberty

- Jeep Liberty
- JeepKJ.com
- Autopictures.com: Jeep Liberty
- Jeep Liberty Canada

Clubs Canada

- Outaouais/Ottawa Jeep Club
- The Ottawa Valley Offroaders - Ottawa, Ontario
- The North Hastings Four Wheel Drive Club - O...
- Border City Jeep Club
- Eastern Off-Road Enthusiasts - Pointe-Claire...
- Northern Alberta 4WD Association - NA4WDA
- Okanagan Jeep Club - Vernon, British Columbia

Clubs Florida

- Suncoast Flatlanders - Clearwater, Florida
- Country From Down Town Off Road Club - Orlan...
- The Orlando Jeep Club of Florida

Clubs Colorado

- Colorado Association of 4WD Clubs Inc. (CoA4...
- Mile-HI Jeep Club - Denver, CO

Personal Pages Cherokee XJ

- Jays 2001 Jeep Cherokee XJ
- Marty Creans Jeep Cherokee Page
- NateCovington.com - Jeep Site
- Tonys Jeep Cherokee 4.0 Ltd

Personal Pages Cherokee ZJ

- Aimees Jeep Grand Cherokee - Absolute Audio
- Jeep ZJ
- Hals Doorless Wonder


Clubs New York

- 4x4 News For Men
- Freedom Off Roaders - Rochester, NY

Clubs Pennsylvania

- Blue Mountain Jeep Alliance
- Boondock Blazers 4WD Club - Easton PA
- PA Jeeps - York, PA

Destinations 1998 BFGoodrich National Rockcrawlers Championship

- The Carnival of Carnage
- Truckworld Online
- ROCKCRAWLER.COM - Joshua Lowenstein
- ROCKCRAWLER.COM - Lance Harkey and Ross Irwin

Destinations

- Offroad Clubs, Associations, and Events
- Jeep Jamboree USA 1999 On-Line Guidebook
- Poughkeepsie Gulch Colorado 4WD Trail (4X4 T...
- SnoBlind 4x4 and off-road Expedition
- Western Adventures 4X4 Driving School and Gu...


Clubs Arizona

- Arizona State Association of 4 Wheel Drive C...
Virtual Jeep Club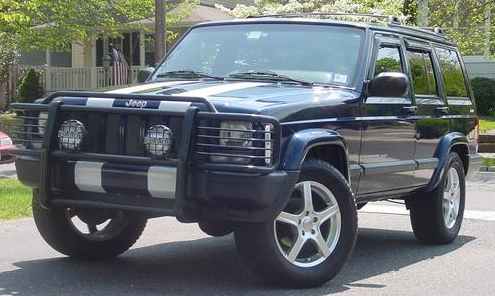 JEEP
CHEROKEE | GRAND CHEROKEE | BEACH BUGGY
COMMANDER | COMPASS | LIBERTY | PATRIOT | WRANGLER

---
The A - Z of CARS and MOTORCYCLES
UK VEHICLE INSURANCE ONLINE A - Z
Car, van or or bike, we're all looking for great value and service in our UK motor insurance? But who offers the best value and who offers great service in the event of a claim
If you purchase your insurance via a dedicated link from this site, you could not only save money, but you'll also be helping us provide free information to thousands of students - at no cost to yourself. Please help if you can and thanks for considering us.
The insurance companies below claim to offer competitive. See our guide to the jargon and tips for cutting your quote - Good Luck:-