One time winner of the Darwin to Adelaide race and arguably, the most expensive solar powered vehicle project to date. This Honda car was used very successfully to advertise Honda road vehicles. This sums spent developing this car would have built and equipped the Solar Navigator catamaran.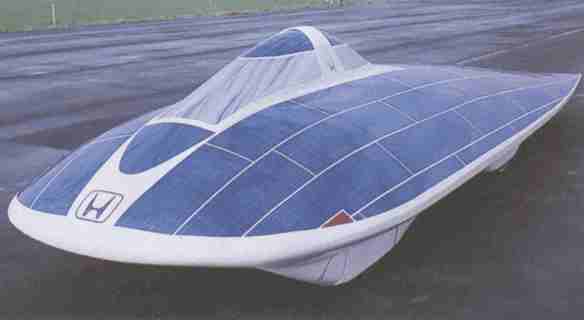 Honda - Darwin to Adelaide winner
Entrants in the cross Australia race, from Darwin to Adelaide, use solar panels to power a lightweight car over 2,000 miles at speeds of up to 50 miles per hour. Clearly, solar power can deliver enough energy to drive a vehicle considerable distance given the right conditions.
---
Honda Entering Solar Cell Market for Homes and Vehicles
- 18 December 2005
Nikkei. Honda Motor is entering the market for solar cells designed for use in households and also plans to promote their use in vehicles, according to a report in the Nihon Keizai Shimbun.
Honda is building a ¥10-billion (US$86.5-million) factory to begin mass production in fiscal 2007 of solar cells made an inexpensive thin-membrane non-silicon metal compound developed by Honda engineering. The Honda solar panels, first announced in 2002, feature a light-absorbing layer formed by a compound made of copper, indium, gallium and diselenium (CIGS).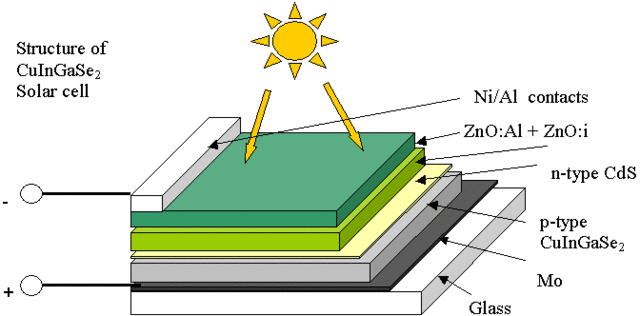 Thin-film solar cells based on CIGS (Cu(In,Ga)Se2) absorbers are among the leading devices which are expected to lower the costs for photovoltaic energy conversion. Other companies working with CIGS cells include Shell Solar and Würth.
Early Honda CIGS module prototypes had a maximum output of 112 W at dimensions of 1,367 × 802 × 46 mm. Honda is working to improve the efficiency.
Honda's solar cells will likely sell for some 1.5 million yen each, 20%-30% less than silicon-made cells, according to the report.
The new plant will initially have an annual capacity to produce about 30 megawatts worth of solar cells, enough for 10,000 households a year. Initially, the company aims to market them only in Japan. But it will later sell them in overseas markets, eyeing mainly North America and Europe, where demand is expected to surge in the future.
Honda is also considering a scheme that would use solar cells to power a home electrolysis unit for the production of hydrogen for vehicle refueling. Honda's current prototype home hydrogen
energy systems rely on natural gas reforming.
Honda combined its CIGS solar cells with a Honda-developed compact electrolysis unit that uses a new Ruthenium-based catalyst in a prototype at its Torrance, California facility.
The prototype solar-powered electrolysis unit produces hydrogen at a rate of 2 normal cubic meters per hour (Nm3/hr).
---
---
A SUSTAINABLE FUTURE
Never mind the politics, people need a place to live, food and energy. Imagine a world where there is abundant energy for transport, the home and our factories, and that energy does not harm our environment. Imagine that the world economy is stable and that the population is under the threshold where the planet can meet our needs. Isn't that a wonderful vision?
That ideal may not be totally within our grasp. But we can at least strive for clean energy for living, which is technologically within sight.
RENEWABLE ELECTRICITY
Solar power from micro generation is now a growing industry as many Youtube videos are demonstrating. As these conversions and new builds gain in popularity electric vehicles will also gain favour, especially for households generating excess energy, which they could get better value from by using for transport. Electricity used in this way might reduce transport costs by up to 200%. So provide a higher quality of life with lesser environmental damage.
If buying an EV, it would make sense to have the latest future proof technology, such as battery cartridge exchange built into the vehicle, for self servicing, or exchanges at local stores or cooperatives. This technology exists but has not yet been incorporated in production vehicles.
When EVs become available with cartridge refueling, it would make sense to have in place at least a few service stations to cater for eventual demand. The technology would thus be in place when it is needed. Such a move when it is implemented will greatly reduce carbon dioxide build up in the atmosphere and ease the transition from oil based economies to abundant clean energy.
THE CHICKEN AND EGG SITUATION
If there were service forecourts to cater for battery cartridge exchange, that might in turn persuade motor manufacturers to produce vehicles with the system. This is a classic chicken and egg situation. Who should do what first.
Given the scale of the problem, it might be prudent for every corporation involved in the industry to at least investigate the potential that any emerging technology might offer for the future on mankind, which is after all the future of their company and eventual profits for their shareholders.
WSC 2011 - Panasonic
LINKS and REFERENCES