The Black Rock Desert is a dry lake bed in northwestern Nevada in the United States. Considered one of the flattest surfaces on the earth, the desert is part of the extended playa of the lake bed of prehistoric Lake Lahontan, which existed between 20,000 and 9,000 years ago during the last ice age. During the lake's peak around 12,700 years ago, the desert floor was under approximately 500 feet (150m) of water.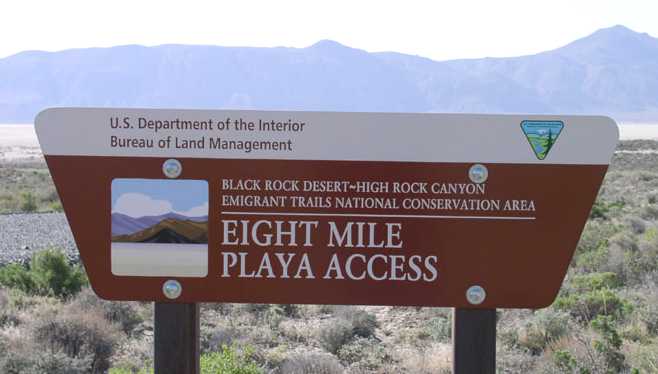 BLM sign - Black Rock Desert
The desert extends for approximately 100 miles (160km) northwest from the town of Gerlach-Empire, between the Jackson Mountains to the east and the Black Rock Range to the west. It is partially drained by the intermittent Quinn River, which has no outlet but evaporates as it crosses the desert.
The flatness of the surface has led to its use as a proving ground for experimental land vehicles. It was the site of the most recent successful attempts on the World Land Speed Record. In 1983, Richard Noble drove the jet-powered Thrust2 car to a new record of 633 miles per hour. Noble also headed up the team that beat the Thrust 2 record. In 1997, ThrustSSC became the world's first, and so far only, supersonic car.
The area is also used by the Tripoli Rocketry Association for the annual rocket festivity "BALLS", where the ceiling, or maximum altitude, is 100,000 feet. It is the USA's most prized launch site for high power rocket hobbyists.
It has become famous as the site of the annual Burning Man festival. It is informally referred to as "the playa."
Hot springs in the Black Rock Desert vicinity
Black Rock (coordinates: 40.972 119.007)[1]

Trego / Butte (coordinates: 40.770 119.113) [2]

Double Hot (coordinates: 41.051 119.028) [3]

Springs (coordinates: 40.830 119.538) [4]

Coyote Spring (coordinates: 40.763 119.172) [5]

name unknown (coordinates: 40.948 119.002) [6]

name unknown (coordinates: 40.674 119.364)

Mud Springs (coordinates: 40.653 119.378)

Great Boiling Spring (coordinates: 40.662 119.365)

Fly Ranch (coordinates: 40.857 119.328)
Some of these are of recreational use, some are dangerous, some are mostly geological curiosities. Some are on private land.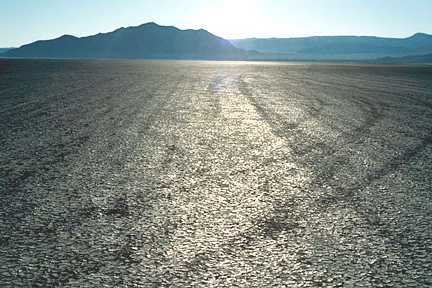 Black Rock Desert
Fly Geyser
At Fly Ranch, the Fly Geyser is one of two geysers at the ranch - the other being dormant, possibly because of the upheaval of the second geyser. The Fly Geyser continuously sprays hot water onto what was once desert land.
External links
---
---
A taste for adventure capitalists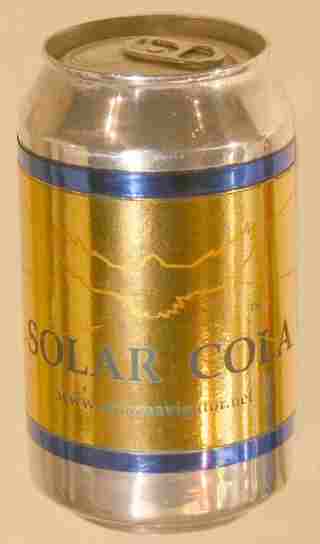 Solar Cola - a healthier alternative