T
Tai Kwong-Yokohama Battery Industries Sdn Bhd, (Malaysia) +603-8723-3327, http://www.malaysiabattery.com/, or http://www.tkyoko.com
Panasonic Yoko YOKOHAMA
Tamarac International, (US) +1-305-594-6652 or http://www.upsmp.com/
Hi-Ampers Max Power
TechnoLink International, (Bangladesh) +880-2-9351548
Lead acid batteries. Hong Kong.
Teledyne Continental Motors, (US) +1-909-793-3131 or http://www.tcmlink.com/
Centurion
Gill, (US) [Aircraft Ni-Cad], 1-800-456-0070 or http://www.gillbatteries.com/
Telestar
Thermodymanics Reactor, (US) +1-910-895-7717 or http://www.racingbatteries.com/
Reactor [AGM]
ThermOil, (US) 1-800-221-5351 or http://www.thermoilbatteries.com/
Tianjin Lantian High-Tech Power Sources, (China) +86-22-23959290 or http://www.lthitech.com/
Lantian - GS - Portalac [SLA]
Tianjin Tong Yee Industrial Co., Ltd. [Tongyee], (China) +86-22-25325681-90 or http://www.tongyeebattery.com.cn/
Tin Kam Company Ltd. NIKIN [JV with Golden Sky Battery Co.], (Hong Kong) +852-24961002 or http://tinkam.ebigchina.com/sdp/67217/4/main.html

TMK Power Industries Ltd. Tel. (+86-755) 2810 9908
ISO 9001 manufacturer and exporter of premium quality Ni-MH rechargeable batteries.
San-Jun Ind. Park, Hua-Wang Road, Da-Lang, Long-Hua Town, Shenzhen, Guang-Dong Province China 518109 FAX: (+86-755) 2810 9421, 2810 9420
Topin, (Hong Kong) +852-21426388 or http://www.asia.globalsources.com/topin.co
Trimitra Baterai Praskasa, (Jarkata) +62-21-4403066 or http://trimitra-baterai.com/
G-Force

Trojan Battery Co., (US) +1-562-946-8381, 1-800-423-6569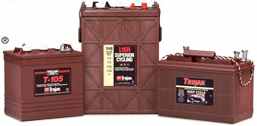 Trojan Battery Company is a world leader in deep cycle battery technology. Since 1925, Trojan has been a pioneer in the development of superior deep cycle batteries. Decades of experience, ongoing research and dedication go into every deep cycle battery they make with the distinctive maroon case. http://www.trojan-battery.com/
Tropical, (Jamaica) +876-923-6231-3 or http://www.tropicalbattery.com/

Tungstone Batteries Limited, (UK) +44-1858-410-900
For more than 75 years, Tungstone batteries have set the standard for performance and reliability. This successful brand owes its profile to a tradition of manufacturing excellence combined with the latest developments in battery technology. Standards are continuously being elevated through research as Tungstone responds to and anticipates the challenges of a changing world.
In response to changes in automotive design and the trend towards single point venting of gasses, remote venting has been made available on most batteries in the range.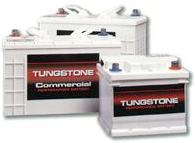 Tungstone batteries are widely used in commercial vehicles and PSVs. Their robust design and reliability make them a popular choice for agricultural and other specialist machinery. Advanced technology is backed by an unrivalled customer service. Nationwide deliveries and a fast turnaround of orders enable distributors to satisfy customers without having to carry large stocks. This commitment to quality guarantees complete customer satisfaction.
SUPPLIER LINKS DATA:
High Power Calcium Range 12V
Premium Car Range 12V
Premium Car Range 6V
Commercial Vehicle Range 12V
Commercial Vehicle Range 6V
Leisure Battery Range 12V
DIN Cross Reference List
Japanese Cross Reference
Battery Dimensions In Inches
Battery Supersession List
Battery Layouts & Terminals
Lithium-ion and nickel metal hydride rechargeable and custom batteries.
2927 Lomita Blvd., Torrance, California USA 90505
U

Ultralife Batteries, Inc. Tel. 315-332-7100
Ultralife's high-energy primary and rechargeable lithium, lithium-ion batteries, lithium polymer batteries and seawater-activated batteries use advanced lithium technology and are used in military, industrial and consumer portable electronic products.
Ultralife's headquarters are in New York. Ultralife (UK) Ltd., is located in Abingdon, U.K. Both facilities are ISO-9001/2000 certified.
2000 Technology Parkway, Newark, New York USA 14513 FAX: 315-331-7800

Uniross Batteries Corp Tel. (+1).781.929-6242
A leading European company supplying rechargeable batteries and chargers. Established in the UK, France, Italy, Germany, Denmark, USA, HK and China - see below.
28 Wisteria Way, Canton, Massachusetts USA 02021 FAX: (+1).781.830-0243
Unit 4, Blackfriars Road, West End Trading Estate, Nailsea, Bristol United Kingdom BS48 4DJ Tel: +44 1275 858101 FAX: +44 1275 810078
27, rue de la Maison Rouge, Lognes, France 77185 Tel: +33 (0)1 60 95 00 40
FAX: +33 (0)1 60 95 23 05
Via Gramsci 156, 20037 Paderno Dugnano, (MI), Italy Tel: +39 02 990 484 82
FAX: +39 02 990 484 83
Virkevangen 48, 8900 Randers, Denmark Tel: +45 86 49 62 11 FAX: +45 86 49 62 17
341 Carl Street Pretoria West, Pretoria, Gauteng South Africa 0132 Tel: +27 12 327 3266

FAX: +27 12 327 3294
Unitech Battery Co., (China) +86-755-2850-9555 or http://www.unitechbatt.com

Unitech Battery Limited Tel. +86-755-28509555-1063
Nickel Cadmium and Nickel Metal Hydride rechargeable batteries. ISO9001 registrations.
No.8, Kaiming Road, Jintang Industrial Zone, Liuyue, Henggang, Shenzhen, Guangdong China 518173 FAX: +86-755-28506266
Union Battery Corp., (US) +1-847-854-1295 or http://www.unionbattery.com/
Uni-Profession Int'l Co.,Ltd Telephone: 886-422623868
A leading supplier of nickel metal hydride and litium ion battery packs for mobile phones and laptop computers.
No.186, 4F-2, Sec 2, Mei Chun Rd, Taichung city, Taiwan,R.O.C, Taichung, Taiwan Taiwan 402 E-mail: sir_charles@lycos.com (Charles Fang)

U.S. Battery Manf, Co. Tel. (909) 371-8090
Deep cycle batteries for golf cars, sweepers, aerial lifts, etc.
1675 Sampson Ave., Corona, California USA 92879-1889 Call toll free (800) 695-0945
FAX: (909) 371-4671
U.S. Battery Mfg. Co., (US) +1-909-371-8090, 1-800-695-0945 or http://www.usbattery.com/
2000 [Deep Cycle] East Penn Deka Marine Master Infinity Gold [PV Deep Cycle]
U Series [Deep Cycle] for Interstate, (US) 1-888-772-3600 or http://www.interstatebatteries.com/
V
VABO NV, (Belgium) +32-13-531-849 or http://www.vabo.be
Valance Technology, (US) 1-888-VALENCE or http://www.valence.com/
Varta AG, (Germany) +49-511-7903-823 or http://www.varta.com/
Varta Perfect by Hawker Powersource
Varta Autobatterie GmbH, (Germany), please see Johnson Controls. +49-5-11-975-01 or http://www.http://www.varta-automotive.com/
Varta Automotive [formally Varta Automotive GmbH and Joint Venture with VB Autobatterie GmbH, (80%) and Robert Bosch GmbH, (20%)], (Germany) +49-5-11-975-01
Vertex Racing Batteries, (US) http://www.taylorvertex.com
VHB Industrial Batteries Ltd., (Canada) +1-905-790-0730 or http://www.vhbbatteries.com/ Varta bloc Series [VRLA]
Vitzrocell Co., Ltd. Telephone: 82-2-4602-243~6
(Formerly Teckraf Co., Ltd.) Lithium batteries for utility metering, photography and security applications - supplier to the Korean Military of Defense. ISO9001 UL Approval
5th Fl. Vitzro Bld., 233-3, 1Dong, Sungsu-2Ga, Sungdong-Gu, Seoul, Korea 133-826
FAX: 82-2-499-2756
Voltex, (US) +1-770-448-6021 or http://www.voltex.com/
Sealed Power
Voyager [Marine], (US) contact local Sam's Club store or http://www.samsclub.com/ Golf Car [Golf Cart]
Vulcan Batteries, (Israel) +972-8-859-6661 or http://www.vulcanbat.com
Volta
W
Wal-Mart, (US) contact local Wal-Mart store, http://www.walmart.com/ or http://www.everstartbatteries.com
some EverStart [sealed Maintenance Free], please see Delphi
some EverStart MAXX [non-sealed Low Maintenance], see Johnson Controls
Watta Battery Industries Sdn. Bhd., (Kuala Lumpur) 60-3-2144-2929 or http://watta.com.my
Haco, Leko, Watta, Wira
West Coast Batteries, (US) 1-888-379-2555 or http://www.odysseybatteries.com/
Odyssey Drycell by Hawker
WestCo Battery, (US) +1-714-937-1033, 1-800-372-9253 or http://www.westcobattery.com/
Willard, (South Africa) +27-11-974-1256 or http://www.willard.co.za/
Achiever - DMS, (UK) - Classic [SLI]
Wuhan ChangGuang Battery Co., [VRLA], (China) +86-27-8489-1323, http://www.cgbbattery.com or http://www.cgb.com.cn
CGB
Wuhan Intepower Co., (China) +86-27-8422-0483 or http://www.intepower.com.cn
X

XenoEnergy Co., Ltd. Telephone: +82 31-355-3511~2
Manufactucturer of lithium thionyl chloride primary batteries.
470-20 MooSong-Dong, Hwaseong-City, Kyonggi-Do South Korea 445-020
FAX: +82 31-355-3513
Xiamen Three Circles ERC Battery Co. [Ni-Zn], (China) +86-592-565-5453
Xiangshan Storage Battery Factory, (China) +86-574-6564-0392 or http://www.meifan.com/ Meifan
Y
Yardney Technical Products
82 Mechanic Street, Pawcatuck, Connecticut USA 06379
Tel. 860-599-1100 FAX: 860-599-3903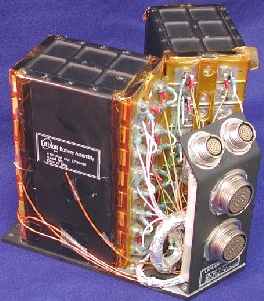 EnerTek: Yardney Technical Products and Lithion, Inc., One Corporation, two Divisions, multiple technologies, Lithion for lithium-ion; Yardney for silver-zinc and aluminum-air...
One of the world's leading supplier of cutting-edge technology batteries and power systems for your most demanding applications and environments. From the surface of Mars to the depths of the Marianas Trench, we can do for you what we've done for others for over 60 years.
YIGIT Battery Corporation, (Turkey) + 90-312-267-02-80 or http://www.yigitbattery.com/ Platin http://www.platin-batterien.de/
Yongkang Jinling Industry & Trade Co.,Ltd Tel. 0086-579-7187957
Manufacturer of Electric scooters, Electric bicycle, electric motorcycle, mini bike, scooter batteries.
No.161,City South Road,Yongkang, Yongkang, Zhejiang China 321300
FAX: 0086-579-7187949 Email: angelying218@hotmail.com (Angel Ying)

Yuasa - Gold Yuasa Battery Co (Korea) +82-2-3451-6201
Beijing Office Tel: 010-68471887
Room 3116, Guosen Building, No.11, South 6 Street, Zhongguancun, Haidian District, Beijing
Shanghai Office Tel:021-64735340 FAX:021-64731461
Room 610, Shanghai Power Building, No.430 Xujiahui Road, Shanghai
Shunde Plant Headquarters
Tel: 0765-2620901, 2623487 Fax:0765-2635775
Feiegang, Daliang, Shunde, Guangdong
Import & Export Section
Tel: 0765-2610309
Japan Yuasa Corporation was founded in 1918. Over the past 90 years, Yuasa is dedicated to manufacture and R&D of batteries and plays a leading role in globe among its peers. Yuasa-branded batteries are world famous. Yuasa is one of the top five battery manufacturers in Japan, as well as one of the tops in the world. Yuasa operates more than twenty workshops worldwide, consuming almost 11% of lead in the world. Yuasa boasts products as valve-regulated sealed lead acid battery, auto-start auto battery, motorcycle-use battery and lithium battery. Products of Yuasa go into every corner of the globe and have won great fame for Yuasa.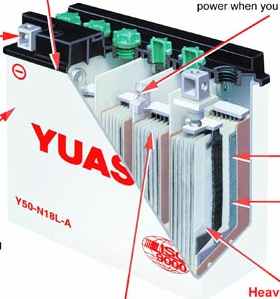 Yuasa has supplied more batteries for manufacturers, such as Buell, Cannondale, Excelsior-Henderson, Harley-Davidson, Honda, Indian, Kawasaki and Polaris Victory, than all other battery manufacturers combined. We have always strived to exceed the needs of our manufacturers with technology that meets the demanding requirements of their motorcycles. Manufacturers demand the best and they overwhelmingly choose Yuasa. So should you.
In 1976, Yuasa Battery Japan formed a joint venture company with General Battery Corporation in Laureldale, PA. With the formation of Yuasa/General Battery, the new company manufactured its first battery in 1979, producing standard conventional and Yumicron 12 volt batteries.

In 1987, Yuasa/Exide Battery Corporation evolved when General Battery sold its company to Exide Corporation. Yuasa/Exide Battery Corporation purchased Exide's Industrial Division (Motive Power and stand by batteries) in 1991 to form Yuasa Inc.

Yuasa, (Japan) http://www.yuasa-jpn.co.jp/
Century Yuasa, (Australia) +61-7-3361 6161 or http://www.cyb.com.au/
Century - some Bosch - Enersun - HeatGuard MF - Marine Pro
Yuasa Automotive Batteries (Europe) Limited [Automotive], (UK) +44-8708-500-257 or http://www.yuasa-battery.co.uk/
Crompton [SLI} - Lucas [SLI] - Oldham [SLI] - Tungstone [SLI] - Yuasa [SLI]
Yucry Traffic Appliances Co.,Ltd Telephone: 00862084284009
Automotive starting batteries and battery components.
Guangzhou Offcie:Rm502,No 19 Of Haiya Street,Shiliugang Road,Guangzhou, Guangzhou, Guangdong China 510315

YUNTONG Power Co.,Ltd Telephone: 86-760-8619810
Battery products to certificate: ISO9002.
6/F, Western Zone Building, #83-87 FuHua Road, Zhongshan, Guangdong China 528400
Z
Zap Sznajder Batterien S.A., (Poland) +86-571-8512-3388 or http://www.zap.pl/
ZAP
AGRO PLUS
VECTER SUPER PLUS
Zhejiang Narada Power Source Corp., (China) +86-571-8512-3388 or http://www.naradabattery.com/
Hangzhou Narada Battery Co.
Narada Licom, (Shanghai) Power Source Co.
Shanghai Narada-Haibao Battery Co.
Zhongshan Baoli Storage Battery Co., Ltd., (China) +86-760-8508200 or http://www.baolibattery.com/ FSD
ZhongShan City HangTian Powersupply, (China) +86-20-82570455 or http://www.hang-tian.com/ Dyvinty - Leopard - Remarkable
Ztong Yee Indusrial Co., Ltd., (Taiwan) +886-6-2532191 or http://www.zyibattery.com/
---
BATTERY MANUFACTURERS A - Z