C
Cary Corp.,(US) 1-800-442-5279 or http://www.clary.com/
Outpost [AGM Deep Cycle]
CarQuest Auto Parts, (US) 1-800-492-PART or http://www.carquest.com/
Advanced Generation [Maintenance Free SLI] - Par for the Course [Wet Motive Deep Cycle] - SunQuest [Maintenance Free SLI]
Caterpiller,(US) +1-309675-1000 or http://www.cat.com/
Outpost [AGM Deep Cycle]
C&D Technologies inc., (US) +1-215-619-2700, 1-800-543-8630 or http://www.cdtechno.com/
C-Line [Motive Deep Cycle]
CCB Industrial Battery, (China) +86-755-2297502, (US) +1-480-563-9275 or http://www.battery-oem.com/

CCB Industrial Battery Co.Ltd. Tel. +86-755-26837780,
Manufacturers of Valve Regulated Lead-Acid (VRLA) batteries for telecommunications and utility UPS and Solar Energy markets.
7E Seascape square, No. 18 Taizi Road Shekou Industrial district, Shenzhen, Guangdong China 518067 FAX: 86-755-26834780 Apex CCB2000
CEAc, (Belgium) +32-2-581-0205 or http://ceac.tripod.com/
Centra, (Poland) http://www.centra.com.pl/
Centura, contact local Kmart store or http://www.kmart.com/
Challenger
CEL Battery Co., Ltd Tel. 0086 517 6993578
Producer of nickel metal hydride batteries and containers: AAAA, AAA, AA, SC,C,D, and F series batteries to ISO9001:2000.
47# Jianshe road, Jinhu, Jiangsu China 211600
Cengiz Topel Cad. [Ugur] (Cetiner Foreign Trade), (Turkey) +90-26-2335-3744 or http://www.cetiner-co.com/productions_others.htm
Centurion Akku b.v., (Netherlands) +31-77-3511741 or http://www.centurion-akku.nl/
NRG robustak [Semi Traction Deep Cycle]

CGB BATTERY Telephone: +86 27 84893121
VRLA, sealed lead acid (SLA), UPS, telecom and solar standby batteries.
No.155 Hanqiang street, Wuhan Economic & Technology Development Zone, Wuhan, Hubei China 430056 FAX: +86 27 84891320
Molensingel 17, Venlo, Netherlands 5912 AC Telephone: +31 77 3511741
Champion, (US) 1-800-782-7848, contact local Sam's Club, http://www.samsclub.com/, or contact local Advance Auto Parts store http://www.advanceautoparts.com/
Automotive [MF SLI]
Cutting Edge Lawn & Garden [SLI]
Duratrex
Chang Nan Battery [CNB], (Taiwan) +886-4-732-1225 or http://www.cnbbattery.com.tw/
Pasmilka [Starting]
ChangGuang Battery [CGB], (China) +86-27-8489-3121 or http://www.cgbbattery.com/
Changsha Fengri Electric Group Co., Ltd. Fengri, (China) +86-731-3281165 or http://www.fengri.com/
Chengxin Electrical Source Co, (China) +86-574-62057498
China Ebikes Ltd., (China) +86-10-8491-3927
Charging Systems International [Dual Pro], (US) 1-800-742-2740 or http://www.dualpro.com/lightningseries.htm
Lightning Series [AGM Staring and Deep Cycle] NorthStar, (NSB)

China Hyper Battery Co., Ltd +86-755-8326-8545
Manufacturer of Nicad, Ni-Cad, Ni-Mh, NiMh, Li-ion batteries in prismatic and cylindrical shape, and Lithium Polymer Battery for Mobile Phones and Computer notebooks.
3C Jinsong building ShenZhen China, ShenZhen, GuangDong China 518048
FAX: 8675583221088 http://www.hyperbattery.com/
China National Aero-Technology Imp & Exp Hangzhou Corp., (China) +86-571-8516-3718 or http://www.asiansources.com/gzcatic.co
Aero Superior
China North Industries Co., (China) +86-755-83664099 or http://www.sznorinco.com/all_batteries/
China Quanzhou Huaqiao Storage Battery Factory Tel. 0086-595-2211585
The largest producer of lead-calcium alloy plates in China.
BAOSHAN HOUKENG,DONGHAI,QUANZHOU,CHINA, QUANZHOU, FUJIAN CHINA 362000
FAX: 0086-595-2211586
Chloride Industrial Batteries Ltd. [Tubular Traction Deep Cycle], (UK) +44-161-794-4611
Chloride Motive Power [CMP Batteries Ltd.], (UK) +44-1204-64111, http://www.cmpbatteries.co.uk/ or also please see Chloride Batteries SE Asia CBSEA
Deta - Fulmen - Tudor, (Spain) - Classic 72 [MF SLI]
Chloride Batteries South East Asia Pte Limited [CBSEA], (Singapore) http://www.cbsea.com.sg/
Apex21 (SLI) - Ceil (Motive) - Chloride (Stationary) - Eltimate (VRLA)
Fairway (Golf Cart) - Conrex - Dagnite - Dynex - El series - Eternity - Exide Max
Chloride Batteries SE Asia CBSEA, (Singapore) +65-265-2444 http://www.cbsea.com.sg/ or see Exide
Alcad - Bardic - Ceil - Apex 21 [Starting] - EP [Standby], also see Powersafe
HP15 [Tubular Motive] - Uitramate - Compact Power - Dynex - Fairway
Friwo - Honda Batteries - Jupiter - Motive Power MST [VRLA]
Classic (PKW), (Europe) [Stationary Deep Cycle] http://networkpower.exide.com/
Commercial [SLI] - Equipe, (France) - Leader, (Italy) - PKW
Tudor, (Spain) - Cutting Edge Lawn & Garden [SLI]
CLEScell International Co.,Ltd Tel. 0086-13701548672, 0086-512-62882931
Alkaline/Zinc carbon manganese dry batteries: LR20, LR14, LR6, LR03, L6F22, R20, R14, R6, R03, 6F22, 3R12, 4R25, A23, A27 - ISO9002 certified company and Environment Protection ISO14000.
402A 4f, International Science Zone, 328 Airport Road, Suzhou, Jiangsu China 215021
FAX: 0086 512 62882933 E-mail: panson@clesc!ell.com
COBASYS LLC (formally Texaco Ovonic Battery Systems LLC), (US) +1-248-620-5700 or http://www.cobasys.com/
NiCom [Stationary Deep Cycle NiMH] - NiGen [Stationary Deep Cycle NiMH]
NiGuard [Stationary Deep Cycle NiMH] - NiMHax [Motive Deep Cycle NiMH]
Concorde, (US) +1-626-813-1234 or http://www.concordebattery.com/
CB [Aircraft Dry Charged] - Chairman [Deep Cycle AGM]
Continental Battery Mfg. Co., (US) +1-214-631-5701, 1-800-442-0081 or http://www.continentalbattery.com/
Premium 6000 - Terminator - Super Stalker - Supreme
Coopower Battery Industrial Co. [VRLA], (China) +86-755-28079816 or http://www.coopower.com/
Coslight, (China) http://www.coslight.com.cn/english/gywm.htm
Crown Battery Mfg. Co., (US) +1-419-334-7181, http://www.crownbattery.com/, or, (Canada) +1-905-850-8753
Embassy - CE series [AGM SLA] - CEG series [Gel Cell SLA] - Fleet Managers series
CSB Battery, (Taiwan) +886-2-8751-5000, http://www.csb-battery.com.tw/, (US) +1-817-244-7777, 1-800-327-2872 or http://www.csb-battery.com/
EVX 400 [VRLA] - GP [VRLA] - HC [VRLA] - HR [VRLA]
D
DayStarter North America [formally Standard Storage Battery], (US) 1-800-328-6537 or http://www.daystarter.com/ DayStarter MX - Navigator
Delco Remy, (US) 1-800-372-0222 or http://www.delcoremy.com/
2000 [Solar] - Dominator

Deta UK Limited Telephone: +44 (0)1773 604231
DETA SLA, mareine and industrial batteries are supplied as original equipment to more than 50 of Europe's most respected manufacturers and exported to 68 countries throughout the world.

The range of batteries produced by DETA is comprehensive and is designed for British, European and Japanese Cars, Trucks, Tractors, Plant and Motorcycles.

The range also includes specialist batteries for Marine, Leisure, Traction, Taxis and Stand-by Power applications.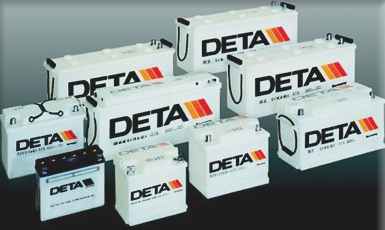 Gryphon Works, Hockley Way, Alfreton Trading Estate, Alfreton, Derbyshire United Kingdom DE55 7EG FAX: +44 (0)1773 607964
E-Mails: automotive@detabatteries.co.uk industrial@detabatteries.co.uk
DiMec, (China) http://www.diamec.com/
Dixon Batteries, (South Africa) +27-16-455-1800 or http://www.dixonbatteries.co.za/
Douglas Battery Mfg. Co., (US) +1-336-650-7000, 1-800-DOUGLAS or http://www.douglasbattery.com/
Astro Lite - Climate Master - Deta-Douglas - Euroline
Guardian - Legacy Platinum - Omni - SafeGuard - SurePower - Switchgear
Duncan, (Venezuela) +58-212-257-8022 or http://www.duncan.com.ve/
Liberty Plus - Automotive starting batteries, marine batteries, industrial batteries, solar batteries.
Duracell, Inc. Telephone: 800-551-2355
Duracell offers the most powerful rechargeable technology currently available: Nickel-Metal Hydride (NiMH). For high-tech devices, such as digital cameras and MP3 players, rechargeable batteries provide cost-effective, re-usable power. You can trust Duracell to last longest and recharge over 1000 times!
The UK's No.1 battery brand* offers reliable, long lasting power for everyday devices you use most like toys, clocks, radios, remote controls, smoke alarms and torches. With our new and improved formula Duracell Plus lasts longer, much longer.
Berkshire Corporate Park, Bethel, Connecticut USA 06801 FAX: 800-796-4565 and
Duracell Consumer Services,
Freepost OF1503, Aylesbury Road, Thame Oxon OX9 3LJ Telephone: 0800 716 434

DURACELL LINKS:
Dynasty, (formally Johnson Controls) [AGM VRLA Deep Cycle], http://www.dynastybattery.com/
some Interstate [VRLA Deep Cycle] DSE [VRLA Deep Cycle]
some Interstate Liberty series [VRLA Deep Cycle]
Dyno Battery, (US) +1-206-283-7450 or http://www.dynobattery.com/
---
BATTERY MANUFACTURERS A - Z