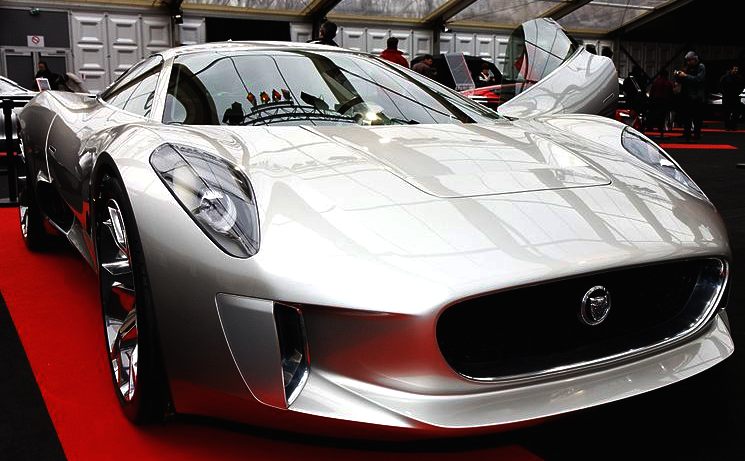 JAGUAR CX 75

Jaguar has this to say about the genesis of the C-X75 Concept, which will be unveiled live tomorrow at the Paris Motor Show: "The aim was to produce not only the most innovative but also one of the most beautiful Jaguars ever; one which hints at an exciting evolution of the marque's award-winning design language while paying homage to some of its most admired cars of years gone by."

The result is the car you see above. The 2,970-pound C-X75 is "a range-extended electric supercar" that does the run from zero to 62 miles per hour in 3.4 seconds. That happens courtesy of two 96-horsepower micro gas turbines that pump juice into a plug-in li-ion battery pack. That in turn powers four 195-horsepower electric motors – one at each wheel – for a total of 780 horsepower and 1,187 pound-feet of torque. Top speed is pegged at 205 mph, and the concept can theoretically run on just its batteries for 68 miles before the twin turbines kick in and extend the range to 560 miles. Think of it like the Volt, but with turbines instead of a gas engine and a helluva lot quicker and faster.

The body resting above all those electrons is aluminum, with swan doors allowing entry to the leather-lined cabin. The seats inside are fixed, with the steering wheel, instruments and pedals moving to accommodate the driver. Three high-res TFT screens present driver information, with readouts and displays switchable between all of the screens.

The C-X75 is a pure concept – there are no plans to make it. The point, rather, is to show what kind of Jaguar might exist were such a cat unchained from any production consideration. Yet, although we won't see the beast in its entirety, we could see its fangs and claws on a production Jag in the future.

Follow the jump for Jaguar's press release with all of the official info and have a closer look at the C-X75 concept in our high-res gallery of official photos while you wait for us to return with live photos from the show floor of the Paris Motor Show.


Jaguar C-X75 is a hybrid-electric, two-seat, concept car from Jaguar which debuted at the 2010 Paris Motor Show. The C-X75 concept produces 778 horsepower through four electric motors, each of which drives one of the four wheels. The batteries driving these motors are recharged using two diesel-fed micro gas turbines instead of a conventional four-stroke engine. It is described as an ideas model that will influence future design and technology.

The C-X75 was named in honour of Jaguar's 75th anniversary, the C stands for concept and the X for experimental.

In May 2011 Jaguar announced plans to build a limited production of the Jaguar C-X75, with a downsized, boosted petrol engine instead of the micro gas turbines in the concept, from 2013 until 2015. The plug-in hybrid supercar price was estimated between GB£700,000 - GB£900,000 (US$1.15 - US$1.48 million) depending on local market and taxes. A maximum of 250 cars were planned to be built in partnership with Formula One team Williams F1. The production version was expected to have an all-electric range of 50 km (30 mi). In December 2012 the carmaker announced the cancellation of production due to the ongoing global economic crisis.

In terms of performance, Jaguar envisions future super cars reaching 330 km/h (205 mph) and accelerating from 0 to 100 km/h (0 to 62 mph) in 3.4 seconds and 80 to 145 km/h (50 to 90 mph) in 2.3 seconds. It is powered by four 145 kW (194 hp) electric motors – one for each wheel - which produce 780 hp (582 kW) and a total torque output of 1,600 N·m (1,180 lbf·ft). Inherent in the drivetrain is the ability to independently vector torque to each wheel across the full speed range. Each motor weighs 50 kilograms (110 lb).

The micro gas turbines from Bladon Jets generate enough electricity to extend the range of the car to 900 km (559 mi) while producing 28 grams of CO2 per kilometre on the EU test cycle. While running solely on battery power, the C-X75 has an all-electric range of 110 km (68 mi). Among other advantages, the micro turbines used in the C-X75 can be run on a range of fuels including diesel, biofuels, compressed natural gas and liquid petroleum gas. The 15kWh lithium ion battery pack weighs 185 kilograms (410 lb). Jaguar estimates an average carbon emission of 28 g/km on European test cycle, however, the carbon emission is around 150g/km if the turbines are running.

Jaguar also focused on the aerodynamics in order to improve performance. For example, the carbon-fibre rear diffuser that guides airflow from under the car creating down-force, and includes an active aerofoil and is lowered automatically as speed increases. Moreover, the C-X75 features an extruded and bonded, aerospace-inspired, aluminium chassis, saving on weight and improving sustainability and performance.

Production

In May 2011 Jaguar unveiled plans to build a GB£700,000 (US$1.15 million) petrol-electric plug-in hybrid supercar in the UK. The carmaker planned to build a maximum of 250 cars in partnership with Formula One team Williams F1. The decision was part of a GB£5 billion investment plan, announced by Jaguar Land Rover (JLR) in March 2011 at the Geneva Motor Show, to launch 40 "significant new products" over the next five years. The model was scheduled to be built from 2013 until 2015, although it had not yet been decided where production would take place.

The C-X75 was to be built without the diesel-powered micro-turbines, instead, the production version would use a downsized highly-boosted petrol engine with one electric motor at each axle. In order to create a lightweight strong structure, the chassis was planned to be made of carbon-fibre, and the engine would be mounted low for optimum weight distribution and to retain the concept's silhouette. The C-X75 production version was expected to deliver CO2 emissions of less than 99 g/km, a sub-three second 0-60 mph time, a top speed in excess of 200 miles per hour (320 km/h), and a reduced all-electric range of 50 km (31 mi) as compared to the 110 km (68 mi) for the concept car.


Cancellation

In December 2012, Jaguar's Global Brand Director announced the cancellation of production due to the ongoing global economic crisis, as the carmaker considered that " it seems the wrong time to launch an £800,000 to £1 million supercar." The company expects to take advantage of part of the investment in the C-X75 development by using the C-X75 technology in future Jaguars. The hybrid technology could be used on a three-cylinder engine to give it the power of a six-cylinder engine, and the C-X75's sophisticated aerodynamics should also influence future Jaguars, while the high-pressure supercharger technology could be used on future performance Jaguars with four-cylinder engines. Jaguar announced its decision to continue working on five prototypes to be developed until May 2013. Up to three of these will then be sold at auction, while one will go into a future Jaguar museum, and the other will be kept by Jaguar for running demonstrations.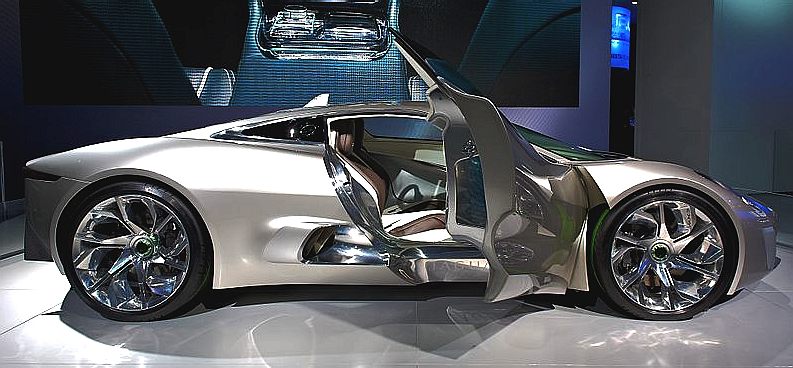 Other Jaguar Models:
Jaguar S Type

Jaguar X Type

Jaguar XJ

Jaguar XK
---
Please click on the links above to find out about these famous automotive makers. If your company is not included and you would like to be listed, please let us know.
UK VEHICLE INSURANCE ONLINE A - Z
No matter what car, van or bike you drive, we're all looking for great value and quality in our UK motor insurance? But who is the best - who is the cheapest and who offers the great service in the event of a claim?
See the insurance companies below who claim to offer competitive cover at sensible prices, our guide to the jargon and tips for cutting your quote - Good Luck:-
A taste for adventure capitalists

The world's fastest electric car: 350mph + using energy from nature. Featuring built in battery cartridge exchange, charged using renewable solar energy. Sponsors sought for the 2016 season.