BORNEO - 19 October 2012
SYDNEY: An Australian race crew hoping to beat their British rivals to a new supersonic land-speed record launched their bid yesterday, unveiling the first parts of their rocket-powered bullet car.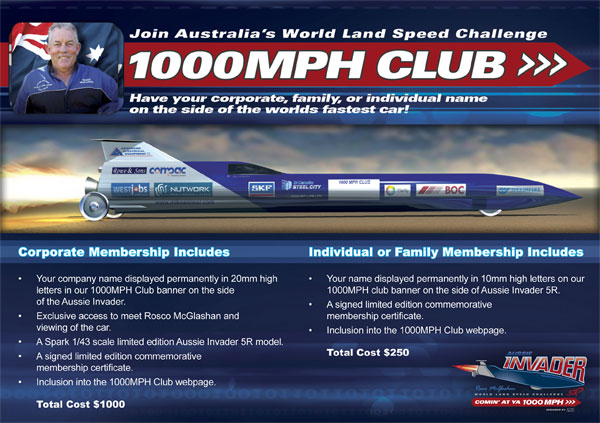 Sixty-two year old daredevil drag-racer Rosco McGlashan has dreamed of being the fastest man on wheels since, aged 12, he saw Britain's Donald Campbell hit 403 miles (645 kilometres) per hour on Australia's Lake Eyre saltpan in 1964.

The record has been smashed several times since and currently stands at a blistering 763mph – faster than the speed of sound – set by another Briton, Andy Green, in 1997.

Rosco believes he can go quicker still: 1,000mph. He plans to use rocket technology to propel his 200,000-horsepower super-car Aussie Invader 5 into the record books. The target date for blast off is 2014; 50 years after he first eyed Campbell's mark.

If successful, McGlashan will travel faster than a bullet, going from 0-1,000mph in 20 seconds as he rips through three tonnes of kerosene rocket fuel, mixed with liquid oxygen. More or less the same combination of fuels used by the Space Shuttle.

Like Austrian adventurer Felix Baumgartner who made headlines this week with a spectacular freefall jump from the edge of space, McGlashan believes it is important to push the boundaries of human knowledge and endurance. He says:
"A lot of people will say 'Oh that's great but how does that benefit mankind?'," "But there's just so many spin-offs with it – the physics, the science, the technology that goes into developing something like this is a win-win for everyone."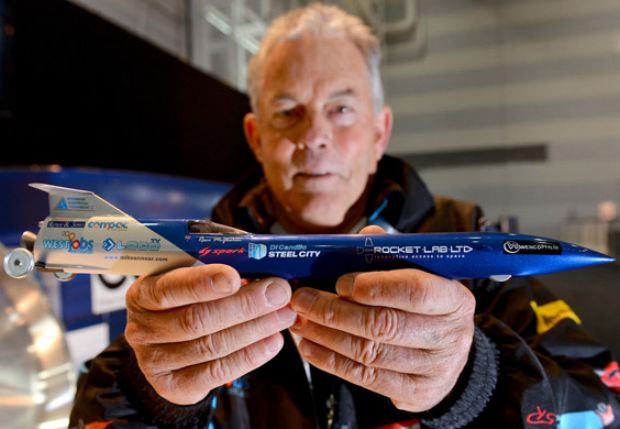 Rosco jokes that he has probably served the world's longest apprenticeship in speed, having raced V8 motorcycles and rocket-powered go-karts in an esteemed speedway career in Australia and the US spanning four decades.

Breaking the speed mark is not all McGlashan has to contend with – Britain's Green is also gunning for the 1,000mph record with his hybrid Bloodhound SSC.

It's a showdown already being dubbed the "Land-Speed Ashes", a play on Australia's famous and long-standing cricket rivalry with England. He says:
"But it's all been a culmination to where we're at now, where we've nearly built, nearly completed the world's best, fastest land-speed car."

"It's part of their patriotism, the land-speed record's been in the UK for 1,000 years," he said.

"But we've got a lot more powerful car, a lot tighter-knit group of guys and we believe that we can go out and blitz them."
ROCKET MOTOR
The engine under development will produce about 62,000 lbs of thrust (200,000 hp) and burn up to 2.8 tonnes of propellant (liquid oxygen and bio-kerosene) in about 25 seconds. The engine will go through a gradual shutdown sequence, as shutting the engine off completely once Aussie Invader 5R has exited the measured mile would result in severe negative "G" for the car and driver.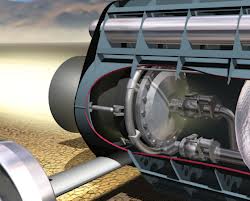 Many people have asked what does 62,000 lbs of thrust look like and the YouTube video below is of a hot fire testing of the Pratt & Whitney, 54,000 pound thrust, Nitrogen Tetroxide and Monomethyl Hydrazine engine for a Boeing program.

Our engine will be running different propellants, but this video gives you a good idea of the power of these engines. Our engine will be throttleable, but will deliver a minimum of around 63% of thrust on start up.
THE MAN
Rosco McGlashan (Born 1950) OAM is an Australian drag racing record-holder, who currently holds the Australian land speed record at 500 mph (802.6 km/h). This record was set on the 27 March 1994 on the dry salt flats of Lake Gairdner, South Australia 440 km (270 mi) northwest of Adelaide.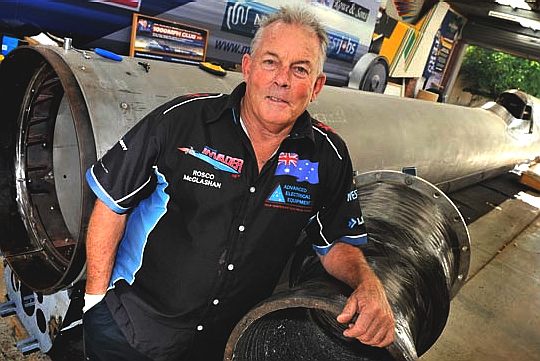 Rosco McGlashan and the Aussie Invader under construction


Aussie Invader II
McGlashan set the record in his jet-powered car, Aussie Invader II. The car was powered by a 36,000 hp Atar jet engine from a Mirage jet fighter aeroplane. In February 1995 Rosco and his team headed back to Lake Gairdner for an assault at the 633.468 mph (1,013.55 km/h) world land speed record, held by Richard Noble. This attempt was not a success, due to poor salt conditions, the course being very wet in places. McGlashan ran off course and hit the metal timing equipment at 960 km/h (600 mph). McGlashan walked away but the car was destroyed.

Aussie Invader 5R SSC concept video
Aussie Invader III
McGlashan then built his next car Aussie Invader III. With this car McGlashan hoped to challenge Andy Green and Craig Breedlove to be the first to Mach 1 on land. But again the salt conditions were too bad for high speed record runs. And on 15 October 1997, Andy Green reached 763.035 miles per hour (1,227.986 km/h), the first supersonic record (Mach 1.016).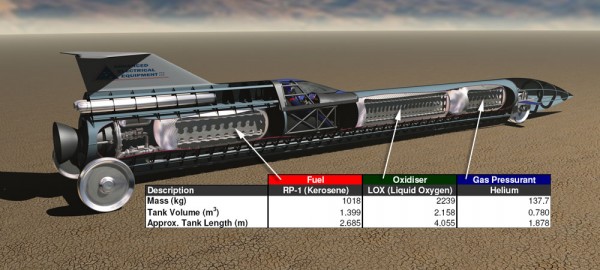 The Aussie Invader 5R supersonic car & rocket motor workings
Aussie Invader 5R
Needing a car with more power, McGlashan has announced that he has designed a new car, Aussie Invader 5R. This car will be rocket-powered and is designed for speed greater than 1,000 miles per hour (1,600 km/h). The rocket car will be his biggest and most powerful yet at 18 metres (58.5 ft) in length and 3 metres (10 ft) high at the tailfin.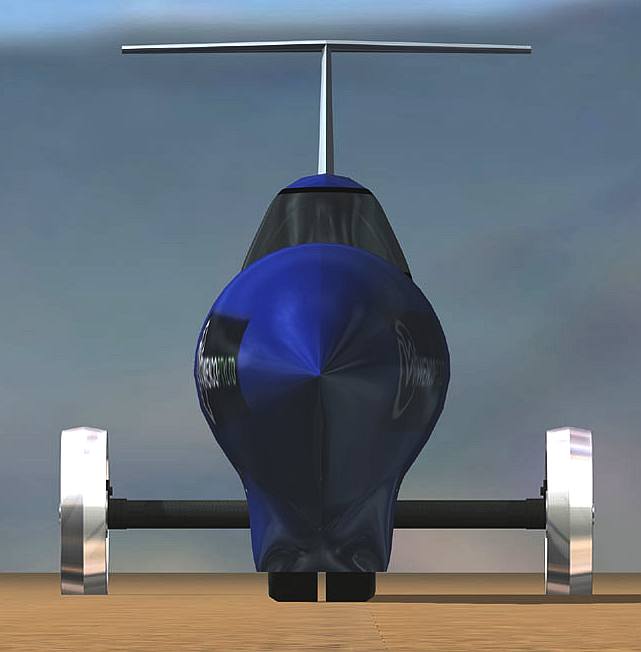 Aussie Invader 5R minimal frontal area

McGlashan also drove a rocket-powered Go-Kart to 253 miles per hour (407 km/h) - still the fastest in the world.
The Aussie Invader 5R is being built in Perth in Western Australia by a committed team of speed enthusiasts, aiming to achieve the impossible. Their aim is to attempt the World Land Speed Record in 2013/14 with Aussie Invader 5R, which is said to be capable of 0 – 1,000 mph (1,609 km/h) in 20 seconds.

Thrust 2 | Thrust SSC | Bloodhound SSC
Rosco McGlashan
LINKS:
Aussie Invader bantam rocket motor tests
Aussie Invader III up for sale
Technology takes us to the stars ......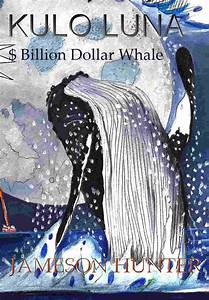 A heartwarming adventure: Pirate whalers V conservationists
with a $billion dollars riding on the outcome.